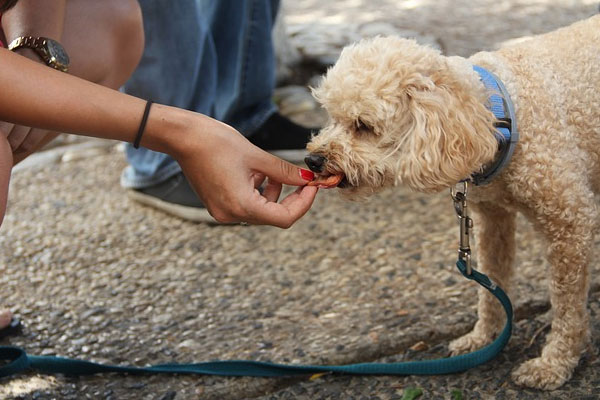 Best Dog Food for Weight Gain
There's not much worse than seeing your beloved best friend wasting away for one reason or another.  Dogs of all breeds need to maintain a good healthy weight as best they can in order to achieve good health and a long life.  But the good news is that your dog's wasting can be turned right around.  All you need is the right dog food for the job.
So if that's what you're looking for, you've certainly come to the right place!  We've had a really good look at many different dog foods for weight gain, and we're looking forward to sharing our Top 5 Picks with you.
Quick Navigation
[ez-toc]
We've basically handpicked our Top 5, and the buying guide that follows explains our reasoning about why those 5 are our favorites, and tells you what you should be looking out for when you buy.  And then our buying guide is also topped off with another handy section which is dedicated to answering some of your most frequently asked questions.
In the interest of brevity, our Top 5 Picks include dog foods, concentrating on both mains and treats, and we've also included some supplements for weight gain too, since dog food with supplements is by far the best option.
In a hurry? This is our winner!
Our rating:

Bully Max High Performance Super Premium Dog Food (15 lbs.)
The ONLY 5 Star rated performance dog food. Rated by the world's #1 online dog food review site.
The ONLY Meat Based formula in its class. Unlike other brands which are plant based, Bully Max dog food uses real meat as the #1 ingredient.
MORE CALORIES than any other formula in its class (535 per cup). When you feed your dog Bully Max high performance dog food, you'll feed up to 50% less food.
FOR ALL AGES. Bully Max High Performance is suitable for adult dogs and puppies (ages 4 weeks and older).
Bully Max dog food has NEVER BEEN RECALLED. This is due the triple check system. Bully Max dog food is tested 3 time prior to leaving the manufacturing facility.
Best Dog Food for Weight Gain – Comparison Table
Best Dog Food for Weight Gain – Reviews
Our Pick
Our rating:

This is a fantastic dog food for weight gain from Bully Max.
But you don't have to just take our word for it. This dog food has also been reviewed by one of the most trusted 3rd party dog food reviewers around, the Dog Food Advisor, who gave this product a full five stars out of 5 rating.
There are a number of features which make it such a good dog food for weight gain. Firstly one cup of this dog food provides a whopping 535 calories, which is fantastic when you consider that a typical cup of traditional food only provides about 320 calories. That's over 100 calories extra per meal. And when you combine that with treats too, the daily calorie intake will really go up.
We also love that it's meat based, which makes it a far better source of protein than those proteins found in corn, wheat, or soy, which can often trigger allergic reactions and cause digestive trouble, which is another load off your mind. It uses all natural ingredients and you don't need to worry about any colors, or preservatives, or artificial flavors.
In fact, a full 30% of the feed is protein, which is great for your pooches' muscles, muscle growth, size and strength. Most of this protein is derived from chicken meal.
Then there's a large proportion of healthy fats, 20% to be precise, much of it derived from chicken fat, but also including some Omega-3 and Omega-6 fats. It is from these fats that the dog food gets its high calorie count, and which goes towards your dog's energy and alertness.
Beyond that the food is also loaded with other nutrients such as vitamins and minerals, to ensure a complete good all round diet and perfect health.
When we saw a big pit bull on the packaging, we were at first concerned that the dog food was only for that sort of breed. But we looked into it and we can confirm that it's suitable for a whole host of breeds.
Better yet it's also suitable for dogs of all ages, with the exception of puppies under 4 weeks old. It's even suitable for pregnant dogs, nursing dogs and senior dogs.
535 calories per cup
Meat based protein
All natural ingredients
Great for all round health
Suitable for all breeds & ages
Your dog will probably have to gradually adapt to their new dog food, rather than be happy to eat just the new type of food from day one
Our rating:

Rather than being a supplement, this is an actual dog food for weight gain. And what really stands out about it is that it gives you a whopping 600 calories per cup, which is almost double the number of calories you get per cup of traditional dog food.
Manufacturer Miracle Vet even goes so far as to say that there is no other dog food in the world that contains as many calories per serving.
The ingredients are 100% natural, with no needless fillers or anything artificial.
The food is composed of 31% protein for the dog's muscles, and 25% fat, which is where the bulk of the calories comes from, and it's also loaded with plenty of vitamins and minerals.
It comes in bags of over 9kg in weight, which is quite big and each bag will last just over one calendar month. Which makes it great value for money.
On the Amazon page for this product, if you find the right photo from the manufacturer, there's a chart comparing various dog foods for weight gain, which shows just how much higher this product is rated by dog experts, how many more servings you get per bag and how many calories per cup etc. Well worth a look.
600 calories per cup!
Food not supplement
Great nutritional value
Very large bag
Made in the USA
It's so popular that retailers can't always seem to get enough in stock
Our rating:

This is a top quality food for weight gain that humans love to buy for their poorly pooches.
It's suitable for all breeds and even picky eaters really like it and enjoy the taste.
This is not some generic dog food, it has been specially formulated to induce weight gain.
There are just 3 simple ingredients included. Each scoop contains 50% healthy vegetable fat, to add mass and give them energy. Then there's 28% whey protein in the form of Creapure, which is a pure micronized creatine monohydrate. It's an excellent format of protein that has been scientifically proven to really boost muscle growth and performance. And the third ingredient is flaxseed, which is loaded with healthy Omega-3.
Having just these 3 simple ingredients ensures that you get top quality nutrition for your dog, and there are no needless fillers, or salts or sugars.
It comes in powder form and easily binds onto any dog food when sprinkled on the top. This way most of the formula is retained and doesn't sink to the bottom of the bowl.
What customers really like, apart from seeing their dog enjoying their food again, is that they get results fast – in just weeks in some cases. You'll soon see the product working and the dog gaining mass.
It's a product used by top class dog handlers across the globe, which is also very reassuring.
The manufacturer goes further than simply being a manufacturer, and if you reach out to them, they will go a step further and provide some great nutritional advice in order to get the results you're looking for.
The formula comes with a 100% satisfaction guarantee, which is, if we're honest with you, a very rare find in such products.
This product is eligible for Amazon's subscribe and save scheme, whereby you save 5% on your first purchase and save 10% on repeat purchases. You can set how often you want your repeat purchases and you can cancel at any time.
Made in the USA
Results in weeks
Scientifically proven
100% satisfaction guarantee
Subscribe and save scheme
More than 10% of Amazon customers rated it under 3 stars
Our rating:

Giving your dog his main meals is great, but wouldn't you like to give your buddy some treats too?
That's where this product comes in. You get a big bag of 60 individual soft chews, and there are a whopping 50 calories in each tiny chew. And most dogs love the taste (to be honest the bacon flavoring sounds really good to us too, lol). It's a great way to keep your dog perky between meals, especially if they're struggling with they're main meals.
The chews are made up of only natural ingredients, with over 50% of them coming from crude fats, which is where they get their high calorie level from. Moreover, there's no glycol, no glycerine, no artificial ingredients, no propylene, and no trans fat.
It's great even for dogs who are struggling with their digestive health, and this thanks to the product's inclusion of gut healthy probiotics, which is somewhat unique in dog food and treat brands.
Another stand out feature of this product is that it comes veterinarian approved, so you can be fully assured that it will be safe first of all, but also good quality and effective.
As a treat, it's more of a supplement than a dog food, but unlike powder form dog food supplements, these treats come ready to eat, and you don't have to worry about any measuring, shaking or stirring. And they're perfect for taking out with you in a small bag on short walks or playing ball in the park.
The treats are all made right here in the USA, and better yet, they are made in an FDA & GMP registered facility
If you get to the Amazon page and scroll down, you'll find that there are a number of other products dedicated to dog weight gain from this brand, that we think are also worth a look.
Veterinarian approved
Packed with probiotics
You get fast results
Trustworthy brand
Chew rather than powder
Judging from the customer reviews whether your dog will enjoy it can be quite hit or miss
Our rating:

If your dog is struggling to eat solid foods, or isn't finding their dry kibble particularly palatable, then this supplement could be the solution you're looking for.
Because it's in liquid form this supplement is both easier to digest and is highly palatable. It also has an element of sweetness to it, thanks to a lovely vanilla flavoring that dogs seem to love. Even picky eaters like it.
It's high in fat and calories, and is specifically designed to help undernourished animals gain weight, and moreover, can encourage faster recovery from illness or malnutrition due to parasites, and battery yet, improve appetite to boot.
In addition to providing fat and calories for weight gain, it's loaded with other healthy vitamins and minerals to help get your dog fighting fit again.
You can either feed it to your dog directly, or pour some over their dry kibble, which may encourage them to eat their main meals.
This product is eligible for Amazon's subscribe and save scheme, whereby you save 5% on your first purchase and save 10% on repeat purchases. You can set how often you want your repeat purchases and you can cancel at any time.
Liquid supplement
Picky eaters like it
Subscribe and save
Includes preservatives

Doesn't come with a dropper

Not a replacement for drinking water

Best Dog Food for Weight Gain – Buyer's Guide
In this section we take a look at what makes a good dog food regimen for weight gain.
High Number of Calories
If your dog is too skinny and needs to gain weight, the more calories he/she takes in a day the better.  As we've shown you in our Top 5 Picks, you can get dog food that has more calories per cup than traditional dog food.  Traditional dry dog food has 320 calories per cup, so if you can aim for dog food that has more than 320 calories to offer.
The more calories the dog food has, the more energy your dog will gain, and the more alert they will be, and they'll be wagging their tail for you again.
Large Proportion of Protein
You should choose a dog food that has a large proportion of protein.  It is from proteins that your dog can start to rebuild their muscles and gain in both size and strength.
Treats as well as mains
If your dog is too skinny and needs to gain weight, then eating between meals should be encouraged rather than frowned upon.  It's also a great way to reward good behavior too!
Weight Gain Supplements
Giving your dog a special dog food that will help them gain weight is a fantastic starting point.  But the regime does not have to stop there.  In addition to giving them their special dog food, we also recommend that you try to use weight gain supplements as well.
Tips for Picky Eaters
Apologies if this sounds too obvious, but if you have a picky eater, then as soon as you identify a dog food brand that your dog likes, you should stick to that brand, even if it means changing where you shop.
And until you find that magic brand, try as many dog foods and supplements as possible.
If they have difficulty digesting solid foods, then you should know that you can also get liquid weight gain supplements.
Warning
When you search Google for dog food for weight gain, in addition to bringing up products that help your dog to gain weight, you also get a lot of products with "healthy weight" or "weight care" in the title.  However these are usually products intended for dogs who are too heavy and need to cut down, rather than put on weight.  So be careful.
Frequently Asked Questions
How many calories per day does my dog need?
Unfortunately, there's no single answer to this question.  How many calories your dog needs per day depends very much on the dog.  We can help you with this very important question however, and signpost you to another great website which can calculate your dog's daily calorie requirement for you, at https://www.kurgo.com/dog-calorie-calculator/.  All you have to do is enter the dog's current weight and their activity level and hit calculate.
But please bear in mind however, that this website's calculator does not differentiate between different breeds, and assumes that the dog is relatively healthy.  So, if your dog is suffering and sick, the best advice we can give you on how many calories you should feed your dog during this time, is to consult with the vet that your dog is registered with.  This is better because your vet can determine exactly what the problem is, diagnose any issues, and set out the most appropriate plan of action.
How do I tell if my dog is too skinny?
This is a very important question.  But it's best answered by photos and/or videos, so please check out this link https://www.youtube.com/watch?v=JXQnmPOE-0U.  In this video a vet spends just under 10 minutes demonstrating what a healthy weight looks like in different dogs.