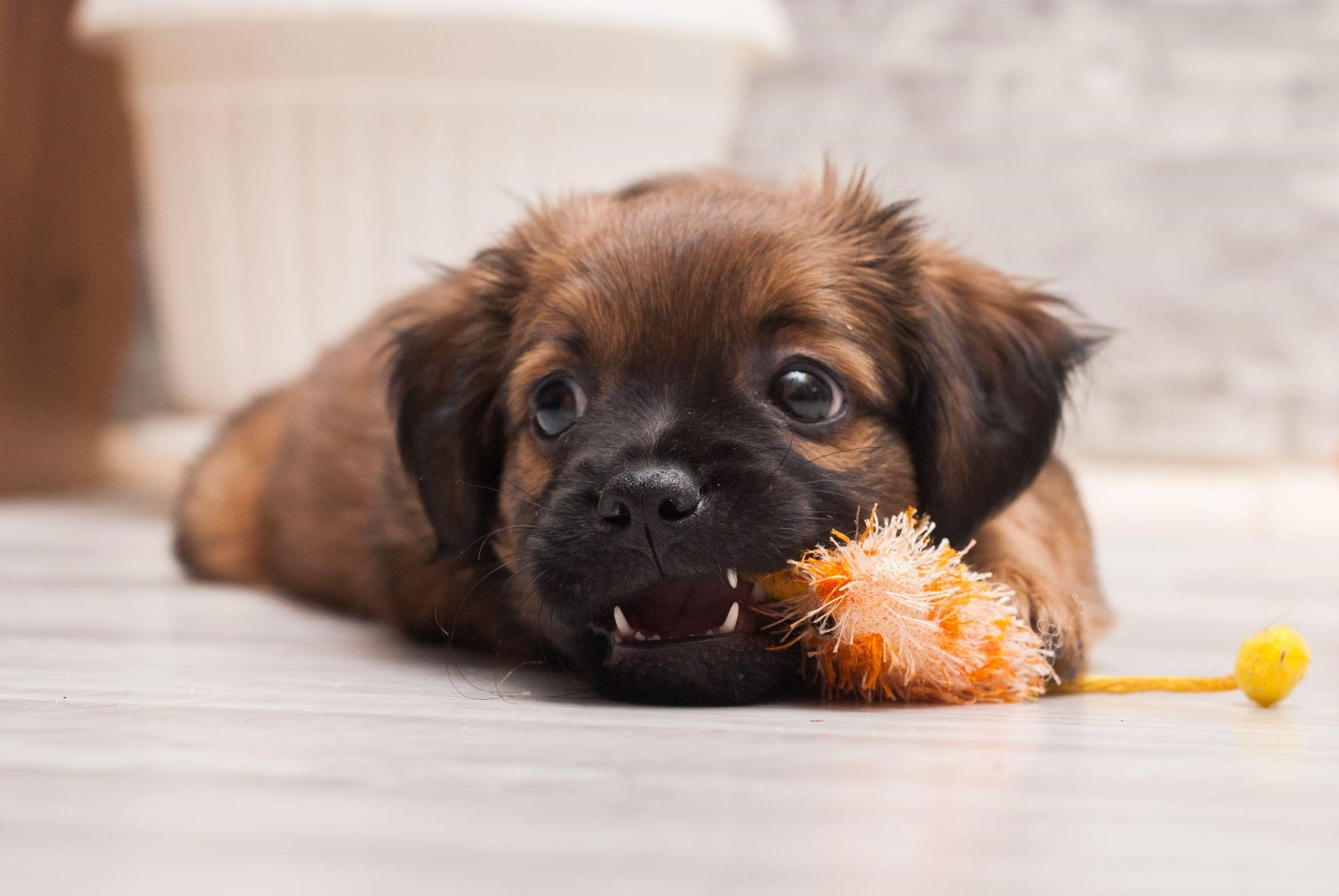 Puppy Teething Toys – How to Pick the Best Chew Toys for Puppies
A new puppy brings a lot of fun, energy, and excitement into your home. Puppies also experience many changes in the first few months of life, including teething, which occurs around three to four months. During this phase, your puppy's gums become sore as they begin to lose their baby teeth, which can be a difficult transition for them. A great way to provide relief for your pet is with high-quality puppy teething toys.
It's crucial to find suitable toys for your pup, which makes a significant impact on their gum and teeth health, including:
Finding chew toys that are soft, easy to chew, and made with safe materials
The size of the puppy toy and your dog, to ensure the teething toy isn't too small, which can become a choking hazard
A durable teething chew toy that doesn't tear apart easily and can withstand a puppy with new teeth
You'll find a wide range of puppy teething toys that are great for solo play or engaging with your puppy.
Rope Toys for Puppies
Rope toys are a fun way to play with your puppy while giving them some significant relief from gum and tooth pain. These toys offer a great texture that's durable, easy to chew, and are often made with cotton or similar durable materials that are non-toxic and safe. Latex and BPA-free durable plastic is another material often used with rope-style toys, usually to fasten or connect the rope into a loop or similar shape.
You'll find plenty of great toys made with rope materials, including plain, similar loops or double loops and animal-themed toys such as giraffes, elephants, or monkeys. Rope toys are also great for playing fetch or tug-of-war with your puppy, an excellent distraction for teething pain and discomfort. These rope-style toys come in many sizes and can be shared among several puppies or just for one.
Your puppy's rope toy should remain attached and secure without falling apart too soon. You'll notice some rope toys fray a bit, familiar with a natural fiber like cotton, which is typical. While these toys are not the best for chewing, they are fun to use while playing with your dog. Many puppy rope toys are biodegradable and easily washed in a machine.
A simple, new rope toy for your puppy is the best option, especially for a first-time teething toy. Chewy teething toys, such as the Mammoth cotton-blend rope, include five knots and multiple colors for a fun, easy way to engage with your puppy.
Puppy Teething Bones
Toy bones are ideal for puppies, and they are specifically designed for teething, including dogs who are aggressive with chewing while remaining durable and soft enough to soothe the gums. These products are simple, soft, and easy to clean in the dishwasher or hand. Ideally, it's best to choose a chewy bone that's FDA-approved and made with non-toxic materials.
This toy is excellent for any dog, and it's offered in various sizes, from small to large, with a variety of patterns, colors, and themes to select. It's a great way to play fetch with your dog and help them enjoy exercise. These soft but sturdy toys are compatible with playing in the water and on land so that you can take them anywhere you visit with your dog.
Zogoflex's chewable toy is a great durable product for your new puppy. It's a tough, water-friendly teething toy that you can take outdoors or enjoy at home. This bone-shaped toy is available in various colors and sizes, withstands a lot of chewing, and makes a great alternative to traditional wood sticks and rope toys.
Ring-shaped Puppy Teething Toys
Ring toys are among the most versatile and easy to use for any variety or breed of dog. The shape of these toys is compatible with ropes and may be connected to a series of rings. These toy shapes are fun to customize, so you'll find many ring-shaped toy options. These toys often combine several rings into a chain so that several puppies can chew and play with these fun toys at once. These toys are made from safe, non-toxic materials commonly used in soft bone and animal-shaped products.
Some ring-style toys make jingle or squeak sounds when squeezed or moved, making it fun for your puppy. These products are designed to withstand a lot of aggressive chewing over a long period, so your puppy can enjoy lots of play for months. The size of the rings is typically large and safe to leave with your pet, as they are not a choking hazard.
One of the best ring-style toys for your puppy is the Nylabone Teething Puppy Ring, which offers several colorful shapes linked into a large, durable toy. This toy style is an excellent choice for your puppy's first toy.
Ring and Keys Toy
Puppies love to stay active, and moving toys and shapes get their attention quickly. A ring-and-keys-style toy is not only a great way to get your young pet excited, but it's also a great way to play with your puppy and give them some exercise. After a bit of chewing, these toys offer some bristles, which provide dental support and great texture for your puppy's gums and teeth.
You'll find these toys are available in various colors, textures, and sizes, which is ideal for a wide range of dogs of all breeds and types. These toys take a lot of chewing, throwing, and aggressive play, making them highly durable and easy to spot, with bright colors, so they're not easy to lose.
Nylatone's teething keys are a great chew toy and ideal for puppies teething. This product is made from polymer, non-toxic plastic and helps clean and stimulate your puppy's gums and teeth, and helps eliminate some of the noticeable breath odor. This interactive toy is featured with bacon flavor and is ideal for medium to large dogs.
Treat-based Puppy Toys
One of the most popular toys for teething puppies is a highly durable product filled with healthy treats. Kong Puppy Dog Toys are shaped like snowman-shaped cones, with natural rubber and a soft surface that's easy to chew while remaining strong enough to withstand a lot of aggressive throwing, playing, and biting. It's a great toy that's available in various colors, and the material allows the toy to bounce, which quickly gets your puppy's attention.
The unique shape, movement, and ability to stuff these fun toys with treats will keep your dog distracted and playful for a long time, so they won't think about their sore gums or teething. It's an excellent toy for dogs of all ages, including older dogs, though it's an excellent option for teething due to the soft texture of the toy's surface. When you stuff treats into these toys, you'll have lots of great options, from fresh or frozen fruit to cheese, yogurt, and other healthy options. Your puppy will quickly figure out how to enjoy a treat from the toy, which keeps them busy and active.
Choosing the Right Toys for Your Puppy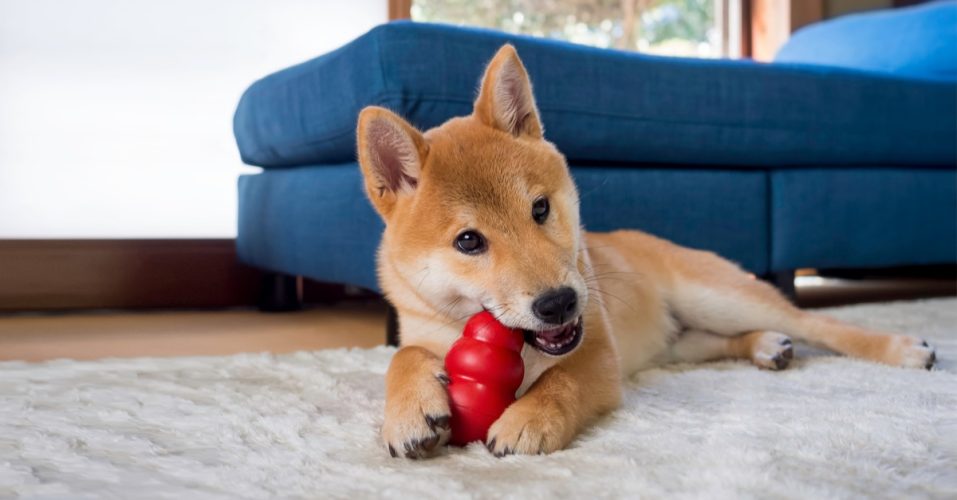 You'll find a lot of great puppy teething toys for your young pet, which is excellent for all types of dog breeds, personalities, and activity levels. Most dog toys, including the highest grade of teething toys for your pup, are inexpensive, making it easy to buy a few options. You can try engaging with your puppy one toy at a time or offer a few options to determine which products are the best fit for your pet.
As a first toy option, choose a simple shaped toy, such as a soft bone or ring toy, to get your dog's attention. If they require more stimulation, noise, or several moving parts, you can try a set of teething keys or a rope toy to play fetch or tug-of-war. Most teething toys for puppies are flexible and easy to clean. Some toy materials are compatible with a freezer, where you can provide more relief for your young puppy's gums and new teeth.
Summary
There are great toys for all types of puppies, whether they're just beginning to teethe or need a lot more support for sore gums and new adult teeth. You'll find a lot of great dog chew toy options that offer a variety of shapes, textures, and sizes for different pups. It's vital to try a few toy varieties with your new pet to determine what makes them happy, excited, and most of all, what provides them with the best relief.
It's crucial to find puppy teething toys that withstand heat, cold, water and do not wear quickly. Toys that produce bristles after a few chews are ideal for dental care, a critical feature that's worth considering for your dog. With so many great toys available on the market at reasonable prices, you'll find more than plenty of fun and engaging toys that not only help your puppy through the teething process but help you bond with your pet and enjoy their companionship.