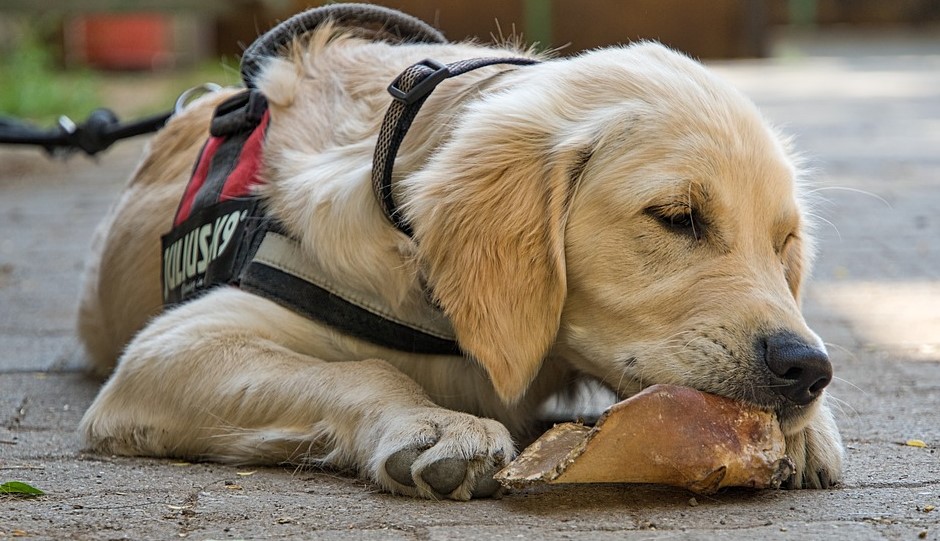 Best Dog Food for Golden Retrievers
When we refer to a golden retriever, we don't think of a working dog. For a dog owner, a golden canine is more like a family member than a pet. Just like we take care of our family members, we also take care of our beloved pooch the best way we can.
One of the things we are most concerned about is the food we feed them. The best dog food suppliers for golden retrievers make sure that their nutritional needs are appropriately met while ensuring the quality of the ingredients used.
Some golden retrievers have a higher risk of suffering from genetic joint problems and allergies. Some types of cancer are also prevalent in their breed. Skin allergy can also be a problem.
A diet of too much calcium may lead to hip disease, while the lack of it may lead to seizures or listlessness. This is why giving your dog the right food is essential.
Without further ado, our top pick for the best dog food for golden retrievers is Purina Pro Plan!
1. The Winner: Purina Pro Plan Adult
Sale

Purina Pro Plan High Protein Dog Food With Probiotics for Dogs, Shredded Blend Chicken & Rice Formula - 18 lb. Bag
One (1) 18 lb. Bag - Purina Pro Plan High Protein Dog Food With Probiotics for Dogs, Shredded Blend Chicken & Rice Formula
Hard kibble combined with tender, shredded pieces for taste and texture dogs love. High protein formula, with real chicken as the first ingredient
Fortified with guaranteed live probiotics for digestive and immune health. Used to be known as SAVOR Shredded Blend Chicken and Rice Formula
Vitamin A and omega-6 fatty acids to nourish skin and coat. Natural prebiotic fiber nourishes specific intestinal bacteria for digestive health
Formulated with high protein to help dogs maintain an ideal body condition. Checked for quality and safety
Style: Dry Food
Flavor: Chicken and Rice
Age Range: Adult
Purina's parent company is Nestle. The company can guarantee that they your dog's best interests at heart. With a trusted brand like Purina, you give your golden retriever the best dog food and nutrition.
So what makes Purina Pro Plan the best dog food for golden retrievers?
The reason why we chose it as the best food is the fact that it caters to your dog's essential nutrients. This particular dog food from Purina is made with Pro Plan Complete Essential formulas, which provide the finest protein-to-fat ratio. It aids your canine in maintaining his ideal body condition.
Moreover, this dog food provides live probiotics that help maintain a healthy digestive and immune system. It also features real chicken as the main ingredient, making for a hearty chicken meal. It gives your dog a high-protein diet, maintaining muscle mass while reducing fat.
Pros:
Made from real chicken meat, it's a hearty chicken meal
Contains omega-5 and vitamin A to nourish beautiful skin and coat
Has live probiotics for digestive health
Proudly made in United States facilities
Cons:
Contains corn, wheat, and soy, which may lead to digestive health problems
Other Best Dog Food for Golden Retrievers
2. The Blue Buffalo Wilderness Chicken Dry Dog Food

Blue Buffalo Wilderness High Protein, Natural Adult Dry Dog Food, Chicken 24-lb
MORE CHICKEN IS COMING: An evolution of your dog's formula with more chicken than ever, plus wholesome grains
PACKED WITH REAL CHICKEN: A recipe made to satisfy your dog's natural love for meat, this high protein dog food features real chicken to help build and maintain lean muscle mass
HEALTHY INGREDIENTS: BLUE Wilderness grain free dog food, made with healthy carbohydrates including sweet potatoes and peas, helps fuel your adult dog's active lifestyle; It also contains omega 3 & 6 fatty acids to support skin and coat health
ANTIOXIDANT-RICH LIFESOURCE BITS: A precise blend of antioxidants, vitamins and minerals carefully selected by holistic veterinarians and animal nutritionists to support immune system health, life stage needs and a healthy oxidative balance
A NATURAL DOG FOOD: BLUE dry dog food is made with the finest natural ingredients enhanced with vitamins and minerals; BLUE contains NO chicken (or poultry) by-product meals, corn, wheat, soy, artificial flavors or preservatives
Style: Dry Food
Flavor: Chicken
Age Range: Adult
Another best dog food for an adult golden retriever that caught our attention is a chicken meal product from Blue Wilderness. This adult dog food has real chicken to ensure your fur friend gets the optimal protein his body needs.
It contains carbohydrates from sweet potato and peas. Your golden retriever needs these carbohydrates to provide his much-appreciated energy and to enjoy his day-to-day activities, from walking to playing with you.
Since one of the golden retriever's greatest prides is their wonderful golden coat, it is essential to give them food with omega fatty acids. You don't need to look any further for this essential nutrient because this dog food has omega 3 and 6 fatty acids, ensuring a healthy skin and coat for your canine.
Moreover, this dog food includes BLUE's LifeSource Bits, which is exclusively formulated for Blue Buffalo products. The formula is made from various antioxidants, vitamins, and minerals that are approved by vets and animal nutritionists. Hence, you'll never go wrong when choosing this best dog food for golden retrievers.
Pros:
Free from poultry by-product
No soy, corn, wheat, or artificial preservatives
Strengthens bones and teeth
Great source of energy
High protein for healthy muscle development
Cons:
3. Hill's Science Diet Dry Dog Food Perfect Weight

Style: Dry Food
Flavor: Chicken
Age Range: Adult
When it comes to weight management, there is no better dog food than Hill's Science Diet Dry Dog Food brand. This is the best dog food for golden retrievers who are currently struggling with their weight.
The dog food helps to improve your dog's weight by supporting a healthy body mass for the dog's specific age. Noticeably, 70% of adult dogs eating this dog food lost weight in as fast as 10 weeks.
While this option is a great choice for weight management, you don't need to worry about not giving your dog enough nutrition for muscle maintenance.
This diet dog food can still support muscle maintenance, as it combines healthy ingredients from across the globe to come up with a healthy diet formula.
You can rest assured as well that you're giving your dog a professionally approved food. Science Diet is the #1 diet dog food recommended by vets.
This is based on a veterinarian endorsement survey conducted from June to August 2019. Hence, you are assured you are giving the best for your beloved furry friend's weight management issues.
Pros:
Best choice of dog food for weight management
Enough protein to maintain lean muscle mass
Healthy weight loss within 10 weeks
Made in the USA, with globally sourced natural ingredients
Improves the immune system with antioxidant components
Contains coconut oil for improved cognitive function
Contains taurine for a healthy heart
Cons:
Low protein compared to other dog foods
No probiotics, for easy digestion
Artificial flavors are added
4. Nature's Recipe Grain Free Puppy Dry Dog Food

Style: Dry
Flavor: Chicken
Age Range: Baby
The best dog food for golden retrievers in their puppy stage is Nature's Recipe Grain Free Puppy Dry Dog Food. Real chicken is the main ingredient in this golden retriever puppy food, so your little pup's craving for real meat is met.
It also contains sweet potatoes and pumpkin, which supplies a good source of energy due to the high level of carbohydrates.
This recipe is formulated to create a balanced and nutritious puppy food for your golden retriever puppy. It is equipped with all the essentials needed by your baby pooch to support muscle development and to sustain the growing vital organs, even as a large-breed puppy.
Remarkably, this dog food does not contain any corn, wheat, soy, or artificial flavors and colors. Instead, it has essential vitamins and minerals to aid growth.
DHA, for example, supplements brain and eye development. The food also features calcium and phosphorus, which helps in the development of strong bones and teeth.
Pros:
Specially formulated for puppies
No artificial flavors and no artificial colors
Grain-free
Contains essential nutrients for the pup's optimal growth
Supports digestive and immune system health
Cons:
Contains menadione, a form of vitamin K which is still unknown
5. Iams Large Breed Adult Dry Dog Food, Chicken

IAMS Adult High Protein Large Breed Dry Dog Food with Real Chicken, 30 lb. Bag
Contains (1) 30 lb. bag of IAMS Adult Large Breed Dry Dog Food Chicken
1st ingredient is real, farm-raised chicken, and features smaller kibble size
Maintains bone and joint health with a formula tailored to support large breed active dogs
Promotes healthy digestion and immunity with a tailored blend of wholesome fibers and prebiotics
IAMS Large Breed Dry Dog Food promotes strong muscles with quality protein sourced from real chicken
Style: Dry
Flavor: Chicken
Age Range: Adult
Specifically formulated for large-breed dogs, Iams supports healthy bones and joints. Golden retrievers with arthritis benefit from this dog food the most.
Iams dry dog food contains glucosamine and chondroitin sulfate. These components help in the management of osteoarthritis. This product is a great option for a senior golden retriever.
Furthermore, this is a best dog food choice for golden retrievers, as it has a special formulation of fiber and prebiotics for optimal digestive health and immunity.
Unlike other dog foods, Iams does not contain any filler. All contents are real, and natural ingredients are safely sourced worldwide and assembled in the United States.
Outstandingly, ingredients also include flaxseed, one of the highly recommended sources of omega-3 fatty acids and soluble fiber.
The product is further equipped with L-carnitine, which helps maintain a healthy weight by burning fat and improving metabolism. The ingredients are easily digestible as well.
Pros:
Made from real ingredients
Provides 100% balanced nutrition
Best dog food for golden retrievers with arthritis
Made with premium quality lean protein from chicken
Omega fatty acids support a healthy skin and coat
Cons:
Includes yeast, which may cause allergies
6. Purina One SmartBlend Canned Wet Dog Food

Purina ONE Natural High Protein Dog Food, Tender Cuts in Gravy Chicken and Brown Rice Entree - 13 oz. Can
Natural dog food formula with added vitamins for dogs, minerals and nutrients made with real chicken for the taste dogs love
No poultry by-products in this dog wet food
100 percent nutrition for adult dogs. 0 percent fillers. Every ingredient in this chicken and rice dog food entree made with dog gravy has a purpose
This wet dog food promotes whole-body health in adult dogs and contains antioxidants to support the immune system
High protein dog food supports strong muscles and features a savory dog food gravy for added flavor
Style: Wet
Flavor: Chicken and Brown Rice
Age Range: Adult
Does your golden retriever prefer wet food rather than dry? If that's the case, you should go for Purina One SmartBlend Canned Wet Dog Food. This dog food is offered in a gravy formula. With this type of product, your dog can consume more moisture and stay well hydrated.
The company challenges dog owners to try out their dog food and see a positive difference in just 28 days!
Rightfully so, as many parents of pets notice a beneficial change in their dog's energy and coat after giving them Purina One. So what are the components which make this best dog food option so astonishing?
First and foremost, it's made with chicken, brown rice, and oatmeal. Your dog will love the taste! It also includes natural sources of glucosamine, a sugar known to support joint health. Glucosamine is also highly beneficial for dogs with arthritis and other joint-related problems.
Moreover, the dog food has high levels of antioxidants, like vitamins A and E, zinc, and selenium. These antioxidants support your pooch's immune system, keeping it healthy and strong. Omega fatty acids are further included in the formula to give your golden retriever their healthy skin and coat.
Pros:
Cons:
Minerals are not chelated, which may make absorption in the body difficult
7. Canidae Life Stages Canned Dog Food, Lamb and Rice
Sale

CANIDAE? All Life Stages Lamb & Rice Formula Dog Wet (12) 13 oz.
Contains 12- 13 Ounce Cans of Canidae All Life Stages Lamb and Rice Formula Wet Dog Food
Nutritionally dense wet food, crafted with lamb along with wholesome grains and simmered in broth for great taste, made without corn, wheat or soy
Complete and balanced goodness for all ages, breeds and sizes. Our wet dog food recipes, crafted for multi-dog homes, makes meal time a breeze
Formulated with antioxidants and probiotics to support a healthy digestive and immune system, along with a nutritious blend of vitamins and minerals to support healthy joints, skin and coat
Canidae is creating a world of goodness for pets and the planet. Premium proteins and regeneratively farmed ingredients nourish pets and planet in every bowl, setting a new standard for pet food. Everything we do results in a bowl full of goodness
Style: Wet
Flavor: Lamb and Rice
Age Range: All Stages
Another premium canned food on our list comes from the trusted brand Canidae. This dog food has a lamb and rice flavor. While some foods are specifically formulated for specific age groups, this product is great as adult or puppy food.
For this reason, you don't have to worry about switching from one dog food to another as your dog ages, unless your dog needs a specific diet as time goes by.
If you own other breeds of dogs aside from a golden retriever, then this dog food works for your other dogs as well, regardless of breed and size.
Aside from its convenience when it comes to age and breed, what are the other things we love about Canidae All Life Stages Canned Dog Food?
To begin with, it does not contain any fillers or corn, wheat, and soy. Since it's made from lamb, it has the 10 most important essential amino acids and proteins to meet your dog's daily requirements.
The preparation of the dog food includes broth simmering, which ensures that flavor is at its optimum level. This gives a delicious taste that your dog can never say no to!
Another important aspect of its ingredients is the inclusion of brown rice. This serves as a good source of carbohydrates for your golden retriever, and it is easily digested by the stomach as well. Thus, your dog can get the best energy he needs to maintain his playtime and walking with you.
Pros:
Contains flaxseed, the best source of omega-3 fatty acid
Includes ocean whitefish as one of the ingredients
Rich in natural fiber
Great for all breeds, sizes, and ages
Supports healthy digestion, immunity, and joints
Very flavorful for dogs
Includes chelated minerals for easy absorption
Cons:
Below average protein level compared to other dog foods
How to Choose the Best Dog Food for Golden Retrievers
Giving the best dog food requires proper knowledge of what your pooch needs. In order to maximize the benefits derived from certain dog foods and pick the ideal animal protein, you have to ensure that your dog needs the specific nutrition that's included in that food.
For example, if your dog needs a high-protein diet, you can't pick a food that has a low-protein level. On the contrary, if your golden retriever is on a special diet that requires him to have less protein, you can't grab the options with high protein.
So what are the key elements you need to know when choosing the best dog food for golden retrievers? Here are our top factors:
Age
As you may have noticed from our list of dog foods, there is a specific age group for most dog foods, whether you have a golden retriever pup or a senior dog. Hence, you need to consider your dog's age before picking something from the shelf, unless you opt to get an all-age dog food.
While an all-age dog food is the most convenient one since you don't have to switch to another dog food as your dog ages, the benefits of age-specific dog foods are also important.
Age-specific foods are formulated to ensure the nutrients that are necessary for your dog's age are met. For example, golden retriever puppies need puppy food that is high in calcium and phosphorus to help their bone development. Meanwhile, senior golden retrievers usually need a diet high in protein and fiber to help with their joint issues and metabolism.
Ingredients Used
You want the best quality and healthiest food sources for your golden retriever, right? Many pet parents want to ensure that they're feeding their dogs the best kind of dog food.
Unfortunately, many pet parents also believe what they see in commercials and buy products without checking the list of ingredients. To ensure the ingredients are safe for your dog, research them and ask the vet for recommendations.
Grain or Grain-Free
People debate whether a grain-free diet is best for canines. There are varied opinions on the matter, but a pet parent needs to know that at least some grains are essential for the health and growth of a dog.
Though grain-free dog foods are becoming a fad, this does not mean it's always the healthiest choice. Further, some manufacturers replace grain with filler, which offer less nutritional value.
However, some golden retrievers do benefit from a mostly grain-free diet. Golden retrievers, or any dog breed for that matter, might need a grain-free diet if they have allergies.
To clarify whether your dog needs a grain-free diet, talk to your veterinarian. Your dog's vet can recommend a healthy substitute for your current dog food.
Wet or Dry
Feeding a golden retriever wet or dry food is a personal choice. Though there are differences when it comes to the moisture content between the two dog foods, the other nutritional components are mostly the same.
However, while wet dog foods contain more moisture and help dogs with urinary tract problems, they don't contain as many calories.
Thus, your dog may consume twice or thrice as much wet food to compensate for the lack of calories. Dry dog foods, on the other hand, provide lots of calories with just a small amount.
Wet dog foods also have a shorter shelf life than dry ones. Some fur parents prefer dry dog food for storing convenience.
Final Thoughts
Your golden retriever's nutrition depends solely on your decisions. Hence, pet parents like you need to be wary of the choices for feeding your dog.
Moreover, consult your veterinarian regarding any feeding questions that you may have. Professional advice is better than believing in false advertising.