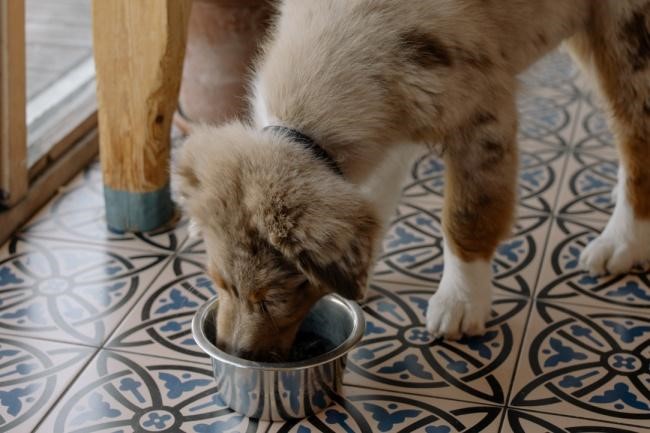 Stop the Itching: The Best Dog Food for Skin Allergies
Skin allergy, or allergic dermatitis, is a common type of allergy among dogs. You see them scratching themselves excessively, rubbing their face or ears, or scooting on surfaces, and you begin to wonder what's wrong.
There are many causes of allergic dermatitis, and one of the most common triggers is food. Every dog owner wants nothing but the best for their fur babies. That's why some may resort to feeding them organic dog foods. If your pooches exhibit sensitivities, it is time to re-evaluate your choices.
So, we ranked the most effective dog food for skin allergies that can keep your dogs nourished while being itch-free. These dog foods are devoid of allergens, like dairy, wheat, poultry, soy, or beef. Tweaking their food may solve the dilemma to help you grow a healthy, happy, and less aggressive fur baby.
Sale
Canidae PURE Limited Ingredient Premium Adult Dry Dog Food, Salmon and Sweet Potato Recipe, 24 Pounds, Grain Free
Contains 1- 24 Lb. Bag of Canidae PURE Salmon and Sweet Potato Recipe Dry Dog Food
Real food ingredients for the taste your dog will love. Crafted with real salmon as the first ingredient, paired with whole ingredients like menhaden fish meal, peas and sweet potatoes
Complete and balanced goodness for adult dogs. This recipe is made using 10 or fewer key ingredients that are easily recognizable, perfect for sensitive dogs
Formulated with antioxidants and probiotics to support a healthy digestive and immune system, along with a nutritious blend of vitamins and minerals to support healthy joints, skin and coat
Canidae is creating a world of goodness for pets and the planet. Premium proteins and regeneratively farmed ingredients nourish pets and planet in every bowl, setting a new standard for pet food. Everything we do results in a bowl full of goodness
Canidae Pure scrapped off ingredients that are likely to give dogs skin allergies. Instead, it packed salmon, sweet potato, fish meal, and peas for a power protein-packed diet. This is ideal for all breed sizes. It will help promote their digestive and immune health.
This limited ingredient dog food further has a blend of vitamins and minerals that will not compromise your dog's health. It also promotes healthy joints and helps maintain healthy skin and coat.
Pros:
Grain-free and soy-free
With antibiotics and antioxidants
Nutrition dense
No additives
For all breed sizes
Cons:
Expensive
Slightly pungent smell for humans
Hill's Prescription Diet Derm Complete Environmental, Skin & Food Sensitivities Dry Dog Food, 14.3 lb Bag
Hill's Prescription Diet Derm Complete Environmental & Skin Sensitivities Original Flavor Dry Dog Food is specially formulated by Hill's nutritionists and veterinarians to help manage your dog's environmental or food sensitivities
Formulated to support the skin's barriers against environmental irritants — year round
Visible skin healing in as little as 21 days in dogs with food allergies
Nutrition clinically tested in an open label study to improve a dog's sleep quality by reducing night scratching
Tested to provide more snuggles- to bring you and your dog closer together
Hills' Prescription is vet-recommended dog food for skin allergies. It is science-based nutrition developed by nutritionists and veterinarians for improving the dog's overall health. This food is formulated to ward off any environmental or food allergy that triggers itching in dogs.
Pooches suffering from itchy skin allergies can achieve visible healing in as early as 21 days. This derm-complete diet is also essential in improving the dog's sleep. Thus, reducing night scratching that can impair your dog's slumber.
Pros:
Science-based diet
Tested and proven
Vet-approved formula
Effective in reducing itching
Cons:
Very Expensive
Contains soybean oil
Ps for Dogs 100% Hypoallergenic Dog Food - No More Paw Licking & Skin Scratching – Solves Allergies Naturally - No More Harmful Shots, Pills & Expensive Prescription Food
REDUCES PAW LICKING: Our low glycemic dog allergy food prevents the growth of yeast on your dogs paws, which is the leading cause of paw licking and biting in dogs today
SOLVES SKIN ITCHING, REDNESS, BUMPS AND FOUL ODOR: Our limited ingredient formula contains human-grade New Zealand Lamb and other essential hypoallergenic ingredients; which will relieve your dogs skin problems
GRAIN FREE, HIGH PROTEIN AND SUPER ADDICTIVE: Our recipe was created especially for dogs who are fussy about their food, who need a grain free or high protein diet. PS is air-dried; creating soft irresistible pieces of meaty goodness; perfect as a hypoallergenic treat
SOLVING ALLERGIES IS OUR SOLE MISSION: Were dedicated to deliver the highest quality complete diet for dogs with pet food sensitivities
Made in New Zealand in Small Batches for Quality
Alleviating skin allergies and allergy symptoms is sometimes as easy as changing your dogs diet instead of getting expensive shots. The PS Lamb Recipe dog food is a limited ingredient formula to help solve fur baby's itching concerns. It is a grain-free and low-glycemic food, but it does not compromise the dog's protein needs.
The best thing about this product is the air-dried jerky style, making it soft and meaty. It is the perfect treat even for dogs that are a bit fussy about their food.
Pros:
Low glycemic, hypoallergenic ingredients
Jerky-texture and appearance
Complete nutrition for dogs
Cons:
Small bag packaging
For small breeds only
Expensive
Purina is one of the leading and trusted brands when it comes to adult dog food. This Pro-plan salmon and rice dry food formula is the brand's ideal product for dogs with sensitive skin and food sensitivities. It does not contain and common allergen that leads to itchy dry skin. This dog food is high in animal protein to support the dog's nutritional needs.
This hypoallergenic dog meal is also fortified with probiotics for boosting their digestive and immune health. It is available in wet or dry with a specialized formula for different breed sizes and ages.
Pros:
Hypoallergenic
Highly-digestible formula
Nutrient-rich
Supports lustrous coat growth
Cons:
Bad-smelling food
Foul-smelling dog poop
Sale
Blue Buffalo Basics Limited Ingredient Diet, Grain Free Natural Adult Dry Dog Food, Salmon & Potato 11-lb
STARTS WITH REAL SALMON: This adult dry dog food features a single animal protein source along with potatoes, peas and pumpkin to support gentle digestion in your dog without the grains that contain gluten
LIMITED INGREDIENT DOG FOOD: BLUE Basics is a limited ingredient grain free dog food that doesn't contain any chicken, beef, corn, wheat, soy, dairy or eggs making it a good option for dogs with food sensitivities
ANTIOXIDANT-RICH LIFESOURCE BITS: A precise blend of antioxidants, vitamins and minerals carefully selected by holistic veterinarians and animal nutritionists to support immune system health, life stage needs and a healthy oxidative balance
A NATURAL DOG FOOD: BLUE dry dog food is made with the finest natural ingredients enhanced with vitamins and minerals; BLUE contains NO chicken (or poultry) by-product meals, corn, wheat, soy, artificial flavors or preservatives
Contains one (1) 11lb bag of BLUE Basics Limited Ingredient Diet, Grain Free Natural Adult Dry Dog Food, Salmon & Potato
Limited ingredient dog food, like the Blue Buffalo Basics, is the ideal dog food for skin allergies. Instead of ingredients that contain allergens, it uses salmon, potatoes, peas, and pumpkins that are easy for the stomach. This is one of the trusted products for most veterinarians in solving skin and digestive issues.
Blue Buffalo Basics contains the precise blend of nutrients without artificial flavors and preservatives. It is further geared to support the immune system and give the right nutrition needs for all breed sizes.
Pros:
High-quality protein content
Easily digestible carbohydrates
With fatty acids for coat health
Effective in minimizing skin allergies
Cons:
Forza10 Dermo Active Dry Dog Food, Sensitive Stomach and Skin Dog Food for Adult, Medium, Small and Mini Dog Breeds (6 Pounds)
SENSITIVE SKIN DOG FOOD - specially formulated dry dog food helps improve dry skin and provides relief for minor skin ailments and allergies for sensitive skin, while promoting overall dog health and wellness.
DOG FOOD FOR ALLERGIES AND ITCHING - rich in raw fish proteins, fiber, and omega 3 fatty acid. Grain free dog food sensitive stomach that contains no GMOs, no gluten, no artificial colors or flavors.
HYDROLYZED DOG FOOD - dog food for coat contains hydrolyzed fish protein so the immune system wont react and help with food allergy and inflammatory bowel disease.
GREAT TASTE AND YOUR DOG WILL LOVE IT - we have added to this dry dog food sensitive skin therapeutic plants and fruit extracts for better taste and skin health support.
DOG FOOD SKIN PROBLEMS - Developed to improve skin health, eliminate most allergens that can cause skin and coat issues. Good for skin problems such as dermatitis, itching, redness, hot spots, and dandruff.
If your dog is suffering from skin allergies, there is no need to let him suffer from bland foods either. Forza10 Active Dermo recipe is enriched with wild-anchovy that most dogs will surely love. It also contains therapeutic plants and fruit extracts to make it taste better while reinforcing dogs with good skin health.
Forza10 Active is a non-GMO, gluten-free, and additive-free formula for treating skin ailments and allergies. It also helps improve dry skin and promote overall dog health in general.
Pros:
Better-tasting
Vet-recommended
High-quality natural ingredients
For all breed sizes
Cons:
Sale
NUTRO Limited Ingredient Diet Adult Dry Dog Food Salmon & Lentils Dog Kibble, 4 lb. Bag
Contains one (1) 4 lb. bag of NUTRO Limited Ingredient Diet Adult Dry Dog Food Salmon & Lentils
Always made with 10 key ingredients or less, plus natural flavors, vitamins, minerals and other nutrients
NUTRO Limited Ingredient Diet Recipes are grain free, and avoid ingredients that commonly cause food sensitivities in pets like corn, wheat, soy and dairy protein
Salmon is the ingredient in this healthy dog food
This NUTRO Dry Dog Food is made with Non-GMO ingredients
Grain-free with limited ingredients, the Nutro Limited Ingredient Diet is an excellent choice for canines with skin allergies. It has salmon and lentils with 10 key ingredients and natural flavors. Salmon is a great source of omega fatty acids. Thus, it can decrease inflammation caused by allergies. It also helps boost the dogs' immune system and gives them a shiny and lustrous coat.
Nutro is made from non-GMO ingredients and without allergens to inhibit histamine production. Nutro Limited also comes in various flavors like duck and lentils, lamb and sweet potato, and venison and sweet potato.
Pros:
Limited ingredient diet
Non-GMO
Comes in a range of flavors
Real and recognizable ingredients
For all breed sizes
Cons:
Open Farm Wild-Caught Salmon Grain-Free Dry Dog Food, Fresh Pacific Salmon Recipe with Non-GMO Superfoods and No Artificial Flavors or Preservatives, 4.5 lbs
SUSTAINABLY CAUGHT FISH: Our quality Pacific salmon recipe is made with real fish that is wild-caught using the recommended sustainable fishing practices that are 100% Ocean Wise certified, so you can feel good about the food in your dog's bowl.
SCIENCE-BASED WELLNESS: Open Farm Wild-Caught Salmon Dry Dog Food's high-nutrient formula is loaded with natural meaty protein for muscles, probiotic fiber for digestion, and essential vitamins you can trust, with a taste your dog will love.
PURE LOCAL PRODUCE: Treat them to a mix of fresh fruits and veggies like chicory root, lentils, chickpeas, and apples from local farms that are free of anything artificial to grant your dog the raw health benefits nature has to offer.
FROM FARM TO BOWL: Dogs crave meat by wild natural instinct, so our recipe makes it the first ingredient. We skip the grain, corn, wheat, and soy in favor of smart superfoods like non-GMO pumpkin, carrot, and coconut oil for whole diet balance.
100% TRANSPARENCY: As a part of our commitment to transparent sourcing practices, we provide owners with the ability to trace the origin of every ingredient using the lot number on the bag, because where pet foods come from shouldn't be a mystery.
The wild-caught Pacific salmon in every kibble of the Open Farm Grain-free Dog Diet offers many health benefits for pooches. It has natural protein for muscle development, probiotic fiber for digestion, and omega fatty acids for immune resistance. Grain-free and soy-free, it is the best dog food for skin allergies.
This product is made from pure local produce so dogs can enjoy their balanced diet from the farm to the bowl. It is ethically and sustainably sourced to support humane farming and uses only high-quality and standard dog food ingredients.
Pros:
Real ingredients
Sustainable and ethical source
Nutrient-dense
Effective dog food for skin allergies
Cons:
Diamond Skin & Coat Real Meat Recipe Dry Dog Food with Wild Caught Salmon 30 Pound (Pack of 1)
High quality protein made with wild caught salmon and zero grains, designed for all life stages, optimal amino acid profile for LEAN, STRONG MUSCLES
Premium ingredients with added vitamins & minerals; superfoods for hard-working antioxidants; fatty acids for skin & coat; essential hypoallergenic ingredients
Nutrient rich and HIGHLY digestible with PROPRIETARY, species specific, probiotics that survive and thrive in the GI tract; at levels
Family owned & run, MADE in the USA choosing ingredients from TRUSTED, SUSTAINABLE sources around the world; Call with questions 800 442 0402
No corn, wheat, filler; NO ARTIFICIAL flavors, colors, or preservatives added; made with scientifically advanced food safety protocols
Skin allergies in dogs greatly affect their skin and coats. When allergy strikes, it causes a lot of itching, which further leads to massive shedding. Switching to hypoallergenic ingredients is one way of taming skin allergies and giving back the coat's shine and luster. You can find this benefit in every bag of Diamond Naturals Dry Dog Food.
The Diamond Naturals is grain-free and made from high-quality salmon suitable for all life stages and breed sizes. It contains superfoods and all essential nutrients that your pooch needs – in bites that they will surely love.
Pros:
Trusted and sustainable sources of ingredients
Premium ingredients
Decreases bad gut bacteria
Promotes shiny furs
Compact packaging
Cons:
Stinky
A turndown for picky dogs
Forza10 Legend Sensitive Skin Dog Food, Grain Free Dry Dog Food with Curative Herbs, Premium Quality Wild Caught Anchovy Flavor, for Adult Dogs, Pack of 1 (5 Pounds)
DRY DOG FOOD FOR ALLERGIES AND ITCHING - premium dog food formulated to help common skin problems like dog dry skin, hair loss, redness, fur loss, hotspots and unpleasant skin odors
DOG FOOD FOR SKIN ALLERGIES - low allergen grain free dry dog food contains vitamin E, omega-3 and omega-6 fatty acid to help your dog get a lustrous coat and healthy skin for dogs
GREAT TASTE THAT YOUR DOG WILL LOVE - sensitive dog food that contains therapeutic plants and fruit extracts for better taste, and helps the coat and skin for dogs
HEALTHY NATURAL INGREDIENTS - our dog food grain free is made with wild caught anchovies (fish dog food). Contains no corn, wheat, soy, by-products, GMOs, artificial preservatives, colors or flavors
FAST RESULTS DOG FOOD SKIN PROBLEMS - with our advance hypoallergenic dog food formula you can see improved results in a short period of time with this allergy dog food for dogs with itchy skin
For adult dogs with sensitivities, Forza10 Legend can be the best choice of dog food for skin allergies. It contains wild-caught anchovies and the delightful flavor of curative herbs like cranberries, rosehips, and sage. Its optimal balance of omega-3 and omega-6 help improve oil production in canines to give them shiny and healthy coats.
Forza10 products are formulated from scientific studies by veterinarians to ensure that dogs can get the maximum health benefits. It will also put dog owners at ease with its best value for money that comes with the result.
Pros:
Effective against skin allergies
Natural ingredients
Contains therapeutic and curative plants
GMO and preservative-free
Grain-free
All breed sizes
Cons:
Big kibble for small breeds
Expensive
What to Look for in a Dog Food for Skin Allergies
The market for pet food has overwhelming selections of healthy food choices. But if your dog suffers from terrible skin allergies, you will need to narrow down your options. Vaccine shots and allergy medications are expensive but may become worthless if the problem is not solved from the source.
Changing your dog food is a trial and error and an elimination process since you have to point out the triggers. What works for your dog may not work in others and their taste buds also have their say in the matter. Generally, here are some of the considerations that you need before buying.
Limited Ingredients
The presence of allergens in food triggers the reaction in dogs that may cause them to itch terribly or develop stomach issues. If your dog breaks into an episode of non-stop itching, it may help to try limited ingredient dog food products.
Limited ingredient dog foods address the problem by including only a single protein source. It may contain just beef, lamb, or chicken so you can vouch for the ingredient that is either suitable or unsuitable for your dogs.
Grain-free
Grain and wheat products are also likely to pose sensitivity to animals. Although they are the main ingredient in dog foods, there are grain-free options you can use as a substitute. They may contain potatoes and legumes that are also a rich source of protein.
However, meat-based protein is still the superior option when it comes to amino acid content. When opting for grain-free dog foods, it will help to choose products that use meat as their main ingredient. It will take care of your dog's skin allergy without compromising their health and development.
Vet Recommendation
You can buy dog food for skin allergies without a veterinarian prescription. But to be sure and safe, their advice is still worth an ounce of gold. Your vet may help you choose the right product and recommend the proper amount that your pet needs.
In severe episodes of skin allergies, your veterinarian also has the say in medications other than hypoallergenic diets.
Conclusion
Skin allergies are prevalent in dogs, which may go with the season or develop gradually. Skin allergy from food triggers may develop gradually. It will only surprise you one day that the food that they are eating for a long time can suddenly cause allergy flare-ups.
Changing their diet may help solve the problem per se. But since dogs are not the same, it can take a few trials to find what is suitable for them. When starting a new product, buy in small packs to avoid wastes in case it doesn't work or dogs don't like it.
Sure, dog food for skin allergies can be quite expensive. But it is a necessary expenditure to keep your beloved fur baby happy and always on the brink of good health.
If you want to look for the best food specifically for your French dogs, you can also check out this post.