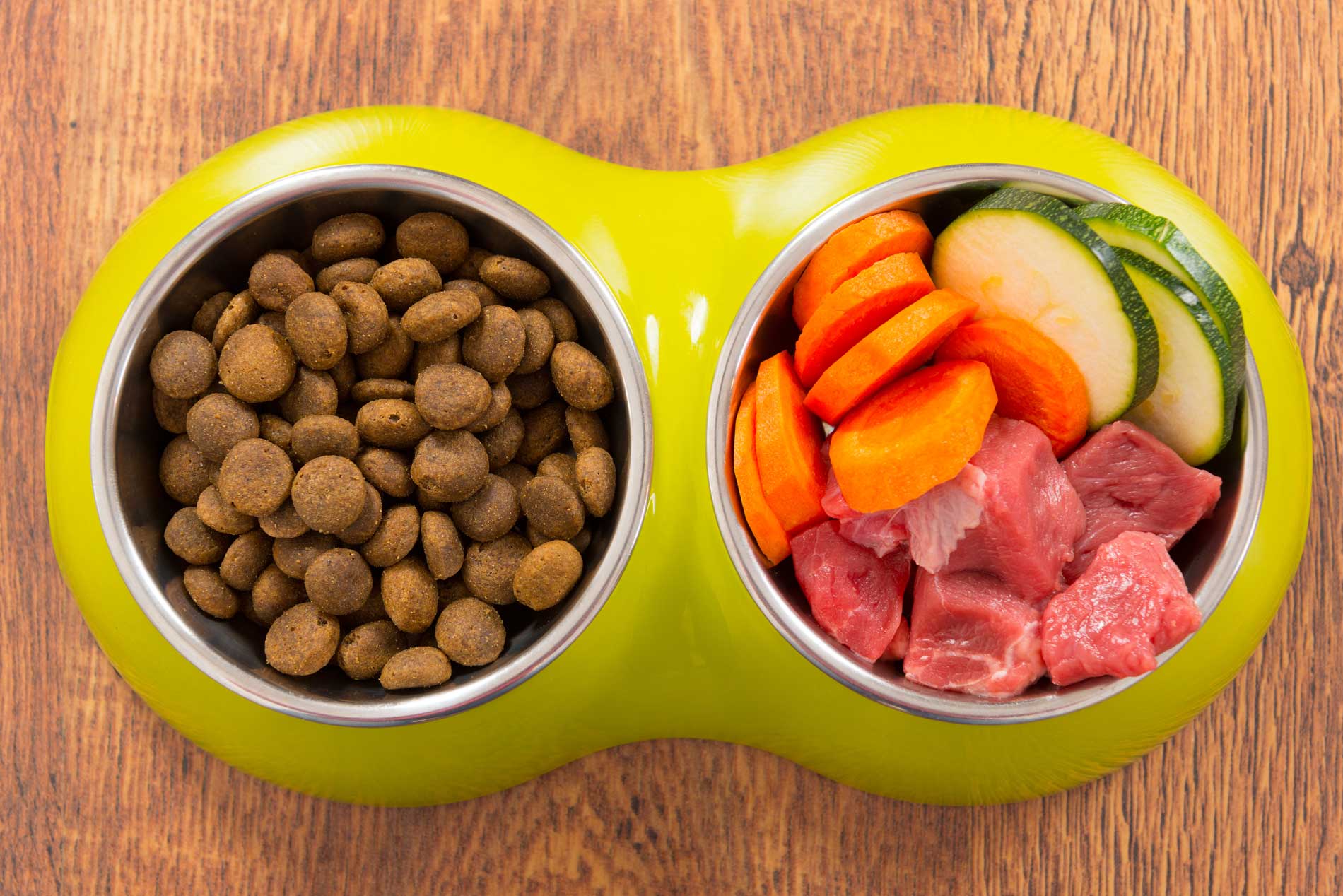 Healthiest Dog Foods
It is always essential to invest in the health and longevity of your dog. Dog owners often wonder about the healthiest foods for their furry friends. There are many products with unnatural ingredients on the market, so it could be challenging to find the right solution.
As an owner, you must do your research and locate healthy food options with natural ingredients. Not only will these components promote better skin, gut, and weight, but the ideal combination will help your dog live a happier, healthier life. This article investigates the most critical ingredients to look for and the top five healthiest product options available.
Healthy Ingredients to Look for in Dog Foods
Each dog owner may have his or her own personal diet preference, but it is crucial to consider the healthy ingredients inside your furry friend's food. Not only should your dog have a fresh diet, but it should have a balanced one too. Below is a list of essential ingredients to incorporate into your dog's diet.
Authentic Meat
You want to focus your search on dog food options with real meat. Because dogs are carnivores, they require meat to satisfy their natural instincts and hunger. When you study the label, you should ensure that it lists the specific type of animal the meat comes from, such as beef, chicken, or lamb. Every dog is unique, but your dog should get 30% of its diet intake from lean protein.
Vegetables and Superfoods
Dogs require vegetables just like humans, so you should look for food labels that highlight vegetables first. Your furry friend should avoid corn because it is tough for it to digest and is typically utilized as a filler. Superfoods are also one of the best ingredients you could look for in healthy dog foods. The best brands will list components like blueberries, chia seeds, kale, quinoa, and pumpkin seeds.
Vitamins and Minerals
Dogs need their foods to combine vitamins, including Vitamin A, B, D, E, K, and choline. Most vitamins come from natural foods, but sometimes your furry friend will need an additional boost. Minerals are also crucial for your dog's diet because they prevent health issues like joint and bone disorders, anemia, and impaired immunity. Try to focus on ingredients like ferrous and manganese sulfate.
Fiber
Both insoluble and soluble fiber ensure that your furry friend's digestive tract is working correctly. Fiber also promotes a healthy weight balance, combats obesity, and prevents anal gland disease. Incorporating the right fiber levels can be tricky, so you should consult with your veterinarian if you are unsure.
Healthy Fats
Fats are not always bad, but they are a vital component of a dog's diet. Healthy fats, typically found in quality meats, will promote optimal cell function. An optimal fat intake will ensure a healthy outer coat for your dog. The best sources of healthy fat include coconut oil, sunflower oil, olive oil, flaxseed oil, and fish oil.
Healthiest Dog Food Products on the Market
Check out our top picks for the healthiest dog foods available.
Diamond Naturals

Diamond Skin & Coat Real Meat Recipe Dry Dog Food with Wild Caught Salmon 30 Pound (Pack of 1)
High quality protein made with wild caught salmon and zero grains, designed for all life stages, optimal amino acid profile for LEAN, STRONG MUSCLES
Premium ingredients with added vitamins & minerals; superfoods for hard-working antioxidants; fatty acids for skin & coat; essential hypoallergenic ingredients
Nutrient rich and HIGHLY digestible with PROPRIETARY, species specific, probiotics that survive and thrive in the GI tract; at levels
Family owned & run, MADE in the USA choosing ingredients from TRUSTED, SUSTAINABLE sources around the world; Call with questions 800 442 0402
No corn, wheat, filler; NO ARTIFICIAL flavors, colors, or preservatives added; made with scientifically advanced food safety protocols
The Diamond Naturals Skin & Coat dog food is a tasty and healthy treat for your furry friend. The salmon and potato formula is a must-try because it is filled with essential nutrients and probiotics for a healthy coat. This dog food is perfect for all life cycle stages, and its amino acid complex is built for leaner, stronger muscles.
Diamond Naturals' product also contains an ideal balance of superfoods, antioxidants, and fatty acids. The company also mentions no corn or wheat fillers, providing your furry friend with a clean and reliable meal. Customers love that you receive a quality, grain-free product for a much more affordable price than other brands.
Pros:
Formula is suitable for all ages and life stages
No corn or wheat fillers
Probiotics and nutrient-rich formula provide easy digestion
Cons:
Blue Buffalo Life Protection Formula

Blue Buffalo Life Protection Formula Natural Adult Healthy Weight Dry Dog Food, Chicken and Brown Rice 30-lb
REAL MEAT FIRST: Blue Buffalo foods always feature real meat as the first ingredient; High-quality protein from real chicken helps your dog build and maintain healthy muscles; Plus they contain wholesome whole grains, garden veggies and fruit
WEIGHT MANAGEMENT DOG FOOD: Formulated with reduced calories from fat, BLUE Life Protection Formula Healthy Weight dry dog food provides a fully satisfying meal while helping dogs achieve and maintain healthy weight
ANTIOXIDANT-RICH LIFESOURCE BITS: A precise blend of antioxidants, vitamins and minerals carefully selected by holistic veterinarians and animal nutritionists to support immune system health, life stage needs and a healthy oxidative balance
A NATURAL DOG FOOD: BLUE dry dog foods are made with the finest natural ingredients enhanced with vitamins and minerals; BLUE contains NO chicken (or poultry) by-product meals, corn, wheat, soy, artificial flavors or preservatives
Contains one (1) 30 lb. Bag of BLUE Life Protection Formula Healthy Weight Adult Dry Dog Food, Chicken and Brown Rice
Blue Buffalo checks all the boxes for a complete healthy meal. It contains the highest quality protein sources with its red meat, which maintains stronger muscles. The food is also packed with essential vitamins, antioxidants, and minerals, which boost your adult dog's immune system in the long run. The Omega 3 & 6 fatty acids provide the necessary ingredients to improve your dog's coat and skin.
Customers love that the Blue Buffalo formula is easy to introduce to dogs because they love the smell. Although you get a higher price point with Blue Buffalo, it beats the competition with its comprehensive list of ingredients. For dogs with high cholesterol, Blue Buffalo has worked for dog parents in lowering their furry friend's blood sugar too.
Pros:
Excellent option for weight management
Great combination of vitamins, antioxidants, and minerals
Made with real meat and other natural ingredients
Cons:
The brown rice in the formula contains arsenic, which can be harmful to some dogs
The Honest Kitchen Whole Grain Chicken Recipe

The Honest Kitchen Human Grade Dehydrated Whole Grain Dog Food – Complete Meal or Topper – Chicken 10 lb (makes 40 lbs)
MAKES 40 LBS OF FOOD: Just add warm water for a wholesome & delicious meal that rehydrates to 4x its weight. A 10 LB box makes 40 LBs of fresh food! Serve alone as a complete easy homemade meal, or use as a topper to dry food.
HUMAN GRADE, FREE RANGE CHICKEN: This recipe is 100% human grade and made with wholesome ingredients like free range chicken, organic oats, carrots & bananas. Each recipe is produced in a human food facility where our whole food ingredients are gently dehydrated for maximum flavor, nutrient retention and digestion.
SUITABLE FOR PUPPIES & ADULT DOGS: Complete & balanced nutrition for adult dogs and puppies of all breeds and sizes, including large breed puppies, as well as adult mothers (gestation/lactation).
WE SAY NO TO: This recipe contains no preservatives, by-products, fillers, GMO ingredients, corn, wheat or soy.
CERTIFIED B CORPORATION – We meet the highest standards of verified social and environmental performance, public transparency and legal accountability to have a positive impact on our employees, communities and the environment.
The Honest Kitchen's Whole Grain Chicken Recipe provides a tasty set of ingredients with its free-range chicken, bananas, carrots, and organic oats. All components are also carefully dehydrated for easy digestion and optimal nutrient retention. Because the natural food recipe eliminates artificial preservatives, fillers, and by-products, it is suitable for dogs of all ages.
Customers also receive an authentic final product because the food is prepared in a human food facility with 100% human-grade ingredients. The company only sources its ingredients from reliable sources for maximum nutrition. Consumers also remark how this food product's ideal cost is equivalent to what they would spend to make the food themselves.
Pros:
High in protein because of the human-grade chicken
Great option for all dog ages
Food is made within a human food facility
Cons:
The potatoes are not as tasty as the other ingredients
Not budget-friendly
Purina ONE SmartBlend Natural Healthy Formula
Sale

Purina ONE Plus Healthy Weight High-Protein Dog Food Dry Formula - 31.1 lb. Bag
One (1) 31.1 lb. Bag - Purina ONE Plus Healthy Weight High-Protein Dog Food Dry Formula
Weight control dog food made with high-quality protein sources, including real turkey as the number 1 ingredient, to promote strong muscles including a healthy heart
Four antioxidant sources in this wholesome dog food for immune support for dogs, and natural glucosamine sources support dog joint health
Deliciously crunchy dog kibble and tender meaty morsels combine for a taste and texture dogs love and work with added calcium for a premium dog food that supports strong teeth and healthy gums
Purina ONE Plus Healthy Weight High-Protein Formula dog food features omega-6 fatty acids, vitamins and minerals to support a shiny, healthy skin and coat for dogs
The Purina ONE SmartBlend is a formula catered for your furry friend's unique needs. Its most significant selling point is its weight loss capabilities. The high protein content helps promote lean muscle for proper weight management. Purina's formula also includes an ideal fiber content to combat weight loss and encourage smoother digestion.
Many of Purina's customer reviews remark how effectively the formula contributes to stronger muscles and a healthy heart. Your furry friend can enjoy the fantastic taste but not worry about gaining weight. The product is from one of the most reliable companies in the industry, so the ingredients are backed by thorough research.
Pros:
Excellent taste
Good for weight management
Backed by research from a reliable company
Cons:
Contains meat by-products and fillers
Pricier than other alternatives
Lucy Pet Formulas for Life

Lucy Pet Formulas for Life Salmon, Pumpkin, & Quinoa Dry Dog Food, All Breeds & Life Stages, Digestive Health, Sensitive Stomach & Skin - 4.5 lb
CAREFULLY FORMULATED: for Gut health, digestive health and sensitive stomachs. These are key to natural immunity. Grain-Free Formula.
SKIN & COAT: Wild Caught deboned Alaskan Salmon rich in Omega 3 fatty acids for healthy skin and coat.Caloric content: 3,575 kcal/kg, 495 kcal/cup
ALL BREEDS & LIFE STAGES: Every kibble is designed to contain all the essential nutrients required for puppies, adult dogs and senior dogs of small & large breeds to live and be healthy
TRUSTED BY ALL: Trusted by top trainers, breeders, police K9 units and military working dogs.
VETERINARIAN APPROVED: Based on 40 years of research by Dr. George C. Fahey, the leading expert in gut health.
The Lucy Pet formula is perfect for dogs with sensitive stomachs. Because of its antioxidants and grain-free ingredients, your furry friend gets an extra boost of immunity as well. The salmon, pumpkin, and quinoa formula also deliver the essential fatty acids for your dog, promoting a healthy coat and skin. Each bite of this formula is filled with the necessary nutrients to satisfy dogs of all ages.
When you choose the Lucy Pet formula, you are investing in a quality company as well. The Lucy Pet Foundation provides free spay & neuters to dogs in low-income geographical areas.
Pros:
Good option for gut health and sensitive stomachs
High amount of fatty acids promotes healthier skin and coat
Percentage of revenue goes toward helping animals
Cons:
Final Thoughts
Your dog's health and happiness is always a top priority, so an investment in healthy dog food is an important decision. There are many products on the market, but all the options on this list provide essential nutrients, real meat, and excellent taste to keep your furry friend coming back.
The important thing to remember is to provide your dog with the ideal meal plan for its specific needs. Some dogs need food for proper weight management, while others may require a high-protein meal plan. No matter what you decide, always keep your best friend's interest at heart.