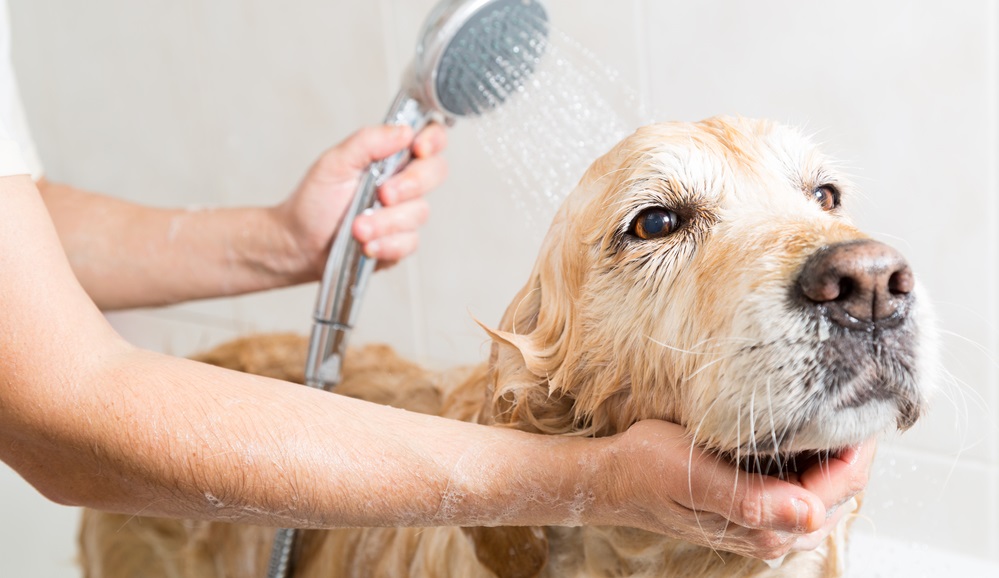 The 8 Best Dog Shampoo for Itchy Skin
Itchy skin is a common condition in all types of dogs brought about by several environmental and genetic variables. While the dog might not know how to communicate it, this can be a source of discomfort which will affect other areas of the dog's life if not addressed.
As soon as you discover your dog has skin sensitivities, you should start exploring products that you can incorporate in their daily routines that have no chance of aggravating the situation and will provide relief. Today we will review 8 products among the best dog shampoo varieties for bathing dogs with itchy skin. We will also look at exactly what makes them adept for this task.
1. Burt's Bees 2-in-1 Tearless Shampoo and Conditioner for Puppies
Burt's Bees for Dogs Natural Tearless 2 In 1 Dog Shampoo & Conditioner with Buttermilk and Linseed Oil | Gentle & Safe for Puppies | pH Balanced for Puppies - Made in USA, 16 Oz - 2 Pack
PET GROOMING BRAND IN THE USA—Join the millions of pet parents who can't get enough of Burt's Bees for Pets by using pet grooming brand
SOOTHES AND SOFTENS — Burt's Bees Puppy Shampoo and Conditioner cleans, soothes, softens, and conditions your puppy's skin and coat
MADE WITH THE HIGHEST QUALITY INGREDIENTS — All natural ingredients include buttermilk, which soothes skin and softens hair and linseed oil, which deeply conditions your puppy's coat
SUITABLE FOR ALL DOGS AND PUPPIES — This mild shampoo and conditioner is pH balanced especially for all dogs and puppies
100% SAFE — Veterinarian recommended formula, free of fragrances, sulfates, colorants, and harsh chemicals
Its almost 100% natural body comprises buttermilk, which is great for soothing your dog's skin and softening its hair, combined with linseed oil, which conditions the dog's coat, making it healthy and stronger.
The ingredients are mild and natural, free from fragrances, parabens, sulfates, petroleum, sodium lauryl sulfates (SLS), colorants, and any harsh chemicals that are likely to be irritants. This reduces the chance of your dog catching any inflammation resulting from its application, sensitive as they come.
They are tearless, meaning a little exposure to the dog's eyes will not cause an emergency room level of disruption, and you can just wash it off.
Their formula is recommended by veterinarians because their pH is balanced specifically to suit dogs of all sizes.
2. WashBar Natural Dog Shampoo Bar
WashBar Natural Dog Soap Bar - Natural Shampoo Bar and Dog Shampoo for Smelly Dogs with Sensitive Skin, Easier to Use Than Liquid Pet Shampoo with No Plastic Bottle Waste, 2-Pack
A GREAT VALUE WASH - Two 3.5oz bar delivers the equivalent washing of 40.4fl.oz of liquid pet shampoo saving you money AND it's all natural, with NO plastic bottle waste. No need for conditioner.
SO MUCH EASIER WITH A BAR OF SOAP - Washing a dog is so much easier with a pet shampoo bar compared to liquid shampoo. It frees up one hand to hold the dog, and it is easier to wash the underside of your dog – gravity isn't working against you and it lathers up really well.
GENTLE FOR SENSITIVE SKIN CONDITIONS - a natural anti itch dog shampoo helps to soothe dog dry skin, and dog itchy skin using the very best ingredients Mother Nature has to offer. Suitable for use as a mild dog shampoo for allergies and itching. Gentle enough to use as a puppy shampoo and conditioner.
NOT JUST A DOG SHAMPOO FOR SMELLY DOGS - can be used on puppies, rabbits, guinea pig, hamsters, calves or horses and many other animals.
OUR MONEY BACK GUARANTEE - We consistently get feedback from customers who are amazed at how well our products work, but in case you don't agree, we offer a no questions asked 30 Day Money Back Guarantee. Try our 100% natural dog shampoo today, absolutely risk free!
The first advantage this shampoo option offers is the effectiveness of washing the dog's underbelly. You have a free hand to hold the dog, and the soap lathers up very easily against its coat. You don't have to work against gravity like you would with liquid shampoos.
It is easier to isolate a body part that needs cleaning, like the paws and feet directly after a walk, in comparison to liquid shampoos.
It is very gentle and is suitable for soothing dry and itchy skin for all sizes of dogs, even small sensitive puppies and those with existing allergies. It can be extended to other animals within the household, rendering its application extra versatile. You can use it for bathing your rabbits, hamsters, horses, calves, cats, among others.
It has a nice scent without resorting to artificial fragrances. The natural ingredients have been formulated such that they can be used daily for their calming properties in dogs with sensitive skin. These ingredients include lemon-scented tea tree oil, Manuka oil, and neem leaf.
It is climate pledge friendly, meaning WashBar has demonstrated its commitment to preserving nature by using eco-friendly products to create eco-friendly products. The bars reduce the use of plastic significantly as no bottles are involved.
It comes with a 30-day money-back guarantee as a testament to WashBar's confidence in the competence of its product.
3. Espree Silky Show Shampoo
Espree Silky Show Shampoo, 20-Ounce
This luxurious shampoo will turn your pet into a show ring champion!
Improves Texture & Shine
Conditions damaged coats
Made with 100% Organically Grown Aloe Vera
Made in the USA
Its main component is aloe Vera derived from the inner fillet of the organically grown aloe plant. Its many nutrients make it a great skin hydrator, and a moisturized skin is less prone to inflammation and itchiness. It also helps to soothe minor skin irritation, abrasions, sunburn, and insect bites.
It is called the silky show shampoo because it is also formulated with silk protein and safflower oil. This combination cleans, conditions, and moisturizes dry and damaged coats, rendering them smooth and shiny and improving their texture, making them easy to comb and brush.
The presence of calcium disodium edathamil (EDTA), which is used as an ointment for skin irritations in its composition, also enhances its efficiency in soothing your dog's itchy skin. The goal is to reduce the urge of the dog to scratch itself and worsen the situation.
4. Buddy Wash 2-in-1 Dog Shampoo and Conditioner
Buddy Wash Dog Shampoo & Conditioner for Dogs with Botanical Extracts and Aloe Vera, Lavender & Mint, Gallon Jug
DOG SHAMPOO AND CONDITIONER – Pet shampoo & conditioner made in the USA with ingredients from the garden, lavender & mint scent
WITH HYDRATING OILS – This 2-in-1 pet wash cleans and moisturizes with herbs and botanical extracts such as lavender, mint, sage and tea trea oil.
EASY PET GROOMING FOR DOGS – Dirty dogs don't stand a chance. One application means easy, gentle, and safe dog grooming that leaves your dog soft, fluffy and smelling great.
SOOTHING & SAFE SHAMPOO – Dog shampoo with a soothing formula safe for frequent use.
SPECIALLY FORMULATED – Made with a coconut base, aloe vera and vitamin E to nourish skin and make coats velvety soft.
It has a coconut shampoo base with aloe Vera gel and the essence of mint and lavender, making it a 2-in-1 product because it cleanses and conditions the dog's coat.
These ingredients are combined with botanical extracts like sage, rosemary, and tea tree oil, so the formula can nourish the skin, resulting in a silky soft coat.
The exclusively natural conditioners and botanical extracts are blended in a mild formula that allows it to be used frequently without inducing adverse reactions from your sensitive pets.
The lavender and mint extracts have multiple functions, giving the shampoo its deodorizing properties; your dog will smell fresh without harsh fragrances. They also soothe the skin, eliminating the itchiness and lessening the chances of inflammation.
The botanical extracts like rosemary and tea tree oil moisturize the skin and hairs, making them soft and easy to brush and manage. This lets your canine appreciate the bath, and you will have an easier time getting them to comply.
5. John Paul Pet Oatmeal Shampoo
Sale
This dog shampoo comes in the form of waterless foam that you massage into the dog's dry fur. It loosens all the dirt and oil and mixes with it, enabling you to brush it all off.
This is especially applicable when it is extra cold, and you don't want to expose your dog to the cold. Fur takes some time to dry off; meanwhile, they will be freezing. It also helps you apply a quick fix when the dog is dirty, and there is no time to prepare a regular bath.
You can avoid the smell of wet dog, and the almond oil in the formula tops it up by emanating that sweet almond fragrance, making your dog instantly huggable.
The formula is designed for sensitive skin and balances the pH, ensuring the shampoo is not inflammatory against the dog's skin.  Otherwise, the botanical extracts are the same that Paul Mitchell uses for their human haircare products.
Their dog shampoos are actually tested on humans because they are members of Cruelty-Free International. This organization stands against any cruelty meted to animals (Testing of potentially harmful products on animals is considered cruelty because they cannot give consent).
6. Vet's Best Hypoallergenic Shampoo
Vet's Best Hypo-Allergenic Shampoo for Dogs | Dog Shampoo for Sensitive Skin | Relieves Discomfort from Dry, Itchy Skin | Cleans, Moisturizes, and Conditions Skin and Coat | 16 Ounces
RELIEF FOR SENSITIVE SKIN - Vet's Best Hypo-Allergenic Dog Shampoo for sensitive skin is a gentle, soap-free shampoo for dogs that relieves itching and helps to smooth dry, brittle coats
NATURAL REMEDY- Veterinarian formulated blend of key natural, plant-based ingredients like Aloe Vera and Vitamin E to comfort sensitive skin and relieve your pet's allergies
USE AS NEEDED - Vet's Best Hypo-Allergenic Dog Shampoo may be used as often as necessary to remove allergens without drying out your dog's skin
WORKS WITH OTHER TREATMENTS – Our shampoo will not affect other dog treatments such as topical flea and tick control products
TOTAL CARE- Vet's Best Hypo-Allergenic Dog Shampoo is part of our complete treatment system for dry and sensitive skin. Use with Vet's Best Moisture Mist and Vet's Best Ear Relief Wash & Dry
This shampoo's gentle formula has been developed specifically for dogs with sensitive skin to relieve itchiness and inflammation.
The blend of natural plant-based ingredients was designed by veterinarians with tons of experience relieving these discomforts from canines. In addition, the aloe vera, allantoin, panthenol, and Vitamin E combination forms an enhanced anti-inflammatory agent.
It can be used alongside other treatments for skin irritations such as flea and tick control products without interfering or conflicting with the treatment. It actually alleviates the inflammation and lets the treatment work while providing some moments of relief from dry itchy skin for your pooch.
You can apply it as often as you deem necessary because it does not dry out the skin, unlike some products. In addition, it has no added fragrances and is free from parabens, dyes, sulfates, or any strong additives that may cause further irritation.
It instantly turns a dry, brittle coat into a silky, shiny, and moisturized version that is comfortable for the dog and has a nice fragrance that is not too potent to you and the sensitive dog.
7. TropiClean Hypoallergenic Puppy Shampoo
TropiClean Gentle Coconut Hypoallergenic Puppy and Kitten Shampoo, 20oz - Gentle Cleansing for Dogs & Cats with Sensitive Skin - Made in the USA - Soap & Paraben Free
GENTLE CLEANSING – TropiClean Gentle Coconut Hypoallergenic Puppy Shampoo is perfect for puppies, kittens and pets with allergies or sensitive skin, as it gently cleanses and moisturizes their skin and coat in a soothing lather.
LIGHT TROPICAL SCENT – The long lasting light tropical scent of coconut leaves your pet smelling fresh and ready for cuddles!
SAFE SOLUTION – pH Balanced, Soap Free, Paraben Free and Dye Free. Made with naturally derived ingredients and safe when used as directed on puppies, kittens, and dogs and cats with sensitive skin 12 weeks or older.
ALLERGY RELIEF – Soothing lather cleanses and provides gentle relief from allergies.
MADE IN THE USA – We proudly manufacture and ship our products with only the highest quality, naturally derived ingredients.
The mild cleanser is derived from coconut and palm kernel oil blended with oatmeal and aloe extracts.
Its lather gently cleanses, moisturizes, and soothes your puppy's skin and coat, and you can even apply it on other pets like cats if you have any. This is the ideal trifecta for a shampoo to be used on sensitive skin or pets with allergies. All the ingredients are natural and, therefore, gentle on the coat.
You wet the pet's coat, then apply the hypoallergenic shampoo, ensuring to massage it well into the coat and let it linger for 3 to 5 minutes before you rinse it off and dry the dog.
It will leave the light tropical scent of coconut, which lingers without being potent, enabling you and your pet-loving friends to get up close with your ever-fresh smelling dog.
You can use the same shampoo for your kittens which saves you the trouble of going through another rigorous search for a similar product.
8. Wahl Oatmeal Shampoo with Natural Ingredients
Wahl Dry Skin & Itch Relief Pet Shampoo for Dogs – Oatmeal Formula with Coconut Lime Verbena & 100% Natural Ingredients – 24 Oz - Model 820004A
Made in the USA - Our oatmeal formula pet shampoo is pH balanced, alcohol free, paraben free, PEG-80 free and is highly recommended for moisturizing dry skin & providing itch relief
Oatmeal Formula – This coconut lime verbena scented pet shampoo is great for moisturizing dry skin, cleaning dirty coats, & itch relief. The thick lather rinses off clean & keeps your pet looking and smelling clean
Less is More - Wahl has a higher concentrate of coconut derived sodding agent, which means you don't have to use as much as other dog shampoos. A little bit of shampoo goes a long way and provides a rich lather that's easy to rinse off
Allergy Friendly - Our dog icon, Rocket, was designed in the image of our family dog Cooper – a golden doodle, who has severe allergies. This is the only shampoo we have found safe and effective. He loves the smell too!
The Brand Used by Professionals - Wahl has been serving professional vets and groomers for over 50 years. clean, condition fur & hair for a smooth, soft coat. We are a company of animal lovers that want the best for your family member
This shampoo comes highly recommended for providing itch relief and moisturizing dry skin, which is among the contributors to itchy skin.
The cleaning agent is a high concentrate derived from coconut, enabling you to get a rich lather from a small amount of the shampoo, which is economical and sustainable. You can clean your dirty dog as regularly as you desire; you get up to 70% more baths compared to similar portions to your regular shampoos.
Another property that will enable you to offer regular baths is the gentleness that comes with pH balancing and ingredients like verbena, which has healing properties for wounds and bruises and soothes inflammation and itchiness. If you factor in the moisturizing ability of the oatmeal formula, every application of the product leaves your dog's skin healthier without irritations and dryness.
The coconut lime verbena scent is also soothing both to the pet and the owner. It takes care of the foul wet dog smell we are always trying to avoid.
What Makes Dog Shampoo Best for Itchy Skin?
The 8 shampoos we have highlighted possess a combination of healing, soothing, moisturizing, conditioning, and of course, washing capabilities which are critical in a dog's bathing regimen.
Finding this balance is more critical if you deal with a pet whose skin is already sensitive and susceptible to discomforts such as itchiness.
Because there are several other great products out there, you need to know what makes a great shampoo for dogs with itchy skin so that you can make an informed decision when the time comes. We have shortlisted some key considerations we use below.
The Ingredients
These are what make the shampoo capable of performing the tasks you have lined up for it. They also determine if the shampoo will be safe for your dog and whether it can soothe the itchiness or worsen the condition.
Natural ingredients are gentle on the dog, and you should go for products with naturally extracted components. These qualities make them slightly pricey, but if you look at the bigger picture, it is cheaper than having to treat allergies or paying consultation fees to your veterinarian.
They should not be acidic or incorporate harsh chemicals like formaldehyde, phthalates, and nitrosamines, which are common in cleaning products.
Factor in Sensitivity
The mere fact that you are looking for dog shampoos for itchy skin is a giveaway that your dog is sensitive. Your choice of shampoo should accommodate the special needs.
Steer clear of those artificial scents to avoid flare-ups. Natural extracts like oatmeal and aloe have soothing properties and are encouraged. Look for formulations that specialize in treating dander and dryness.
2-In-1 Functionality
A significant number of shampoos also work as conditioners, providing the much-needed softness and desired shine to the canine's coat. This combination could help you realize more value for your money and occasionally even sort out the itchiness if it resulted from dry skin. They make tangled fur easy to brush and groom, preventing hair loss and irritation.
Avoid using these types of shampoos on dogs with oily coats; however, they will make the fur greasy and even agitate the skin further.
Medicated Shampoo
Sometimes the itchiness may be due to a known skin condition or skin allergy. Some shampoos are designed to treat or manage skin conditions and allergies and are even prescribed by veterinarians.
Avoid a medicated dog shampoo with alcohol for dogs because they don't always know to close their eyes, and these will definitely alleviate skin irritations.
Waterless Shampoos
These enable grooming even when you are not in a position to provide a full bath. For example, they are excellent when you are on the road, and you feel your pooch needs a scrub. Their formulas loosen the dirt from the coat and fur such that you can brush it off, getting your dog clean without going through the process of setting up a bath.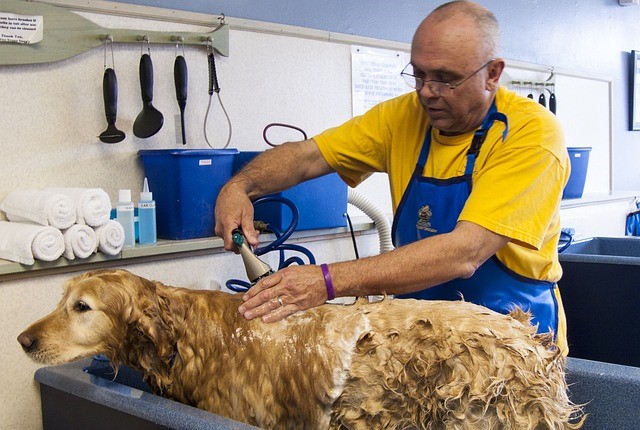 What about Homemade Dog Shampoos?
If you want to try your hand at your own homemade dog shampoo for itchy skin, you can take a quart of water, one cup of baby shampoo, one cup of white or apple cider vinegar, one-third cup of glycerin, and two tablespoons of aloe vera to make your own. It is also good for sensitive skin, irritated skin, and can help relieve your dog's itchy skin problem.
Coconut oil has also been known to help with some dog skin conditions like hot spots, bites, and itchy, dry skin. Coconut oil can also improve damaged dog's skin and reduce allergens. Oatmeal shampoo is another good choice and can be ground up and added directly to the dog's warm bath water. You can also make a pasty oatmeal shampoo to soothe your dog's coat and skin. Oatmeal also helps with flaky skin and can treat skin allergies.
Can You Use Human Shampoo on Your Dog?
Human skin has a normal pH balance of 5.5- 5.6 which is more on the acidic side. If you use a human shampoo on your dog, it can disrupt the dog's acid mantle and leave your dog more vulnerable to parasites, viruses, bacteria, and a range of other skin problems. These issues can also lead to excessive scratching and abrasions, worsening your pet's skin conditions.
Conclusion
If your dog suffers from skin conditions, we advise that you consult your vet or an experienced groomer before overhauling the existing bathing regimen. The fragrances and harsh chemicals usually found in many cleaning and beauty products can irritate dogs and cause inflammation in dogs whose skin is already sensitive.
You also risk worsening the condition when you decide to treat symptoms without knowing the underlying conditions. The vet will tell you what the dog needs and whether the contents of the shampoo you are contemplating buying are compatible with your pooch.