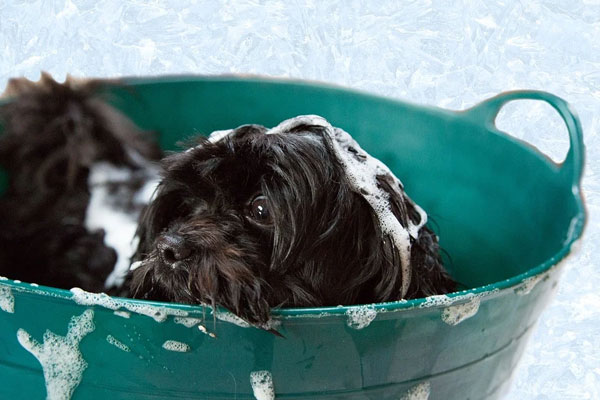 Best Dog Shampoos for Odor
Our dogs can be so friendly, attentive and loveable!
But let's be real, dogs can smell. The smell can permeate the whole house, and strangers in the street visibly back away from the smell. Frankly, it can be embarrassing.
But you know what? Regular dog shampoo doesn't always cut it. Sure they can sometimes mask the smell a little, but they don't always neutralize the scent.
Thankfully however, there are solutions at hand! And better yet, there's no need to go Googling for home remedies and turning your kitchen or bathroom to a pharmacy.
Quick Navigation
[ez-toc]
In this article, we show you 5 of what we believe are the best dog shampoos for odor control that are out on the market today. We've done the homework for you, and our honest reviews that follow should help you decide which dog shampoos for odor control best suits your needs.
And if these product reviews still leave you feeling spoilt for choice, then if you scroll a bit further down you will find our buying guide which tackles the topic further still and comes complete with answers to your most frequently asked questions.
It's worth noting at this point that you can get odor control products for your dog that aren't strictly shampoos. You can get special sprays and gels. In the interest of brevity however, this article is only going to look at shampoos.
In a hurry? This is our winner!
Our rating:

Best Dog Shampoos for Odor – Comparison Table
Best Dog Shampoos for Odor – Reviews
Our Pick
Our rating:

This best selling shampoo from Paws & Pals really packs a punch!
Not only does it cleanse the dog's coat and deodorize it but it does a lot more besides. It also moisturizes and nourishes your dog's skin and detangles and softens it's hair. And if that wasn't enough, it's great even for dogs with dry, itchy skin, and will relieve symptoms of allergies, making their skin itch less.
This shampoo forms the foundation of a veterinarian recommended coat care regimen.
Paws & Pals is a very conscious and caring manufacturer, and as such their production process cares for the environment, and this product is 100% vegan.
It contains plenty of natural and healthy ingredients, such as oatmeal, which provides the moisturizing and soothing effects, rosemary, vitamin B5, and soothing aloe vera. It's loaded with oil extracts and vitamins.
On a similar note, it's free of many of the harsh and nasty chemicals you sometimes find in other products, including parabens, soap, sulfates, or BPA. And with that, bath time should be tear free.
Great value for money
100% Vegan formula
Made in the USA
Concentrated formula
Soothing ingredients
Some dogs are allergic to oatmeal, which is this shampoo's key ingredient
Our rating:

This shampoo is a best seller amongst online retailers, and it comes from a company that specializes not so much in dog and pet grooming, but rather they specialize in removing any odors caused by family pets.
Rather than merely mask your dog's coat odor, this shampoo will work to actively neutralize it. It works on a wide variety of scents and even tougher scents. Better yet the odor neutralizing effect provides long term odor control and not just a temporary fix.
It's also good for the dog's skin, and will act to soothe and hydrate it as you lather up.
As a shampoo it's great because it offers exceptional cleaning, helps the fur stay clean for longer, and if all that wasn't enough it also eliminates static electricity, and keeps the fur lovely and soft.
It also comes with conditioning properties, so you don't have to buy any conditioner separately.
It's also free of nasty chemicals, there are no nasty dyes or parabens to speak of. So that's one less thing to worry about. Instead it's made with natural ingredients like oatmeal.
It's also safe to use with spot-on flea & tick products, so you don't have to interrupt your buddy's flea treatment to give him and his coat a good wash and cleanse.
The Amazon page will take you to the honey scented shampoo which is really nice, but there are other shampoos on Amazon from this same manufacturer which can not only neutralize your dog's odor, but they can also do things like help with shedding control, coat whitening, and there's a special one just for puppies.
Best seller
Long term effects
Safe to use with flea treatment
It may sound expensive for a dog shampoo, but you have to bear in mind that you get 30 fluid ounces in the bottle, which is quite a lot
Our rating:

It may not be as strong a seller as some of the other shampoos we've shown you here but there's certainly a lot to love about it!
First off, the bottle it comes in absolutely huge, 1 gallon to be exact. And moreover, it's a concentrated formula – you only need 1 part of shampoo to 32 parts of water. This way you can go for well over a year without having to buy another dog shampoo!
It's key ingredient is something called Odortrol, which breaks the odors down at a molecular level, leaving your dog smelling wonderfully fresh and clean.
It's other ingredients are all laid out on the Amazon page (and of course the bottle) and you can see for yourself that the ingredients are all natural ones, like coconut oil, and that it's completely free of nasty and harsh chemicals like soap, SLS, alcohol, and parabens etc.
It gives your dog's coat a good, deep clean, and really enriches and conditions it.
It's all handcrafted in the USA, something the brand is very proud of. But it's also popular beyond the US, and is a particular favorite amongst pet stylists and professional groomers.
It's suitable for a range of coat hair types, from oily through to dry.
Made in the USA
Huge 1 Gallon bottle
Concentrated formula
Fresh, clean scent
Not yet a best seller

The shampoo's scent is quite mild, but that's not such a bad thing

Our rating:

This is another best selling dog shampoo that comes highly recommended. And it comes from Arm & Hammer who've built their reputation in dog care products over the past 100 years.
In fact when you've finished checking out dog shampoos, it's worth looking at Arm & Hammer's other dog care products.
This shampoo uses baking powder to dissolve in the lather and deep clean your dog's fur and remove any nasty odors. Better yet the previous scent is replaced by the sweet scent of roses, white tea and fresh kiwi fruit.
It's made with all natural ingredients, and is completely free of harsh chemicals like parabens, phthalates and sodium lauryl sulfates.
It's safe to use with anti-flea and tick products, so you won't have to pause your dog's flea treatment in order to deal with his/her coat odors.
This brand also makes a super deodorizing spray in addition to the shampoo.
Please note, if you follow the link to the Amazon page, there are other items on the page besides the super deodorizing shampoo, so please be careful that you only select what you want.
For all age groups
Safe to use with flea treatment
It sells so well the retailers don't always have enough stock in for everybody
Our rating:

Now this is a shampoo that will leave your dog smelling fresh as a daisy. Well, fresher actually, because they will be smelling of eucalyptus and spearmint. Better yet it also leaves the fur feeling soft and smooth.
This shampoo for dogs is also a best seller with retailers and comes from Wahl, the go to brand that professional pet groomers use.
It's set at the perfect pH level for your dog's skin, and it lathers up well, tackling odor causing maladies, completely deodorizing your dog's coat.
It's free of chemical perfumes and other harsh chemicals, including alcohol, parabens, and PEG-80.
Although it costs nearly $15 with most retailers, it is a concentrated formula, so you don't need to use very much for each bath, and therefore you get a lot more baths out of it, 70% more according to the manufacturer. And it comes in a 24 oz bottle, which makes it very good value for money.
Made in the USA
Perfect pH level
Gorgeous fresh scent
Concentrated formula
Premium product at a premium price
Best Dog Shampoos for Odor – Buyers Guide
OK, so here's a few things you might want to think about before deciding which dog shampoo to buy for odor.
Odor Neutralizing
We mentioned this in our introduction, but it's certainly worth repeating here.  You should go for a dog shampoo that neutralizes the dog's odor, and does not merely mask it.  It's about treating the cause, not just the symptom.
And please be careful not to bath the dog too frequently as this can make the problem worse as our FAQ section later explains.
Value for Money
Sometimes you can get a good dog shampoo for odor at about the same price you'd [ay for a human shampoo, under $4.  And that will last you longer than a human shampoo because you won't be using it quite as frequently.  But some choices can provide you with even better value for money.
If possible, get a large bottle of shampoo rather than a standard sized one, as this will save you money in the long run.  But that's not our biggest money saving tip, no.  We recommend that you go for shampoo in a concentrated formula.  This way you can get substantially more washes from the bottle than from a regular dog shampoo bottle.
If value for money is of particular importance to you, then we recommend our Number Pick, the Green Groom Odor Eliminator Dog Shampoo, because although there's a one off charge of about $32, it's such a big bottle, and is so highly concentrated, we don't even consider it to be a repeat purchase item.
Lack of harsh chemicals
You've got to be careful about what substances and chemicals you put on your dog.  We recommend that you use shampoos and other grooming products that are as natural as possible.
But to be honest it's very rare to find dog shampoos that use only natural ingredients.  However many dog shampoo manufacturers take great care to ensure that there are no nasty chemicals in their product.
Examples of harsh chemicals you should try to avoid include: soap, alcohol, parabens, phthalates, and to a lesser extent, sodium lauryl sulfates.
It's important to note at this point however that many dogs can have allergic reactions to natural ingredients.  So if possible, we recommend that you try to find out if your dog is allergic to oatmeal before buying a huge bottle of oatmeal shampoo.
Customer Reviews
We think it's always a good idea to check out genuine customer reviews before buying pet grooming products such as these.  We're not saying that you need to read every review necessarily, but rather just get a feel for what people are saying about the particular item you're interested in.
We find that Amazon is a good site for checking out customer reviews, not just because there's usually a good amount of reviews to look at, but also because the manufacturer's website will typically only show positive reviews, whereas Amazon will show both positive and critical reviews, and presents a far fairer picture.
Special Features
Sometimes a dog shampoo that's great for dealing with odors can also be great for other things too.
For example, you can get ones that are also anti-itch like our Number 1 Pick, the Paws & Pals 5-In-1 Oatmeal Dog Shampoo.  Or there are also anti-shedding, or coat whitening, or just for puppies shampoos, like those in the Nature's Miracle brand we showed you earlier.
Frequently Asked Questions
Why does my dog smell?
When your dog smells bad it is often because of seasonal or food allergies which can cause inflammation of the skin, which then in turn leads to excessive secretion of oil from glands in the skin, to produce that common musty wet dog smell.
Sometimes dogs smell even if they have very frequent baths.  This is because such bathing depletes natural oils from the dog's skin and coat, which signals to the dog's glands to secrete even more oils, and these oils are magnets for dirt, grime, and odor-inducing bacteria.
If however your dog smells significantly different from normal, then this could be an indicator of poor health, such as a yeast infection.  If in doubt it's often worth seeking a second opinion from a veterinarian rather than simply washing your dog with a good dog shampoo for odor control and hoping for the best.
How often should you wash your dog?
Regardless of who you believe when it comes to how often you should bathe your dog, you should always bath a dirty dog, or a dog that has become particularly smelly.
As to how often to bathe a healthy and relatively clean dog, the general consensus is that a dog should be bathed at least once every 3 months, although this does vary from breed to breed.
Remember there are consequences to bathing your dog too often, as we made reference to earlier in the answer to the question "Why does my dog smell?".
Can I use human shampoo on my dog?
We strongly advise against using human shampoo on your furry friends.  The difference in the shampoo's pH (acidity level) can cause your dog irritation and harm both their coat and their skin, even if it's soap free.  Don't risk it.
Can I treat my dog's odor without shampoo?
You can apply special gels to neutralize a dog's odor, but these will have to be washed off at some point, so you will still need to bath and shampoo the dog.
You can also get odor neutralizing sprays which are super easy to apply, and can be applied at any time.  Or alternatively you can get dry shampoo (much like human dry shampoo) which again is something that you can apply at any time, but should be brushed through with an appropriate grooming brush for your dog's particular coat.
Which dog shampoo has the best smell?
This is kind of a tricky one because everyone has different preferences when it comes to smell.  But out of the dog shampoos in our Top 5 Picks, we think the ones with the best smells are our Number 4 Pick Arm & Hammer Super Deodorizing Shampoo for Dogs.