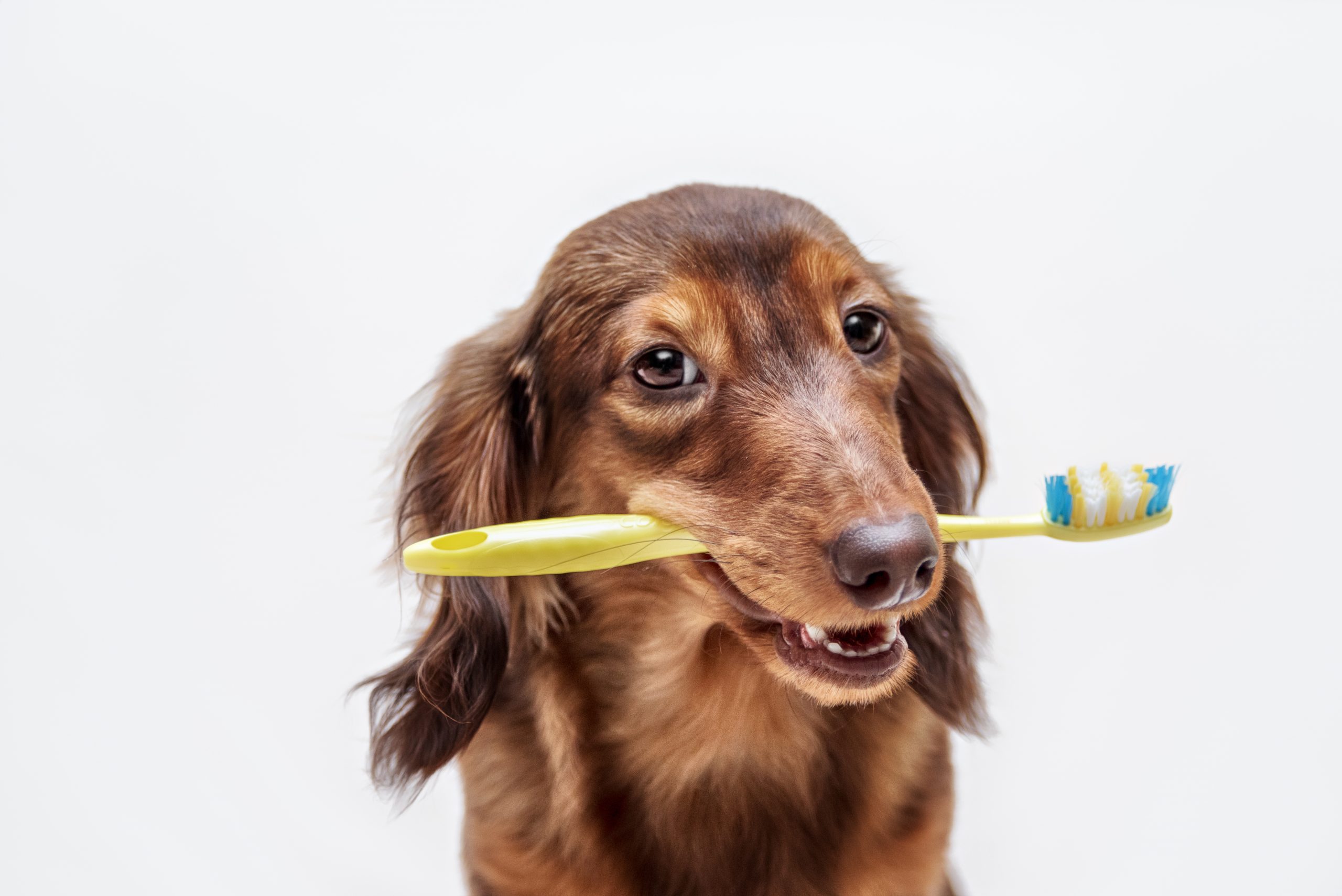 The 10 Best Doggie Dental Care Products
If you have a little, or big doggie at home, you'll know that the love between a dog and their owner is irreplaceable. Buying healthy food, treats, snacks, and toys are all ways to show your affection for your loved little one. Something that not a lot of people buy for their dogs is dental care products. Just like humans, our dogs need their teeth taken care of as well. Today I will be giving you the 10 best dental products for dogs.
Best Dental Products for Dogs
Greenies Dental Dog Treats
Sale
GREENIES Original TEENIE Natural Dog Dental Care Chews Oral Health Dog Treats, 18 oz. Pack (65 Treats)
Contains one (1) 18 oz. 65-count pack of GREENIES Original TEENIE Natural Dental Dog Treats; Natural Dog Treats Plus Vitamins, Minerals and Other Nutrients
The unique texture of GREENIES Dog Chews cleans down to the gumline to fight plaque and tartar and freshen breath
GREENIES Treats for Dogs are veterinarian recommended and accepted by the Veterinary Oral Health Council (VOHC) for at-home oral care
Treat your dog deliciously with the great taste of GREENIES Original Dental Treats
GREENIES Dog Treats are proudly made in our Kansas City, MO, USA facility with the world's finest ingredients
one package of these treats contains 65 18 oz. Greenies Original Teenie Dental Dog Treats. The unique design of Greenies Dog Chews cleans down to the gums to fight plaque, tartar, and give your fur baby a fresher breath. Greenies Treats for Dogs are veterinarian recommended and accepted by the Veterinary Oral Health Council. You can purchase 65 18 oz. treats for $51.43CAD, or 65 27 oz. treats for $130.57CAD from Amazon.ca.
Poultry Flavor Enzymatic Toothpaste
Treats are the only form of dental care that can be purchased for your pet. You can also buy toothpaste specifically designed for your dogs teeth and gums. Formulated to be safe, effective, and appealing to your dog. This toothpaste is designed to reach all surfaces of your pet's teeth and will not irritate your pet's sensitive gums. Just a few minuets a day are all it takes for the best dental care results. Purchase a 3 pack of these toothpastes for $58.50CAD from Amazon.
Soft Dog Toothbrush/Finger Toothbrush
PenVinoo Dog Toothbrush Pet Toothbrush Finger Toothbrush Small to Large Dogs (1pack)
Dog Toothbrush Finger Toothbrush Pet Toothbrush Dog and Cat Toothbrush Eight brushes and Three different sets of toothbrush.These dog toothbrushes make it easier to clean your dog or cat teeth so you can eliminate plaque buildup.
Our dog toothbrush allows you to remove eliminate plaque buildup.Reduce plaque and tartar buildup.
Dental hygiene is vital to a pet. Great to use to brush any dog, puppy, cat or kitten's teeth.Finger toothbrush is perfect for removing trapped and plaque along the gum line.
High quality materials for our pet toothbrushes that will not harm or damage your pet's gums and teeth.
To go with the product listed above, here we have a package of 4 double sided toothbrushes, and 4 finger toothbrushes. These dog toothbrushes make it easier to clean your dog's teeth to eliminate plaque buildup. The finger toothbrushes are perfect for removing trapped and plaque along your pet's gum line. High quality materials that will not harm or damage your pet's gums and teeth. Buy this 8 pack of toothbrushes for $27.75CAD from Amazon.
TropiClean Fresh Breath Plus Hip & Joint Oral Care
Sale
I'm sure that we've all heard of fluoride, and probably used it or have drank it in our own water supply. Fluoride strengthens your teeth to make them healthier and stronger. Why not do the same for you dog? TropuClean's product will give your pet 12 hours of fresh breath. It also contains glucosamine to help create stronger hips and joints for your little loved one. All you need to do is mix some of the liquid freshener with your pet's drinking water and let TropiClean work it's magic. The best part of this product, it is made of all natural ingredients. Purchase this breath freshener + hip and joint care for $78.99CAD from Amazon.
Animora Dental Gel
Maybe you don't have time to brush your dog's teeth, and treats are too expensive. If that's the case then this product might be the one for you. This dental gel is approved by veterinarians. It prevents bad breath and plaque buildup. Perfect for household pets. It is easy to apply. Use a toothbrush, your finger, or add it to your dog's food. Make sure to refrigerate after opening. Buy this 120ml dental gel for $17.99CAD from Amazon.
N-Bone Teething Ring
Sale
This one is for all the puppy owners out there. Your pup is probably constantly chewing on anything that they can get ahold of, and if they aren't yet they will be. These N-Bone puppy teething rings help relieve the teething pain and soreness that you puppy is feeling. They are also edible and digestible so you have no need to worry if your little one has a strong jaw and sharp teeth. Purchase this 6 pack of teething rings for $16.45CAD from Amazon.
360 Pet Finger Toothbrush and Gum Massager
Sale
Jasper 360º Dog Fingerbrush Toothbrush Kit (2-Pack) Ergonomic Design, Full Surround Bristles for Easy Teeth Cleaning, Dental Care for Puppies, Cats and Small Pets, Clear
360º DESIGN - Patent pending design allows easy cleaning of the entire mouth with just a few swipes. Pet owners can finally provide a thorough teeth cleaning for their dog or cats' with ease.
FOR SMALL & LARGE PETS - Compact design works well on smaller dogs, cats, and puppies. Also works great for larger dogs as long as your finger can reach their teeth. Note: it ma not work as well on extremely small pets, such as toy breeds.
FITS THIN & THICKER FINGERS - JUST ADD WATER! - Adding a few drops of water inside makes the silicone expand for larger fingers, and creates a seal for smaller fingers - no more slipping off in your pet's mouth!
SOFT AND GENTLE FOR SENSITIVE PETS- Silicone bristles are softer than traditional bristles, but abrasive enough to remove plaque. The gentle nature of fingerbrushes tend to be more accepted by pets.
SAFE & EFFECTIVE - 100% Silicone is BPA and Phthalate-free.
These toothbrushes have bristles all around it which makes for an easier cleaning. The design also allows for a comfortable feel against your pet's gums so they don't feel irritated while you're cleaning their teeth. These are extremely durable and safe. 100% FDA grade silicone and BPA free for safe oral use on pets. Buy a two pack of these toothbrushes, plus a travel case for each, for $41.09CAD from Amazon.
KONG Large Teething Toys
Here's another one for the puppies. These large teething toys the best in quality, originality, safety and value. They also aid in crate training, decreases separation anxiety, and encourages proper chewing behavior. You can also purchase different sizes, depending on the size of your puppy. These toys are made of an all-natural rubber formula which is the most gentle within the KONG rubber toy line. Buy a 2 pack of these large teething toys for $78.99CAD from Amazon.
Petstages Deer Antler Chew Toy
Sale
Petstages Deerhorn Antler Alternative Dog Chew Toy, Large
SAFE, NATURAL ANTLER ALTERNATIVE: Petstages Deerhorn dog chew toy is made from naturally shed antlers and carries the natural taste and smell dogs love, without the choking risks posed by real antlers
NEW GENTLE CHEW FORMULA: You talked, we listened. Our redesigned Deerhorn antler dog chew is newly formulated to be gentle on the gums while maintaining the durability you and your pup love.
SAFE MATERIALS: Our Petstages Deerhorn chew toys are made in the U.S.A. with lead-free and phthalate-free materials to keep you worry-free and your pup healthy.
MULTIPLE SIZES: These durable antler alternative chewing toys come in 4 sizes to suit dogs of all sizes from petite to large.
PLAY IT SAFE: No toy is indestructible. Do not leave toys with unsupervised pets. Remove and replace toy if damaged.
These chew toys are crafted out of naturally shed deer antlers and designed to be fun and beneficial to your pet. They have a specific design which allows for cleaning of the teeth to occur while your dog is occupied and having fun chewing on the antler. They also have the smell and taste that every dog can't resist when it comes to antlers. These chewable antlers won't break apart like normal antler-chews do. You can buy either petite, small, medium, or large from Amazon. The large deer antler can be purchased for $30.73CAD.
C.E.T. Enzymatic Toothpaste for Dogs
C.E.T. Enzymatic Tartar Control Toothpaste is specifically formulated for companion animal use. Helps to eliminate mouth odors, for better kisses from your beloved fur baby. This toothpaste contains no foaming agents, so it is safe for pets to swallow. They come in beef, poultry, or malt flavor. You can get a single bottle, a 2 pack, 3 pack, or 5 pack. Buy this toothpaste for $25.59CAD from Amazon.