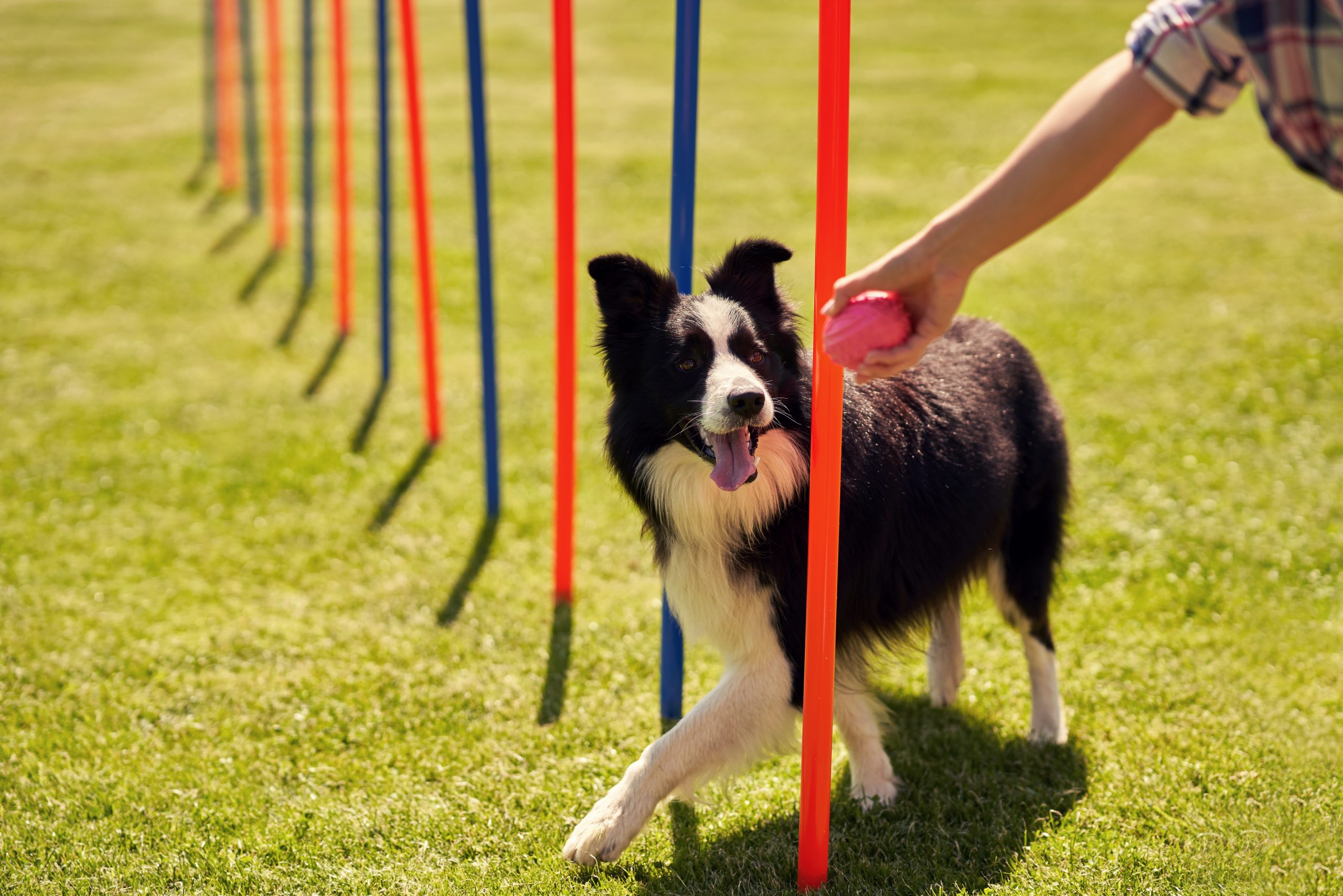 Best Agility Training Products for Dogs
Any dog can enjoy agility training. Whether you are training your dog for competitions, want to use agility training as a fun way for your dog to get some exercise, or are hoping to use agility training to strengthen the bond between you and your four-legged friend, there are lots of agility training products out there that can help.
To help you find exactly what you are looking for, we've put together a list of the best agility training products for dogs available on Amazon right now, as decided by customer product reviews.
Best Agility Training Products for Dogs
1) CHEERING Pet 28-Piece Obstacle Course
CHEERING PET Dog Agility Training Equipment, 28 Piece Dog Obstacle Course, Training and Interactive Play Includes Dog Tunnel, Adjustable Hurdles, Poles, Whistle, Rope Toy with Carrying Case
A COMPLETE SET OF DOG AGILITY EQUIPMENT: Set up the perfect outdoor exercise course for your dog! Our 28 piece set includes a 58.5" long tunnel, 2 vertical poles, 8 slalom poles, adjustable hurdle, string, rope toy, whistle, pause box, stakes, and carrying bags.
PERFECT FOR DOG AGILITY TRAINING: Train your eager pup to be the perfect furry athlete! This agility training gear is a must-have for competition workouts and preparing for shows. It's great for new dogs getting into the world of competing or experienced pets getting in tip-top shape.
A GREAT BONDING EXPERIENCE FOR YOU AND YOUR COMPANION: This is better than dog toys! Spend some quality time with your pooch by getting involved with its playtime. With this play equipment your dog, big or small, can get a great workout while running and jumping freely.
EASY SETUP & STORAGE: Setting up your obstacle training course is quick and easy! It comes with 3 carrying bags that make it easy to carry and store. Portable bags have carrying handles so you can easily pack and transport the equipment from the park to the big stage.
PREMIUM QUALITY 28 PIECE AGILITY TRAINING EQUIPMENT SET: Each piece of our set is made to last! The tube is constructed using high quality 190T polyester cloth that won't tear easily so it's sure to handle your high-spirited pet! It's lightweight and easy to lug around so you can use it anywhere, anytime.
This product is ideal if you are hoping to put together a full obstacle course for your dog. It comes with a 58.8-inch agility tunnel, adjustable hurdles, 2 vertical poles, 8 slalom poles, a whistle, a rope toy, and a pause box. It also comes with a handy carry case so that you can take it along with you wherever you go. You can use this set for training your dogs for competitions or just for an amazing playtime!
2) Blue-9 Pet Products KLIMB Dog Training Platform and Agility System
Blue-9 Klimb Dog Training Platform and Agility System, Durable and Portable for Indoor or Outdoor Use, Blue
Solve Problem Behavior: Professionally designed and engineered, Klimb is designed to improve the relationship between you and your dog by working on common issues like begging, jumping, and unnecessary barking.
How it Works: Klimb is a safe space for your dog; they feel comfortable and happy here. By giving them this defined and elevated space, they become more focused on you and your cues.
The Specifics: The base is 24" sq with 12" removeable legs. The base is a strong, molded poly with our exclusive PawGrip rubberized surface for sure pet footing. It's UV stabilized and washable for limitless outdoor use.
Portable and Modular: The lightweight design weighs only 14 lbs but holds up to 500 lbs. Klimb is ideal for on-the-go training and has a modular deck, allowing you to connect and stack for unlimited configurations.
Passionate Perfectionists: Blue-9 develops premium solution-based products to promote and strengthen the human-canine bond. We stand behind our products that are proudly made in the USA*.
This dog training platform is designed to help with dog training (e.g. preventing barking or begging) and can also couple as an agility system. A platform can be an important part of your dog's agility training and the KLIMB system is lightweight enough to be taken anywhere you like. It comes in black, blue, desert tan, or purple, and can be assembled and disassembled with ease.
3) HDP 18ft Dog Agility Training Open Tunnel
When you think about dog agility training, one of the first things that may come to mind is a tunnel. Dogs absolutely love running through these things, and the HDP 18ft tunnel is versatile enough to be used for playtime or for training for competitions. It is long enough to be configured into a U shape for bent tunnel training to make sure your dog is competition ready. The HDP tunnel is also AKC compliant.
The tunnel is 18ft in length, with a 24-inch opening. The 8 stakes are 7 inches long, the grommets are durable metal, and it comes with a carry case.
4) Midlee Dog Agility Bar Jump
Midlee Dog Agility Bar Jump
36" Wide. Height of bar is adjustable so that small to large dogs can jump over the bar.
USE ANYWHERE - Our dog agility training bar is fitted with a sturdy stand, which allows you to set up the hurdle on hard soil, solid pavement or soft grassy areas. Can be used indoors or outdoors.
SAFE FOR FURRY FRIENDS - Want safe and accident-free training sessions? Our training bar is made of durable plastic that does not have any sharp edges or pointy ends that can injure your dog.
EASY TO ASSEMBLE - This training bar comes with all the fittings and clip-on brackets that are needed for setting up the whole piece. There's no need for you to purchase separate screws or tools.
HASSLE-FREE STORAGE AND CARRYING - Our agility training bar disassembles in a jiffy and comes with a handy carrying bag where you can safely store all the bars and poles when not in use.
Bar jumping is a great skill for your dog to learn, and very important for competitions if that's what you'll be aiming for. This bar jump is perfect for dogs of any size due to its adjustable height, and it is 36 inches wide. The great thing about this bar jump is that you aren't confined to just grass. Because of its sturdy stand, you don't need to stake it into the ground, so it can be used anywhere. It is also super-easy to take apart and put back together again, and there are no sharp edges or pointy ends so you can be safe in the knowledge that your dog won't get hurt.
5) Cool Runners Agility Weave Poles – Adjustable 6-Pole Set
Weaving can be a difficult skill to learn, but these agility poles are adjustable, meaning that you can train your dog in stages until they can get to the point where they can weave in a straight line with confidence. They can also be configured into a 2X2 shape. They come with grass stakes and a handy carry case so you can take your training to the park or wherever else you fancy going.
6) MiMu Dog Agility Ring
Sale
MiMu Dog Agility Equipment - Dog Agility Ring Dog Obstacle Course Agility Set, Dog Agility Training Equipment
[Agility Course]: MiMu Agility Dog Training Equipment promotes exercise and discipline for your pet; The plastic ring of the outdoor dog training equipment can provide an exciting stimulant for energetic pups
[Easy to Use]: Stick the backyard dog agility jump poles into the dirt; Slide the attachment clamps for a jump height and either set or insert the pole into the attachment clamp; Fasten the plastic tubing to make a hoop; Attach hoop to poles
[For All Dogs]: Puppy agility equipment designed to provide a sturdy hurdle for your small or large dog; Attachment clamp can easily be adjusted for short or high jumps for beginner or expertly trained pups
[Portable Training]: Dog obstacle course equipment packaged in lightweight black carrying case for easy transportation and storage; Use the dog agility kit in the backyard or at the dog park
[Package Contents]: Dog jumping ring includes (2) 39-inch (99cm) blue poles with 6-inch (15cm) stakes, (2) 43-inch (109cm) orange poles, (4) black attachment clamps, (2) 38-inch (96cm) orange plastic tubing, (1) black carrying case with straps
Getting your dog to jump through a ring not only looks great, but it is also so much fun! The MiMu dog agility ring can help you train your dog at home to do this fun trick. The ring has a diameter of 38 inches and it comes with adjustable clamps so that it can be used with dogs of any size. It also comes with 6-inch stakes so that you can make it secure, as well as a carry case for easy storage or to take it with you for training outside of the home.
7) PawHut 4-Piece Adjustable Dog Jump Bar
PawHut 4 Piece Dog Agility Starter Kit with Adjustable Height Jump Bars, Included Carry Bag, & Displacing Top Bar, White
SET OF 4 BAR JUMPS: This dog agility starter kit includes 4 dog agility jumps in total, which allows you to conduct more challenging exercises.
ADJUSTABLE HEIGHTS: The height of the dog jumping bar can be moved up and down with a clip, meaning you can adjust it freely for different dog sizes and abilities.
FIXED BOTTOM BAR: The bottom bar of this dog agility kit is made specifically to work on almost any surface. From concrete to grass to dirt, this training kit is easy to use anywhere and move from place to place.
CARRYING BAG INCLUDED: The dog agility training kit includes a carrying bag that's great for taking your set to the park, on the go, or just to the backyard. The carry bag is also a convenient way to keep all the various parts together for easy storage.
DOG AGILITY KIT DIMENSIONS: 4 Bars per Set, High Jump-Gate Dimensions: 37.5" L x 25.5" W x 37.5" H.
When you're training your dog for agility, sometimes one bar just isn't enough. To be able to set up all of the configurations you might need, such as rows or pivot squares, you need at least 4. The PawHut 4-piece set is perfect for this type of training. The bar jumps all have an adjustable height so that you can configure them to the height of your dog. They also have a fixed bottom bar which means that they can be used on just about any surface. Each bar only weighs 5.5 lbs and they come with a carry case, meaning these bars are absolutely perfect if you are planning on taking your agility training products out with you. The top bar can be displaced really easy, which means that your dog won't get hurt if they end up flying into it.
8) YON.SOU. Dog Agility Training Set
The best thing about this set has to be its versatility. It comes with 8 cones and 8 agility rods and they can be used as hurdles or as weaving rods. So if you don't want to be dragging around piles of agility training equipment, you can just take along this set and train your dog in multiple ways. The cones also have 4 directions of holes, meaning that you can configure them into a variety of shapes. Each of the directional holes has 4 different heights, so you can adjust them to the size of your dog. The cones are lightweight, making them easy to take along with you, but they have a strong moulded base to keep them stable. Not only that, but you also get a complimentary frisbee and whistle along with it for even more fun!
Conclusion
So there you have it. We've shown you the 8 best dog agility training products available on Amazon today. So pick yourself one up, get out there, and enjoy some agility training fun with your pooch!