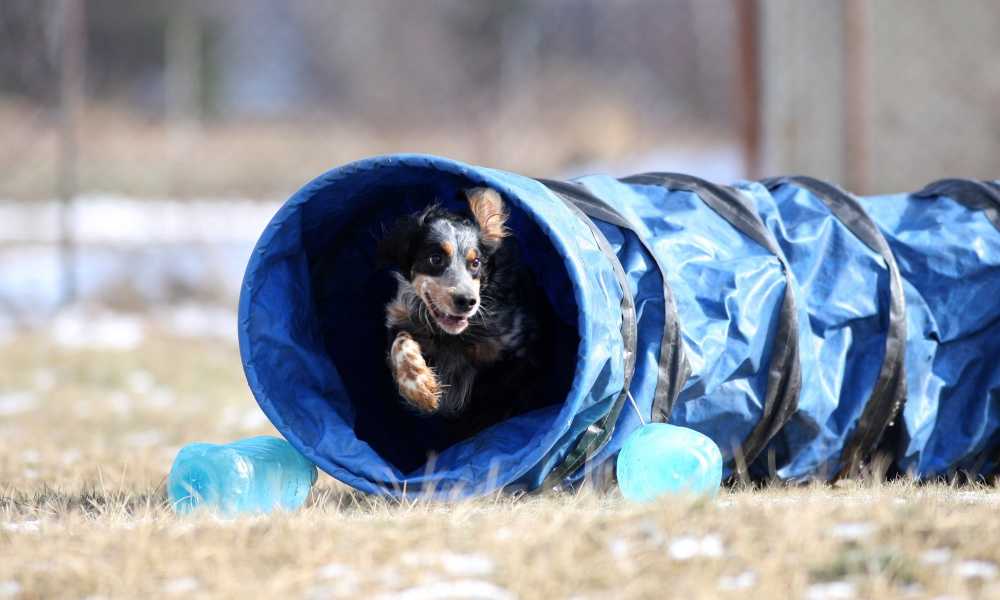 JAXPETY Agility Tunnel Review
Dogs are almost always looking to play and be active, so it's important that you find a way to keep them occupied while still getting them exercise. Even better – if you choose to begin agility training with your dog, you'll not only bond with your furry friend but will also get a bit of a workout yourself.

A staple of agility competitions are agility tunnels, where dogs fly through an enclosed tube until they see their handler again. It's crucial to building dog-owner trust, and is a great workout as well.
JAXPETY Agility Tunnel Review
Whether you use it for agility training or just as something to keep Fido entertained, the JAXPETY Agility Tunnel is a great obstacle to add to your indoor or outdoor playroom. The long tunnel can twist and turn to be positioned around other obstacles to create a unique training course, or just as a way for your dog to explore until they can see what's on the other side. No matter the use, they'll love running through it!

The JAXPETY Agility Tunnel is lightweight, durable, and a fit for almost any size of dog in addition to being a great value.
Who is this product for?
This is an incredibly affordable but fairly simple product that can be used by aspiring agility trainers or just dog owners who want an exercise toy. It doesn't include a chute or other training gear that is necessary for more advanced agility training, so it is best as an addition to an existing course. It is also very long, so it may be best for larger dogs who won't get quite so turned around in the dark that can occupy the tunnel at times.
What's included?
As part of the JAXPETY Agility Tunnel package, you'll receive the 16.4' tunnel itself as well as a carrying case that it folds accordion-style into. There are also 12 stakes included that attach to the outside of the tunnel to keep it in place when outdoors so that it doesn't roll or blow away.
Features
The JAXPETY Agility Tunnel spans 16.4' long and is made of a durable 210T polyester that resists scratching and tearing from your dog's claws as well as weather conditions so that it can be used indoors and outdoors. The material is supported by internal metal wire rings that keep the tunnel's 23.6" diameter open to fit even larger dogs easily.

Included are 12 steel stakes that you can use to position the tunnel how you want to and keep it there if you leave the obstacle outdoors. They're long and strong enough to resist wind, weather, and rolling around from larger dogs without ripping or coming out.
Get the most out of it

When you're using the JAXPETY Agility Tunnel, you'll get the most out of it by taking advantage of the length of the tunnel – this is its primary selling point. The long tunnel lets you add twists and turns into the obstacle, and the stakes will hold it in place even if your dog flies through at full speed, hitting the edge with every turn. The weather-resistant material also makes it a good choice for outdoor use so you and your pet can get some fresh air.
Alternatives
In terms of an agility tunnel, it doesn't get much better than the JAXPETY Agility Tunnel. However, the tunnel by itself isn't enough to get an agility course up and running, so it may be better to consider a set like the Affordable Agility Agility In The Bag Set.

This set includes a shorter tunnel with a chute for training dogs to continue through even when they can't see, as well as jumps and weave bars – other staples of agility training. This complete set gives you a wide array of activities for your dog to exercise or a sample of what a professional agility course will be like.
Conclusion
Overall, if you're looking for a simple agility tunnel for exercising your dog (and even yourself), this simple product will work wonders for you. It is also a great start to an agility training course, but will require more obstacles as well as a chute to be ideal for competition training.

The JAXPETY Agility Tunnel is an incredibly affordably priced tunnel made with resilient materials that stand up to nails and paws as well as weather conditions so that you can use it indoors or outdoors. It'll work for dogs of almost all sizes, so your biggest and smallest dogs can share it without a problem. The additional stakes and longer tunnel length allow you to be creative with your positioning, which makes it a good choice for those creating their own courses to practice on.