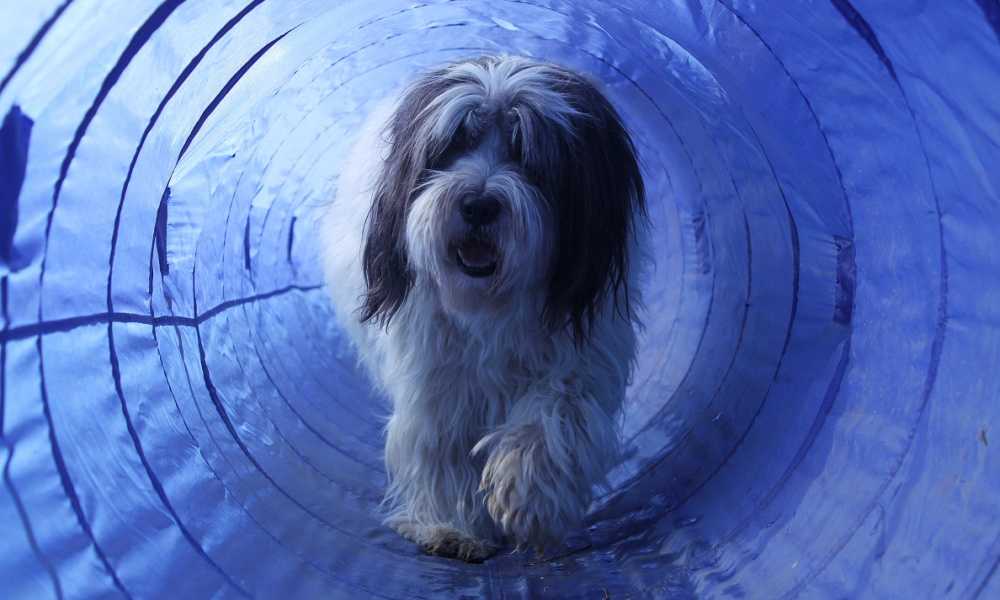 Affordable Agility Set Review
Whether you watched an agility competition on television or were looking for good ways to train and exercise your dog, it's never a bad idea to get started with agility training. However, full sets of obstacles and gear can be expensive when you buy them separately. Fortunately, the Affordable Agility Set includes all the essentials in a single portable and affordable package.
Affordable Agility Set Review
If you're interested in beginning agility training but don't have any gear to train with, a full agility set is a great way to get you jumpstarted. Agility competitions include a variety of obstacles, and the Affordable Agility Set offers just about everything you will need in one place. Jumps, tunnels, weave poles, and more are included in one convenient bundle at an incredibly affordable price that allows new trainers to give agility training a try.
Who is this product for?
As a complete set of agility competition gear, this set is best for those who are just starting out with their training because it includes all the basics that existing trainers likely have already. When it comes to value, this is one of the most beginner-friendly deals you'll find.
If you have existing tunnels, jumps, or other gear already, it probably won't benefit you to get extras unless you are looking to create an intricate course that rivals professional competition tracks.
What's included?
The Affordable Agility Set includes everything you need to get started with agility training (though some assembly is required!).
You'll receive a 9' agility tunnel, an adjustable bar hurdle for different sized dogs, a ring jump that can be adjusted in height, weave poles for your dog to dart between, a PVC starting box, and a carrying case that will hold the parts when disassembled for enhanced portability.
Features
The Affordable Agility Set is an American-made set of PVC and polyester agility training gear that is a great start to any trainer's arsenal. It's built to be high quality, affordable, portable, and versatile enough to offer great value for dogs of all sizes.
The 36" by 22" tunnel is wide enough for most breeds to fit in, spanning 9'long and helping to encourage the dog to go through obstacles even when they can't see their handler – a crucial part of agility training.
Included in the set are jumps, with the bar jump's bar reaching 36" wide and adjustable from nearly the ground up to about 26". The tire jump is also adjustable with a 22" tire that offers a similar range of heights to the bar.
With 6 bars that can be adjusted between 24-33" apart, the weave bars will fit dogs of all sizes while they run through one of the more complex parts of agility competitions.
Finally, the additional pause box adds extra value as a designated start/stop point to teach the dog to stay, and the carrying case that fits the pieces when disassembled lets you bring the whole set to the park and home again.
How to use
With so many pieces, it's no surprise that the Affordable Agility Set needs a little bit of assembly. You'll find that the tunnel unfolds accordion-style for easy setup, but the PVC poles will need to be slotted together to make the jumps, weaves, and pause box usable. Fortunately, once everything is assembled, you're free to organize the obstacles as you'd like – its hard to go wrong!
Alternatives
When it comes to alternatives for this set, it's hard to find a competitor because the Affordable Agility Set offers a great value with all the included pieces. However, if you're looking for something that offers a similar number of obstacles at a lower price range, consider the PawHut 4 Obstacle Course.
Coming in at an affordable price, this very simple set allows for a basic agility course. Included are multi-use poles that allow you to set your own jump heights and sizes, as well as configure your weave bars how you'd like rather than using separate fixed PVC obstacles. You'll also receive a short 4' tunnel and a carrying case to make it easy to move. This particular set doesn't include the ring jump, unfortunately, but does add in stakes to secure the pieces into the ground.
Conclusion
If you're looking for the fastest way to get your agility training up and running, this full set of gear is likely for you. It includes jumps, bars, a tunnel, and more that will allow you to setup a course that rivals those you'll see in official AKC competition without the official gear price. This set is adjustable which makes it versatile enough to work for dogs of all sizes.
Each obstacle can also be disassembled and carried in the carrying case so that you can bring the whole course with you anywhere. Overall, it's hard to go wrong with this set for new trainers – it has it all.