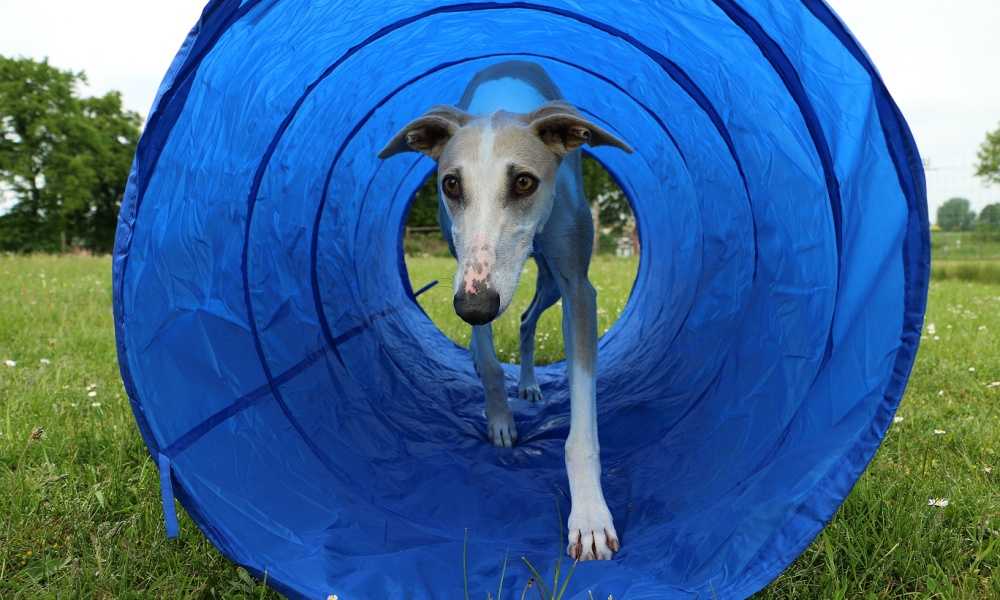 PawHut 16' Agility Tunnel Review
When it comes to AKC agility competitions, you've probably seen long, winding tunnels that are meant to test the dog's ability to push through the unknown. The trust of a dog to keep going forward is crucial to agility training, and the best way to train for that is with a long tunnel.

Whether you plan to compete or just use the training for obedience and exercise, this agility tunnel from PawHut is a great addition to your homemade course.
PawHut 16' Agility Tunnel Review
The PawHut 16' Agility Tunnel is a weather-resistant and sturdy polyester tunnel used for training dogs for agility competitions or just for a fun exercise. The light blue tunnel is AKC and NADAC compliant for aspiring competitors of all sizes. It is also portable enough to bring with you to the park and back without much problem thanks to the accordion design and included carrying case.
Who is this product for?
Affordably priced and versatile enough to use for multiple dogs of various sizes and skill levels, this product is ideal for anyone looking for a fun way to exercise their pet or to train an aspiring agility dog. At 16' long, it is long enough that larger dogs will be able to take more than a few steps like they will in competition – something shorter tunnels don't offer.
This product may not be ideal for trainers of smaller dogs who are just starting out, as the long tunnel can be a bit too much for them. It gets easier to get lost for them and if they get lost, they may be afraid to go back in next time!
What's included?
Included with the PawHut 16' Agility Tunnel package is the 16' tunnel itself as well as the necessary storage and securing tools. There are stakes that are used to secure the tunnel in place so that it doesn't roll around with the dog as they fly through it, and the included carrying case makes it easy to bring with you on the go.
Features
The PawHut 16' Agility Tunnel spans 16' of heavy-duty Oxford polyester, allowing it to resist tearing and stand up to wet weather conditions. The fabric is held in place by metal rings that collapse accordion style for storage which allows the full tunnel to fit in the included carrying case. It is made to be lightweight, portable, and sturdy.
The length of the tunnel and versatile material allows for angling and curving of the tunnel to better simulate the obstacles your dog would see in an agility competition. You can also position it so that the dog can't see the other side – the same way a chute blocks light – to train them to run through the tunnel without stopping.
The included stakes can be secured onto the tunnel so that it doesn't blow away when used outdoors and also so that the tunnel doesn't move as larger dogs run through, preventing injury.
This agility training tunnel would benefit from the addition of a chute for more advanced training, allowing the handler to simulate a longer tunnel as well as introduce darkness for the dog to push through.
How to use
Setup for the PawHut 16' Agility Tunnel is very simple. Once out of the carrying case, the tunnel should easily spread out to full length with a little bit of help. The stakes will need to be attached to the rings on the outside of the tunnel to keep it in place, but that's it! All that is left is to grab your agility competitor for training.
Alternatives
With the PawHut 16' Agility Tunnel lacking a chute, you could consider a similar model that offers a longer chute as opposed to a longer tunnel. While the HDP Dog Agility Training Tunnel Chute is only 3' of tunnel, it has 15' of chute attached. This is good for blacking out the tunnel for training, but be aware that it doesn't allow for angling and bends like the PawHut 16' Agility Tunnel.
Conclusion
If you're looking for an expansive tunnel that is long enough to mold to your course, the PawHut 16' Agility Tunnel is a solid choice. There is no chute included, but you can add twists and turns to make it harder to traverse for your dog. While the long tunnel may be prone to rolling, the included stakes allow it to be easily kept in place so that it doesn't slip, and the carrying case lets you set it up anywhere the stakes can be used.
While it is only one part of an agility training course, this agility tunnel is a great addition to a set of obstacles at an affordable price.