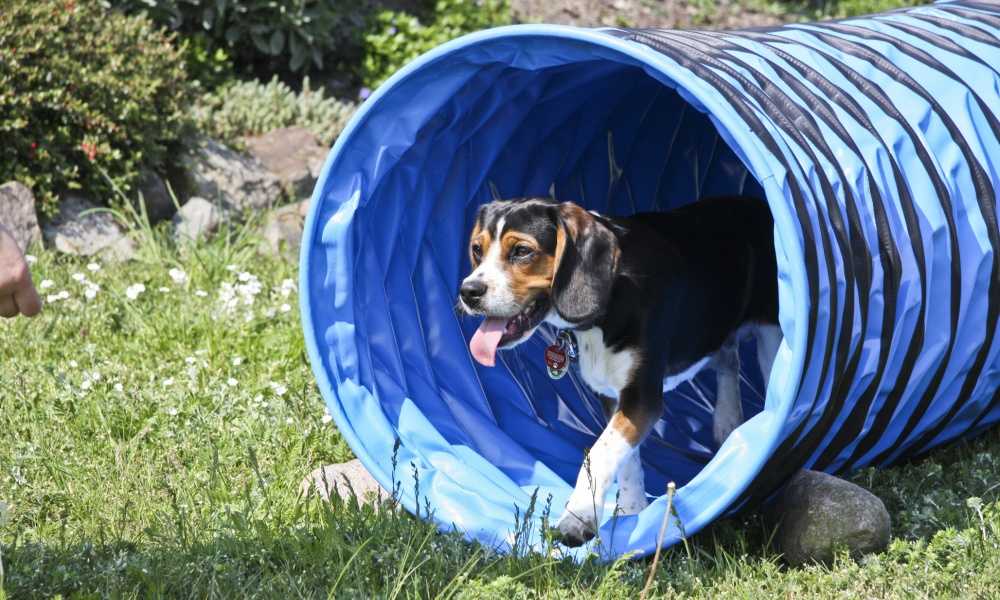 Rosewood Dog Agility Tunnel Review
Do you have a zippy little dog who loves to fly around the house, onto furniture, and sometimes into objects because they're so full of energy? Do they need entertainment and exercise while you're not home? Do you have 4 feet of free space for them to play in? If so, an agility tunnel may work for you – and the Rosewood Dog Agility Tunnel may be the perfect fit for your smaller dog.
Rosewood Dog Agility Tunnel Review
The dog agility tunnel from Rosewood is a great option for a smaller and more indoor-friendly dog tunnel. It is slightly elevated off the ground when using the base, similar to a small jump, but with a long-enough tunnel for a small dog to travel through easily. You can use the base provided to keep the tunnel stable and in one place, or go without it to give your dog more freedom.
Who is this product for?
The Rosewood Dog Agility Tunnel may be the perfect dog tunnel for your smaller dog. The smaller size makes it great for someone who is living in an apartment complex where there isn't a ton of room to set up. While you aren't required to live in an apartment to get use out of this, you are required to have a small- or medium-sized dog so that they actually fit. So unfortunately, this won't be able to be used by larger sized dogs such as Rottweilers or Great Danes. While this product does fit a very specific niche audience, should you fall into that audience you will see this as a great product for your use.
What's included?
When purchasing this dog tunnel from Rosewood, you will receive the main attraction of the product – the tunnel. On top of the collapsible standard dog tunnel, you will also notice the base that attaches on both ends of the tunnel. This holds the tunnel 3 inches above the ground and is used to ensure the tunnel is always stable during use. Along with that is the always-important carrying bag for storage and transportation.
Features
This tunnel has a base that allows you to keep the dog tunnel stable at all times during use. Being a smaller and lighter tunnel, it will be easier for dogs to move or turn it while inside and the base will make sure it is always still while being used. The base is made of a surprisingly durable foam material that does the job of holding the tunnel well.
The tunnel itself is made of a polyester fabric material and is surprisingly durable for an affordable smaller sized dog tunnel. The tunnel is 48 inches long and 16 inches in diameter for anyone looking for exact measurements to compare with the size of their own dog. This diameter is about 30% less than many full-sized dog tunnels, so be warned.
Tutorial
Setting this dog tunnel up will be very slightly more work than others you may find, but it is a very simple task to complete regardless. If you wish to use the tunnel without the base then it will be as simple as any other – just open the packaging and extend it out until fully extended. If you'd like to take advantage of the full product and use the base you should simply be able to attach it using the slits in the foam base.
Putting it away is just as simple, remove the base, collapse the tunnel and store it in your carry bag for simple and hassle-free transportation.
Alternatives
Due to the smaller size of this tunnel, if you have a larger dog you may need to find something more their size. The JAXPETY 16.4' Agility Tunnel is significantly longer, but also has a wider entrance than the Rosewood model which allows larger breeds to fit easily. Be warned though – you'll need a lot of room to set it up! Fortunately, this tunnel is weather resistant and includes stakes to keep it in place so you can be comfortable using it outdoors if indoors doesn't have enough space.
Conclusion
Overall, if you've got a small dog, limited room, or primarily want to use the tunnel for exercise, this is a great option to keep around the house. While it can be used outside, the smaller size makes it ideal for indoor environments and for smaller dog breeds. It is also too small for a regulation-sized agility competition tunnel, so you'll want to keep that in mind if you plan to train with it. However, as long as your pet fits through it, they'll likely love the Rosewood Dog Agility Tunnel.