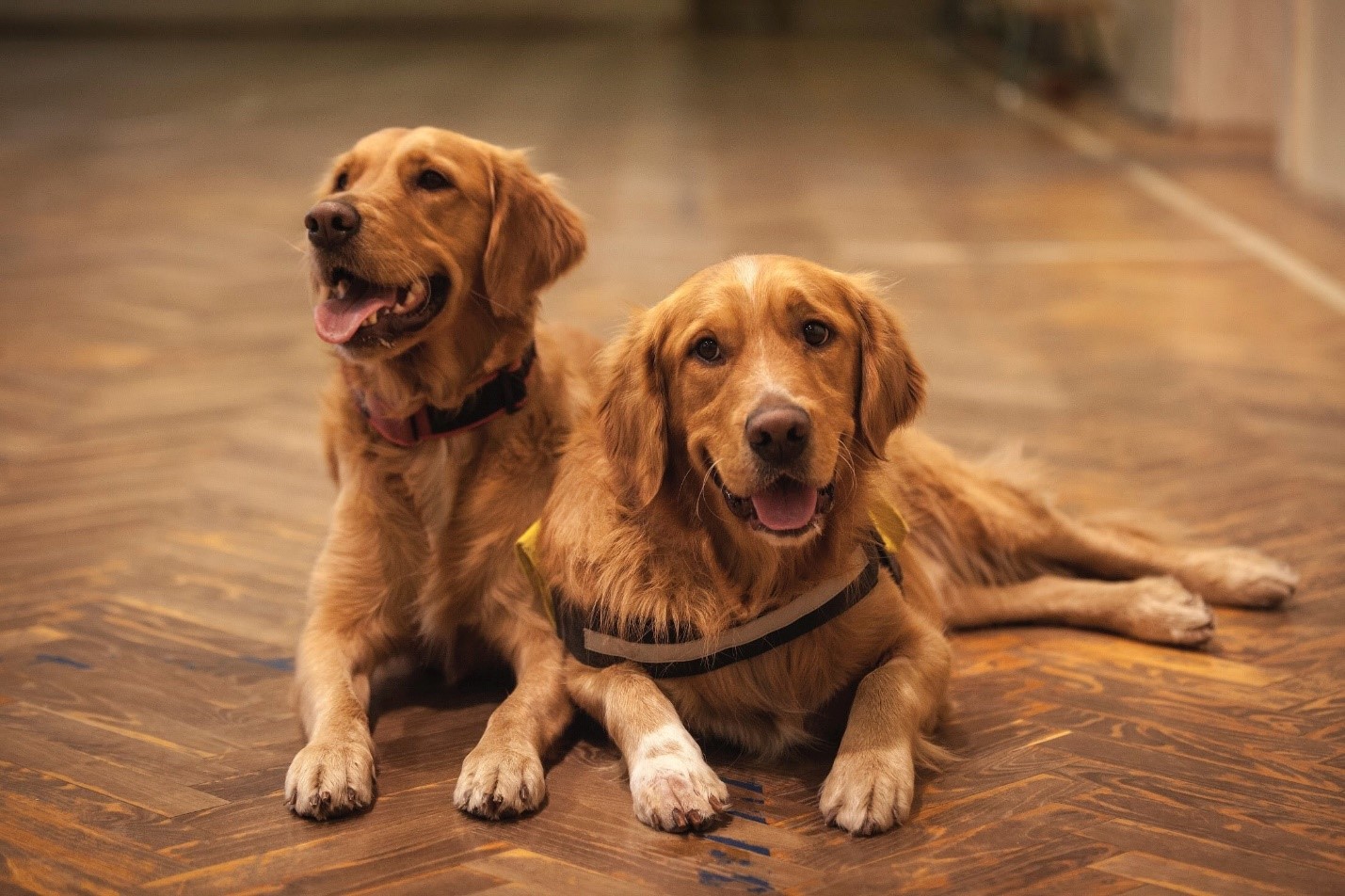 17 Tips to Manage Golden Retriever Shedding (& Keep Your House Clean)
One of the most striking features of golden retriever dogs is their lovely golden coat. Not only do they have such beautiful fur, but they also have gentle and sweet personalities. Plus, they give great cuddles!
That's why golden retrievers are among the best companions in the world. However, that same lustrous and appealing hair can sometimes be frustrating. Golden retriever shedding can be tiresome, especially if you're keen on keeping your home neat all the time.
If you're a fur parent owning a golden retriever, you should expect lots of dog hairs around every corner of your home. You will see it everywhere–in the living room, on carpeted floor, on bathroom tiles, on furniture, and even on your clean clothes. They are adorable creatures, but dealing with tons of dog hair every day is surely a struggle.
 However, there are things that you can do to effectively reduce and manage your golden retriever's shedding. So if you're currently experiencing and struggling with it, you just found the right article to help you.
Say goodbye to messy dog hair around the house because we'll give you 17 tips to effectively manage golden retriever shedding!
Before we get into it, let us first do a quick overview of golden retrievers' coats and shedding.
Causes and Frequency of Golden Retriever Shedding
The flowy and beautiful fur of the golden retriever is there for a reason. Although it is one of their most distinct features, it's not merely for aesthetic and visual purposes.
Golden retrievers are one of the few double-coated dog breeds. This means that they have fur consisting of a thick, long outer coat and a soft, dense undercoat. Hence, golden retriever shedding is a natural tendency.
They usually shed moderately all year round, and by "moderate," we mean a lot! Unfortunately, they shed even more during the spring and fall. This is because of weather, temperature, and daylight hours.
During spring when it's getting warmer, they will shed their undercoat so that they can adapt to the hot temperature. Similarly, during fall, golden retriever shedding happens from the overcoat as their undercoat becomes thicker. This will provide them with warmth during the winter season.
Shedding is completely normal, and it's something you shouldn't worry about. But if your golden retriever sheds excessively, more than the usual amount, it could be due to health issues like stress, parasite infestation, and poor diet. That is why you have to be observant when it comes to their routines as much as possible.
17 Tips to Manage Golden Retrievers' Shedding
Here are some tips and best products that will help you solve all your dog's shedding issues.
1. Frequently Brush Your Golden Retriever's Coat
As a golden retriever is a double-coated dog, much like a German shepherd, regular brushing helps to remove dead and loose hair off your dog before it scatters all over your home's surfaces.
Make sure that you do this outside the house or in areas that are easy to clean. Brushing your dog on a carpeted floor will just make it harder for you to clean the mess up afterward.
The frequency of brushing may depend on your golden retriever's coat condition. Some owners brush their dog every other day while others do this daily.
Brushing not only removes loose hair, but it also helps distribute natural oils all over your dog's skin. For tangled or matted hair, you can even try a slicker brush made of wire, or an undercoat rake.
Regardless, you should choose a good quality brushing tool like the Pet Neat Grooming Brush. It can easily and effectively remove all the loose and shedding fur from your dog.
Pet Grooming Brush Effectively Reduces Shedding by Up to 95% Professional Deshedding Tool for Dogs and Cats
Best pet grooming tool! Leave behind the grooming headache, removing up to 95% of dead hair and tangles from your cat and dog easily IN JUST 10 MINUTES! Keep your furniture and floors free of pet hair while SAVING MONEY and TIME on expensive visits to the vet for pet grooming services! Get valuable grooming tips on the 'Four Dog Care' FREE E-book!
A durable shedding tool! This dog and cat comb is MADE TO LAST through long years of effortless pet grooming! With the 100mm STAINLESS STEEL BLADE protected by a cover for your safety and the blade longevity and the STURDY, EASY-GRIP HANDLE, it promise top precision. It is a long-lasting deshedding tool, a MUST-HAVE pet hair remover!
Healthy, shiny pet coat! Rid your four-legged friend of undercoat and loose hair effortlessly, and keep at bay allergies by frequently brushing them! Have your pet thankful for the professional services of a dog/cat deshedding tool and establish strong bonds between you and your four-legged friend!
TA Thoughtful gift to all pet owners! Easy to use and causing not a speck of discomfort, this grooming brush will put a wide smile on the face of the lucky pet owner! It will relieve their dog or cat from shedding, trimming pet grooming time to just 10 minutes. Offer it on all occasions to save them time, money and effort and show off your excellent taste!
100% SATISFACTION: All Pet Neat products are satisfaction for life. Click Add to Cart now!
2. Give Them Regular Baths
Unlike brushing, baths are not done daily. Golden retrievers are usually given a bath once every month or every few weeks. But whenever you feel that they are already dirty and smelly, you can bathe them.
It's necessary to keep your dog's coat clean and healthy. However, you have to make sure that you don't bathe them too often because this can also dry their skin and increase their shedding. You also have to rinse the soup thoroughly to remove all excess chemicals that might cause skin irritation.
3. Use the Right Shampoo
The products that you use on a puppy's coat will create a significant impact on their health and appearance. That said, you must choose a high quality dog shampoo that suits their needs. Avoid purchasing cheap shampoos because they usually contain artificial ingredients and chemicals that might cause skin irritation, especially for puppy fur.
Choose a shampoo that can hydrate and moisturize your dog's skin. The Lavender Oatmeal Pet Shampoo from Honeydew is a great choice. It's made from natural ingredients and it can provide enough hydration as well.
Cleansing Dog Shampoo for Smelly Dogs - Refreshing Colloidal Oatmeal Dog Shampoo for Dry Skin and Dog Bath Soap - Moisturizing Dog Shampoo Oatmeal Lavender Formula for Great Smelling Dog Wash
Dog Oatmeal Shampoo - Try one of the best dog shampoo formulas handcrafted to cleanse and moisturize dry skin and fur for a pet shampoo for dogs that's a dog grooming supplies and pet bath staple
Deodorizing Dog Shampoo - You can trust our dog body wash and oatmeal shampoo for dogs for a pet deodorizer that removes dirt and odors thanks to potent lavender oil for dogs in our dog odor shampoo
Big and Small - Whether looking for the best puppy shampoo for small dogs or a gentle dog cleaner for older dogs we got you covered with our versatile oatmeal lavender dog shampoo for all dogs
Dog Supplies - We take dog shower & bath accessories seriously and we believe all dog stuff should be gentle and effective which is why all our dog products are created with high quality ingredients
Pet Pleasant Quality - Choose us and give your furry friend premium pet care with superstar ingredients like Jojoba oil Keratin Lavender Glycerin and more for a moisturizing and refreshing cleanse
4. Rub Them Down After Brushing and Bathing
After you brush and bathe them, some of the loose and dead fur is still stuck on their coat. Those hairs are usually very loose or become loose due to brushing and bathing, and you have to remove them before your dog scatters them around the house. Rubbing your dog down is an excellent way to remove all those dead hairs.
When you rub them down, go in the same direction as the flow of their coat. That way, you'll be able to get rid of all those loose and extra hairs that weren't removed during brushing. Not only will you save your favorite couch and carpet from tons of dog hair, but you'll also save time cleaning up.
5. Feed Your Golden Retriever High Quality Food
The old saying "you are what you eat" also applies to your golden retriever and even your golden retriever puppy. Their optimal health will depend on the food that you're feeding them.
Accordingly, a golden retriever owner should always invest in high quality dog food to keep their skin and coat in a good shape. High quality food is usually expensive, but you might as well spend your money on their food rather than a trip to the vet.
As much as possible, always include foods that are rich in protein and fatty oils like omega 3 and omega 6 in their diet.
The Purina Pro Adult Dry Dog Food should be a staple if you own a golden retriever. It contains probiotics and a high level of protein and omega 6 that can reduce shedding and promote immune health.
Sale
6. Give Them Vitamins and Supplements
Lack of dietary fats may also result in golden retriever shedding. If they are not getting this from their food, make sure to give them supplements that contain fatty acids.
Fish oil supplements are great sources of omega 3 that are proven to improve their coat condition. Flax oils are also high in omega fatty acids, so it's also a great choice. Just make sure that you're using these appropriately and with your veterinarian's approval.
7. Provide Enough Drinking Water
Like humans, dogs need enough hydration. Golden retriever shedding also happens due to dehydration and skin dryness. Always make sure that their water intake is enough to keep their skin hydrated throughout the day.
Unfortunately, you can't easily measure the amount of water they are drinking. But, as a general rule, an ounce of water is needed per pound of body weight per day. Additionally, a more active dog usually requires more water, so just be sure that you're giving them enough.
8. Exercise Your Golden Retriever Regularly
Golden retrievers are a very active dog breed. As a result, they require an adequate amount of exercise. Exercise is necessary to keep them physically and mentally healthy. If they're not getting enough exercise, they tend to display destructive behaviors because of all their pent-up energy.
There will also be lots of biting and scratching, which increases their shedding. There are lots of activities that you can do with them. Swimming, in particular, is their favorite. Golden retrievers love water, so swimming is a great exercise for them. Plus, it also helps remove some loose dead hair from their coat.
9. Have Your Dog Regularly Checked by a Veterinarian
The best way to make sure that they stay healthy from the inside out is through regular veterinarian checks. Your golden retriever may look healthy, but to make sure that they don't have any illnesses, have your dog checked at least once every year. That way, you can also prevent or cure medical issues immediately, if there are any.
10. Let Them Get Groomed by Professionals
You can groom them yourself, but it's also recommended to take them to professional grooming salons once in a while. These salons know what works best for your golden retriever. They also know the appropriate brushing and bathing techniques to help minimize golden retriever shedding.
11. Avoid Using De-shedding Pills or Spray
Golden retriever dog shedding can be frustrating for dog owners, but it is completely normal, and you cannot possibly prevent it. Different products claim that they can stop shedding.
However, those products probably contain toxic and harmful chemicals that may damage your dog's skin. Avoid those products, and focus more on managing your dog's shedding rather than stopping it.
12. Prevent or Control Parasite Infestations
Fleas and ticks are some of the major causes of excessive shedding. They can cause skin irritation, itchiness, and rashes that result in golden retriever shedding.
As much as possible, you have to prevent the infestation by using your veterinarian's recommended medications or ointments.
If infestation occurs, you have to eliminate it immediately. Adams Plus Flea & Tick Shampoo is highly recommended because it effectively eliminates parasites in your dog's coat.
Sale
Adams Plus Flea & Tick Shampoo with Precor 12 Ounces
PEST CONTROL: Kills fleas, ticks, flea eggs, flea larvae and lice.
FOR SENSITIVE SKIN: Rich, creamy, sensitive skin formula with soothing aloe, lanolin and oatmeal.
PROVEN EFFECTIVE: Contains an insect growth regulator (IGR) to kill and prevent flea development for up to 28 days.
USE ON DOGS & CATS: Safe for use on all dogs, cats, puppies and kittens 12-weeks and older.
FRESH SCENT: Pleasant, fresh scent.
13. Observe Any Signs of Allergies
Introducing new foods and products to your golden retriever's diet may cause allergies, especially if they're different from what they are used to.
Allergies can also cause shedding and other health complications or illnesses. Thus, consult your dog's vet first before using new products, foods, or supplements.
14. Keep Them Away from Stress
When people are stressed, they tend to lose lots of hair, and the same goes for your golden retriever. They shed more whenever they are in a stressful situation.
Usually, loud noises and frequent environment changes cause stress and anxiety. The best thing to do to keep their stress levels low is give them enough rest, food, and exercise. Also, bonding with them can help reduce their stress significantly.
15. Invest in a Good Quality Vacuum Cleaner
Since you can't stop golden retriever shedding, you might as well invest in products that will make cleaning much easier. Instead of using brooms to remove dog hairs, opt for vacuum cleaners because they can efficiently remove all the fur from around your home.
You should vacuum once or twice every day. Check out the Bissell Cleanview Swivel Bagless Vacuum Cleaner if you're looking for a vacuum that is especially designed to remove dirty pet hairs.
BISSELL 2252 CleanView Swivel Upright Bagless Vacuum Carpet Cleaner, Green Pet
Buy Bissell, save pets; Bissell donates up to 10 dollars to the Bissell pet foundation for every pet product purchase, upon activation
Powerful pet hair pick up with triple action brush roll with scatter free technology
Swivel steering to easily maneuver around furniture and other obstacles
Clean edges and corners with edge to edge cleaning. Cleaning path width: 13.5 inch
Remove pet hair with specialized pet tools including pet hair corner tool and pet tool
16. Always Keep a Lint Roller and Rubber Gloves in Your Home
Lint rollers should be a staple in your home if you have a golden retriever or any other pets. It is a convenient and easy way of removing furs from clothes, upholstery, or other home surfaces.
The Scotch Brite Lint Roller is highly recommended to effectively clean and remove furs and hairs from clothing and other surfaces. You should also have some good quality rubber gloves at home. They're useful for getting rid of all those dog hairs, especially from your furniture.
Scotch-Brite Lint Roller, Works Great on Pet Hair, 60 Sheets
Picks up lint, fur, fuzz, hair and debris for a crisp, clean look
Reliable Scotch Brand adhesive
Tears cleanly down to the last sheet
Great for use on clothing, furniture and more
Handle is ergonomically designed to fit comfortably in your hand
17. Wash Your Bedding and Couch Covers Regularly
Sometimes, the only way for you to thoroughly clean your bedding and couch covers is by washing them. Vacuum or lint rollers can't remove all the dog hairs, especially on the corners and edges of your couch. You need a schedule of regular washing to keep them clean and to avoid hairs and furs from accumulating.
Final Thoughts
Having a dog in your home is not as easy as it sounds. As much as golden retriever shedding can be annoying, the joy that they bring is worth it.
Hopefully, our 17 simple tips can help you manage the golden retriever shedding that you're struggling with. By following these and using the right products and tools, you will eventually live in the hair-free home that you always wanted.