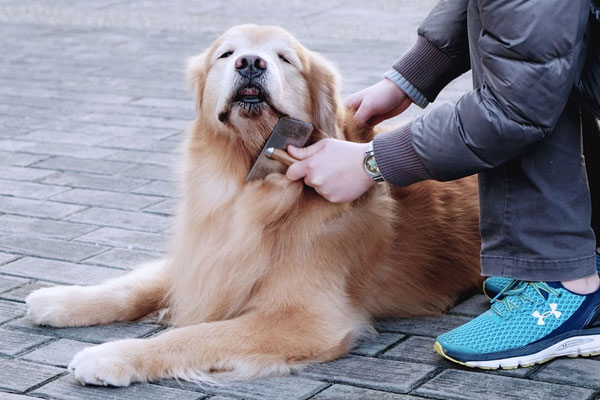 Best Brushes for Golden Retriever
Golden Retrievers are known for their friendly, loveable demeanor and calm, easy-going temperament. The dogs were originally bred to retrieve shot waterfowl, such as ducks and upland game birds, and the name "retriever" refers to the breed's ability to retrieve shot game undamaged due to their soft mouth.
These dogs are incredibly reliable and loyal and make the perfect companion or family dog. According to the American Kennel Club, Golden Retrievers are America's third most popular breed. It's pretty difficult to fault the Golden Retriever, they're loveable, playful, and expressive, but there's probably one slight drawback that most owners can agree on – their hair! Retriever hair gets everywhere and has a tendency to shed, especially in the Spring and Fall when Retrievers adapt their coats to suit the warmer or colder seasons.
Quick Navigation[ez-toc]
Golden Retrievers have a dense, water-repellent outer coat with a thick undercoat that requires regular grooming. It varies in color from a deep golden brown to a far lighter shade that many describe as "white." Daily brushing is recommended to reduce shedding and matting, however, you should brush your Golden at least once a week to keep the coat shiny and tangle-free.
A good brush is key for keeping your dog's hair in optimal condition, and Golden Retrievers are a breed that requires regular maintenance, making a good quality brush even more important.
While any old brush simply won't do, we know that it's time-consuming to browse through thousands of different grooming products online. That's why we've put together a list of our top brushes for Golden Retrievers, complete with a buyer's guide and frequently asked questions so you know what to look out for. Your furry friend's mane will be healthy, tamed, and tangle-free in no time!
In a hurry? This is our winner!
Our rating:

Sale
Hertzko Self Cleaning Slicker Brush – Gently Removes Loose Undercoat, Mats and Tangled Hair – Your Dog or Cat Will Love Being Brushed with The Grooming Brush
★ THE PERFECT BRUSH TO GET ALL NASTY MATS OUT OF YOUR PET'S FUR – Hertzko's Slicker Brush gently removes Loose Hair, and eliminates Tangles, Knots, Dander and trapped Dirt. WORKS GREAT ON DOGS AND CATS WITH ALL SIZES AND HAIR TYPES!
★ GET RID OF MATS WITHOUT HURTING HER - The bristles are FINE bent wires designed to penetrate DEEP into the coat and is really able to groom the undercoat well without scratching your pet's skin!
★ EASY TO CLEAN – When you're done brushing your pet, Simply click the button and the bristles retract back into the brush, Making is SUPER SIMPLE to remove all the hair from the brush, So it's ready for the next time use.
★ YOUR PET WILL NOT ONLY 'LOOK' GOOD BUT 'FEEL' GREAT TOO! – Our brush Grooms and massages for a healthy coat, increasing blood circulation and leaves your pet's coat soft and shiny. Your Pet will love being brushed !
★ COMFORTABLE, STRONG, AND DURABLE- Our Slicker Brush is especially designed with a COMFORT-GRIP and ANTI-SLIP HANDLE, which prevents hand and wrist strain no matter how long you brush your pet !
Best Brushes for Golden Retriever – Comparison Table
Best Brushes for Golden Retriever – Reviews
Our PickHertzko Self Cleaning Slicker Brush – Gently Removes Loose Undercoat, Mats and Tangled Hair – Your Dog or Cat Will Love Being Brushed with The Grooming Brush
Our rating:

Check Price
The Hertzko self-cleaning slicker brush is much-loved by many different pet owners, as it's great for pretty much all types of dog and cat hair – whether long, short, thick, or curly. If your Golden Retriever isn't a fan of being groomed, try the Hertzko on them, as the fine bristles penetrate deep into the coat, removing matted, loose, and tangled hair, without grazing or tugging.
Slicker brushes are usually difficult to clean due to the short pins which make it difficult to remove the hair. However Hertzko has taken this into account, and the brush has a simple self-cleaning button that retracts the bristles allowing you to remove the hair and throw it straight into the trash.
The design and bristles of this brush make grooming easy, fuss-free, and painless for your pup.
Pros
Ideal for long hair – easily glides through tangles
Reduces shedding
Painless thanks to short, fine bristles
Easy self-cleaning feature
Cons
Some people have had issues with the button getting stuck
Check out reviews on Amazon
Furminator Undercoat Deshedding Tool for Dogs, Deshedding Brush for Dogs, Removes Loose Hair and Combats Dog Shedding
Our rating:

Check Price
This model of the FURminator is specially designed for larger dogs with long hair, making it perfect for a Golden Retriever. This brush glides through the topcoat to remove loose undercoat hair and reduce shedding. It's gentle enough to detangle the coat without cutting the skin or damaging the topcoat thanks to the skin guard which prevents the comb from digging into your dog.
This brush has a curved edge to adhere to your dog's natural build, and it also features a handy "fur ejector" button for quick and easy release of the removed hair, making cleaning this brush a doddle. The FURminator also has an ergonomic handle to provide grip and comfort when grooming your pet.
Pros
Skin guard to prevent the comb from digging into your dog's skin
Removes loose undercoat hair without damaging the topcoat
Curved edge to mirror your dog's natural build
Ergonomic handle
Fur ejector button for easy cleaning
Cons
It's pretty expensive for a grooming tool
Check out reviews on Amazon
Pet Grooming Tool & Pet Grooming Brush- NO.1 BEST SELLER For Small, Medium & Large Dogs + Cats, With Short to Long Hair. Dramatically Reduces Shedding In Minutes GUARANTEED,Yellow
Our rating:

Check Price
The Furblaster by DakPets is perfect for dogs who shed heavily, making it ideal for Golden Retrievers. It promises to reduce shedding by up to 95%, meaning you'll spend more time with your dog, and less time cleaning up hair!
The detachable, rust-resistant blade carefully reduces loose hair, promoting a healthier, shinier topcoat and suggests you'll notice a difference after just a 10-minute grooming session. The Furblaster also boasts all of the features of more expensive grooming tools, such as an ergonomic handle and quick-release button so you can remove the blade and easily clean it.
It comes in a range of colors and also features a handy hole so you can hang it from your belt if you're a professional groomer who uses lots of tools.
Pros
Reduces shedding by up to 95%
Rust-resistant blade for durability
Quick-release button removes the blade for easy cleaning
Ergonomic handle
Range of colors and belt hole
Affordable
Cons
Some people describe this as a cheaper version of the Furminator which is less effective
Check out reviews on Amazon
Maxpower Planet Pet Grooming Brush - Double Sided Shedding and Dematting Undercoat Rake Comb for Dogs and Cats,Extra Wide,Blue
Our rating:

Check Price
This dual-sided brush from Maxpower Planet is super versatile; use the 9 teeth side for stubborn mats and tangles, and the 17-teeth side for deshedding and thinning. While the teeth are sharp enough to glide through the toughest of knots, they're also fine and rounded, so they shouldn't hurt your dog.
The rake-like shape gently works through and removes tangles, knots, dander, and trapped dirt and is perfect for pets with thick fur or a dense double coat. It's also easy to hold thanks to the non-slip handle and is lightweight enough to be used for a long grooming session.
Pros
Dual-sided for different types of grooming
Rounded yet sharp teeth to work through stubborn matting
Removes trapped dirt
Non-slip handle
Lightweight to hold
Cons
Rake brushes can be uncomfortable for some dogs.
Check out reviews on Amazon
UPSKY Dog Brush & Cat Brush Self Cleaning Dog Slicker Brush Easy to Clean Pet Grooming Brushes Shedding Grooming Tools for Dogs & Cats with Long or Short Hair
Our rating:

Check Price
The Upsky slicker brush not only removes loose fur, dirt and reduces shedding, but it also massages your pet's skin which stimulates blood flow and improves overall health. Fine and curved stainless steel bristles reach deep into your pet's coat to groom the undercoat thoroughly and remove loose fur and tangles, without scratching your pet's skin.
The one-click self-cleaning button makes it easy to remove residue hair, and the ergonomic handle provides comfort and grip while grooming. This brush also comes with a convenient protective cover to keep bristles in optimal condition and prevent small children from touching them.
Pros
Multi-functional: grooms and massages
Fine, curved stainless steel bristles for deshedding
One-click self-cleaning button
Protective cover
Ergonomic handle for comfort and grip
Affordable
Cons
This brush has quite hard bristles so they're not suitable for sensitive dogs
Check out reviews on Amazon
Coastal Pet - Safari - Dog Self-Cleaning Slicker Brush - Large (8 x 4.5 Inches)
Our rating:

Check Price
The short stainless steel pins on this Slicker brush are perfect for gently detangling your Golden Retriever's coat, and will remove dead hair, mats, and tangles with ease. The Safari is recommended for breeds such as Golden Retrievers and will help keep the topcoat smooth and shiny while removing loose hair from the undercoat.
The pins on this brush are quite sharp, making them perfect for removing tangles, however, there's no need to press down hard on the Safari, as gentle motions are just as effective and will ensure a painless process for your pup. This Slicker brush also features a comfortable, ergonomic design and a convenient self-cleaning button on the back, so you can easily retract the pins and remove the hair.
Pros
Ideal for a Golden Retriever thanks to Slicker brush style
Short, stainless steel pins glide through topcoat to remove loose hair
Ergonomic design for comfortable use
Self-cleaning button
Cons
Don't press down hard with this brush, as the pins may hurt your dog.
Check out reviews on Amazon
Best Brushes for Golden Retriever – Buyers Guide
Type of Brush
There are a variety of different brushes on the market and it's important that you find one that is tailored to your Golden Retriever's long, thick coat.
Bristle brush: Bristle brushes come in different lengths and are usually made out of boar hair or synthetic bristles. Short and stiff bristles are best suited for short, stiff coats, while longer bristles are perfect for longer, softer hair.
Slicker brush: These have thin bristles made out of wire and are designed to easily move through the topcoat to de-shed the undercoat. You can get slicker brushes for coarse or fine hair, and these are especially good for removing matting and distributing the dog's natural oils throughout their coat, which help keep the hair healthy and shiny. Slicker brushes usually have a handy self-cleaning button for easy release of residue hair.
Undercoat rake: This brush has a rake-like shape with metal teeth that glide through the topcoat to reach the undercoat. They're good for removing debris and loose fur as well as tangles and are especially good for longer-haired dogs.
Porcupine brush: This looks more like a traditional hairbrush and has very stiff plastic or metal pins that may or may not have nubs on the tips. These brushes are not great for Golden Retrievers as they only tend to the topcoat, while Goldens need something that will glide through the topcoat and de-shed the undercoat.
Deshedding tools: These tools are specially made for dogs that shed a lot. They have a very fine blade which must be used with caution, and they remove vast amounts of fur during your dog's shedding seasons.
Coat length
It's important to get the right type of brush for your dog's coat, as the bristles will vary in length. Generally, Golden Retrievers have longer coats with thick, wavy fur, however, it may differ in texture, and some dogs have smoother, shorter, or straighter fur.
Skin condition
If your dog has sensitive skin, allergies, or dry skin, then you need to be particularly careful when choosing a brush, as some bristles may be uncomfortable for them. If this is the case, make sure you choose a brush which has gentler, more flexible bristles, rather than one that is stainless steel and likely to cut or irritate the skin.
Shedding
You may need different tools for your Golden Retriever depending on the time of year. While Golden Retrievers shed year-round, they tend to shed most in the Spring and Autumn as the weather changes, so you may find yourself needing more specific tools during these periods, and a slicker brush will come in especially handy during these seasons.
Cleaning
Cleaning your dog's grooming brush can be just as time-consuming as the grooming itself, especially if the hair gets tangled and matted around the bristles. It's important to clean the brush regularly to ensure it is clean and hygienic, but also to make sure you're getting the most out of your tools. Slicker brushes are notoriously difficult to clean due to their shorter bristles, however, many brushes today feature a handy one-click self-cleaning button, made infamous by the FURminator's handy "fur ejector" button which releases the residue hair in one swift movement, meaning you can throw it straight into the trash.
The roughness of the brush
Some dogs are more sensitive to being groomed than others, meaning it can be particularly difficult to keep their coat in tip-top condition. If this is the case with your Golden Retriever, then try to opt for a brush that has softer and more flexible bristles that won't cut into the skin. A bristle or slicker brush may be your best bet if your dog finds grooming irritable or stressful. Don't forget to let them lie down and if they sniff the tools, let them do this to allow them to get used to their scent. Keep your first grooming session short and move the brush in gentle motions, taking care in knotted areas. If your dog has a lot of knots or matted areas, you will probably have to work on these over a few weeks, as it's no good pinning your dog down and tearing through them. Take things slowly, ensure your dog is comfortable and relaxed, and reward them with treats so that they get used to the process.
Top tips for grooming your Golden Retriever
Set up a comfortable grooming station for them, this may be in front of your television set so that your dog is distracted by the pictures, or in your bathroom so you can easily clean up the hair.
Use a coat spray to help clean the coat and make it easier to glide the brush through the hairs.
Work in sections – left and right hindquarters, midsection, chest and front legs, head and tail. You should groom from the base of the hairs outwards, in smooth, soft motions.
Use a comb after grooming to remove any loose hairs or missed debris.
Frequently Asked Questions
Which is the best type of brush for a Golden Retriever?
Coats may vary slightly between Golden Retrievers, with some having longer or wavy coats, and others having shorter, smoother coats. However, overall, a slicker brush is particularly effective for breeds such as Golden Retrievers as these are the most effective at removing loose hair from the undercoat. They also tend to glide better over the hair, meaning they're less likely to damage the topcoat and also limit the risk of hurting or cutting your dog while you brush them.
How often do Golden Retrievers need to be groomed?
Golden Retrievers should be thoroughly groomed at least every one to two weeks, however, during shedding seasons you may want to groom your Golden Retriever as often as every day, to remove loose, dead hairs and minimize shedding (and the mess!).
Do Golden Retrievers need their hair cut?
With regular grooming, you shouldn't really need to have your Golden Retriever's hair cut, and you should certainly never shave their coat, even in warmer summer months. Golden Retrievers usually have their hair trimmed on their ears, feet, neck, and tail, but it's always better to seek a professional grooming service for this unless you have the right tools and you are confident trimming your dog's hair.
Why do Golden Retrievers shed so much?
Golden Retrievers have a double coat, meaning they have a topcoat made up of a protective layer of long hairs, and an undercoat which is soft and fluffy. The topcoat is waterproof, keeps debris out, and even protects your dog from harmful UV rays, while the undercoat keeps your dog warm in the winter, and cool in the summer. During the Spring, Goldens shed their thick, winter coat to make way for a lighter summer coat, whereas in Fall they shed their summer coat to make way for a thicker, warmer one for the colder months.
Certain things may make your dog shed more though. A poor diet will reflect in your Golden's coat, just like the amount of nutrients we get determines how healthy our hair looks. Allergies, stress, fleas or ticks, hormones, medication, or pregnancy may also affect your dog's hair and make them shed excessively, and you should always seek advice from a vet if you think your Golden Retriever's coat is being impacted by one of these factors.