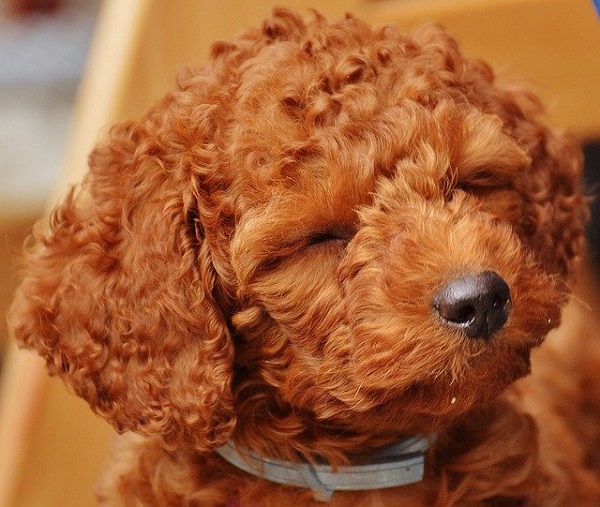 Best Brushes for Poodles
Regular brushing is essential to keep your Poodle's fur coat in tip-top condition. These glamorous, distinctive pooches are known for their beautiful, tightly curled coats. Although they don't generally tend to shed as much hair as other breeds, you will find that their hair is coarse, wiry and thick, so will need regular grooming to prevent it becoming matted or tangled. Poodles can be quite a high maintenance breed in this respect, so it is important to make sure you have the right tools to keep them looking healthy and glossy. 
There are several variations in the type of coat a Poodle has so it's always a good idea to establish which type of coat your Poodle has before choosing a brush so you can make the best choice. Think about the size of your Poodle as well, and bear in mind that smaller brushes may be more suitable for Miniature or Toy Poodles as they may not be as effective for covering larger surface areas. Poodles tend to have quite sensitive skin and are more prone to skin allergies than other breeds, so you will need to be mindful of this when choosing a brush as some sharp bristles or blades may scratch or irritate the skin.  
We've done the hard work for you with our round up of five of the best brushes for Poodles that will ensure your pooch will be best of show. Check out our top pick the Andis Firm Slicker brush if you're after a good all-rounder at an affordable price. Don't forget to have a look at our handy buyer's guide for more information on what to look out for when choosing a brush and our frequently asked questions for some useful grooming tips and tricks.
Quick Navigation
[ez-toc]
In a hurry? 
If you're in a hurry to find the perfect brush for your Poodle look out for our top choice, the Andis Firm Slicker Brush. This is a great durable brush, perfect for removing any knots or tangles from your Poodle's coat. Designed for dogs with thicker or more coarse coats, this one should reduce shedding by up to 90%. The design features a practical wide brush head, meaning that you can really cover a lot of fur at once and speed things up. The anti-slip handle is safe and comfortable to use. The Andis brush can also be used to lift and shape the hair during blow drying or clipping for a more polished look.   
   

Sturdy, durable design 

   

Wide brush head means you can cover a large area

   

Anti-slip handle 

   

Comfortable to use 

   

Great for removing knots, tangles, and targeting matted areas
In a hurry? This is our winner!
Our rating:

Best Brushes for Poodles – Comparison Table
Best Brushes for Poodles – Reviews
Our Pick
Our rating:

The Andis Premium Firm Pet Slicker brush is a great option for your Poodle. Made up of fine wire bristles, the brush targets any tangles and areas of matting effectively, removing dead hair from the coat with ease. The durable design gently removes dirt and debris from the coat. It features an ergonomic, anti-slip handle, allowing for safe and comfortable grooming. The wide brush head will enable you to cover a large area of fur at once, reducing shedding by up to 90% and speeding up the grooming process. This one is designed specifically for dogs with dense or coarse coats, and its fine, pliable bristles should make for a stress-free grooming experience. It is recommended that a conditioning spray is used on the coat prior to brushing to help the slicker brush glide through the coat evenly. This brush is also a good one to use for lifting and fluffing hair while clipping or blow drying. 
Wide brush head allows you to cover a large section of hair easily
Effectively detangles hair
Reduces shedding
Anti-slip handle
A conditioning spray is recommended prior to brushing – not included with the brush
Our rating:

The Poodle Pet Dematting rake is an ideal choice for Poodles. Designed to gently remove knots, matted spots and tangles from coats, this one is a really popular choice among dog owners. If you're looking for something to tame longer fur, this is the one to go for. The sharp edges cut through thick and matted hair easily while its rounded ends ensure it is a safe and comfortable experience for your furry friend. The brush is fitted with long 2.5″ stainless steel blades which means it can reach deep into the fur to quickly break up knots and tangles. The easy grip handle features a comfort thumb rest which will give you more control as you groom and enable you to target any problem areas. The brush is safe for use on wet or dry fur. The Poodle Pet brush is also easy to clean and store thanks to the hole cut-out on the handle of the comb itself, meaning you can hang it up and store it safely until needed.
Ideal for longer fur
Safe and comfortable
Long steel blades great for detangling knots
Easy grip handle
Safe for use on wet or dry fur
Great for dematting fur
Blades can be sharp and will need to be handled with care
Our rating:

The Hertzko Self Cleaning Slicker Brush definitely makes our top five. The bristles are fine bent wires which are designed to penetrate deeply into your Poodle's fur to gently remove loose hair, tangles and trapped dirt. Easy to grip and designed for comfort, the brush works to remove tangles without causing your Poodle discomfort by scratching his skin the way other brushes can. The design of the brush has been developed to groom and massage your Poodle in order to increase blood circulation and leave the fur clean, shiny and soft. One of the best features of the Hertzko is the self-cleaning mechanism. When you've finished brushing your pooch, simply click the button and the bristles will retract into the brush head, allowing you to remove all the hair from the brush easily so it will be ready to use again. This is a great time saver and also means that the bristles can't be damaged during transport or while in storage as they'll be safely tucked away.
User friendly
Gentle
Self-cleaning design
Safe and comfortable
The retractable pins can get clogged up
Our rating:

The popular Hartz Groomer Brush has been designed by professional groomers to effectively remove tangles and mats, and is another great option for Poodles. The Hartz Groomer is best for getting rid of any dead hair that may have built up on the surface of the coat itself, and for detangling any matted areas in the process. The bristles feature a protective coating to allow for gentler brushing, helping to distribute the natural oils that keep your Poodle's coat looking soft and luscious. It features a comfortable, ergonomically designed handle designed to give you more control when brushing. The gentle bristles mean this is a good choice for everyday use, or if you're looking for something simple and easy to use. It is also an affordable option and is very easy to clean. 
Gentle bristles
Great for everyday use·
Effectively removes tangles and mats
Popular choice
Comfortable ergonomic handle
Perfect for getting rid of any dead hair
Affordable
The bristles are fairly short
Our rating:

Our final pick is the Li'l Pals Dog Slicker Brush with Coated Pins. This one is great for efficiently removing tangles and loose hairs from your Poodle's coat. Its smaller size and design means that it offers more control and allows you to get to those harder to reach areas. The compact design means that this one may be slightly better suited for miniature or toy poodles, but it should work effectively on all sizes. The Li'l Pals Dog brush also features coated tips which prevent your dog from getting scratched in the process, so might be one to look at if you're in the market for a gentle brush that you can use on a regular or even daily basis.
Gentle
Features flexible pins with plastic tips
Contours to the dog's body for efficient grooming
Ideal for regular use or for daily grooming
Compact size – great for grooming on the go
Coated bristles provide protective layer to prevent any scratches or damage to skin
May be more suitable for Toy Poodles


Some reviewers found the brush too small in size
Best Brushes for Poodles – Buyers Guide
Poodle hair is very thick and can become quite unruly without regular grooming. Without this care and attention, the hair can become so thick that it can start to obstruct the Poodle's vision and mobility, causing them pain and discomfort. Poodles therefore require more regular brushing and grooming than other dogs.  
Slicker brushes are an ideal choice for Poodle hair as they are generally very effective in removing knots, tangles and debris from the coat. They are made up of small, fine bristles that can penetrate deep into the hair and brush out the undercoat effectively. Professional groomers generally opt for a slicker brush. Smaller slicker brushes allow for more control when grooming but will generally be better suited to smaller Poodle varieties, such as Toy Poodles. Self-cleaning Slicker Brushes are a great time saver and ideal for minimising damage to bristles as the bristles retract safely into the brush head to facilitate cleaning. 
The thickness of a Poodle's coat presents a few problems for grooming as you will notice the hair itself has quite a different consistency to other breeds. The coat is made up of both an outer coat and an undercoat, so you'll need to pick a brush that will be able to tackle both effectively. You should also keep in mind that Poodles are susceptible to a wide variety of skin disorders, including skin allergies, so you will need to be very careful when grooming them so as not to damage or aggravate their skin in any way. Picking a brush with protective or coated bristles for example, can help protect the dog from any unwanted scratches or damage to the skin.  
When choosing your brush, look out for a sturdy design as the brush will need to be strong and durable to deal with some of the thickest of dog hair. You will want to use something functional and practical which will be gentle on your Poodle and comfortable enough for you to use frequently. It may be useful to think about how often you plan to use the brush, and whether you would prefer a brush that self-cleans and can be stored away when not in use. Look out for ergonomically designed handles or any kind of anti-slip feature to maximise comfort and safety.  
A dematting rake is another good option for Poodles as they are designed to gently remove knots, matted spots and tangles from coats, so should work well on problem areas. The steel blades on dematting rakes mean it can reach deep into the fur to quickly break up knots and tangles, but you will need to be careful when using a rake, as the blades can be very sharp and will need particular care. Choosing a rake like the 'Poodle Pet Dematting rake' will be your best bet as the sharp edges will cut through thick and matted hair easily while its rounded ends ensure it is gentle enough for your Poodle. 
Frequently Asked Questions
What kind of brush is best for Poodles?
There are a number of great options for Poodles. A slicker brush is a very popular choice as they work well in removing knots, tangles and debris from the coat. These brushes are made up of small, fine bristles that can penetrate deep into the hair and brush out the undercoat effectively. They come in a variety of different sizes and the bristles are often short in length and should be gentle on your Poodle. If you're looking to target matted areas specifically, you might want to think about a dematting rake or comb. Made up of long steel blades that can penetrate deep into the coat, these rakes are great for Poodles with longer hair. Remember that the blades can be sharp and must be handled with care.
How do I make my Poodle's hair fluffy?
If you want to make your Poodle's hair fluffy you will want to establish a regular grooming routine. Use a mild shampoo, conditioner, blow dryer and brush. Using a conditioning spray before brushing can be a good idea. After washing, set the blow dryer on a low heat and dry your Poodle's coat as evenly as possible. Be sure to keep the air angled away from the skin and direct it on the fur. As you do this, try to lift the hair up with a slicker brush and brush gently from the skin outward to the end of the hair to achieve a fluffy look. Finish by using a dematting comb or rake to get rid of any remaining loose tangles.
How often should I brush my Poodle?
Brushing your Poodle regularly is really important to maintain a healthy, glossy coat. As well as getting rid of any tangles or knots, regular brushing also helps to distribute natural skin oils that help keep your Poodle's coat looking healthy and shiny. You can brush your Poodle as frequently as every day, although two or three times a week may be more manageable and should keep mats and tangles to a minimum.
How do I stop my Poodle from matting?
The best way to prevent your Poodle from matting is to regularly wash, brush, trim and groom them to ensure their coat stays clean and healthy. There are variations in texture and thickness from one Poodle to another, so if your Poodle has particularly thick or dense hair, you may find that you need to brush it every day to keep it from matting. It's also a good idea to check your Poodle at the end of each day or after a long walk to remove any dirt or debris that may have tangled in the hair. You may find that using a combination of slicker brushes and dematting rakes or combs works best to keep the hair tangle free.
How do I brush my Poodle?
Consider investing in a conditioning spray to use on your Poodle before brushing. Using a conditioning spray will help to break down any knots before you tackle them and allow the brush to glide through hair more easily. Brush with long strokes in the direction of hair growth. Take care to be gentle with more sensitive areas or any areas where there is more exposed skin. It is always best to brush your Poodle on a safe and sturdy surface where there is plenty of light.
Carys Thomas