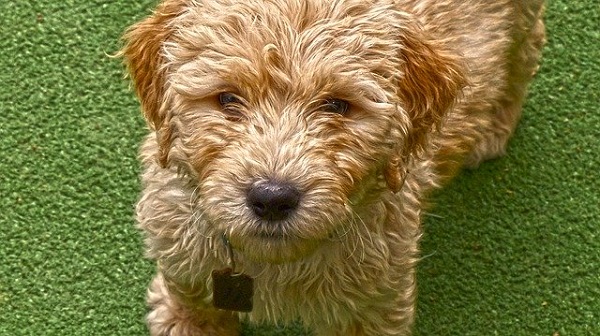 Best Brushes for Golden Doodle
The Goldendoodle is a mixture of two adorable and much-loved breeds: the long-haired Golden Retriever and the curly-haired Poodle. When combined, you get a Goldendoodle with a beautiful golden coat boasting short, soft curls!
Though it may not look like it, this type of coat is actually pretty easy to look after, especially with the right tools. An appropriate brush will allow you to achieve similar results as to that of visiting a professional groomer, for a fraction of the cost.
Though it's by no means a bad idea to visit a groomer every 6 weeks or so, you'll be able to save money and stretch out the time in-between visits if you have the right brush for the job. You'll also ensure that your Goldendoodle's coat is healthy, shiny, and free of troublesome knots.
To help you make a choice, we've been hard at work hand-selecting the top 5 brushes available to purchase today. We've also created a helpful buying guide that's full to the brim with information about what your chosen brush should consist of. So, ready to find your new grooming go-to? Just keep reading…
Best Brushes for Golden Doodles
Quick Navigation[ez-toc]
In a hurry? Achieve professional grooming results with our top pick:
The FURminator Firm Grooming Slicker Brush is our winner. Ideal for your Goldendoodle, this unique grooming tool features straight bristles on one side and bent bristles on the other side. Thanks to this, the dual flex head design will follow the natural contours of your dog's body, all the while ensuring that the brushes bristles are kept in their ideal working position. The result? A shiny, healthy coat that will be free of tangles and knots.
Here's why it's ideal for use on your Goldendoodle:
This brush is ideal for medium, long and curly coats, and is able to remove surface mats and tangles with doing any damage to the coat

The dual flex head design will follow the natural contours of your dog's body, all the while keeping the bristles of the brush in the ideal working position

Its ergonomic handle is secure and comfortable and provides good grip while in hand

Specifically designed to achieve professional-quality grooming results
In a hurry? This is our winner!
Our rating:

Best Brushes for Golden Doodle – Comparison Table
Best Brushes for Golden Doodle – Reviews
Our PickOur rating:

Give your Goldendoodle the experience of professional grooming right from your home with the FURminator Firm Grooming Slicker Brush.
One of the most important aspects of a happy pet is a healthy coat. But, there are many reasons that frequent visits to your pet stylist aren't always possible. With a little help from the FURminator's Firm Grooming Slicker Brush, you'll be able to achieve professional results from the comfort of your very own home.
FURminator is well-known for creating dog grooming products that you can trust. As industry leaders in a dog car, FURminator base many of their products around the shedding cycle, and the role that proper hair care can play in helping to reduce this process and ensure that your pet is as happy as can be. For that reason, FURminator developed this innovative dual-head brush.
The Furminator is a variation on the standard, everyday slicker brush. Unlike others, this unique one has two different types of bristles positioned on either side of the brush head, instead of just one. One side has straight bristles, which is great for smoothing and styling, while the other side has bent bristles, which is designed to help detangle any knots or matted curls. This makes this brush a great choice for catering to the special needs of a Goldendoodle's coat and will help to gently brush through tangles without damaging the coat or pulling the skin.
It is intended for everyday grooming and certainly serves its purpose well, although you will need to extra mindful when using the detangler side of the brush as some Goldendoodle owners have found that longer areas of fur can get stuck on the other side of the brush. Besides that, we couldn't find any other drawbacks to this reasonably-priced, high-performing brush. In particular, we love the ergonomic handle, which will help you to hold the brush for long periods of time without any fatigue.
Pros
The pin areas are specially designed to minimize pressure on your dog's skin for a more comfortable grooming experience
Two types of bristles allow you to work on both groomed and matted fur with a single brush
Reasonably-priced
Cons
The dual-head might complicate brushing and cause the fur to get tangled on either side
Hertzko Self Cleaning Slicker Brush – Gently Removes Loose Undercoat, Mats and Tangled Hair – Your Dog or Cat Will Love Being Brushed with The Grooming Brush
Our rating:

Check Price
Looking for a low-maintenance, fuss-free brush that will keep your Goldendoodle's fur knot-free? You're in luck with the Hertzko Self Cleaning Slicker Brush.
Ideal for even the most sensitive of coats, the bristles on this brush are fine bent wires which are designed to penetrate deep into the coat without tugging the skin so that you can give your pet a full groom. This makes the Hertzko Self Cleaning Slicker Brush an excellent selection for Goldendoodles that have an undercoat because the pins are able to easily penetrate the topcoat in order to reach the bottom fur layer, easily removing mats and knots without damaging the coat.
As you might have already guessed from the name, this Slicker Brush by Hertzko features a self-cleaning function. Offering complete convenience, all you need to do is push the button, and all of the pins will begin to retract so that you can wipe all of the excess hair away. If that wasn't impressive enough, this brush also has an anti-slip grip, which means that you can take to your dog's fur with confidence that your hand isn't going to slip.
Our favorite part about the Self Cleaning Slicker Brush is that it specifically designed to increase blood circulation, which will help to bring out the natural glossy shiny and softness of your Doodle's curly coat.
Pros
Contains a slip-proof and ergonomic handle
Self-cleaning function for convenience
Promotes healthy blood circulation
Cons
The size of the brush may be too big for use on a puppy
Check out reviews on Amazon
[Upgrade Version] Pet Grooming Glove - Gentle Deshedding Brush Glove - Efficient Pet Hair Remover Mitt - Enhanced Five Finger Design - Perfect for Dog & Cat with Long & Short Fur - 1 Pair (BLUE)
Our rating:

Check Price
If you have a puppy or your Goldendoodle is brush-shy, why not give the Delomo Pet Grooming Glove a try? They're flexible, gentle and will make them feel as though they are being petted instead of brushed.
Striking the balance between brushing and petting, these pet gloves are great for short, long, or curly-haired dogs, so it's suitable to be used on your Goldendoodle. To ensure the most relaxing and gentle grooming experience, these gloves feature 255 silicone grooming tips, which are able to mimic the touch of your fingers, so your dog will hardly notice that they're being brushed!
It's flexible, the slip-on design will allow you to quickly brush away dirt and loose hair from their coat, all the while detangling for a shiny, knot-free result. Many dog owners like to use this glove while bathing their pets, as the glove allows for a gentle massage without tugging at their skin. The five-finger design also ensures that you will be able to groom the trickier spots, such as the tail and facial area, for a full-body groom that will leave your dog feeling relaxed and happy.
Not just that, but the soft and ergonomic design features an adjustable strap for your wrists, which allows you to safely fasten the gloves to your unique wrist size. This hand-shaped brush also features no materials which could cause damage to your pet's skin.
Pros
Ideal for a Goldendoodle's first grooming experience
Great for removing dirt, debris and loose hairs
Your pet will think that they are being petted
Cons
Some have found that the gloves are too small for bigger hands
Check out reviews on Amazon
Pet Grooming Tool - 2 Sided Undercoat Rake for Cats & Dogs - Safe Dematting Comb for Easy Mats & Tangles Removing - No More Nasty Shedding and Flying Hair
Our rating:

Check Price
If you're Goldendoodle is prone to stubborn mats and tough tangles, the Pat Your Pet Store 2 Sided Grooming Tool is the brush for the job.
Featuring a dual 2-in-1 head, the Pat Your Pet Store 2 Sided Pet Grooming Brush ensures a relaxing, yet effective, grooming experience. The 9 teeth side is intended to be used on your dog's fur first and will go head-to-head with mats and tangles, helping to brush them out. The other sides contain 17 teeth and is good for thinning, brushing away excess hair and styling.
Plus, don't let the robust design fool you! This de-matting brush features 'no-scratch' rounded teeth that while gently massage the pet skin, all the while gliding through the toughest tangles and knots. It is ideal for medium and long-haired pets, so it's an ideal choice for your Goldendoodle.
The soft ergonomic anti-slip grip is comfortable to hold and will allow you to brush your dog for longer and with more precision, meaning that everyday grooming can be transformed into a bonding session for you and your dog. With regular use, this heavy-duty grooming tool will ensure that the undercoat is maintained and knots are kept at bay, all the while massaging your pup's skin to promote better circulation and a healthier, shinier coat.
Pros
Promotes healthy blood circulation for a glossy coat

The rounded teeth won't hurt your pet or tug at their skin

Ideal for all types of medium to long-haired dogs, including Goldendoodle's
Cons
Check out reviews on Amazon
PETTOM Pet Steel Grooming Tool Poodle Finishing Butter Comb, 7 1/2-inch L
Our rating:

Check Price
As an alternative to a brush, we've chosen the Pettom Pet Steel Grooming Tool as our final selection. It's a steel comb that can be used in conjunction with a brush and is an ideal 'finishing touch' step in your Goldendoodle's grooming routine.
When you've finished brushing and your Goldendoodle's beautiful, curly coat is tangle-free, reach for the Pettom Pet Steel Grooming Tool. It's clever, compact design features two different comb sizes on either end of the comb. The thin side is ideal for fluffing and finishing the body, while the thicker side can be used to style the smoother fur around the eyes, legs, and ears.
Not only that, but this nifty little comb is also great at gently removing any tangles or knots that your brush might have missed, all the while being able to remove dirt and debris. It also comes with the additional bonus of being able to stimulate your Goldendoodle's skin and hair follicles, which will promote healthy cell turnover and add nourishment to your Goldendoodle's coat. Did we mention that you can make it a part of your grooming collection for under 8 dollars? It's a grooming bag must-have.
Pros
Made of tough, durable steel
Features two different densities of bristles
Affordable
Ideal for styling and finishing after brushing your Goldendoodle
Cons
Check out reviews on Amazon
Best Brushes for Golden Doodle – Buyers Guide
Goldendoodles have unique fur, so it's only natural that the brushes suitable for use on them should have unique features, too! Keep reading to learn a little more about them:
Material
When it comes to material, you should select a grooming tool that is going to be tough and able to handle tough mats or knots. The last thing you want to happen is to have to replace your brush because it's buckled or broken when trying to detangle or brush away shedding hair. Stainless steel brushes and combs are a good choice and can usually be used on Goldendoodles across all life stages. However, there are other brushes available on the market that are made of rubber or silicone and are carefully made to be just as strong as the steel options. Many dog owners tend to prefer the latter options because they are deemed to be much more gentle on the skin, better able to promote blood circulation, and more efficient at cleaning the face, legs and undercoat.
Size
Choosing the right size is another important factor to take into consideration. If you have a fully-grown Goldendoodle, you'll need to buy a larger brush, as a smaller brush will take a lot of time and your dog may become impatient. However, a large brush head on a smaller dog may mean that you are unable to get to those hard to reach areas, which could mean that these areas go untouched, which may lead to knots and mats. Additionally, you should also double-check that the brush is suitable for use on Goldendoodle's. They fall into the medium to a long-haired category, so keep an eye out for that before going through with a purchase.
Cleaning
In order to maintain effectiveness, your brush should be easy to clean and take care of. Though it's not a necessity, many brushes do feature a self-cleaning function (such as the Hertzko Slicker Brush) that will allow you to retract the bristles and throw away the hair. Not all brushes offer this, so if you do have your eye on a brush that doesn't come with this function, you should ensure that you'll be able to easily extract remaining hair away from the teeth after each use.
Ergonomic Handle
We also recommend selecting a brush that features an ergonomic handle, as this will ensure that you are able to comfortably hold the brush without any strain or fatigue. Where possible, we also recommend looking for a handle that is made of durable material (such as rubber) as well as having an anti-slip coating.
Frequently Asked Questions
What is the best brush for Goldendoodle?
Though Goldendoodle's all share the same type of coat, they each have different characters and unique personality traits. Therefore, the 'best brush' for your Goldendoodle might look different from that of someone else's. With that being said, there are a group of brushes that are generally deemed to be suitable for use on a Goldendoodle. We'll break them down below:
Pin Brush
Pin brushes feature little pins with rounded tips. They are ideal for getting rid of mats and tangles. However, they may not be suitable for Goldendoodle puppies or dogs with sensitive coats.
Bristle Brush
Bristle brushes are good for removing excess dirt and shedding hair from the surface of the coat, which makes them ideal for use as a final finishing touch.
Rubber/Silicone Brush
These brushes can sometimes come in the form of a glove with little nodules on the palm, like the Delomo Pet Grooming Glove we talked about above. These types of brushes are generally considered to be the most gentle.
Slicker Brush
These are the most popular and common type of brush for Goldendoodles as they are able to get to the undercoat. They are great at getting rid of knots and tangles and are able to help promote better blood circulation.
Is a comb or brush better for my Goldendoodle?
In our opinion, brushes are the best choice for grooming Goldendoodles, however, combs do come in handy, too! Many owners of Goldendoodles like to incorporate a comb into their grooming routine as combs are great at getting to those harder to reach areas, as well as being able to style and tame excess hair better than a brush.