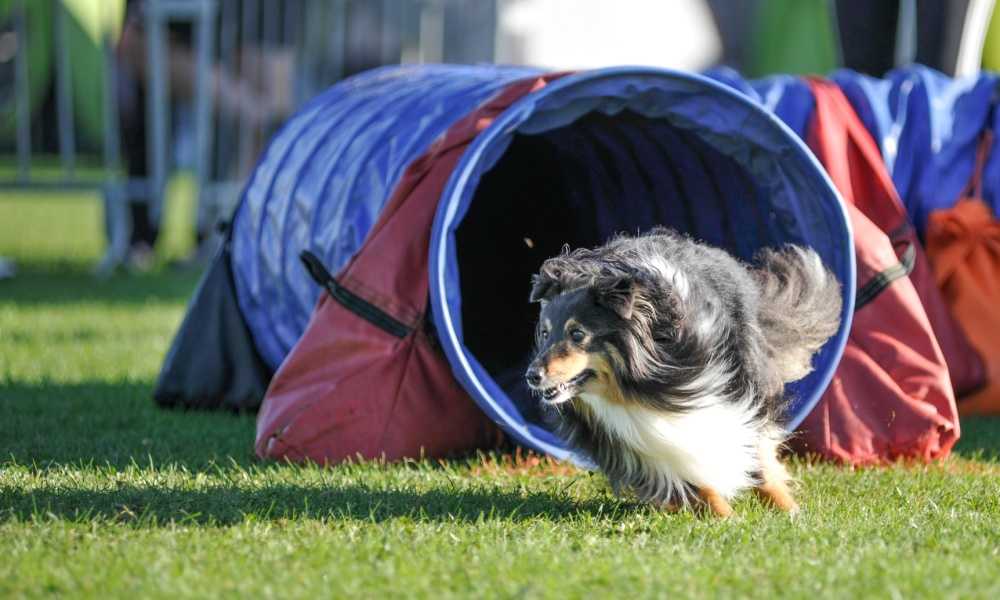 Pacific Play Tent Agility Dog Training Chute Review
Have you ever come across an AKC competition on TV and thought it seemed like good exercise or might be fun to try with your furry friend? You're not alone.

Agility training is a great way to bond with your dog and get both of you active even if you don't decide to compete. As part of the training, your dog will need to learn to navigate a variety of obstacles with your guidance, and the agility tunnel is no exception.
Pacific Play Tent Agility Dog Training Chute Review
If you're interested in beginning agility training but don't have any gear to train with, a full agility set is a great way to get you jumpstarted. Agility competitions include a variety of obstacles, and the Affordable Agility Set offers just about everything you will need in one place. Jumps, tunnels, weave poles, and more are included in one convenient bundle at an incredibly affordable price that allows new trainers to give agility training a try.
Who is this product for?
The Pacific Play Tent Agility Dog Training Chute is great for dog trainers who are training a new dog for competing in agility competitions. Though it is only one part of the competition, the dark of the tunnel's bend during competition can confuse the dog, so with training they are conditioned to keep going forwards until they see their handler again. It would be a great first training tool to get started with agility training.
This product is likely best suited for beginners due to the relatively short tunnel length and chute, as more experienced dogs are likely already trained to go through the shorter tunnels without a problem.
What's included?
Included with this product is the large tunnel itself as well as the 8-ft. chute that attaches to the back of the tunnel with Velcro. There are also stakes to hold the tunnel in place, but that's it. Fortunately, the product is simple and doesn't require much else but a willing participant.
Features
Pacific Play Tent's Agility Dog Training Chute spans approximately 10 feet long with a round tunnel of about 3' by 2' that will fit even larger dogs. The tunnel itself is held up by a steel ring skeleton with 190T 70 polyester taffeta covering the outside that resists water, making it good for indoor or outdoor use.
Attachable to the back of the tunnel is the training chute that accounts for 8 of the 10-ft. length. The chute has a hole that can be opened or left closed for the training. The chute and tunnel are collapsible and easy to store anywhere. It even includes an attached handle to carry it with you to the park.
In terms of negatives, the 8-ft. chute may be a little bit too small for larger dogs that can stride through in a second. There are longer chutes available in 12 or 20 ft. which may be better suited for some users.
How to use
This product is incredibly simple to use thanks to its self-supporting frame. Once it is unpacked, the metal rings will keep the product up and open. You can also easily attach the Velcro on the tunnel and chute together to finish the assembly. Then you can use it as you would any other tunnel and can fold it back up for storage.
Alternatives
If you're looking for an alternative that offers more chute length for better large dog training, you could consider this 16' agility tube and chute that comes in at a lower price than the Pacific Play Tent Agility Dog Training Chute. It has the same 2' diameter entrance and is made of a similar polyester (210 D Oxford polyester) but doubles the effective length with the longer chute.
Conclusion
The Pacific Play Tent Agility Dog Training Chute is a solid choice for beginning trainers with a dog that is new to agility training because the tunnel is a little too short for larger dogs, with the chute being the main feature of this product. The chute is long and great for simulating dark parts of a competition tunnel and teaching the dog to push through so they can finish the course. It is affordable, portable, durable, and a great start to agility training or as an addition to an existing course.