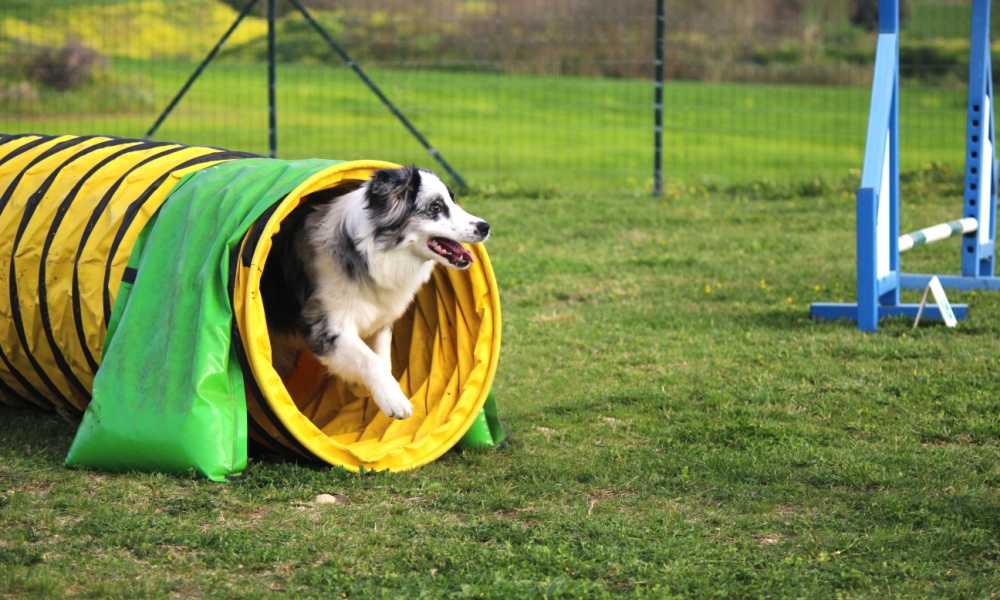 Cool Runners Dog Agility Tunnel Review
An outdoor agility course is a great way to keep your dog active, and if you decide to train for competitions it can be a great way to practice running through the course and building your relationship. As part of any agility course, you'll need a resilient and versatile tunnel that will work for your dog as well as any other pet that wants to have some fun. This way it can survive the outdoor conditions without needing to be constantly assembled and disassembled.
Cool Runners Dog Agility Tunnel Review
This dog tunnel from Cool Runners is a great tool for exercise that can be used by just about any size of dog. Dog tunnels are a great form of exercise for dogs, and they don't even need you to play with them to keep your dog active. Along with being great for general fitness for keeping your dog active and in good shape, tunnels are also a core aspect of the agility competition you'll see during dog shows. This can be a combination of great exercise and a great bonding experience an owner can have with their dog.
Who is this product for?
Simply put, this product will be perfect for any dog owners that have a backyard, or a sizable amount of space to set the 15' tunnel up outside. This can be a good tool for an already established competition dog to continue training with due to the long size. Alternatively, it can be great for a beginner dog that you're attempting to show the ropes to, or even a dog that will never compete in a dog show but would enjoy it as a toy to have fun and stay in great shape with!

The Cool Runners Dog Agility Tunnel is both very durable and affordably priced, so you'll get the most out of your purchase if you choose it. It is built to be used outside because the material it is made of resists many weather conditions and water damage. Additionally, the product is very simple to pick up and store giving you the ability to set it up nearly anywhere space is provided and just as easily pack it up for storage.
What's included?
With this product, there aren't many separate pieces to talk about. The primary parts are the actual tunnel itself that comes packed tightly and securely for easy storage and the carrying case/travel bag. This allows you to easily pack the tunnel down until it is very small, then place in the carrying case to transport easily and securely to any location of your choosing.
Features
The Cool Runners Dog Agility Tunnel is 15' of both UV resistant and weatherproof polyester. This means that this product is able to withstand the high temperatures you'll experience during the hot summer months, and be able to withstand some harsh weather as well, if you have interest in using the tunnel during the spring showers or cold snowy winters. To combine with those benefits, you'll notice it is also mildew and rot resistant so in many cases you'll be able to leave the tunnel out overnight without worry of any unwanted build up.

When purchasing, you may notice there are two kinds of pitches being 8 inches or 4 inches. This model is the 8-inch version, which basically means that it will be 10 pounds lighter than the 4-inch version and will be slightly less sturdy because the supporting rings are further away. If you have one or many large dogs and don't mind the extra weight, you may find it better for you to go for the sturdier version with the 4-inch pitch.
Tutorial
Thankfully, as is the case with many dog tunnels, this is one of the easier products you'll set up. As long as you have enough space needed for the product, the only necessary steps to set this up is to simply take it out of the box and stretch the tunnel out until fully open. From there you should be good to go!
Alternatives
While the Cool Runners Dog Agility Tunnel is a solid choice for your outdoor agility course, it doesn't offer as much for the price as some other models do. For example, the PawHut 16' Agility Tunnel rivals this model in length while boasting a lower price and including additional stakes to secure the tunnel when used outdoors so that it doesn't roll.
Conclusion
The Cool Runners Dog Agility Tunnel is made to be used outdoors due to its mold, mildew, UV, and weather resistances that the thick tunnel offers. At 15' long it can be curved and repositioned to fit into any obstacle course you create, and will survive even harsh conditions if left outside. If you do need to move it, the tunnel folds up accordion-style for easy transport. If you're looking for a sturdy outdoor agility tunnel, the Cool Runners tunnel is for you.