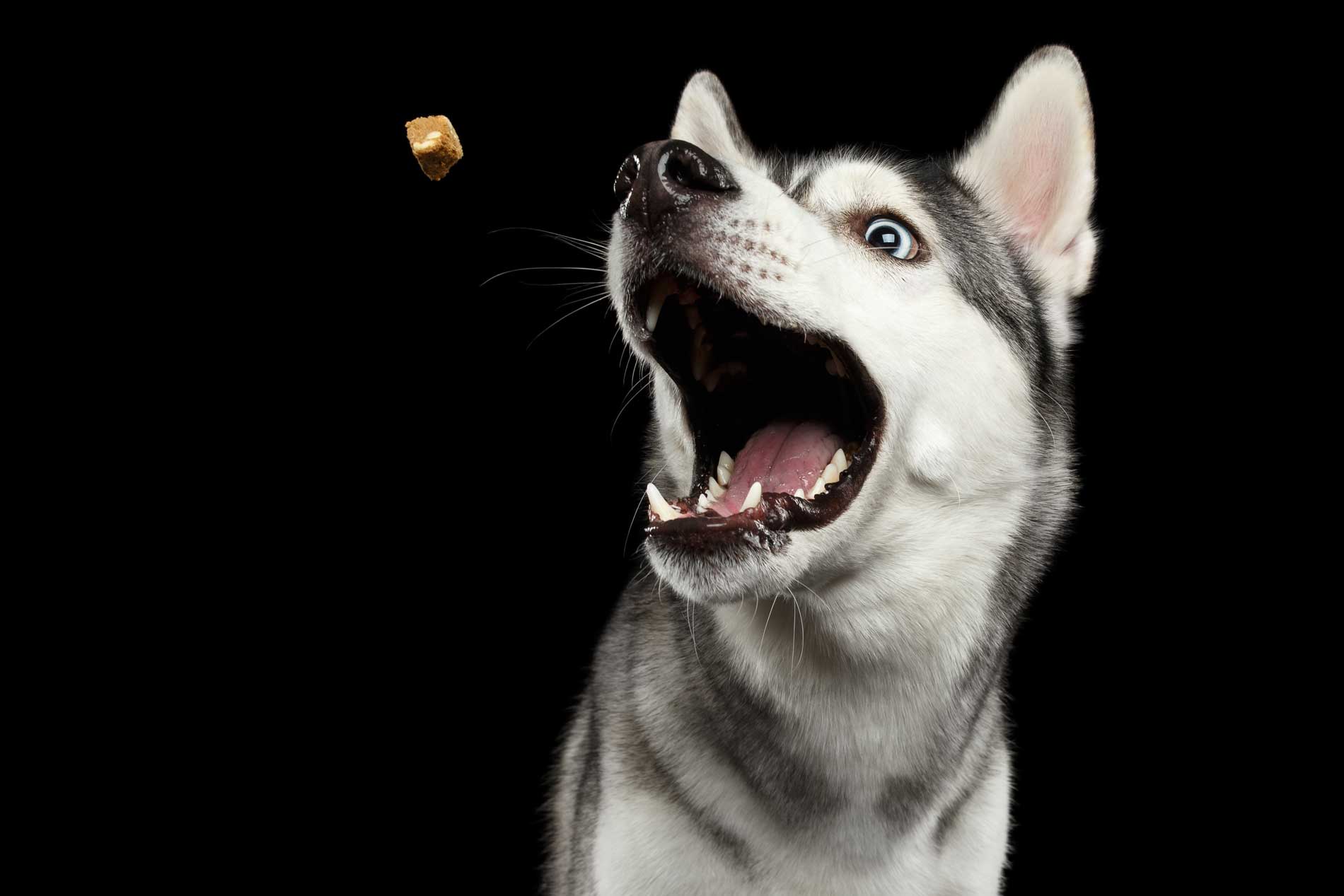 Best Dog Training Treats for Puppies
Training treats are a great reward to use when training your puppy. Using treats can make your puppy learn new habits quicker than without offering rewards.
Many people want to know the best dog training treats for puppies so you can be sure you're giving your puppy the right type. In this dog training treat buyer's guide, we're going to look at the criteria you'd want to consider for your treats and the best brands to try.
We're also going to look at a few simple training tips to help make your training sessions more successful. By the time you finish this article, you'll know everything there is to know about the best dog training treats for puppies.
What are Training Treats?
Training treats are small, bite-size snacks that you can use to reward your pet during training sessions. Puppies respond better to learning and performing tricks if they know they'll get something yummy for their efforts.
A pro tip for training your puppy is to schedule your training sessions between meal times so your puppy will be hungry, and therefore more eager to get their snacks.
Types of behaviors you can use treats to train for your puppy include:
Sit
Stay
Lay down
Come
Speak
Dance
Shake
High five
You can also use treats as a way to keep your pet occupied. A bored or lonely puppy can become destructive. Adding a few snacks into a puzzle ball such as the Pet Zone IQ Treat ball or a chew toy like the Kong can keep your pet busy and happy for hours.
Soft Treats
Pet parents typically find more success with training their dogs using soft treats over hard ones like doggie biscuits.
Hard snacks leave behind crumbs, which your pet may be eager to eat before returning his attention to getting new snacks. If using hard treats, look for small pieces that can quickly be eaten in one bite.
Small Pieces
You also want to make sure you choose bite-size pieces. Training sessions should be quick and constant, so you don't want your pet to spend more time eating one snack before working for the next.
Smaller pieces also keep your pet from getting full before the session is complete. Be sure to use healthy treats, so your pet doesn't become obese. Pay attention to the serving size for your puppy's weight and breed.
Smell
Smelly treats work better during intense training sessions. Even though your puppy may not see the snack, he will smell it, making him more likely to perform the command.
Most strong smelling treats are high value, which means your dog will have a higher preference for these snacks over others.
High-Value Treats
High-value snacks are usually moist or freeze-dried. They can also be pieces of human-grade food. Whatever treat you choose has to be something your pet doesn't get during mealtimes.
High-value treats are great during intense training sessions where you're introducing a new command or if you'll be competing for your pet's attention, such as in training classes.
You can also use snacks during socialization and proactive exposure training. High-value treats also work great for behavior modification.
Examples of high-value treats include small pieces of cooked chicken or liverwurst, a spoonful of peanut butter, hard-boiled eggs, or cheese.
Medium Value Treats
Medium value treats are usually semi-moist or dry treats that include ingredients your pet doesn't get at other times during the day.
You will use medium value treats more often than high value treats for training. Once your pet has gotten used to a command, you can switch to a medium value snack to continue reinforcing the behavior.
Medium value treats are also useful for giving your dog good behavior throughout the day, without training sessions.
Low-Value Treats
Low-value treats should consist of foods your pet is used to eating, such as pieces of their dry kibble. You will use low value treats to help wean your puppy off high and medium value treats.
Typically, low-value treats are small pieces of dried treats rather than moist or freeze-dried. You can also use these treats to reward for good behavior throughout the day.
Best Dog Training Treats for Puppies
Now that you know about the different types of treats, let's look at some of the best dog training treats for puppies. We'll provide nutritional value, ingredients, and what category of value for the treat.
Vital Essentials

Vital Essentials Freeze-Dried Beef Tripe Dog Treats - All Natural Raw Treat - Made & Sourced in USA - Grain Free - 2.3 oz Resealable Pouch
HELP BOOST YOUR FURRY FRIENDS IMMUNE SYSTEM: with freeze-dried Beef Tripe treats packed with probiotics promoting strong digestive health. Produced with only fresh beef tripe your dog already loves!
SINGLE SOURCE PROTEIN: fresh, raw, Green Beef Tripe, that's it, beef tripe your dog already instinctively loves. No added hormones or antibiotics, no fillers, flavorings or rendered by-products, ever!
LIMITED INGREDIENT TREAT: the perfect treat for training or just being a good dog! Prepared from pure, raw, green beef tripe, slow, freeze-drying process, no cooking, no muss, no fuss!
100% USA SOURCED, MADE AND PACKAGED: freeze-dried, not cooked, ensuring a fresh, safe, raw, pet treat that is light-weight and delicious for your four legged family member.
NO JUNK! - just real meat!
Vital Essentials makes training a breeze with their freeze-dried treats, available in multiple protein flavors, including salmon, beef liver, turkey giblets, chicken, and tripe (a type of beef).
This high value treats come in bite-size pieces of real meat that have been frozen in raw form to lock in all the flavor and nutrients without any of the mess.
Each treat promotes digestive health and boosts your pet's immune system with a healthy dose of probiotics, digestive enzymes, and calcium.
They're also gluten and grain-free, so they're perfectly safe for dogs with allergies or sensitivities. There are zero fillers, flavorings, antibiotics, hormones, or rendered animal by-products.
The green beef tripe dog treats the nutritional value of 155 kcal/oz with 49% protein, 36% fat, 2.2% fiber, and 8% moisture.
Wellness Natural Grain Free Puppy Training Treats
Sale

Wellness Soft Puppy Bites Natural Grain Free Puppy Training Treats, Lamb & Salmon, 3-Ounce Bag
MINI CHEWY PUPPY TREATS: These delicious, grain free soft treats are made with 2 kinds of fresh meat plus added vitamins specially for puppies and a natural source of DHA to promote healthy brain development
ALL NATURAL: These moist and tasty treats are made with whole fruits and veggies including superfoods like blueberries and sweet potatoes for a naturally craveable flavor and a boost of antioxidants
THOUGHTFULLY MADE: We craft delicious treats with simple, natural, high quality ingredients chosen for their nutritional benefits; no meat byproducts, artificial colors, flavors or preservatives
FIND THE RIGHT TREATS: From puppy to senior, small dog to large breed, crunchy to chewy, grained to grain free, treating to training, we've got an all natural recipe for every dog's needs and taste
TRAINING AND REWARDING: These bite sized soft treats are the perfect rewards during training sessions or any time you want to thank your dog for good behavior
Wellness Training Treats are medium value, small, bite-size cookies in lamb and salmon or chicken and carrots flavors. The soft texture makes these treats perfect for training.
These snacks are grain-free, with no artificial flavors or colors, or common allergens such as soy or corn. If your pet has a food allergy, these treats can be the perfect solution.
In addition to real animal protein as the first ingredient, these treats also contain beneficial ingredients like blueberries, sweet potatoes, apples, flaxseed, and carrots.
These snacks' nutritional value includes 14% protein, 16% fat, 2% fiber, and 30% moisture content. A great benefit of these treats is that they also contain DHA (Docosahexaenoic Acid).
Zuke's Puppy Naturals Dog Treats
Sale

Zuke's Puppy Naturals Puppy Treats Lamb and Chickpea Recipe - 5 oz. Bag
(1) 5.0 ounce Bag - Zuke's Puppy Naturals Puppy Treats Lamb and Chickpea Recipe
Nutrient-rich, tender treats for all your pup's adventures in training
Real lamb is the #1 ingredient
Leading DHA and EPA levels to support healthy brain development
Grain free and gluten free dog treats for puppies
Zuke's Puppy Treats are a low-value treat and come in three flavors: lamb, salmon, or pork. They're grain-free, so they're great for puppies with allergies. And there's zero additives, by-products, gluten, or fillers.
We love this product for puppies because they include DHA and EPA, which are crucial nutrients for growing puppies.
In addition to high quality animal protein as the first ingredient, these treats also contain peas and chickpeas, potatoes, and vitamin supplements to keep your puppy healthy.
The nutritional content looks like 15% protein, 6% fat, 3.5% fiber, and 25% moisture, with 1.5 calories per piece.
Blue Buffalo BLUE Bits Training Treats
Sale

Blue Buffalo BLUE Bits Natural Soft-Moist Training Dog Treats, Beef Recipe 16-oz bag
REAL BEEF FIRST: BLUE Bits dog training treats are made with delicious real beef as the first ingredient making them an ideal reward for your best friend's best behavior.
MEATY TRAINING TREATS: For dogs that love a meaty treat, BLUE Bits are tender, bite-sized morsels that are the perfect size for training. Plus with DHA to help support cognitive development, they're an ideal puppy treat.
WHOLESOME INGREDIENTS: These dog treats don't contain any chicken (or poultry) by-product meals and are free from corn, wheat and soy. Plus, they're free from artificial preservatives like propylene glycol and colors like red dye 40.
HEALTHY DOG TREATS: Blue Buffalo natural dog treats feature the healthy, wholesome ingredients you'll love feeding as much as they'll love eating.
Contains (1) 16-oz bag of BLUE Bits Natural Soft-Moist Training Dog Treats, Beef Recipe
Blue Buffalo Training Treats are yummy pieces of bite-sized meat for a high-value training treat. This product does not contain any wheat, corn, soy, chicken or poultry by-product meals, or artificial preservatives or colors.
Using these treats ensures a healthy snack to encourage your puppy to learn new tricks without stuffing them full of junk treats.
Blue Buffalo BLUE Bits has soft, moist, bite-sized pieces of real beef chunks shaped like an adorable heart. Each pack has a pound of yummy meat full of DHA, a crucial ingredient for puppies' cognitive development.
This recipe's first five ingredients include real beef, oatmeal, brown rice, cane sugar, and potatoes.
This product's nutritional analysis includes 10% protein, 7% fat, 4% fiber, 27% moisture, 0.10% DHA, 0.8% Omega 3, and 1% Omega 6 fatty acids. And there is only 4kcal per piece.
Natural Balance Limited Ingredient Diets Mini Dog Treats

If you're worried about giving your puppy training treats loaded with ingredients, you may prefer this mini grain-free Limited Ingredient puppy treats by Natural Balance.
You can get these treats in three yummy flavors of chicken, turkey, or salmon. No matter which flavor you choose, you'll feel comfortable knowing there's never more than five ingredients.
Each tiny piece is a crunchy bone that can be eaten in one bite so your pet won't lose his attention span to eat crumbs. And each one is less than five calories, so they're completely healthy.
The ingredients list of this LID consists of real animal protein as the first ingredient, potatoes, peas, glycerin, cane molasses, sweet potatoes, and natural preservatives and minerals. There are no fillers, artificial preservatives, colors, or flavors.
The nutritional analysis has 3.5 kcal per treat with 10% protein, 4% fat, 4% fiber, and 22% moisture. Recommended feeding is five to six treats per 10 pounds.
Nutro Natural Crunchy Dog Treats

NUTRO Small Crunchy Natural Dog Treats with Real Mixed Berries, 16 oz. Bag
Contains one (1) 16 ounce bag of Nutro Crunchy Dog Treats with Real Mixed Berries
Nutro Crunchy Dog Treats are rich in nutrients and full of flavor, making them healthy treats your small breed or large breed dog will enjoy
High-quality protein is the foundation of Nutro healthy dog treats and they're made with real, high-quality ingredients you can see and smell
At only 5 calories per treat, NutroOCrunchy Treats are great natural training treats your dog will sit and stay for
Nutro Crunchy Treats, dog biscuits contain: No chicken by-product meal, No artificial flavors or colors, No artificial preservatives, No corn, wheat, or soy protein
If you're looking for a medium value dog treat to train a puppy that prefers crunchy treats, you're sure to love Nutro Natural Crunchy Dog Treats.
These small bite-size biscuits come in various yummy flavors, including:
Peanut butter
Mixed berries
Banana
Apple
Chicken and carrot
These treats have a strong smell, so they're sure to keep your puppy interested in their training. And they're only five calories, so they're healthy enough to use every day.
There are zero artificial preservatives, flavors, colors, chicken by-product meal, corn, wheat, or soy protein. If your pet has a lot of allergies, they might find these snacks suitable.
The ingredients look like whole brown rice, chicken meal (an excellent source of protein) oatmeal, peanut flour, and peanut butter in the peanut butter flavored snack.
Feeding recommendations are:
Three treats for 5 lbs
7 for 15 lbs
11 for 25 lbs
14 for 35 lbs
17 for 45 lbs
19 for 55 lbs
25 for 75 lbs
The nutritional analysis for these treats is 19% protein, 8% fat, 2% fiber, and 11% moisture, with five calories per treat.
Buckley Trainers

Buckley Trainers All-Natural Grain-Free Dog Training Treats, Peanut Butter, 6 oz
Usa Made - Buckley Products Are Made Proudly In The United States Of America.
Perfect Training Treat - Buckley Semi-Moist Training Treats Are The Perfect Training Treat For Any Size Dog!
Low Calorie - Only 4 Calories Per Treat!
Grain And Gluten Free - Made Without Grains Or Gluten For Dogs With Sensitive Stomachs.
Healthy & All Natural - Made Without Artificial Preservatives Or Flavors.
Buckley Trainers are a bite-size, grain and gluten-free, low-calorie snack that's perfect for training. These semi-most medium value treats have no artificial flavors or preservatives.
There is also zero soy, corn, or wheat in these low calorie (3.15 calorie per treat) treats. These treats hold their shape during handling so you can put them in your pocket during training or walks.
You can get these training snacks in multiple flavors such as chicken, bacon, salmon, and peanut butter.
The ingredients of the Salmon flavored snacks are peanut butter, potato starch, dried whey, potato flour, vegetable glycerin, and healthy fruits like dried blueberries and cranberries. There's also minerals and preservatives to make these snacks healthy.
These treats' nutritional contents include 12% protein, 6% fat, 2% fiber, and 28% moisture with a calorie content of 3.15 calories per treat.
Full Moon Organic Human Grade Training Treats
Sale

Treat your learning puppy to yummy chicken-flavored snacks like these from Full Moon Organic human-grade (edible for humans) treats made from 100% natural ingredients.
Suppose organic is the way you like to go. In that case, you'll love this ingredient list full of organic foods like USDA organic chicken, organic cane sugar, organic flaxseed, ground celery, and dried cultured skim milk.
These treats are free of glycerin, grain, corn, soy, and wheat and only include natural and organic ingredients.
The tiny bite-size pieces make this medium grade snack perfect for training or to carry along on walks as an easy reward. And the small size means you can feed your puppy a few pieces multiple times a day without causing your puppy to become obese.
The nutritional information for this yummy organic snack includes 22% protein, 25% fat, 2% fiber, 30% moisture, and 2.5 calories in each treat.
In addition to their tiny training treats, Full Moon Organic also offers savory sticks in chicken and duck flavors. There's also duck flavored training treats, as well as chicken flavored.
In Closing
We hope you have enjoyed our buyer's guide for the best dog training treats for puppies. We've explained the different value treats and when they should be used for training. We've also given you some of the best and healthiest dog training treats for puppies.
Treats are great for teaching new tricks or rewarding your pet for good behavior. They can also help keep your puppy busy and happy. Now you know which ones are the best to use. We hope you enjoyed this best dog training treats for puppies buyer's guide.