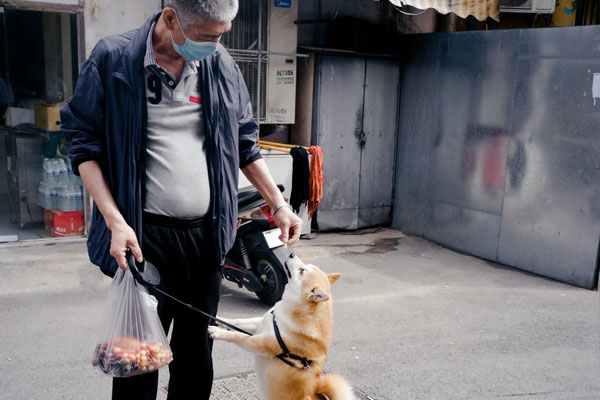 Best Dog Training Treat Bags
Sometimes, we need a little extra help when it comes to training our four legged friends. When you're training a dog, positive reinforcement is your best friend. Entice your pooch in with the right dog training treats, and he'll be giving you his paw and playing dead in no time. Of course, when we're out of the house, training treats are just another thing to remember to take with you – and if you don't have them in a bag, you could even end up dropping the treats.
Quick Navigation
[ez-toc]
Dog training treat bags are perfect for allowing you to reward Fido without spending ages rummaging around in your bag for treats. There are a lot of great dog training treats on the market, but what's going to be perfect for your good boy or girl? That's where we come in! You'll be able to teach your fur baby to sit in no time with our top five best dog training treat bags. We've also written a handy buyer's guide to help you to know what to look for.
In a hurry? This is our winner!
Our rating:

Paw Lifestyles – Dog Treat Training Pouch – Easily Carries Pet Toys, Kibble, Treats – Built-in Poop Bag Dispenser – 3 Ways to Wear – Grey
Easily stores kibble, toys & treats - The convenient drawstring securely holds in generous amounts of dog training treats, accessories, and dog toys. Enjoy the easy to clean bright green lining which makes it simple to spot pet treats right when you need them. Perfect for dog training at the park!
Keeps you prepared - You'll love the convenient built in dog poop bag holder so your dog waste bags are ready right when you need them. Quickly grab your favorite dog training clicker from one of the 2 convenient d-rings while obedience training with your pup.
3 easy ways to wear - Choose to wear using the removable 48" adjustable waistband, removable shoulder strap, or strong metal belt clip. Made of lightweight weatherproof nylon fabric that keeps your dog treats dry while on those fun early morning walks with your doggy.
Store your stuff - Safely store your smartphone, money or keys in the two zippered pouches or front mesh netting while taking a stroll with your doggie. This ultimate dog treat bag has it all!
100% money back guarantee + great gift idea - Love your new dog treat pouch or your money back! We guarantee your complete satisfaction. Also great for puppy training classes + dog trainer approved. Click add to cart now!
Our Pick
Our rating:

If you're looking for a lightweight pouch to carry all of your dog's favorite treats inside, you're going to love the Paw Lifestyles Dog Training Treat Pouch. This pouch can be worn in so many ways: on the shoulder with a removable strap, around the waist or even with a string metal belt clip. You can even adjust the waist band to your liking.
The pouch weighs around 4.8 lbs in total, and it's a fairly decent size. There's plenty of space for lots of treats, toys, credit cards and keys with a bunch of different compartments. It even comes with an extra compartment where you can put your phone.
The pouch comes with large D strings on either side, and it has an attractive green lining. Not only this, but it is also made out of nylon fabric that works well in all weather conditions. Your treats will be kept dry and safe with this handy pouch. What's even more useful is that the bag comes with a built in dog waste bag dispenser, so you don't need to remember to pack them separately either.
Attractive green lining
Extra storage space for phone
Numerous carrying options
It can be difficult to use the drawstring closure
Our rating:

For plenty of treat space and lots of fun, the Doggone Good Rapid Rewards Training Treat Bag is just what you need! Measuring 5.75 in width by 6.75 in height, with a depth of 2.75 you will have plenty of space to store all of your dog's favorite goodies. The large capacity isn't all there is to love, however!
This dog training bag is made out of 600 denier polyester material that's hard wearing, providing you with the longevity that you require in a dog treat bag. When you're done with your walk, you can simply toss the treat bag into the washing machine for simple cleaning with minimal effort on your end. It's easy to open and close with a magnetic closure and a cord pull.
If you want to be able to keep your treat bag organized, the Doggone treat pouch has pockets and compartments that are divided up in order to let users keep their dog treats in one pocket, while they can put other things like a phone and a credit card in the other pockets. The bag also comes with a waste dispenser in the side pockets, so even if you forget waste bags you still have something to fall back on. It's also very comfortable to wear too, and all you need to do is attach it onto the belt with the belt clip that it comes with. This innovative treat bag is truly a great companion for you and your furry friend.
Magnetic closure
Lots of storage space with different compartments
Comfortable to wear
Comes with dog waste dispenser
You will need to use large treats with it
Our rating:

For durability, you can't go wrong with the PetSafe Durable Treat Pouch. There's no need to worry about your dog treats making a mess all over the park floor, because they will all be nice and secure inside this hard wearing treat pouch. It comes with a hinged pouch opening that means you can access your dog's toys and treats with ease in the pouch.
The treat bag is decently sized, measuring 7.5 by 6.5 in length and height, respectively. Not only this, but the bag has a large pocket for the treats in addition to another pocket that can be used for mobile phones and anything else that you require while out on a walk.
The bag comes with a number of different loops and clips which means that if you have a remote trainer, a clicker or any other training tool that you need, you can attach it onto the bag with ease. It's also waterproof and stain resistant so no need to fear if you live in a land of perpetual rain! You can also put it in the washing machine on a cold cycle, and you have 3 different colors to choose from: red, black and blue.
Easy to clean
Lots of storage space
Waterproof and stain resistant
It can only be worn around the waist
Our rating:

If you're looking for a pouch that's easy to access but is somewhat more petite than other options discussed on this list, then you may want to consider investing in the Ruffwear Treat Trader. With this pouch you can grab any treats easily and still have free hands.
The treat pouch features a design that stays out of your way until you need it. It features a magnetic closure that is simple to open and close when you need to. It also has an inner spine that will let you adjust the bag's shape to what you need at the time. It's totally water resistant on the exterior, and the interior is waterproof too.
In addition to this, the Ruffwear Treat Trader features a compact design, so it won't weigh you down as you walk. If you have any other training accessories such as clickers, the bag also comes with a loop where you can attach accessories. Of course, there aren't many options – it;s made in just one size and comes in only one shade: grey.
Durable
Compact
Easy to open magnetic closure
Our rating:

The Trek 'N Train Treat Pouch is yet another great option from Doggone Good, and this is by far the choice with the most design and color options. This pouch truly has an option for every personality and preference, helping to create a stylish dog and owner combination.
The treat pouch features a waist clip or a strap attachment, so there's a lot of versatility on offer. It has a magnetic closure so it's simple to open and close the device. There's also a decent amount of space available, as the pouch comes with a small front pocket along with a large zippered back pocket panel.
The pouch is also durable and made out of nylon, so it's a long lasting treat pouch that's ideal for walks for many years to come. It's also very simple to clean. Of course, it does only come in one size, but there are plenty of color choices – 7 choices in total! Some of them are neutral, whereas others are very vibrant, such as a neon pink version.
Lots of color options
Good capacity
Versatile
Opening is a little small
Best Dog Training Treat Bags – Buyer's Guide
Why Buy A Dog Training Treat Bag?
Treat bags are simply a must have for any dog owner. Treats are useful when training your dog, but they're also handy for a little snack during the day to keep your dog happy. Having a good training treat bag means you also have extra space to keep other essentials, such as house keys, a phone or a credit card.
If your dog is well behaved on their outdoor excursion, you can also reward your dog. It's a good way to practice positive reinforcement with your dog, and create a deeper bond between you and them.
Dog treats also need to be kept dry so they remain fresh, so a treat bag can help you to carry the treats so you don't get your pockets dirty.
Things to Consider:
Materials of the Bag
You can find dog training treat bags in a bunch of different materials. Of course, not all materials are made equally, which means that not every training pouch is going to be durable enough for your needs. You may find options made of fabric, silicone or polyester materials. You find that bags will get dirty after you've been out walking for a couple of days with your dog, so it's also important the materials that are used are easy to clean, simply to save you the headaches involved with scrubbing them clean.
Pocket Compartments
When buying a training treat bag for your dog, you should think about the number of compartments that the bag offers. For example, if you enjoy putting a lot of things in your bag then it will be important to select an option with a number of different pocket compartments. This is also largely going to come down to your personal preference.
 Size
Size can be a big factor when it comes to buying a training treat bag. Always consider how much space you need, how many treats you want to store inside and more, but also think about how heavy it's going to be for you and where you need to attach the bag. You will find that a lot of dog training treat bags can be carried on a waist belt or they come with shoulder straps to carry them easily.
Transportation
There are three main kinds of attachments you find on a dog training treat bag: over the shoulder, around the waist strap and a waist clip. Each of these options have their own pros and cons.
First of all, waist clips don't come with a pesky strap you have to deal with. If you don't like being restricted by a strap or if you want something that you can take off and put on easily, then you should probably opt for a waist clip. The problem with this is that they can sometimes be problematic to manage if you don't tend to wear belts, or if your pants are high or low waisted. They can also cause issues if you are wearing a long or a thick winter coat. They usually have smaller capacities too so if you need more space you may be better off looking elsewhere.
Your next option is a waist strap. This is a slightly more restrictive option but it is usually easier to use and access when you're wearing thick coats. They also allow you to put the treat bag wherever you want to on your body, such as directly in front of you or on the side of your hip.
The last option is an over the shoulder strap. These tend to give you the most capacity and because of this they also have a lot of extra pouches and pockets. This means that they tend to be bigger and bulkier, and you won't be able to put the bag wherever you want – you can only adjust the height.
Weatherproofing
You should ideally be looking for a dog training treat bag that can work well in sunny, snowy, rainy and standard weather conditions. You shouldn't be getting an option that's going to be ruined after you've gone for a walk on a sunny day!
Opening
There are few things more annoying both for you and your dog than spending a long time rummaging in your bag for the treats. It can actually ruin your dog's focus too. Sure, you need a bag that's secure but it also need to be easy to access when you're on the move.
Manufacturers will use all sorts of different ways to secure your dog treats, such as drawstrings, magnetic closures, zippers and velcro flaps, just to name a few. There is no one option that's better than the rest, it honestly just comes down to what you require. A lot of dog owners do choose drawstrings or magnetic closures though.
Space
As we've already mentioned, not all treat bags are made the same way. You may find some that only hold a few tiny biscuits, and others can hold huge treats. You should always consider the size of your dog and the amount of time you are going to be training. For example, will your dog respond well to tiny treats as a reward, or are they a little bigger? Bigger dogs are going to need more food, after all!
If you're using the pouch just for short walks or for training around the house, you may only need a small pouch, whereas if you're going for an intensive obedience class, a bigger pouch may be more appropriate.
Also consider the difficulty of the training session. If you're doing things that are going to be fairly easy for your dog, you may only need some small treats, but something bigger may be needed for more advanced training – thus, a bigger pouch will be required. If you have a lot of dogs, you should also think about getting a bigger pouch to accommodate for more mouths!
Style
If you're going to be going out with your dog training treat bag a lot, then of course you want to look good! Think about what you will enjoy wearing on a regular basis. Alternatively, you can also consider vibrant colors if you tend to lose things a lot just to make it easier to find.
Additional Features
There are a few extra things that can make a good training treat bag a great one instead. For example, some bags even come with collapsible dog travel bowls and bags to scoop up your pooch's poop in.
You should also consider customer service and warranties that the manufacturer provides. You never know when you'll need a little bit of extra help after your purchase!
Frequently Asked Questions
To keep your treats nice and fresh, you're going to want to make sure that you keep the bag clean! They can get very dirty rather quickly so frequent cleaning will be needed. The process may be different depending on the pouch, so you may be able to put some in the washer whereas you may need to wash another one by hand. Always check the instructions given by the manufacturer if you aren't certain. If you happen to have lost the instructions, clean it by hand to be safe, and then hang it out to dry.