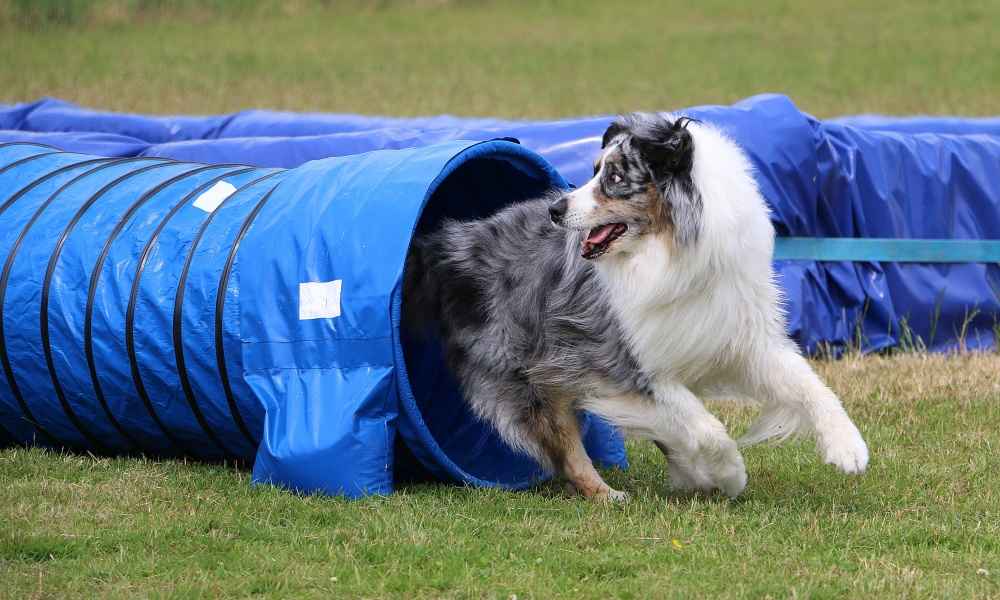 Best Agility Training Tunnel of 2019: Complete Reviews with Comparisons
Dog agility has been around for a couple of decades. But what's interesting about it is that one of the easiest-looking obstacles still proves to be one of the hardest to overcome – the agility tunnel.
Various competition organizations have gone through various designs over the years. And, after much debate, the straight, standard, tunnel seems to be the preferred version in most competitions.
What does this mean for you? It means that the best agility training tunnel for your budget is a must-have if you want to succeed.
It can be a tricky obstacle for a dog to learn especially if you're not doing it for fun but to follow the strict guidelines provided by organizations such as the NADAC, AKC, UDSAA, and many more.
Check out some of the best agility training tunnels that you can use both indoors and outdoors.
Top 5 Agility Training Tunnels Comparison Chart
HDP 18 Ft Dog Agility Training Open Tunnel
Trademark Innovations 16′ Dog Agility and Obedience Training Tunnel
Pacific Play Tents 20512 Kids 9-Foot Institutional Crawl Play Tunnel
FurryFriends 18 Foot Long Premium Pet Agility Tunnel
Best Agility Training Tunnel Reviews
1. Houseables Dog Tunnel
When it comes to practice tunnels, you have to make sure you're getting something both fun and reliable. This Houseables dog tunnel is good for training small- and medium-sized dogs for competitions but it also makes for a fun toy to have around in the backyard.
Product Highlights
The first important feature is the 24" circular opening, which is exactly what your dog is likely to encounter during competitions. The material is a 600D woven Oxford Dacron which is very lightweight. It puts the weight of the tunnel well under 10 lbs. which makes it easy to reposition in any shape you want. Some 7" stakes are also provided which help you secure the tunnel to the ground.
The material is rather durable but not made for rough terrain or wet weather conditions. The good news is that it's smooth on the outside and can easily be used inside the house.
What's to like about the Houseables Dog Tunnel
Having regulation-size openings and an 18" regulation coiled shaft make it a very useful training tool if you have your eyes set on AKC and NADAC competitions.
What's not to like about the Houseables Dog Tunnel
The tunnel won't last too long if your dog keeps banging into it instead of running cleanly through it. There's no support for using the tunnel in indoor practice.
2. HDP Dog Agility Training Tunnel
This is a standard tunnel with a regulation-size opening (24"). If you're looking for an affordable agility obstacle to add to your backyard or to spice up your dog's training, this might be the choice for you.
Product Highlights
Any 18 ft. tunnel should do the trick for your average training course. This model from HDP, however, is slightly more desirable as it also has the 24" opening. Support stakes are included and each one measures 7" long. That should provide enough stability during training.
But, given the tunnel's light weight, it may not hold well enough for full speed runs. The collapsible design means that the tunnel is flexible and you can give it one or two curves and make it more challenging. And, as an added bonus, the tunnel is fully retractable.
It also comes with its own carry case that makes storing the Dacron polymer tunnel easier and safer.
What's to like about the HDP Dog Agility Training Tunnel
The size of the stakes is perfect for a tunnel of these measurements. They provide decent stability while also being short enough to not protrude in the tunnel and injure the dog.
What's not to like about the HDP Dog Agility Training Tunnel
A minor problem would be the durability and thinness of the fabric. It helps with storing and configuring the tunnel but not its durability.
3. Trademark Innovations Dog Agility Training Tunnel
Another budget-friendly solution for your dog's agility training is this simple training tunnel from Trademark Innovations.
Product Highlights
The 100% polyester fabric is fairly resistant to wear and tear due to its thickness. This makes the tunnel very reliable when used outdoors. 7" stakes are included which can help secure the tunnel for training sessions. They are required accessories for most dog agility training tunnels.
The measurements are fairly good for training purposes. The tunnel is 16 ft. long and has a 24" opening. The one downside is that the same diameter is maintained throughout the shaft. This doesn't make it exactly regulation compliant. But it should make it easier to create various curves and increase the course difficulty for your dog.
What's to like about the Trademark Innovations Dog Agility Training Tunnel
Although light and in need of much stability, the choice of fabric seems really good. The polyester used for the tunnel doesn't tear easily nor does it mind getting wet from time to time.
What's not to like about the Trademark Innovations Dog Agility Training Tunnel
Although resistant to regular wear and tear, polyester doesn't offer great traction which may cause your dog to dig a little too deep when getting around bends and turns.
4. Pacific Play Tent Institutional Agility Dog Training Tunnel
This is probably one of the most durable commercial-grade agility tunnels on the market. It's as close in quality to a competition tunnel as you can get without having to eat the massive price tag.
Product Highlights
The fabric is 600x300 woven Dacron polyester. It's more resistant to wear and tear than standard polyester fabrics. Another cool feature is the interior padding. It's built around the heavy-duty spring steel structure that holds the tunnel up and prevents it from collapsing.
The wire structure is also hardened, which makes it more resistant to constant shape adjustments. This gives you a lot of utility. The level of difficulty with this tunnel is quite advanced.
The tunnel features 22" openings and a length of just 9 ft. It's a bit shorter than what you see in most competitions. That's why it's also advertised for play, perhaps even for a crawling toddler.
The 22" opening is shorter than the height of standard large dogs like retrievers, which may cause your dog to crouch lower than needed. It's a good idea to use this tunnel alongside others during your training sessions. If a novice dog refuses to get in a regular 18-ft. tunnel, you may try with this 9-ft. tunnel first.
What's to like about the Pacific Play Tent Institutional Agility Dog Training Tunnel
The level of durability is very impressive. The thickness of the fabric, the extra padding, and the strength of the wire structure make this tunnel hard to tumble even at high speeds. It's a reliable choice for motor skill development exercises.
What's not to like about the Pacific Play Tent Institutional Agility Dog Training Tunnel
Given the fact that it's much shorter than most competition tunnels, it may be a bit expensive for someone that's just setting up a dog agility training course.
5. FurryFriends Premium Agility Tunnel
This is another AKC-compliant training obstacle that you can use to prepare your dog for big events. It has the right dimensions and it has a solid build too.
Product Highlights
The first things to note are the dimensions. The 18-ft. tunnel should give you plenty of utility as you can configure it in many ways, while trying to match popular competition tunnel shapes.
It also has 24" diameter openings, which puts it on par at least with AKC and NADAC regulations. The wire used for the structure is rather thin, but that's not always such a bad thing when you're trying to use complex shapes.
The fabric is a standard commercial-grade Dacron polymer which should hold up to both indoor and outdoor use, as long as you're not doing drills in the rain. Proper storage is also required to increase its life.
What's to like about the FurryFriends Premium Agility Tunnel
Among 18-ft. tunnels, this is one of the lighter models available. While it does wobble more than some handlers might like, it's also a lot easier to configure and collapse when it's time to store it.
What's not to like about the FurryFriends Premium Agility Tunnel
The tunnel doesn't come with support stakes. You'll have to make your own or buy aftermarket ones that fit the metal grommets of the tunnel.
BUYER'S GUIDE
Length
There's no such thing as too long or too short when it comes to agility tunnels. The various organizations that hold or sponsor dog agility competitions may use varying lengths. Some of them use agility tunnels up to 20 ft. long.
The bigger tunnel may be better. Dogs don't memorize the distance it takes them to traverse the obstacle. Having a longer tunnel also allows you to create more elaborate training courses because a long tunnel lets you create more curves for the dog to overcome.
But keep in mind that not all agility tunnels are retractable. Some can only be used at full extension, which can make storing them quite a nuisance.
Although there are also shorter competition tunnels the dog may encounter, familiarizing them with the longest version is usually the best approach.
Opening Diameter
There are two ways to look at this. If you're only interested in an agility tunnel as a toy for your dog, the opening diameter should be based on the dog's height. There's no reason to make things uncomfortable if it's all just for fun.
However, if you're trying to prepare your dog for competitions, you may want to study up and find a training tunnel with the same specifications as those on the official obstacle course.
Most competition tunnels will have any of the following diameters: 22", 24", and 26". The 24" opening diameter is the most popular choice on most courses.
It's important to pick a diameter as close as possible to competition standards if you want your dog to compete because all dogs have to pass through the same tunnel on the big day. That means that if your dog is taller they need to be accustomed to crouching and crawling. This may be a moot point but really tall dogs never come close to winning these competitions.
However, choosing a tunnel that has a much lower opening diameter can be detrimental to the dog's training. If they learn to pass through tunnels flat on their belly they will likely do so even when there's a larger opening available. This will slow down their course time.
Material
PVC agility tunnels are usually the best on the market. They're durable, heavy on their own, and waterproof. They make great additions to a permanent installation and require little to no maintenance. However, they're not always the best choice for every scenario.
Dacron tunnels are more common and a lot more flexible. Dacron is a polymer fabric that can withstand a moderate amount of wear and tear. Dacron tunnels are also lightweight which makes them very easy to reposition and reconfigure for when you want to spice things up on the practice grounds.
Weight
Weight is a tricky thing to value in an agility tunnel. Of course, heavier tunnels are generally safer for dogs since they don't roll and move as much. But heavy tunnels are also a pain to install, secure, and reconfigure for training purposes.
Keep in mind that some competition-grade training tunnels can weigh upwards of 50 pounds –and that's just the shorter ones. Commercial-grade agility tunnels can weigh under 10 pounds and have the same length as competition-grade tunnels.
The weight is probably not as important for training purposes. Instead, you may want to focus your attention on the rigidity of the wires and the quality of the fabric. Even competition-grade tunnels have to be anchored and sandbagged.
Improving their stability is something you can do on your own, without needing an extra heavy and expensive tunnel.
Budget
When it comes to budget, things may get a little tricky. Most trainers tend to go for complete training kits, which not only include a tunnel but also other obstacles such as weaving poles, A-frames, dog walks, and others.
Of course, the size of the kit is not the only thing that determines the price. If you're only interested in buying a tunnel, you should know that PVC agility tunnels are quite expensive, at least when compared to their fabric counterparts.
Depending on how long or heavy the tunnel is, you may have to pay a little extra. The interior padding and craftsmanship also factor into the final tally. Even so, most of the time it may be cheaper to just buy a dog agility tunnel instead of making your own from scrap.
Agility Training Tunnel F.A.Q's.
What is Dog Agility?
It is a very popular sport. Dog agility involves the dog's owner, handler, or trainer guiding it through an obstacle course. The courses can get quite complex, which is why human direction is needed.
Apart from learning specific tricks and understanding how to overcome obstacles, the dogs also have to complete the race in a fast time. Both time and accuracy are judged, which is why intense training is needed in preparation for such competitions.
It's also important to know that dog agility competitions do not allow leashes, toys, food, or any type of incentive for the animal. Multiple surfaces can be encountered as well as unique obstacle course designs.
Of course, many owners and dogs only take up agility for fun. It's something to do, and it might be a good way to bond with your pet.
How to Choose Agility Tunnels?
When looking for agility tunnels, there aren't many features to consider. There are only a handful of them that are easy to remember and even easier to compare:
Length
Opening diameter
Material
Stabilizing accessories
Long tunnels are preferred since most organizations use tunnel obstacles up to or even longer than 20 ft. The opening in competitions is usually 24" diameter. It can be larger but never smaller, so for proper training, you need to get as close to that number as possible.
The material is also important. Although most commercial-grade training agility tunnels are made from Dacron polyester, not all weaves have the same durability. PVC would ideal for any training scenario but it's many times more expensive than polyester tunnels.
Stabilizing accessories such as stakes or opening saddlebags are sometimes included. While the stakes could be replaced with just about anything that can fit the grommet and be pushed into the ground, the saddlebags are hard to make as a DIY project.
The budget is also worth considering. If you're not preparing a dog for competition, even the cheapest agility tunnels or toddler tunnels can be loads of fun.
Do Agility Tunnels Work?
Agility tunnels are essential if you're training your dog for dog agility competitions. The tunnel is one of the most popular obstacles on the course and it's also one of the most customizable.
There are usually two types of tunnels – a regular tunnel and a collapsed tunnel. Each one presents its own level of difficulty. Regular tunnels are not just long but also flexible. This means that the judges can configure them in a variety of ways to make the dog's task harder.
Collapsed tunnels use a fabric that lies closed until the animal reaches the end of the chute and makes their way out. These tunnels are not used as much, with some organizations going as far as banning them.
The reason agility tunnels work is that they can help prepare dogs for a wide range of scenarios. They can teach dogs to overcome curved tunnels, elevated tunnels, maze tunnels, etc. They also help a dog get a better time in a competition.
How to Use Dog Agility Tunnels?
As previously mentioned, agility tunnels can have various shapes. But they're not exactly built for sturdiness. During dog agility competitions, tunnels, whether straight or curved, are stabilized with heavy sandbags.
You should attempt to do the same to make sure your dog doesn't collapse the tunnel while rushing through it. Sandbags are preferred because they can support larger portions of a tunnel. They also help to keep the dog injury free as there's no chance of running full speed into a side support pole.
First of all, let your dog explore your backyard course or tunnel, if you only have one obstacle. Teaching dogs to overcome agility tunnels shouldn't take too long once they familiarize themselves with the obstacle.
The trick is teaching them to go through one side and out the other without any incentives. You can use food or toys at first but make sure you're always vocal.
Gradually lower the reward to make the dog feel like this is something it naturally knows and likes to do, without expecting anything in return. It's not all that different than teaching the dog commands and tricks.
It just takes a lot longer to master for both the handler and the dog. You should also make sure to put different types of obstacles before and after the tunnel. That way the dog will have a faster reaction time when transitioning between obstacles in a competition.
How to Make a Dog Agility Tunnel?
Most competition-grade agility tunnels are made from flexible vinyl tubes and wires that provide structure. Different competitions may have varying lengths of tunnels but generally speaking, they rarely exceed 20 ft. in length each.
To make your own tunnel, you just need some supplies, most of which you can find at home improvement and hardware stores. You could also use children's play tunnels if your dog is small- or medium-sized since they should have the same effect.
Another neat trick is to put some tables or chairs in a row and cover them with blankets. Make the interior dark but leave the entrance and exit open. It's a nice way to start teaching your dog to go through a tunnel if you don't have the materials.
Of course, building your own tunnel is advised if you can't order one or if you want to practice with custom lengths. There's no right or wrong answer about how much wire you should use to create those support circular segments.
The only thing that's important is that the wires are covered within the tunnel to avoid injuring the dog. And that the exterior fabric is stretched out enough so it doesn't collapse on the dog while going full speed through it.
FINAL VERDICT
As you can see, most of these agility tunnels tend to look alike. But, they're rarely equal. Every model on this list has its own benefits and drawbacks, depending on what you need it for.
If you're just looking to convince your dog to be more active, you don't need to shoot for quality. But if you want to train them and eventually enter dog agility competitions, then going for durable tunnels built to regulation sizes is your best bet.