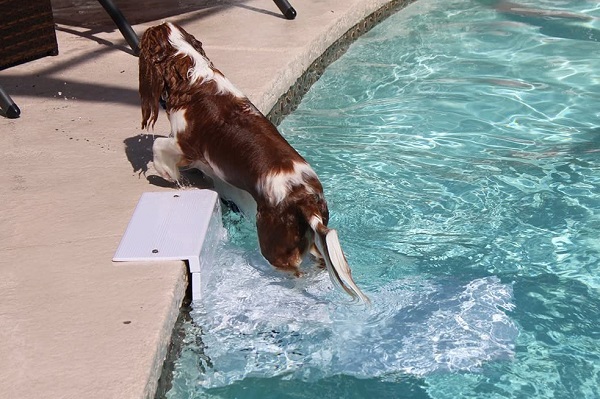 Best Dog Ramps For Water
Does your canine companion love to go for a dip? Do you like to take boat trips and wish man's best friend could come too? You might not know this, but there are ramps to make getting in and out of the water easy, safe, and comfortable for your pup. Many dogs love swimming and it's a great form of exercise, but clambering out of a pool or back onto a boat is hard enough when you have two legs, let alone four! Particularly if you've got a smaller furry friend, they suffer from mobility issues or have a habit of jumping, a ramp makes a quick cool down hassle-free. 
Quick Navigation[ez-toc]
Swimming is an incredibly easy way for your dog to get some exercise or have a well-needed cooldown, but ensuring their safety at all times whilst in the water is necessary. Having a dog around a pool in your backyard or taking one on a boat trip means providing a quick escape for them should they fall in or become panicked. You cannot always have both eyes on your pets, particularly the young and excitable ones, so training them to use a ramp might minimize that stress. But which ramp on the market is the best?
In a hurry? This is our winner!
Our rating:

Petstep Original Folding Pet Ramp, Khaki/Beige
Unique soft non-slip rubberized walking surface. Superior Traction in wet or dry conditions. No sandpaper or carpet making it soft on paws
Universal non-slip grip fits all vehicles and edges. Holds any size dog
Folds in half for easy storage and portability (molded ergonomic handles on both sides)- opens and closes in seconds (no hardware required)
Advanced composite plastic construction holds up to 500 lbs (animal use only). Weighs only 18.5 pounds
Will not rust or corrode and can be cleaned with soap and water
Best Dog Ramps For Water – Comparison Table
Best Dog Ramps For Water – Reviews
Our PickPetstep Original Folding Pet Ramp, Khaki/Beige
Our rating:

Check Price
Don't have the time to compare and contrast all of your options? Don't worry! Rest assured that, easily the most versatile and intrepid ramp we found, the PetSTEP is a great choice for all dogs and owners on the go. Built to be easily portable, the ramp folds down flat to be stored or transported without a fuss. Its rubberized, ridged design is perfect for use in water, adding an extra element of safety by minimizing the chance of your pup slipping and sliding whilst they climb in and out. Fully waterproof with no chance of rust or corrosion, and easily cleaned by hand with soap, the ramp will not deteriorate over time and usage. An astonishing weight capacity of 500lb – weighing only 18.5lb itself! – promises to hold any dog, big or small. A universal grip holds the ramp firmly in place on any surface, to ensure your pup's safety at all times. Though simple in appearance, this product manages to be stylish whilst prioritizing safety and is available in Khaki or Beige.
Pros
Versatile – can be used both in and out of water
Huge weight capacity suitable for any dog breed
Folds for easy transport with built-in handles
Ridged for additional non-slip safety
Cons
The support strap promoted is sold separately
Check out reviews on Amazon
WaterDog Adventure Gear Dog Ladder for Swimming Pool
Our rating:

Check Price
Easily the brightest of the bunch, your dog will have no trouble at all locating this ladder in the water! Its sleek, bright yellow design is eye-catching and attractive to boot, whilst perforated steps offer additional grip to a pup's paws, increasing traction and preventing accidents. Stainless steel frames assure no corrosion or rust for a product that will aid you and your dog in fun for many years to come. A 'space frame' structure has been implemented to provide high, open areas that act to minimize the impact of surrounding water currents to protect your pup. Suitable for attaching to any poolside surface, the four-inch step height is an achievable climb for dogs of all ages and abilities. Designed to pivot out of the pool when not in use, detaching from the mounts in seconds, these steps are perfect if your dog isn't a regular swimmer but would like the option.
Pros
Flips up and out of water when not in use
Luminous yellow design easy for dogs to see
Easy to assemble
Suitable for most dogs
Cons
Bolts to secure the ramp not included
Check out reviews on Amazon
Paws Aboard PoolPup Steps
Our rating:

Check Price
Designed by dog breeders specifically for the prevention of canine drowning incidents, the PoolPup Steps from Paws Aboard were developed with your dog's safety in mind. For a pup that loves to swim in your backyard, these steps are exactly what you need. Constructed from solid, UV stable, chlorine-resistant ABS plastic, the steps have in-built slip-proof grip strips to provide a solid footing. Suitable for use in both in-ground and above-ground pools, whilst promising not to cause any damage to your vinyl liners or poolsides, they should suit any domestic pool. Available in one size to fit all dogs, from a slinky 4lb sausage to a heavy 150lb husky, these steps are great if you have different breeds and sizes who all like taking a dip. Bright white and easy to spot in the water, your dog will have no trouble learning to locate and utilize this ramp when they have a splash in the sun. Arriving already assembled, installed in a matter of minutes, and easily removed for cleaning or storage, they are the perfect summer investment.
Pros
One size fits all design
Sleek, clean aesthetic
Resistant to chlorine
Fully assembled and ready to go as soon as they arrive
Cons
Some reviewers suggest the plastic screws included should be replaced with a metal alternative
Check out reviews on Amazon
Great Day Load-A-Pup 14x20in Robust Safety Pet Loading Platform - for The Boating Dog - Off-White Powder-Coated Finish - Intended for Use in Fresh Water, LP500
Our rating:

Check Price
Are you a nautically-minded owner seeking adventures with a salty sea dog? Do you daydream of taking a boat trip with your pup? Look no further: the Load-A-Pup from Great Day is a must-have for canines who will be embarking your vessel and walking the plank. Composed of lightweight aircraft aluminum and boasting a weight capacity of 200lb, this ramp can support any furry friend, big or small. Installation is simple: all you need to do is hook it up to your boat's boarding ladder and you're ready to set sail. Gripping ridges are built into the ramp's liberal 11" by 20" platform to ensure a solid foundation for paws. Your dog will be able to come and go from the boat as they please with no human support, and when you're done, the Load-A-Pup folds down flat to store compactly. An attractive, off-white finish with a powder coat is not only an attractive accompaniment to any boat, but guarantees years of durability even with heavy usage.
Pros
Lightweight despite generous weight limit
Quick and simple installation
Wide platform for dogs of all sizes
Dogs can use independently
Cons
Unsuitable for use in swimming pools
Check out reviews on Amazon
Skamper Ramp Super, Large Size, 42 x 13 x 6.5 inch
Our rating:

Check Price
Built specifically with swimming pups on the smaller side in mind but made for use by furry friends of all sizes, the Skamper Ramp will fit right in on any poolside. UV and chemical resistant, it has been engineered as a simple solution to animal water drowning, constructed from durable blow-molded polyethylene. Like other polymers, it will not discolor, become scummy or grow barnacles or mildew when submerged in salt, fresh, or pool water and is safe for use with vinyl pool liners. Lightweight but stable, it is suitable for any dog to use as an entry and exit point, with a weight limit of up to 200lb to support even the biggest breeds. Assembly takes a matter of seconds; it is as simple as snapping the pieces together and attaching to the poolside with the included supporting structures. The ramp can be used with or without the included extension to suit a variety of situations and is easy to flip in and out of your pool depending on your needs at the time.
Pros
Small but mighty with a 200lb weight limit
Chemical resistant
Additional extension included
Quick to assemble, simple to install
Cons
The manufacturer warns against using with soft vinyl and non-permanent structures
Check out reviews on Amazon
Best Dog Ramps For Water – Buyers Guide
Okay, so you've taken a look at the list above and you still can't decide which water ramp to opt for – we understand! There are a lot of options available, so below we have outlined some important factors to consider when making your selection. 
You might be asking yourself, "Why have a dog ramp at all?" Many folks could easily assume that they are best suited for older pups or those with joint and hip problems, which is far from true! A ramp makes clambering in and out of the water, the car, or on and off of furniture so much easier for any dog, regardless of their age or ability. Moreover, if your breed of furry friend has the adorable combination of long body and short legs, or is prone to mobility issues, a ramp could help stall the effects of genetic problems and protect them from injuries before they happen.
Ramps for use in pools or on boats in particular help your dog from encountering any difficulty getting in or out of the water, giving you as an owner peace of mind! While we don't recommend letting your dog swim unsupervised, a water ramp means you don't have to constantly have one eye on your excitable pooch in case they fall in. Giving them an easy escape route to dry land might also help improve your dog's confidence in the water if they are nervous or anxious.
The size of the ramp in conjunction with your pup's measurements should be your primary concern. Ideally, there will be a similar angle of incline to an everyday indoor step, to make climbing out of the water a simple, pain-free task. Most products will come with a recommendation for the size of dog they are suitable for; make sure you measure up your dog carefully and ask someone else to check. Too small and your dog will be unsteady on its feet, while too big and they might be too scared to use it!
What good would a ramp used in the pool or on a boat be if it wasn't waterproof and anti-slip? It might sound obvious, but you should ensure the product you go for is made from materials that won't corrode or rust when they come into contact with water. If you intend to use a ramp in your pool, first check that it is chemical and UV resistant. Likewise, it is worth checking if your choice of ramp has been designed with any ridges, bumps, or grips for added traction, minimizing the risk of slipping or injury for your pooch.
Some water ramps are designed with stairs, where others are straight inclines – which one should you go for? Being in the water has no impact on which is best for your dog, it's all about their size and temperament. If you have a bigger, balanced dog who is confident using stairs then a product with steps would be more than suitable. Ramps might seem cumbersome but are easier on the legs of smaller, senior friends. Be sure to bear in mind that smaller breeds will require a minimal incline angle no matter which option you decide on.
If you're going to be using the water ramp whilst on the go, ease of assembly and transportation are two considerations not to forget. Some products must be permanently bolted into the ground in order to be fully secure, whilst others simply snap together to fold open and closed whenever necessary. A more permanent choice works well in your own backyard or boat, whilst a temporary situation like a vacation or visit would suit a portable ramp that assembles and disassembles easily. 
Frequently Asked Questions
Is it safe for my dog to swim in a pool?
Provided that your pool is properly maintained, there is no reason why your dog would not be safe to swim. No matter the size of your pool, they must be supervised at all times, and having a ramp so they can easily escape should they desire is highly recommended. Do not let your dog drink pool water! Ingestion of large amounts of chlorinated water can cause nausea, vomiting, esophageal damage, and in some cases, brain damage for your pet. Like with humans, pool chemicals can irritate your dog's skin, so be sure to thoroughly rinse their coat after every swim, checking with regularity for any soreness or flaking. Remember that swimming doesn't come naturally to every dog – gradually introduce them to the water, do not force them to swim if they do not want to. Consider investing in a life vest until you are certain your pup is strong enough to swim independently.
How do I train my dog to use a water ramp?
Whilst some dogs will take to using a ramp much more quickly than others, all will benefit from training on how to disembark from the water safely. Once your chosen ramp is suitably affixed, entice your dog into the water – whether or not you should try this with a lead at first depends on your dog's confidence and obedience skills. Guide them to the ramp and encourage them to climb on independently; you might find putting a treat or two at the top of the ramp helps! Your pup might need a little help at first, or some verbal reinforcement that everything is okay, but soon enough they should master getting out of the water without help. Once the ramp itself proves easy enough, try facing away and practicing a safe exit when they don't immediately know where the ramp is. The most important thing to remember about dogs and water is to NEVER allow them to swim unsupervised – always be ready to jump in and intervene should they get into trouble.
How steep should a water ramp incline be?
Like a dog ramp used for dry land, there is no one answer – every pup is different and will require a ramp or steps with specifications that suit their individual needs and breed. That being said, a guideline of between 18 and 25 degrees is offered by most manufacturers. Smaller dogs should get along with a gentler incline between 18 and 20 inches, where their bigger counterparts will need a slightly steeper slope between 22 and 25 to balance properly. 
Should I get stairs or a ramp for the water?
Again, there is no right answer to this question, as it entirely depends on the dog in question. Smaller breeds will find a ramp easier to get to grips with, whilst larger pups can handle stairs just fine and may actually prefer them if they are used to climbing. If your dog has a longer body and shorter legs, is prone to injury, or has a habit of jumping, a ramp would probably be best to avoid any potential strain on their hip and leg joints. 
Do you need a particular ramp for an above-ground/below-ground pool?
Most ramps are appropriate for use in a variety of locations: on lake docks, on boats, and in pools being just a few examples. The majority of products available will be suitable for use in any pool and specify this, but consider checking the reviews before purchasing to see if any other customer has mentioned your particular pool type.