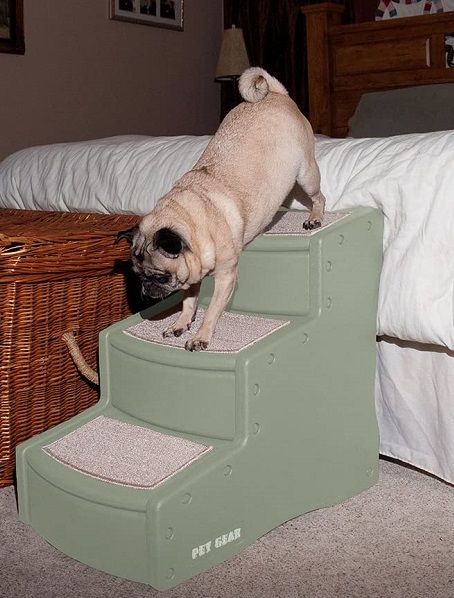 Best Dog Ramps For Beds
Are you the kind of animal lover who lets their furry friends sleep beside them every night? Does your dog – or perhaps you have more than one! –  love nothing more than curling up for a snooze on your bed? Have you ever wondered whether it causes them any damage to jump up and join you in your kingsize? If you answered yes to any of these questions, you might want to consider getting a dog ramp for your bedroom.
Quick Navigation[ez-toc]
We've performed all of the research for you and searched through thousands of reviews to compile the top five dog ramps available right now, looking at both ramp-style and stair-style options to give you the best selection of products and make your purchasing decision as easy as possible. Our buyers' guide and FAQ offer security and assure complete confidence in your purchase by explaining the need for a dog ramp and what you should look out for when deciding which to get. Whether you're interested in strengthening your relationship with your beloved companion, giving them a boost with a safe place to escape to, or just accepting your elderly buddy needs a helping hand, read on for everything you need to know about setting your dog up in bed. 
In a hurry? This is our winner!
Our rating:

Pet Gear Easy Step III Pet Stairs
Wider and deeper stair landings for small and large dogs; rubber grippers on bottom keep step secure and in place
Carpet tread is removable for easy cleaning
Snaps together very easily, no tools required
Please scroll below and read "From the Manufacturer" for more exciting features
Max. Capacity- 150 Pounds
Best Dog Ramps For Beds – Comparison Table
Best Dog Ramps For Beds- Reviews
Our PickPet Gear Easy Step III Pet Stairs
Our rating:

Check Price
If you haven't got the time to compare several ramps and steps for your canine, you can be assured that our top pick, the Pet Gear Easy Step III, is a choice suitable for almost every breed and budget. At under fifty dollars it is one of the cheapest on our list, but by no means does that impact upon the quality of the product. Its wide, deep design allows smaller dogs to stand with every paw on each six-inch step to avoid strain, whilst a weight limit of 150lb offers a stable platform for larger pets to climb with ease. All of Pet Gear's steps clip together seamlessly, with no tools or knowledge required for a quick and painless assembly, with the steps themselves an incredibly lightweight 9lb for easy transportation. A removable carpet tread protects your pup by increasing resistance and makes for hassle-free cleaning and maintenance. An all-around winner!
Pros
Affordable AND durable
No tools required for assembly
Removable carpet tread makes cleaning a breeze
Available in a variety of colors
Cons
Angled step design may not suit all dogs

Tall steps could be too steep for the smallest breeds
Check out reviews on Amazon
Pet Studio Pine Frame Dog RampSteps, 3 Step
Our rating:

Check Price
The most extravagant option we have for you is also by far the most visually appealing. Pet Studio Pine Frame RampSteps exceed expectations and outshine competitors with their sleek, aesthetically pleasing design. A two for one product, the versatile transformation from steps to ramp means they are suitable for any dog, young or old, big or small. With a weight capacity of up to 130lb, Pet Studio's ramp-step hybrid makes climbing up into bed a breeze whether you've got a Beagle or a Chihuahua. Their space-saving fold-away mechanism is all the assembly that is required! Particularly handy if you don't want to let your furry friend up into bed every night, as well as ensuring easy transportability should you wish to take them on a vacation or puppy playdate. Every step is covered with soft and slip-proof carpet, protecting even the clumsiest canine from accidents and suitable for use without observation.
Pros
Beautiful mahogany-finished wood design
Transforms easily from ramp to step
Sturdy pine base holds up to 130lb
Folds away to store easily
Cons
Ramp incline could be difficult for smaller dogs

Non-removable carpet
Check out reviews on Amazon
Pet Gear Stramp Stair and Ramp Combination, Dog/Cat Easy Step, Lightweight/Portable, Sturdy
Our rating:

Check Price
Though it is the cheapest product we have selected, do not underestimate it! Where the RampSteps fluctuates between ramp and step, the Stramp has simply combined the best elements of both designs to create a brand new product. Its gentle slope is appropriate for smaller or less able dogs, with a weight limit of 150lb, so your bigger babies can still make use of it too. Innovative in-house supertraX carpeting works to prevent injury with specially-designed "pressure-activated gripping" and is removable for simple, straightforward cleaning. Rubber grips on the underside of the base guarantee more stability for your pet, helping to avoid slipping on any floor surface. Lightweight and easily transportable with its built-in carrying handles, this ramp could be used anywhere in any weather conditions! And at that price, you won't feel guilty for getting it a little dirty.
Pros
Cheapest on the list, but not in quality
Tool-free assembly
Portable for multi-room use
Soft and sturdy
Cons
Steeper than steps; may be too strenuous for smaller dogs

Comes in five pieces – slightly more time consuming than other, simpler products
Check out reviews on Amazon
PetSafe CozyUp Bed Ramp - Durable Wooden Frame Supports up to 120 lb - Furniture Grade Wood Pet Ramp with White Finish - High-Traction Carpet Surface - Great for Older Dogs and Cats
Our rating:

Check Price
The PetSafe team has accrued an impressive 30 years of experience in keeping your animals happy and healthy, so you can be sure that the CozyUp ramp will have your canine climbing safely no matter their size. Available in two different colors, you can choose the ramp that suits your style, whilst a soft but heavy-duty carpet minimizes sliding to give your dog a sense of security. Rigorous independent safety tests were conducted to ensure suitability for a range of dogs up to 120lb, with the gradual incline and wide platform making this a great choice for bigger breeds. Especially well-suited for older animals, this ramp is longer with a gentle incline, allowing your slower pet to clamber up and into bed with ease, at their own pace. Their US-based customer care team is available Monday through Saturday, so you can rest assured that any questions about your purchase will be answered promptly.
Pros
Cherry or white wood finish looks good in any home
High traction carpet
Safety tested for pets up to 120lb
The gradual incline allows for use by all dogs, big or small
Cons
Larger than other models, possibly unsuitable for smaller homes

Requires some assembly with small parts
Check out reviews on Amazon
Petstep Original Folding Pet Ramp, Khaki/Beige
Our rating:

Check Price
An intrepid ramp for use in and out of doors, the PetSTEP ramp is perfect for anyone looking to travel with their faithful friend beside them. More than portable, it folds flat in half for easy storage and ergonomic molded handles either side make transportation a piece of cake. Universal, non-slip grips on the top and bottom ensure stability on any surface and a composite plastic frame requires no assembly whatsoever. At a staggering 500lb weight capacity – for animal use only! – it will support almost any furry friend, from dinky dachshunds to hefty huskies. The unique rubberized surface design surpasses the traction offered by other products listed. Though built for rougher use, the PetStep does not compromise on design, with a simple but attractive appearance that is available in Khaki or Beige. It will not rust or corrode when exposed to the elements and is easily cleaned with generic soap and water; this ramp is low-maintenance, easy to use and convenient to carry wherever you want to take it. Simply unfold and go!
Pros
Rubberized surface, not carpet – suitable everywhere
Holds up to 500lb
Folds for easy storage
Two designs to choose from
Cons
Support Strap sold separately

Heavier than other models at 18.5lb
Check out reviews on Amazon
Best Dog Ramps For Beds – Buyers Guide
You've checked out our list of potential products and you still can't decide whether a dog ramp is the right fit for you? Never fear! We've compiled a handy list of top features to look out for; our insider tips for picking the perfect, most appropriate ramp are here to help you choose. 
So…who actually needs a dog ramp, then? Despite what you might have first thought, ramps aren't just for senior dogs or pups with mobility issues, though they certainly help improve their quality of life. They can also be used to make climbing up onto furniture or in and out of the car much easier for smaller breeds, particularly those with long bodies and little legs. Whatever dog you have, they will all surely appreciate the ease of access to cuddles from their owner that a ramp or step provides, meaning you no longer need to risk strain or injury to lift or carry your pet. 
Ramps can prove useful for a myriad of reasons! If your dog's breed is known to have hip or joint problems, they could be used to prevent or minimize any potential strain before it even happens. Research has shown that jumping or climbing can cause stress on these problem areas, particularly in smaller dogs, and may also increase the chances of arthritis or other movement issues. Ramps minimize the risk of injury whilst ensuring you and your dog can still get that quality snuggling time in whenever and wherever you like. Elderly relatives or folks with disabilities who desire close contact with their canines but are unable to move them would surely be thrilled to receive one too. 
Perhaps the most important question for making your choice is: stairs or ramp? Stairs tend to be smaller in size, taking up less floor space and increasing their portability, whilst ramps are bigger but easier on senior and smaller-legged dogs. If your pup is well balanced and can handle stairs generally, steps might be your best bet. When your canine companion is getting older, struggles with mobility issues due to joint pain, or is not confident with using stairs, a ramp is better. Remember, smaller dogs will require a gentler incline regardless of which product type you opt for, to prevent stress and strain. Every dog is different, though, and what suits one might not suit another.
The best ramp will be lightweight yet sturdy, easy to assemble with a similar rise height to your average indoor or outdoor step. The deeper the step, the easier for your pet to maneuver it safely, so opt for models with a depth of 8 inches at least. Ensuring the ramp you choose has a non-slip surface like a carpet is imperative to protect your dog and allow for the best grip whilst preventing paw injuries. Always check that the height of the ramp and its weight capacity is suitable for your dog and bed respectively as each product is different. If you have multiple pups of different sizes, or you aren't sure which your dog would prefer, it might make sense to opt for a ramp-step hybrid to accommodate all of their needs.
Frequently Asked Questions
How will I know if a ramp is suitable for my dog?
Every dog is different and has different requirements to be happy and healthy, so it is hard to advise on the individual. Simply put, you should check that the weight capacity, height, and incline on any ramp you intend to purchase are suitable for the size of your dog. Make sure you research your dog's breed to find out if a step or a ramp design is most appropriate for them depending on their needs.
How will I know if a ramp fits my living space?
Most ramps should be fine for use in any room as they are usually made specifically for use indoors, but it is important to know whether the bottom has grips, particularly if you have hardwood floors. You should also make sure that the height of the ramp matches that of your bed, or can be adjusted to do so. Some ramps will also fold away to store, so if you'd like to keep it tucked away, that's always a possibility too.
How wide should the ramp be?
General guidelines suggest that the ramp you choose should measure 11-12 inches in width for small or toy breeds, whilst 22-24 inches would be more appropriate for larger dogs. Making your dog feel safe and secure whilst using the ramp is imperative, particularly if your pup is anxious in general, so definitely double-check the measurements before you buy.
Can ramps be used outdoors?
Generally speaking, most ramps are built for use indoors, particularly those that don't fold down for storage or have non-removable carpets. If you intend to use it quickly – say, for getting in and out of a car, then make sure the ramp has a stable surface to be placed on and won't come in to contact with water. Some ramps, like the PetStep, are purpose-built for outdoor usage, so if you're looking for an all-terrain design, definitely check the materials of your chosen product are waterproofed first.
Can I use my ramp on other furniture/my car/etc?
Sure! The ramps are all multi-purpose, we've just collated those we think are most suited for use in a bedroom setting. Not all ramps are suitable for outdoor use and most only have one height setting, so make sure you measure whatever you want to use it on before you buy, not after!
Are ramps portable?
Some ramps are designed specifically to assemble and disassemble easily, whilst others fold in half or are simply small enough to carry as is. More complex products can require more assembly before use, and whilst they could be used outside hypothetically, certainly would not be the easiest to transport. If you want to use your new ramp on the go, opt for a model with built-in handles that folds in on itself for maximum portability.
How long does a ramp need to be?
This depends on what you want to use it for! Measure how high your bed is and check that the ramp you choose is tall enough to reach the top comfortably and securely, without requiring your dog to jump or stretch to access. Certain designs are multi-purpose and can be adjusted to suit different circumstances, so if you're looking for a product that has more potential, they might be the way to go.Are stairs bad for dogs?
In general, no: most dogs will be fine with stairs and can climb them with ease. However, older, less agile dogs, pups with mobility difficulties, or smaller breeds can struggle and could develop hip or joint issues from jumping and climbing if doing so requires exertion. Stairs can pose a threat to any pet – it is an owner's responsibility to observe their animal, research their breed, and make sure they are informed about any possible risks.What is the maximum allowable slope for a ramp?
There is no strict guideline as each dog has a different set of needs depending on their size, shape, and breed. It is suggested that the angle of incline should fall between 18 and 25 degrees, with smaller pets preferring a gentle slope of 18-20 and their bigger friends 22-25. Perhaps this sounds steep in comparison to wheelchair ramp specifications, but four-legged friends have a lower center of gravity than their human owners.