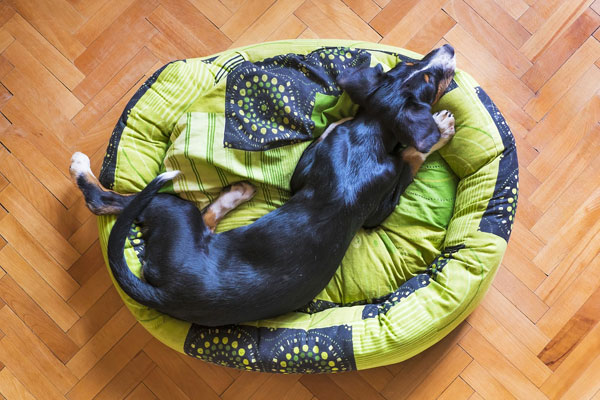 Best Dog Cave Beds
Some dogs simply love feeling the comfort of a dog cave bed. The covering over the head can help your dog to feel like they're secure as they would in a cave in the wild. These beds are ideal for keeping your dog nice and cosy all night (or day!) long.
Quick Navigation[ez-toc]
Of course, we only want the best for our four legged friends. If you've never bought a dog cave bed before though, you may not know what you're looking for. That's why we're here to help! Read on for our picks of the best dog cave beds on the market! We've also written a handy buyer's guide to help you to narrow down your decision.
In a hurry? This is our winner!
Our rating:

Sale
Cozy Cave for Pets Olive
Sherpa lining for warmth in winter and cool in summer
Removable washable/dryable cover
Heavy duty brass zipper
Zippered liner
Best Dog Cave Beds – Comparison Table
Best Dog Cave Beds – Reviews
Our PickCozy Cave for Pets Olive
Our rating:

Check Price
Once your pooch gets into this dog cave bed, it will truly be difficult to get them out – it's just that comfortable! There's a lot on offer with this bed that both you and your dog are going to appreciate.
To start with, the bed comes with 8 inches of filling so it's incredibly cosy. Imagine how you feel chilling out in your bed – that's how your dog is going to feel! It's truly perfect for any dogs that love to burrow and snuggle. It's also very durable due to the brass zippered suede outer covering, with cedar filling on the inside.
In addition to this, the bed is resistant to mildew and water and you can wash the cover and the liner in the washing machine – there's no need to spend hours hand drying it! It comes in a range of fun colors and sizes so you can find something that's going to best suit the room you are putting the bed into.
Pros
Range of fabrics and colors on offer
Comfortable with lots of padding
3 different sizes available
Cons
It's been stuffed so much that it can topple over quite easily unless you put it in a corner
Check out reviews on Amazon
Snoozer Orthopedic Cozy Cave Pet Bed, X-Large, Khaki
Our rating:

Check Price
If you have a medium sized dog that loves to burrow and be cuddled at night, you may enjoy the Snoozer Orthopedic Poly Cotton Cozy Cave Pet Bed. The bed comes in a number of different colors and sizes too, so there will be an option to suit every dog an owner.
The bed features a durable and strong poly cotton outer cover that's comfortable for your dog, and it also has orthopedic foam. If your dog is older, then the orthopedic foam will help them to sleep easily even if they struggle with their joints. It's also simple to clean as you can remove the covers.
The bed comes with a rust proof brass zipper, and the cover is machine washable. It should be noted that this is not the kind of bed that you can douse in water, as it's only semi-waterproof.
Pros
Machine washable cover
Durable exterior
Orthopedic foam ideal for older dogs with joint issues
Range of sizes and colors available
Cons
It's only semi-waterproof
Check out reviews on Amazon
Furhaven Pet Dog Bed - Orthopedic Round Cuddle Nest Faux Sheepskin Snuggery Blanket Burrow Pet Bed with Removable Cover for Dogs and Cats, Pink, 44-Inch
Our rating:

Check Price
This dog cave bed is perfect for larger dogs that weigh up to 35 lbs. You may expect with such a high weight capacity that the bed is heavy however but it only weighs 1.6 lbs, so it's incredibly easy to carry around.
The bed comes in a bunch of different colors, including Espresso, cream, blue, pink and more neutral colors too. It has an orthopedic foam base that's ideal for old bones, and it has a machine washable cover. The bed consists of soft faux fur, a lamb's wool interior for the sleeping surface and a suede exterior, which means that it's extra comfortable for your dog.
The bed is ideal for dogs that enjoy burrowing to make them more comfortable at night. With that being said though, if your dog tends to chew or scratch a lot, this may not be the best option for you.
Pros
Ideal for burrowing
Warm
Orthopedic memory foam for any dogs that struggle with their joints
Cons
Not ideal for scratching or chewing pets
Check out reviews on Amazon
Milliard Premium Comfort Plush Cat Cave and Pet Bed - Small Size for Small Pets
Our rating:

Check Price
Does your pup love to feel the comfort and security of a cave bed? They will absolutely love the Milliard Premium Plush Pet Cave! This option is perfect for small dogs, puppies and cats, so you aren't just limited to buying this for your dog either.
The bed is super plush, so your dog will feel nice and cosy, drifting off to sleep in no time. It does look sleek and fragile, but looks can be deceiving – this bed is incredibly durable. The materials are strong and long lasting, so you don't need to worry about having to replace the bed after a couple of months.
Not only this, but the bed has a removable mat and a cover that is totally machine washable. This means that keeping your dog's sleeping area nice and clean has never been easier! Of course, it should be noted that not everything is positive about this bed. It's a fantastic dog cave bed, but the biggest glaring issue with this bed is that it could tip over if the back of it is not up against a wall.
Pros
Durable
Ideal for small dogs
Comfortable
Cons
The bed can have a habit of tipping over if the back isn't propped up against a wall
Check out reviews on Amazon
PLS Birdsong Pointy Dog Cave Cuddle Dog Bed, Soft Dog House, Two Modes, Pet Bed, Dog Beds for Small Dogs, Completely Washable, Beige, Small
Our rating:

Check Price
Not all dogs enjoy burrowing in a cave bed, but some certainly do prefer to have a covered sleeping spot! For these kinds of dogs, the Pointy Dog Cave dog bed by PLS is the ideal choice.
The best comes in a number of variations, suited to all sizes of dog. Even if your dog weighs up to 35 lbs they will be covered with this bed. One particularly interesting thing about this bed, however, is that it has two 'modes'. First of all, it has a pointy roof that is great for creating a safe, covered environment. Alternatively, there is also a zip positioned around the top section, so it is possible to get rid of the cover so your dog can just have a standard nesting bed.
The bed has a machine washable plush cushion cover, so you don't need to wash it by hand. It's incredibly comfortable for your dog, with a faux fur interior. Of course, it's not ideal for all dogs. Sure, it's great for any dog that enjoys cuddling up to a wall, but if your dog likes to fling their legs in the air and sprawl it may not be the best choice for them, so consider your dog's preferences before buying.
Pros
Soft cushioning
Removable roof
Three sizes available
Cons
The only thing that can be machine washed is the pillow cover
Check out reviews on Amazon
Best Dog Cave Beds – Buyers Guide
What is a Dog Cave Bed?
A dog cave bed is essentially what it sounds like – it's a bed that's shaped like a cave for your dogs to sleep in. A lot of dogs are able to rest easier when something is draped over their sleeping space such as a blanket. Cave beds already have a roof where your dog can rest under for a nice and secure sleep.
Dog cave beds are ideal if your dog enjoys snuggling or if they tend to get anxious quite easily. They are able to make your dog feel safe because they are covered at night time. With that being said, not every single dog cave bed is fantastic, so there are a couple of things that you need to know before you decide to buy one.
Key Considerations
Size
Size is by far one of the key things you need to consider when buying a dog bed of any kind. For example, you couldn't give a rottweiler a bed that's designed for chihuahuas because it would simply be too small. A larger dog needs a larger dog cave bed, a smaller dog would normally need a smaller dog cave bed. With that being said, some dogs may need a little more space than others, even if they are small.
One such example of this is if you have a pet that moves a lot while they sleep. In this case you would need to purchase a bed that is bigger than their size. If your dog would rather their bed to snuggle them in, a dog cave bed that's as close to the dog's size as possible is the best choice.
Cleaning
It's very important to make sure that your dog's cave bed is clean. You can get a whole world of problems when you don't clean your dog's bed, such as skin rashes, ticks, infections, diseases and more. The bed may also have bacteria inside that can cause even more health problems for your dog.
One unfortunate draw back of a dog cave bed is that they can often be a lot more difficult to clean than your average dog bed. For this reason, we recommend opting for a bed that has fabrics that are easier to clean. For example, cotton is fairly easy to clean, but it may be more difficult to wash a bed made out of wool. In addition, you can wash some beds in the washing machine, whereas this is not an option with other beds. Always ensure that you check the manufacturer's cleaning recommendations upon purchase.
Material
Of course, it is not just important to consider material when it comes to cleaning and washing. There are a plethora of other reasons why you need to think about this crucial factor. The most important aspect is the sort of material that your dog prefers. You should try to see what materials your dog gravitates towards. You should also consider if your dog has any allergies – synthetic materials can be a source of allergens for a lot of dogs. The dog bed may be comfortable but your dog's health is the utmost priority.
You will usually find dog cave beds made out of either pure cotton or fur, as these are both the most popular options. Both of these options have their own advantages and disadvantages. Usually cotton is cooler, smooth and you can use it in the summer, but fur is fluffier and will help to make your dog feel more comfortable. Cotton doesn't tend to be as cozy for dogs. Fur is generally more difficult to clean. Ultimately though you do need something durable so keep that in mind too.
Entrance
There are two kinds of entrances used on dog cave beds. Some of them have a plastic or a metal rod that will help the entrance to stay open, and there are other dog beds that will let the canopy collapse.
If your dog tends to enjoy sprawling out in their bed as they sleep, it may be better to opt for a bed that has an open entrance. If your dog doesn't like the dark an open entrance can also be helpful here. Open entrance beds also allow more ventilation inside so this is perfect if you live in a warm climate. A collapsed entrance, on the other hand, is better if your dog likes to be snuggled in their sleep.
Durability
A picture doesn't always tell you everything you need to know about a dog cave bed – some dog cave beds may look durable but they will fall apart after five minutes of being washes. Always check other reviews to see what the common complaints are to make sure that the option you are getting is a reliable one.
Slip Proof Bottoms
The last thing you want is for your dog to be moving its bed around the whole house, so having a slip proof bottom is particularly handy. It's even more useful if you have slippery floors made out of tile or wood.
Frequently Asked Questions
What kinds of dogs are best suited to dog cave beds?
As with human beings, not all dogs are going to enjoy cave beds, whereas others will be very happy in them. There are a few kinds of dogs that are best suited to dog cave beds, however.
First of all, dogs that are anxious are particularly suited to dog cave beds because the dog will feel safer in the narrow, shut-in space. If your dog likes crates there is also a chance that they will like a dog cave bed.
If your dog likes to burrow, cave style beds can help your dog to engage in nesting behaviors that are quite common for dogs, which can help them to feel more comfortable and secure in a way that they wouldn't in a normal dog bed. Smaller dogs also tend to enjoy cave beds. They usually aren't designed to fit large dogs, but there are options out there if your big dog likes the comfort of a cave bed!
Dogs that are often cold may also appreciate the warmth of a cave bed. If your dog has separation anxiety, it may also be a good idea to get a dog cave bed for them to feel more secure in.
In addition to this, dog cave beds are handy for storms and fireworks, or anything else that can make your dog anxious. Dog cave beds are padded in such a way that will cuddle your dog, and the thick material can help reduce the amount of noise when your dog burrows into the bed. If you aren't home and there's a thunderstorm a dog cave bed is very useful.
Why do dogs scratch their beds before they lie down?
There are two key reasons why dogs scratch at their beds before they lie down. First of all, it is done to mark the territory. Inside the paw pads, dogs have sebaceous glands that will create sweat when they scratch at the bed, which means that dogs won't try to get into their space. They also do it to remove any insects or pests that could be in the bed.
Is it possible to use a dog cave bed for a cat?
Absolutely! There are a lot of dog cave beds out there that are perfect both for small dogs and for cats. A lot of cats also enjoy enclosed spaces too. With that being said, you should consider getting a separate cat bed if you have both animals, otherwise you could end up triggering some territory wars between both animals!
Why are dogs fond of cave beds?
There are a number of different speculations as to why dogs enjoy cave beds. One theory is that dogs and wolves that aren't domesticated enjoy staying in dens, and because of this they would sleep in caves and underneath overhangs out in the wild and this can help them to be protected from the weather and predators. Domesticated dogs may enjoy enclosed spaces because of this secure feeling. Other theories suggest that it's because some smaller breeds enjoy burrowing as they were bred to hunt. That may help to explain why your dog keeps digging in your laundry!