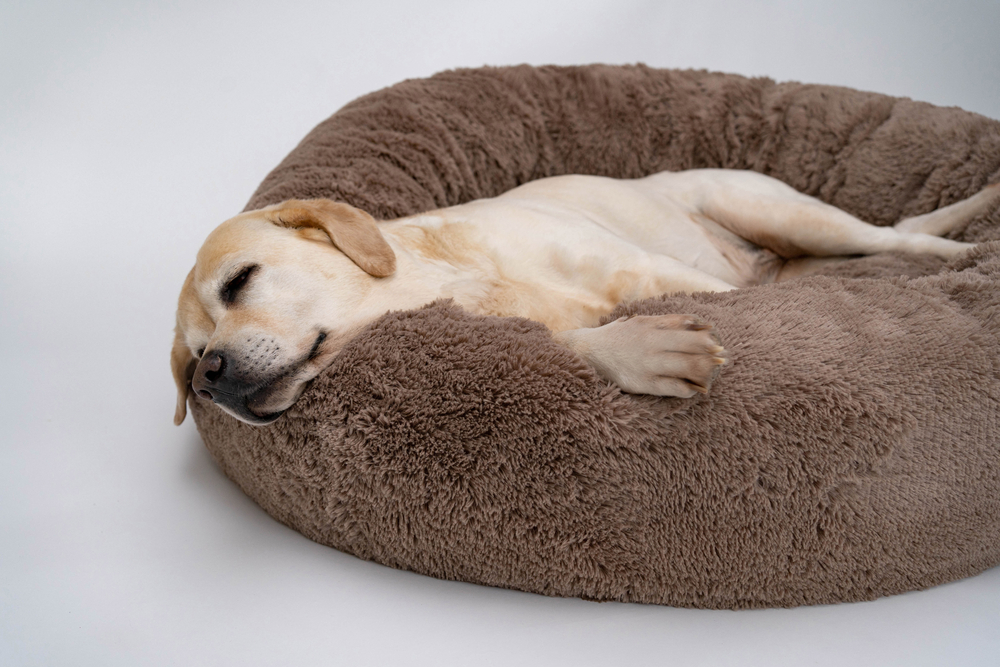 Best Dog Beds for 2022
As a dog owner, you would have noticed that your canine companion sleeps a lot. This is completely normal. Healthy adult dogs sleep for almost 11 hours a day. That is why it is important to invest in the right bed for your dog. 
But it can get confusing, especially with such a variety of dog beds out there. 
So we've done the research and compiled a list of the best dog beds for 2022, to help you find the right one for your dog. We have also included key features to look out for when buying your dog a bed. 
Our top choice 
Furhaven Orthopedic CertiPUR-US Certified Foam Pet Beds for Small, Medium, and Large Dogs

Furhaven Two-Tone Faux Fur & Suede L Shaped Chaise Egg Crate Orthopedic Foam Dog Bed - Stone Gray, Jumbo (X-Large)
DESIGNED FOR PETS: The bolstered L-shaped corner sofa design promotes ultimate comfort and security, providing high-loft orthopedic cushion support as well as a super cozy nestling and burrowing space for dogs and cats
SLEEP SURFACE: The main sleep surface is lined with cuddly soft, plush faux fur, while the supportive bolsters are wrapped in easy-care suede; both materials are gentle on noses and paws for enhanced snuggling and burrowing comfort
EASY ON JOINTS: The egg crate orthopedic foam base helps cushion pressure points and improve air circulation, while the fluff-filled bolster railings support the neck, back, hips, and joints; both help to ease discomfort and encourage restful sleep
PRODUCT DETAILS: Stone Gray; Jumbo, 40" x 32" x 8" (4" Foam; Sleep Surface: Approx. 35" x 27")
AVAILABLE VARIANTS: The bed comes in Espresso, Dark Sage, Stone Gray, and Marine Blue; it's also available in Small, Medium, Large, Jumbo, and Jumbo Plus
The Furhaven dog bed is the most popular dog bed on the market thanks to its versatility, comfort, and affordable price. 
The bed comes in different styles including a sofa-style and chaise-style. It comes in a variety of sizes ranging from small to extra large. 
The best feature of this bed is that you can choose what type of foam you want inside. Furhaven offers orthopedic foam, cooling gel foam, and memory foam. It allows you to customize the bed to suit your dog's needs. 
The bed cover comes in a few different colors and is removable, making it easy to clean. 
Pros:
Suitable for dogs and cats

It comes with a 90-day to find

Easy on your pet's joints
Cons:
Some say the quality of the fabric isn't the best

The foam in the corner may collapse 
AmazonBasics Plush Dog Pet Bed Pad

Amazon Basics Plush Pet Bed and Dog Crate Pad, X-Small, 23 x 18 x 2.5 Inches, Gray Swirl
Plush, ultra-soft pet bed provides a comfortable resting spot for a dog or cat
Includes an X-Small pet bed with a gray-swirl textured exterior and stitched tufting
Polyester fill offers cushioned support and holds its shape over time
Machine washable and dryable; do not machine wash if damaged or torn (bed won't hold up to dog biting or grabbing)
Note: this pet bed comes in a compressed vacuum package; please pat and shake the bed after opening the vacuum packaging and wait for 1 day to allow it to return to full fluffy status before using
The AmazonBasics Plush Dog Bed is the most affordable dog bed on our list, and it's pretty comfy too! 
It features an ultra-soft cushion with a swirl design surface to enhance your dog's comfort. It's the ideal go-to resting spot for your pets. 
The bed has a simple yet classic design and comes in a neutral grey tone that perfectly fits your home decor. 
It is straightforward and convenient to clean too. The bed can be washed in a machine and tossed into the dryer. 
AmazonBasics dog bed can be used in a crate or anywhere around the house. Both dogs and cats love it!
Pros:
Affordable

Easy to clean

Comfortable for dogs and cats

Variety of sizes
Cons:
Only available in one color

The material is soft and unsuitable for dogs that will bite and tear. 
K&H Pet Products Original Pet Cot

K&H Pet Products Original Pet Cot Elevated Dog Bed Gray/Black Mesh Large 30 X 42 X 7 Inches
ELEVATED DOG COT: Raised dog bed helps pets stay cool in warm spring and summer months by allowing air to circulate and keeps pets off wet/cold ground with 7" ground clearance
INDOOR & OUTDOOR USE: Lifted pet bed with breathable mesh center is great for indoor and outdoor use. Slip resistant rubber feet provide protection for indoor flooring and water resistant mesh center repels moisture and odors
STRONG & STURDY: Dog cots lightweight metal frame and heavy denier cover holds over 200 pounds, the perfect dog beds for large dogs
EASY CLEAN-UP: Dog hammock features a removable cover that is machine washable and can even be hosed off outdoors
COLLAPSIBLE: Collapsible dog cot is easy to assemble and disassemble, no tools necessary making this portable bed great for use during travel, camping, picnicking and more
An indestructible dog bed does not exist. However, the best bed for dogs that love to chew is the K&H Original Pet Cot. It has zero fiber filling, which decreases the chances of your dog nibbling on it. 
The classic pet hammock design is ideal for warmer months and is excellent for indoors and outdoors. It has a constructible plastic frame and a durable fabric cover made of breathable mesh that withstands moisture, mold, mildew, and bacteria. 
The cover is removable and easy to clean. The covers are replaceable if your dog manages to rip or damage them. 
You can assemble and disassemble the bed without any tools, making it convenient for traveling. 
The bed comes in 4 different sizes and can hold up to 200 pounds. 
Pros:
Variety of sizes

Great for dogs who love to chew

Canopies are available for extra shade

Covers are replaceable
Cons:
Not the most comfortable, plush dog bed 

Some have reported that the plastic legs cannot withstand 200 pounds
Brindle Waterproof Designer Memory Foam Pet Bed

You can never go wrong investing in a waterproof dog bed, especially when you have a puppy. Accidents happen, and my dog chooses her bed as an emergency potty spot. 
The Brindle Waterproof bed features 4 inches of conforming comfort. Two inches of memory foam relieves pressure points and provides a customized sleep surface for your dog, and two inches of high-density base foam provides the perfect amount of support. 
The bed is made of durable materials and has a waterproof encasement that protects the inner foam from liquids. This also makes the cover easy to wash. 
The soft velour exterior resists dust mites, dirt, and pet hair, keeping it clean for longer. It also has a non-skid bottom which helps keep the bed in place. 
The bed comes in 3 different sizes and a variety of colors. 
Pros:
Waterproof

Easy to clean

Improved comfort
Cons:
Not 100% waterproof over time 

Not chew proof
Best Friends by Sheri The Original Calming Donut Cat and Dog Bed
Sale

Best Friends by Sheri The Original Calming Donut Cat and Dog Bed in Shag Fur Taupe, Small 23x23
CALMING DOG BED SUPPORTS BETTER SLEEP: Thanks to its round shape, our high-quality Donut Cuddler cat and dog bed is ideal for pets who love to curl up. The raised rim creates a sense of security and provides head and neck support, while the super soft filling offers joint and muscle pain relief.
SUPERIOR COMFORT: Cozy, flexible, and finished with vegan faux shag fur, our warming luxury dog bed is reminiscent of a mother's fur coat. Paired with deep crevices that allow your pet to burrow, animals will have full, restful sleep for improved behavior and better health. The uniquely designed CoziLOFT fibers keep their loft for up to 3Xs longer than standard pet beds.
VERSATILE DESIGN and MAINTENANCE: Available in beautifully natural colors, our cat and dog donut beds are a seamless addition to any room's décor! Finished with water and dirt-resistant bottoms, accidental messes will be prevented from reaching your floors. Removable shells available on size M-2XL beds are machine washable. The entirety of the small-sized bed is machine washable. (Do not leave bed to air dry, as this may lead to tangling and matting of the faux fur).
PET-SAFE MATERIALS: Tested through Consumer Product Safety Commission certified labs to ensure safety for you and your pets. Free from: flame retardants, formaldehyde, skin irritating chemicals, harsh dyes.
SATISFACTION GUARANTEE: Designed and shipped from Los Angeles, CA, our local customer service is only a phone call or email away to address any concerns and questions to ensure you and your pets are happy with your purchase.
If your dog suffers from anxiety, then Best Friends by Sheri is the best bed for your dog. 
The faux fur donut bed is designed to mimic the anxiety-easing security of a mother's fur coat. It improves your dog's sleep and provides a calming, self-warming effect. 
The poly filling in the bed keeps its loft three times longer than standard pet beds, providing your dog with longer support, comfort, and aesthetic appeal. It is designed to provide optimal neck, joint, and muscle support. 
The bed has a waterproof and dirt-resistant bottom, which prevents accidents from reaching your floor. 
You can toss the bed in the washing machine for easy clean-up. 
The bed comes in 4 different sizes and a variety of colors. 
Pros:
Provides anxiety relief for cats and dogs

Soft and comfortable

Easy to wash
Cons:
Not durable

Some beds have been reported to have no padding at the bottom.
Things To Consider When Buying A Dog Bed 
Size
It is essential to consider the size of a dog bed before buying it. The ideal dog bed must be capable of reaching from your dog's nose to its tail.
Material
There are several materials that people use to make dog beds. It is best to find a dog bed that is made of high-quality, durable material. 
Easy to clean
This is one of the most important factors to consider when buying a dog bed because accidents happen. Apart from accidents, dog beds will eventually get dirty. 
The best solution is to find a bed with a removable cover, so it is easy to clean. It is even better if you find a safe bed to toss in your washing machine. 
Conclusion
We hope our list of the best dog beds for 2022 will help you decide when looking to buy your dog a bed. 
Remember, there are a few things to consider before buying the perfect bed for your dog.