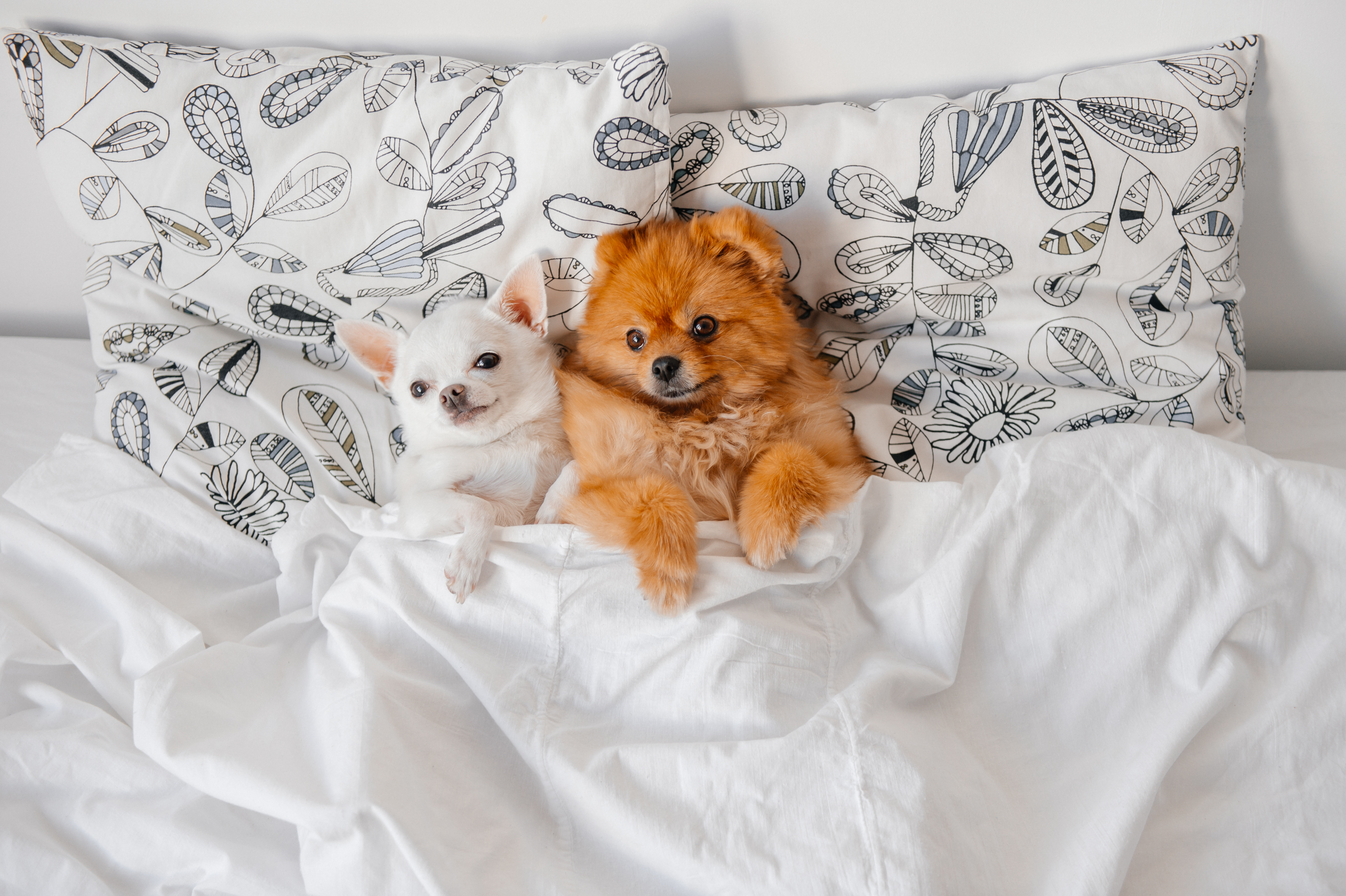 Best Dog Bed Covers
Just like you, your dog also needs a comfortable and blissful place to crawl into every night. As a pet parent, it's your responsibility to provide your dog with the healthiest and best lifestyle. Dogs that are not well-taken care of often feel secluded, resulting in loneliness and unhealthy living. A sure way of showing love to your dog is in the area of sleep. An adult dog sleeps for 12-14 hours a day. Enough sleep will make your dog fit and well-behaved. That's why it is ideal to get your dog his own personal and comfortable bed. If your dog is well past the puppy stage, you have probably paid a good amount of cash to buy him his own high-quality, grown-up dog bed.
If you want the bed to last, you may want to consider investing in a protective dog bed cover. There are several reasons you may need to buy a new cover. The original bed cover could be chewed, soiled or threadbare. Before a dog finds the right sleeping position, he may continually dig at the fabric with his paws. Eventually, all this nesting activity is bound to take its toll on the bed.
A cover will breathe fresh life into your dog's favorite resting spot, making it feel like new. The cover could be a simple faux or fleece cover to give your dog a little more snug or waterproof to protect stuffing from spills and accidents. Covers are easy to wash and can be thrown into the washing machine. Because they are affordable, consider buying an extra cover when one is in wash. They are not only great for swapping when your dog makes a mess, but they can also save you from the costs of buying a replacement bed dog.
Your choice of dog bed cover can either make or break your pooch's comfort while resting on his personal space. There are plenty of options in the market, but most covers are either envelope or zipped style for slumber-ready ease. Picking a dog bed cover involves more than just picking a cute color. The cover should allow your dog to contentedly curl up for many naps to come.
Knowing what to look for in a dog bed cover will ensure that you provide your furry companion with the utmost comfort possible. A bed dog cover is a long term investment. Even if you are shopping for your pup, get a big cover as he can grow into it. You also should consider other factors like material used, proper sizing, durability, water-resistance and your budget to make the cover your dog's new favorite thing.
Best Dog Bed Covers
Finding the best dog cover means delving into multiple reviews and comparing product features. We know you are busy, so we did all the hard work for you and curated a list below to help you find the best dog bed cover for your dog.
Dogbed4less Canvas Pet Bed External Duvet Cover
Dogbed4less 40x35-Inch Canvas Duvet Pet Dog Bed Cover, Olive Green
New improved size at 40" Length X 35" Width X 4" Height with 3 dimension gusset style. Strong and heavy duty Canvas fabric in olive green color. Re-usable many times and machine washable/dry-able. Additional color in Denim blue or Suede brown is available at dogbed4less link on the top next to the title.
The size of this cover is designed to fit in 40"X35"X4" pad or 40"X35" pillow by Dogbed4less pet bed product. Unlike any other cover, our new improved hidden zipper with eyelid design plus extra stitching boasts lasting quality, wash after wash.
The external cover is made by 100% cotton with 11 oz. Canvas fabric in olive green color. It comes with durable Zipper and strong industrial stitch for maximum durable and comfortable. Not recommended for an aggressive chewer.
This listing is for Canvas external replacement cover only, please visit Dogbed4less other listings here at Amazon for a complete dog bed with memory foam pillow or pad in small, medium, large, XL to jumbo sizes.
Best Value Eco-Friendly - Why spend more money to keep replacing those expensive dog bed? Try our durable external cover that can wash it over and over again, last longer and easy to maintain. Try it yourself and you will love it too!
The key with dog bed covers is finding one that is easily washable, and this model is a typical example of such a cover. Made from 100 percent nice quality cotton and 11 oz. heavy-duty canvas fabric, this bed can stand up to your dog's claws, hair and dirt for a long time. The cover features an improved hidden zipper with eyelid design and additional stitching. This is meant to improve the lasting standard even after several washes. Olive green in color, the powerful and heavy-duty fabric is easily washable, dryable and reusable. It is designed to fit 40"*35"*4" pads or pillows sizes, making it perfect for small and medium-size dogs. The bed cover is also available in suede brown and denim blue.
Milliard Velour Zippered Anti-Microbial Removable Waterproof Non-Slip Replacement Cover
Taking the runner-up spot on our list is Milliard Velour waterproof cover. For the ultimate dog bed safety, this bed cover saves the pad from liquids, bacteria, allergens, mold and dust mites. The cover is made from highest-standard materials and features a non-slip bottom and an ultra-soft velour surface. The cozy 100 percent polyester cover ensures a relaxing sleep and prolonged use. For convenient and simple care, the cover is machine washable and dry-able. It washes up nicely and looks brand new after washing. The zipper design zips both ways making it easier to wear and take off. Measuring 46"*35"*4", the bed contours correctly to your dog's body for the ultimate comfort. This can help relieve joint pain, muscle pain and arthritis.
Molly Mutt Dog Bed Duvet Cover
Durable, washable and pre-shrunk, this dog bed duvet cover is made from 100 percent cotton, completely gusseted and zippered for plus relaxation and style. Measuring 27"*36"*5", it fits medium and large dogs. Available in several colors, you can stuff old blankets, linens and clothes from around your house to make a stylish, comfortable and easy to maintain bed for your dog. This cover can protect your dog's bed from wear and tear. When it gets dirty, just whip it off from the bed and throw it into the washing machine, tumble dry low and hang dry outside.
PetAmi Waterproof Dog Blanket for Bed, Couch, Sofa
PetAmi Waterproof Dog Blanket for Couch, Sofa | Grey Waterproof Sherpa Pet Blanket for Large Dogs, Puppies | Super Soft Washable Microfiber Fleece | Reversible Design | 50 x 40 (Gray/Gray)
100% WATERPROOF & LEAKPROOF- Perfect for your pet to lounge and nap on your sofa. Thick warm sherpa and fleece makes this waterproof pet blanket suitable for indoor and outdoor use. We have reinforced our blanket so any liquids (water or urine) will not leak from one side of the blanket to the other side of the throw. Perfect for small, medium, and large dogs, as well as cats and kittens.
PROTECTS FURNITURE/PET BEDS - Protects your furniture from scratching, chewing, fur, and shedding while keeping your pet comfortable and furniture free of fur and urine. Also great as a pet car blanket and lining for dog crates, kennels, and pet mats.
WARM AND COMFORTABLE - Equipped with sherpa lining and microfiber fleece, this blanket is reversible. This pet throw blanket features soft, plush plaid design that will keep you warm and cozy while your pet sleeps comfortably on your sofa or bed.
VERSATILE - Protect your couch, bed, and home goods from chewing, scratching, and shedding while keeping your pet dry and comfortable. Also great to help keep unwanted pet hair and fur from sofas and couches.
HIGH QUALITY & DURABLE - Made with 460 GSM premium microfiber polyester, this blanket is soft, lightweight, yet durable. It is easy to care for and MACHINE WASHABLE, tumble dry low.
If you're in the market for a waterproof solution to protect your pooch's bed, the PetAmi Waterproof Dog Blanket is an excellent choice. Made with 460 GSM of 100 percent premium microfiber polyester, it's also ideal for use on your bed, in the car and even on sofas. It protects your furniture from chewing, scratching, shedding and fur. This blanket is reversible. One side features a soft flannel, with a cozy warm sherpa lining on the other. This bed cover comes in 3 sizes (50*40, 60*40 and 80*60) making it perfect for dogs of all sizes and is available in several patterns and colors. It's easy to care for and machine washable.
PetFusion Replacement Cover for Ultimate Dog Lounge
PetFusion Replacement Cover for Ultimate Dog Lounge (Large, Slate Gray)
Removable water resistant cover which is machine washable for easy care -- **please follow care label instructions carefully
Easy to spot clean with mild soap/water & remove hair with lint roller
Non-skid bottom keeps bed in place on Wood & Tile flooring
65% Polyester / 35% Cotton Twill. Tear resistant
More colors coming soon
If you are looking for a dog bed cover that will keep your dog's bed in tip-top shape, look no further than this removable, water-resistant cover by PetFusion. This cover will create the most comfortable bedding experience for your dog. It is made from high-quality, tear-resistant 65 percent polyester and 35 percent cotton, and is machine washable for easy care. You can remove hair with lint roller and spot clean with a mild detergent. It is machine washable and dryer-safe for quick and convenient washes between uses.
Conclusion
Your dog deserves the best and most comfortable space of his own to rest and lie down at night. One of the best ways to make sure that your pooch feels comfy in your home is to give his resting place the best of attention. As such, selecting from our list of the bed dog covers can certainly help to prolong the life of your dog's bed. Pick a cover that suits your dog's needs the best.
There's no reason why your cover can't be both functional and attractive. To help you match or complement your home décor, we included covers with a variety of creative patterns and color options.