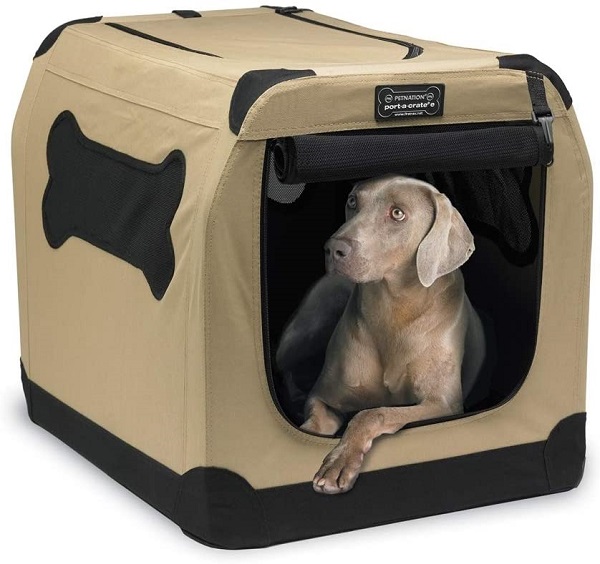 Best Portable Dog Kennels
Any responsible dog owner will already understand just how vital crate training can be for your canine companion in the house, but did you know that there are portable kennels making this a possibility wherever you go? Vets and breeders alike recognize and promote the importance of making a safe space for pups to get some peace and quiet on their own, with emphasis on starting the process as early as possible. It doesn't matter whether you're traveling, housebreaking, or practicing for emergency situations, finding the perfect portable dog kennel allows you to perform this crucial training for your pet no matter where you are. There are many varieties in all shapes and sizes, so choosing the right one could be tricky, That's why we've compiled this handy list of the best five on the market, and a buyer's guide with a list of FAQs to make the decision even easier! 
Quick Navigation[ez-toc]
In a hurry? This is our winner!
Our rating:

EliteField 3-Door Folding Soft Dog Crate, Indoor & Outdoor Pet Home, Multiple Sizes and Colors Available (36" L x 24" W x 28" H, Beige)
Size: 36" long x 24" wide x 28" high; 2" wider and 4" higher than most other brand 36" soft crates, so the EliteField soft crate makes your dog feel more spacious; fully assembled; set-up and fold-down in seconds, no tools needed
The crate frame is made of strong steel tube; the crate cover is made of high quality durable 600D fabric and hex mesh fabric; a well ventilated, stylish, lightweight and durable crate
Three mesh doors (on the top, front, and side) for convenience and for sunlight and breathability; two accessory pockets on the top and side; removable and washable cover and bed
Free carrying bag and fleece bed included; a handle and hand carrying straps on the crate, hand carrying straps and adjustable padded shoulder strap on the carrying bag allow for many carrying options; folded crate with just 3" height for easy transport and storage
2 Year Warranty from EliteField, a New York-based Pet Product Manufacturer. The "EliteField" brand is ranked #1 under Amazon's "Soft Dog Crate" category. This can be seen through searching for "Soft Dog Crate" on Amazon. Product Quality Guarantee, 100% Money-Back Guarantee, Customer Satisfaction Guarantee (See important information in "Product Description" section below)
Best Portable Dog Kennels – Comparison Table
Best Portable Dog Kennels – Reviews
Our PickEliteField 3-Door Folding Soft Dog Crate, Indoor & Outdoor Pet Home, Multiple Sizes and Colors Available (36" L x 24" W x 28" H, Beige)
Our rating:

Check Price
Our top choice for the ultimate dog kennel is this stylish, secure offering from EliteField. It isn't especially cheap when compared to others on the market, but you definitely get what you pay for, especially when it comes to the safety of your pet. Available in ten different colors and several sizes (this listing is the biggest offered, and the smaller ones are less expensive) there is a design to suit any pup and owner! Four inches higher and two inches wider than most other large offerings, this crate offers plenty of room for a fidgety dog that moves around or likes to stretch. The frame is constructed from strong steel to promise long-lasting durability, whilst the cover is composed of high-quality 600D and hex mesh fabrics, offering ventilation and security simultaneously. Its three mesh doors are convenient timesavers, allowing extra airflow whilst filtering sunlight, whilst built-in padded shoulder straps make transporting from A to B easy and painless. Included for free are a transportation bag, removable cover, and soft bed, all of which are suitable for machine washing.
Pros
2-year warranty
Pops up and folds down in seconds – no tools necessary
Durable, weather-protected and suitable for outdoor use
Ranked #1 amongst all of Amazon's Soft Dog Crate listings
Cons
Soft bottomed, so unsuitable for use as a carrier
Check out reviews on Amazon
Petmate Sky Kennel Pet Carrier - 21 Inch
Our rating:

Check Price
This kennel is perfect for intrepid pups embarking on long-distance adventures on planes, trains, and automobiles. The epitome of heavy-duty, a hard-wearing plastic shell, strong steel wire, and interlocking, four-way vault door guarantee protection from bumps, bangs, and outside elements. Ventilated from every angle, the mesh design of the windows and door surround your dog to offer ventilation, fresh air, and visibility at all times. This particular model is their smallest at 21 inches, but they offer several others, the largest being 48 – though these will come in at different prices. The use of non-corrodible wing-nuts, steel and plastic in its design offers peace of mind for a long lasting and durable product you will have for years. Petmate also provides a clip on food and water bowls, 'live animal' and identification stickers, perfect for easy travel. They promise the Sky Kennel will meet the majority of airline specifications, but remind owners to check every time before travel. 
Pros
Built to withstand hard knocks, perfect for travel
Very lightweight when empty at only 6lb
Specially designed latch system guarantees security for the cleverest pooch
Easy, simple assembly
Cons
Doesn't include an internal bed or blankets
Check out reviews on Amazon
Petnation 614 Port-A-Crate Indoor and Outdoor Home for Pets, 36-Inch
Our rating:

Check Price
One of the cheapest on our list but by no means skimping on quality, the Port-A-Crate is designed for use anywhere so you can take your buddy with you wherever you go. Perfect for trips to the vet, vacations, or providing a quiet place to relax in your home, the unique design is made with tight weave mesh fabric and a steel frame both secure and durable. Perforated mesh windows allow ventilation of light and air to ensure your dog is temperate and able to breathe easy, with rounded corners specially designed to prevent exterior damage. Two doors, one in front and one at the top, are especially convenient for easy access, particularly if your dog is anxious and prefers to be approached face on or from above. Cleaning this kennel is as simple as wiping down with water and using a pet-friendly odor eliminator, but the removable cover detaches from the steel frame and is suitable for machine washing.
Pros
Available in several sizes to suit your dog (prices may vary)
Comfortably fits pets up to 70lb
Doors have zippers and locks to guarantee the security of your pet
Versatile – can be used indoors or outdoors
Cons
Unsuitable for pets prone to chewing
Check out reviews on Amazon
X-ZONE PET Portable Foldable Pet Dog Cat Playpen Crates Kennel/Premium 600D Oxford Cloth,Removable Zipper Top, Indoor and Outdoor Use
Our rating:

Check Price
Inexpensive and very quick to assemble, the foldable kennel from X-Zone is perfect if you're tired of lugging around a heavy metal kennel whenever you take a quick trip with your dog. Cheap in price but not in design, it is composed of weather-resistant 600D Oxford fabric sturdy enough to contain the most adventurous pups. Eight hexagonal mesh panel windows are perfect for light and air ventilation to keep your dog safe, temperate, and comfortable. Locking zippers promise security and safety whether indoors or outdoors, whilst a zip-top panel and front door offers easy access. No assembly or tools are necessary, and the kennel folds flat in seconds when not in use for impressively easy and space-saving storage. The removable shade cover allows you to make adjustments based on the weather to protect and contain your dog in any conditions. The bottom is non-removable, but this kennel is easily washed with soap and water – manufacturers recommend doing so outside.
Pros
Assembles and disassembles in seconds
Portable and easy to carry
Suitable for use in and out of doors
Enough room for you to join your pets inside!
Cons
Check out reviews on Amazon
A4Pet Collapsible Dog Crate and Kennel Soft Sided Large Pet Carrier with Leak Proof Bottom for Indoor /Outdoor /Home/Travel Use
Our rating:

Check Price
A4Pet promises they have mastered quality and function in their 15 years developing and delivering pet care products, and this kennel is no exception. A perfect method of transportation in cars and on family vacations, it is durable, and secure, constructed from a tough steel frame and resilient Oxford fabric. Recommended for crate trained dogs up to 50lb, it is extremely portable and can be set up and deconstructed in under a minute, perfect for use when you're out and about. The leak-proof bottom and removable cover make cleaning and maintenance a breeze, suitable for machine washing when detached. Mesh ventilation side panels make sure your dog has plenty of fresh air and enough sunlight for visibility whilst maintaining a contained atmosphere. 
Pros
Sturdy and secure
Easy to clean between uses
Perfect for quick and easy car transportation
Cons
Zippers don't have locks like some other models which offer extra security
Check out reviews on Amazon
Best Portable Dog Kennels – Buyers Guide
Checked out our list of products above, but still uncertain about which would be the best portable kennel for your furry friend? Not to worry, we have laid out the main considerations for any dog or circumstance right here for you. Finding the perfect kennel to suit your situation entirely depends on the individual dog: their age, size, health, and temperament are all important factors in deciding which product to plump for. We recommend researching what it is your pup personally needs or stands to gain from kennel use, whilst bearing our tidbits and advice in mind. Remember: always consult your vet about kennel usage before going ahead! Perhaps the biggest factor in deciding which portable kennel to purchase is the ease of transportation and storage. Where a pop-up or folding model is easy to transport and makes use on the go a breeze, it might not be the most secure option for longer journeys or flights. Likewise, a more resilient metal cage could prove too bulky for use in a car or on public transportation, but guarantees protection for your dog and ensures escape is impossible. Where and how often you intend to use the kennel should influence which design you choose.
It is imperative that the kennel you select has room for your dog to move freely and without restriction; though they prefer and seek out smaller spaces to feel safe, they still need space to stretch their legs! Ensure that any purchase is approximately 3 inches taller and wider than your pup so they are enclosed but not uncomfortable, and still able to spin around should they fancy. We recommend you measure your dog multiple times and ask someone else to check for a more reliable result, or ask your vet to do so at your next visit! A cramped dog is an unhappy – and more importantly, unsafe – dog, so thinking about and prioritizing this factor is a must.
Your dog's access to enough airflow and ventilation is vital for their safety and security, especially in hot weather or enclosed spaces. Most kennels are constructed to have various slits in the main body and doors; those made from fabric and mesh will also let air pass through to your pup. However, there is also visibility to consider – more robust kennels block out most light, where their fabric counterparts filter out some but not all of the sun. If your dog is particularly reactive to visible stimulation, opt for a darker setting inside, but make sure there's enough slits or gaps for adequate airflow.
Buying a portable kennel implies some outdoor use and rough and tumble, so durability is important to consider in the long-term. If your pup is still undergoing crate training, they will almost definitely try and bite and claw their way to freedom. Therefore, if you have a canine that is fond of chewing, a fabric kennel is probably not suitable for use without monitoring – at least until they are better behaved! With durability in mind, however, a plastic or metal crate might have a longer life span, but your dog won't find it as comfortable. We suggest that, should you need a more resistant crate, you can invest in a kennel mat – some even come free when you buy one!
You wouldn't be buying a kennel for your dog if you didn't need to accommodate them safely for whatever reason. Whether your companion is a docile dog happy to spend time alone or absolutely despises solitary confinement, security is always a priority. The kennel should be sturdy and well-built, whilst materials used should maximize their containment and minimize opportunities to make a bid for freedom. What is your dog's behavior like outside of a kennel? If they like to open cupboards or have a go at your household furniture, look at the kennel door and how easy it might be to force open with their teeth and claws! Designs with more lightweight frames also have the potential to tip and bounce around in transit, so a heavy-duty option is best suited for vehicular use.
If you plan to mostly use the kennel at home or in your own garden, an easily disassembled or constructed crate is not necessarily a priority. Additionally, if the pup is young and still undergoing training, designs constructed from harder materials like plastic and metal will be best suited to their shenanigans and tiny teeth! However, should you wish to take long-distance trips with your dog on a regular basis, there are more factors to consider. Airline regulations differ from place to place, but most will only let your dog fly if their kennel is tightly-shut and strong, built with preventing escape in mind. Always check with whichever transportation service you're traveling with beforehand! Whatever kennel is best for your dog, make sure you make the interior as comfortable as possible to ensure man's best friend feels at ease, safe, and secure at all times.
Frequently Asked Questions
Are dogs happy in kennels?
Using crates to train and transport dogs is a practice that divides everyone at the dog park. Born from their natural desire to escape overwhelming, noisy situations and settle down in a quiet, safe place they feel comfortable in,  crating is useful to housetrain a puppy or correct a naughty dog with a penchant for chewing. Not all dogs will be thrilled about being in a crate, though, particularly if your pet is anxious or struggles with separation. Spending time with your dog, making sure they have enough exercise and can eat, drink or relieve themselves at appropriate intervals are the primary factors in being a responsible owner, all of which come in to play when choosing to use a kennel.
How long can my dog be in the kennel for?
As with all pet care, responsible ownership is key – if you are going to have a dog, you need to make sure you have enough time to commit to loving and caring for it as you would any family member. It is suggested that a dog can be crated for up to half a day or overnight, as long as they are properly physically and socially cared for when not using it. Ensuring dogs have the opportunity to go to the bathroom several times whilst crated for longer periods is mandatory, as they won't do so where they sleep unless distressed. This teaches them to "hold it" until it is necessary to go, hence being used to toilet train puppies, but every dog is different and has different needs and wants.
Are soft dog kennels as good as hard ones?
It depends! Both softer and harder kennels have their advantages and disadvantages, and which is more suitable for your dog depends on their individual circumstances. Where a soft kennel is portable, oftentimes collapsible, and easier for your dog to move around inside, they also offer minimal protection from potential external hazards and take more damage easily. If you're going to fly or drive long distances with your pup, a hard kennel is recommended to ensure their safety, as a solid exterior will protect them during bumpy transits.
Is it okay to keep a dog outside in a kennel?
Not all kennels are suitable for outdoor use – their primary function is keeping your dog safe and secure, which isn't possible if they expose them to heat, rain, or snow. In extreme temperatures, hot or cold, your dog needs to be protected from the elements, so if you plan on using it outside, determine whether it has been adequately weatherproofed. A kennel suitable for outdoor use should be insulated, waterproof, and offer your pup shelter from hot sun and high temperatures. NEVER leave your dog unattended outside for longer than a couple of hours, and especially not overnight, as the risks of hypothermia or heat stroke are unavoidable and deadly.