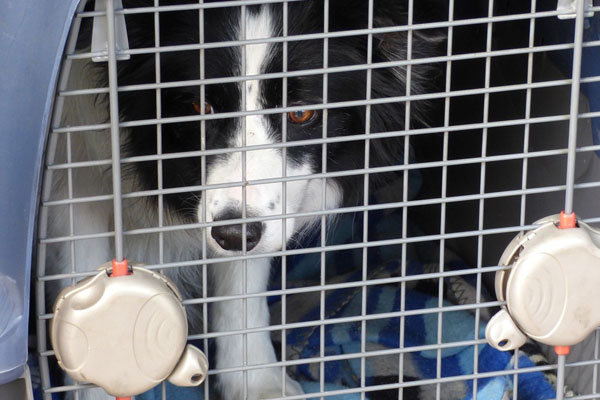 Best Heavy Duty Dog Crates
It may be widely regarded as being an old wives' tale, but the much-vaunted adage about dogs being man's best friend? It's absolutely true. Any dog owner will happily tell you that their four-legged companions are more than just pets, they're members of the family. The faith, trust, and love that you invest in your dog are returned tenfold and their devotion and loyalty to the members of their "pack" (or, in human terms, family) is beyond measure. Your dog is, without question, your best friend, but you are his absolute world. There is nothing that your dog wouldn't do for you and there is nothing that you wouldn't do to make sure that your dog is healthy and happy.
Sometimes, happiness means giving your dog his own space, a place he can call his own, and feel comfortable and secure in. This is why so many dog owners crate-train their dogs. A crate gives your dog his own den, somewhere he can retreat to when the world gets too much and somewhere he can feel shielded and protected in and a comfortable place for him to sleep. And the fact that crates can also be used to transport your dog to the vets, take him on holiday and trips with you, that's just the icing on the crate shaped cake. The fact that your dog will get used to his crate and see it as his safe space will make life far less stressful for him, and you, and will help to ensure that your relationship will flourish.
Quick Navigation
[ez-toc]
Finding the right crate for your dog isn't as easy as it might seem. It needs to be large enough to give him enough space to feel content, but as dogs are as individual as their owners, it also needs to be strong enough to cope with every eventuality. Some dogs like to try and push at their social and familial boundaries, and their behavior can at times be testing and push their environment, which in most cases is your home and their crate, to the point of destruction. Which is why your dog, ideally, needs a heavy-duty crate. One that can take all the punishment that he, even in his wildest moments, can dish out to it.
That's why we've found five of the toughest, most spacious and commodious crates available for you and your dog so that you don't have to waste your valuable time trying to find a crate for your dog. All you have to do is choose one so you can spend every moment you can with your best friend.
In a hurry? This is our winner!
Our rating:

Pro Select Empire Cage - LARGE
Dimensions: 41.25" H x 42.25" W x 30.75" L
20-Gauge Steel Cage – This ProSelect Empire dog cage is extremely strong with reinforced 0.5-inch diameter steel tubes and 20-gauge steel
Large-Sized Cage – (41 - 70 lbs)
Floor Grate With Tray – Cleanup is easy with this ProSelect dog cage because of its grated floor with tray
Removable Casters – You can attach casters to the bottom of the cage to allow for easily rolling the cage to other locations or leave the casters off for added stability
Best Heavy Duty Dog Crates – Reviews
Our Pick
Our rating:

The Alcatraz of dog crates, the Empire is made to keep your dog safe while he's inside it and to make sure that he stays inside it, come what may. While it may sound a little off-putting comparing a dog crate to San Francisco's famous landmark, ProSelect chose that description to convey the fact that the Empire is a safe and secure crate for your dog whether he's at home or you're using it to transport him to the park, the vet or to take him on a trip.
And even if your dog does share Harry Houdini's talents for escapology, this is the one place that he not only won't want to leave, thanks to the way the Empire is put together, he won't be able to.
Built from twenty gauge steel, the Empire has half-inch reinforced bars, a double latching door and has a fully removable and easy to clean tray beneath its grated steel floor, which makes it an ideal den for any discerning hound. It's detachable casters mean that's easy to not only move the Empire around your home, it'll also be just as simple to take it anywhere else you might need to. With the casters on, it's completely mobile and when they're off, the Empire is a solid, stable den for your dog.
Endorsed by veterinarian Doctor Katy Nelson, the host of 'The Pet Show with Dr. Katy', the Empire comes in two sizes, medium for average size dog breeds and large for those bigger dogs looking for somewhere to hang their hat and lay their slippers. It might look a little imposing, to your dog, it's his home.
As ProSelect likes to boast, the Empire is the 'Alcatraz' of dog crates and when your dog goes in, he'll be happy to stay there until it's time for him to come out or for you to let him out. It's the most comfortable, practical, and appealing "jail cell" outside of the Norwegian prison system and comes with a veterinary seal of approval.
It's grated floor and easily removable undertray mean that if your dog has an accident, it's easy to clean. Just take the tray out, wipe it down, clean it off, and slide it back in. It's that simple.
The Empire's detachable casters make it straightforward and painless to move around your home and transport your dog to wherever you need to go. Once it's where you need it to be, just take the casters off and the Empire will remain firmly in place until you're ready to move it again.
The double latch door and twenty gauge steel construction provide all the peace of mind you'll ever need. Once your dog is inside this crate, he'll be snug as a bug in a rug until it's time for him to leave
At around seventy pounds, the Empire isn't light. While it's easy to wheel it around on its casters, getting it into the back of your SUV or Estate vehicle is another thing altogether. You're going to need to be packing some serious muscle to left this mini-Alcatraz.

Then there's the price. At around four hundred and fifty dollars, unless you hound is a seriously talented escape artist, it might be more frugal to look for a cheaper alternative. 

There isn't a cage that's been built that can hold the most determined of escapees and despite what ProSelect says, some reviewers have noted that their dogs have discovered, in some cases incredibly inventive ways, to get out of the Empire. Even Alcatraz couldn't keep all of its prisoners inside its gates.
Our rating:

This solid aluminum crate was designed to be used by the police and the military and can keep even the most wayward of dogs in check while providing a safe and secure environment for them. Fully collapsable, this easy to break down and reassemble crate can be stored in an eight-inch wide gap when not in use and as such, doesn't have to be a  permanent feature in your home.
Its convenient carrying handles make it easy to move around and set-up in your house or car, or even outside. And when it's outdoors and the weather begins to get really hot, thanks to the holes that ventilate the sides and back of the crate, your dog will stay cool inside the crate even though you could fry an egg on its outside.
Easy to wipe down and clean, it's rubber protected and covered corners mean you can easily stack multiple crates on top of each other, and that it won't dig into or damage, wooden or carpeted flooring.  It's a rugged, heavy-duty home away from home that will keep even the most determined and demanding of dogs safe, happy, and secure.
Easy to break down and reassemble, the Extreme Consumer Products crate can be stored in the most surprisingly small of places.
Uncomplicated and simple, this crates accessible carry handles mean that's it effortless to transport it from your home to your vehicle and back again, which makes every dog-centric journey hassle-free and just what it should be. Fun for you and your dog.
The ventilated sides and back mean that your dog will never be too hot or too cold, and the temperature inside of the crate will always be just right.
It's a military-grade crate that's available on the civilian market – it's built to durable, long-lasting, and tough and provide an inviolable space for your best friend.
The Deluxe Rugged dog crate comes in four sizes, so however big or small your dog is, there's a crate that's made just for him.
All of the things that make this crate so remarkable? They'll cost you a pretty penny, with models ranging in price, and size, from four hundred and eighty dollars to just shy of eight hundred dollars. We know that you can't, and won't want to, put a price on your dog's happiness, but be prepared to put your dog first and your bank account second if this is the crate that you've both set your hearts on.

Some reviews have pointed out that the manufacturer isn't exactly supportive or sympathetic when it comes to replacing dog damaged parts of the crate. If your hound possesses the intellect and will of a super-villain and you think that it's even a possibility that you're going to require replacement parts, get ready to dig your heels in to get what you want as they won't give in without a fight.

Our rating:

The second wheeled, supposedly inescapable (in our experience there's no such thing as an escape-proof crate) heavy-duty crate, the Luckup Heavy Duty Dog Crate comes in two sizes, small and large, and retails at half the price of the first choice on our list.
Built from durable, hard-wearing corrosion-resistant steel with a non-toxic finish, the Luckup is made to keep your dog happy. Its casters are fully lockable, so when it's moved into place, it'll stay there, and its grated floor comes with either one (on the smaller model) or two (with the larger model) removable plastic undertray(s) so any mess or accidents can easily be dealt with.
Featuring a large front door and a top that can also be opened, the Luckup is all about ease and accessibility and makes it easy for your dog to get in and out when he needs to and stay firmly locked inside when you need him to. Luckup believes in providing high quality, pet-friendly products that do exactly what they're supposed to do at a cost that'll make you as happy as your new home-owning hound.
The non-toxic finish and the fact that it won't rust is a big plus in our book. Your dog can lick and chew the Luckup to his heart's content and not only will the crate not damage him, he won't damage the crate either.
While it's not exactly inexpensive, at roughly half the cost of the Empire, the Luckup provides the same degree of flexibility at a much more agreeable price.
The lockable caster system it uses makes moving, and positioning, this crate easy. Just push it to where you want it to go, lock the wheels and its job is done.
While we're on the subject of easy, thanks to it's inventive, clever design, the Luckup is also simple and straightforward to assemble.
The Luckup uses a single lock which makes it much easier for a strong-willed dog to bust out of his crate. It might claim to be escape-proof, but the fact that it only has one lock on each of its doors (front and top) is enough to give us serious doubts about the veracity of Luckup's claims.

Once the casters are on, they're on for good and while they're lockable, we can't help thinking that the Empire's removable wheels make it seem much safer and secure than the Luckup. It's probably just paranoia and us over-analyzing the crate based minutiae, but brakes have been known to fail.

Our rating:

If you're looking for a crate for your big dog, then this XL monster is the hound house that you've probably been searching for. Mounted on those lockable casters that as we've previously mentioned always give us pause for thought, this Homey Pet crate is made to make the largest pooches feel comfortable, secure, and completely at ease.
Completely collapsible, it's dual lock front and top doors make getting in and out when they're open simple for your dog, but nearly impossible (remember, there's no such thing as an inescapable crate no matter what the manufacturers say) when they're locked. It also features a front feeding door which makes it simple to slide your dog's food into the crate and retrieve their bowl when they've finished eating.
The best thing about the Homey Pet crate though is the solid plastic, grated (and removable) floor which is softer on your dogs' paws than the metal flooring other crates use. As we said, the casters it uses for mobility are simple to lock in place, and the plastic undertrays that are part of the crate are easy to remove and clean. If you're a fan of the bigger breeds, this Homey Pet crate is exactly what it says it is. Homey, with plenty of space for your dog to enjoy.
Whoever came up with the idea of incorporating a feeding door into the design of this crate was a genius – the bowl goes in, the bowl comes out and any spillage is captured on the trays below.
We're also sold on the idea of the plastic flooring, which is much easier and far more forgiving on your dog's paws.  In fact, we're so taken with it, it's almost enough to make us throw caution to the wind, and suggest that you seriously consider this crate regardless of the size of your dog.
As heavy-duty crates go, this Homey Pets model is one of the most durable that we've come across. It's tough enough to keep the biggest of big dogs secure, and that's nothing to be sneered at. If you like your hounds big, you don't need to look any further, you've found your dog's new heavy-duty crate.
As we mentioned earlier, the Homey Pete uses a lockable caster system, and you already know how we feel about them. Brakes can fail and when they do, wheels roll and crates move.

The only way to safely move this crate around your house, let alone to your car or anywhere else, is by disassembling it.  It's too big to squeeze through doors, which makes it slightly impracticable to use as a travel crate. Size really does matter.
Our rating:

There are heavy-duty dog crates and then there's the SmithBuilt Heavy Duty Dog Crate. It's an all-steel crate with an anti-corrosion, floor and an easy to remove, and even easier to clean, steel undertray. It was designed to be durable and made to last and that's exactly what it'll do.
With a front door that has two lockable bolts and a top door that locks with a single sliding bolt, and an all-weather coating that prevents it from rusting, the SmithBuilt makes sure your dog is comfortable whether it's outside in your yard or inside your house.
It uses a similar lockable caster system to most of the other heavy-duty crates on our list, but while the other crates lock all four wheels, the SmithBuilt only locks two. Don't ask us why we don't know, we're guessing it's a SmithBuilt patent thing. Available in three different sizes, the Smithbuilt is a solid metal, heavy-duty crate that'll stand up to the most destructive of large hounds and won't bend, break or give in to their demands.
It's an all-metal, heavy-duty dog crate that falls in a comfortable price bracket and gets the thumbs up from most dog owners. It does what it says it will and does it at an affordable price.
The fact that SmithBuilt uses a steel undertray with their crate is a welcome bonus as they are, traditionally, far easier to clean than their plastic counterparts.
The dual bolt locking mechanism on the front door also provides additional security as it makes it far harder for clever pups to get out.
Even though it's built from solid steel, no crate is inescapable and some owners have reported that their more driven dogs have managed to make short work of this crate.

And, according to some reviews, SmithBuilt doesn't rate very highly in the aftercare or customer service departments. So if you do have a problem with the crate, don't expect too much help from SmithBuilt.
Why Do I Need A Heavy Duty Crate?

It can take a while for a dog to adjust to new circumstances and while you're trying to crate train your dog, even though you're doing so with the best intentions, your dog probably won't see things from your point of view. Not at first anyway.
That means, in all likelihood, that your dog is going to try to escape from his new crate.  He'll either chew at the hinges and the doors, pull at the bars with his teeth, or attempt to force his way between the joints that bolt it together and the hinged areas that hold the door(s) in place. Dogs are strong and clever and weak crates, those built from plastic and thin metal, more often than not, fall by the wayside in a dog's quest from freedom.
What Should I Look For In A Heavy Crate?

Heavy-duty crates should be made from heavy metal. Ideally, you'll be looking for a crate made from solid steel, the heavier the gauge the better. While bars are more traditional, ventilated, solid steel walls are preferable as they'll keep the temperature of the crate constant but don't provide an option for your dog to try and squeeze between or chew the bars.
Keeping your dogs crate clean is incredibly important, so removable undertrays or trays are a necessity as is a grated floor that allows any mess to pass freely through it onto the tray. The easier the crate is to clean for you, the happier you'll be. And the happier you are, the happier your dog will be.
Ease of transportation and being able to easily move your dog's crate is also something that should be at the forefront of your decision-making process when choosing a heavy-duty crate.   While most crates use lockable casters, removable ones are preferrable as once the crate is moved to whenever it is you're taking it, they can be detached and the crate left safely in place.
Some medium and smaller, crates use handles rather than casters and wheels which while appearing to be more inconvenient, are just the opposite. Handles make a crate far easier to transport and load into, and on, vehicles which in turn makes it far easier to take your dog to the vets or wherever it is you're going. As a rule of thumb, handles are always better than wheels.
While collapsible crates have many advantages, as they're easier to store, they shouldn't be high on your list of options. Your dog's crate is his safe space, and should always be available for, and to, him.
And last, but not least, always remember how clever your dog is. His crate is going to need a locking system that he can't undo. If possible always go for a bolt that slides and twists into its locking position. The stronger and more complicated the lock, the harder it's going to be for your dog to escape from his crate.
Frequently Asked Questions
Which Heavy Duty Crate Is Right For My Dog?

You know your dog as well as he knows you. You know his temperament and you know how intelligent he is. Remember, whichever heavy-duty crate you choose should have adequate room for your dog to be comfortable and he should always feel safe and secure in his crate.
However, if the decision was up to us, we'd always recommend either the Extreme Products Rugged Deluxe or the ProSElect Empire, as even though they're by far the most expensive heavy-duty crates on our list, they're also the best. And your best friend deserves the best, doesn't he? Of course, he does.