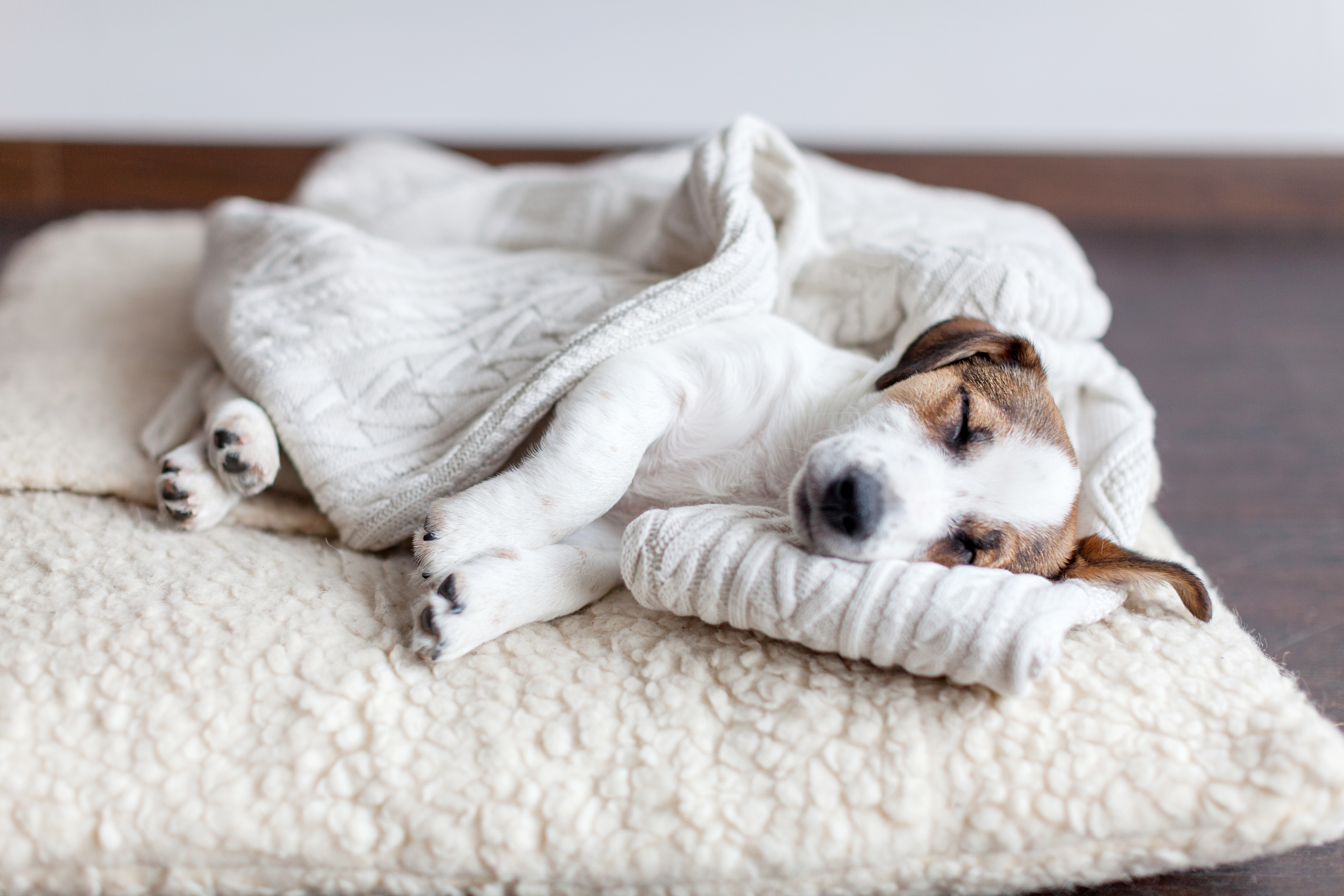 Best Dog Beds for 2019
You probably spend most of your time in your bed than anywhere else and consider a high-quality mattress an essential purchase. You are not the only one who deserves a supportive and comfortable bed – your dog does too. Your dog needs a comfortable place to sleep at night, and providing them with a bed specifically designed for them is one of the best ways to ensure that they have sweet dreams. If you pamper your puppy, your best friend will be cheery the next morning no matter how tiring the previous day was. A good night's sleep is vital for their joint health and overall well-being in the long run. Quality sleep can also help when it comes to training your dog.
Besides helping your four-legged companion feel safe and protected, a bed of their own will keep them off your own bed. Just like dogs, dog beds come in all shapes and sizes. Picking the ideal bed is essential and relies on various factors and how those factors affect you and your dog.  So before you settle on a choice on which dog bed to go with, go through our Buyer's Guide to have a better shot at purchasing the right bed for your canine. The more you know about your furry companion's sleep needs, the easier it will be for you to get the right bed.
Factors to Consider When Buying a Bed for Your Dog
Since there's no shortage of dog beds for sale on online stores picking the best bed for your canine companion can feel like a complicated and time-consuming process. You need to take several key factors into account. There are various styles, sizes and comfort level to pick from, and just like you, every dog has his own unique set of needs and preferences. You may seem lost in the process.
For added comfort and support, it is important that you choose your dog's bed based on his specific dimensions. Dogs, especially puppies and older dogs, can sleep for up to 80 percent of the day, so picking where they spend all that time is no picnic. If you are a parent to a small breed, a sleek design may be the perfect fit for your dog. If your dog is large, it's best to go for a bed that's larger in size, with a high level of cushion to support the extra weight.
Bed shape is another vital consideration. Popular shapes include burrowing, raised and donut-shaped beds. You may also come across orthopedic sofas and cushions specially designed for dogs experiencing joint pain. Joint pain is particularly common in larger breeds and older dogs.
While some models may cost hundreds of dollars, budget-minded dog owners can find the right bed for less than $100. While we advise against going for the cheapest options, you don't have to break the bank to get a bed your dog will love. Unfortunately, many folks go out and purchase the first dog bed they see in a store. The best dog beds are easily washed, durable and provide strong support.
Best Dog Beds for 2019
To help you simplify the process, we scoured the internet and narrowed down 1000s of dog beds to present you 5 of the best dog beds currently on the market. We will discuss the functions and features of each bed. Our choices are based on intensive product research and analysis, and verified owner experiences.
DogBed4Less Orthopedic Memory Foam Dog Bed
Sale
Dogbed4less Premium Gel Memory Foam Dog Bed, Durable Denim Cover with Waterproof Liner and Extra Pet Bed Case, 35"X20"X4" Small to Medium Pet
SMART DESIGN - This bed comes with x1 gel cooling memory foam pad, x1 Water proof internal zipper cover, x1 Denim external zipper cover + x1 Free bonus MicroSuede brown external case. Ideal for small to medium size dog: 35 x 20 x 4 inch can easily hold 150+ pounds.
EASY TO CLEAN DENIM COVER - Machine washable heavy weight jeans denim cover in navy blue color. Second layer waterproof liner easily combat accidents and keep your dog's bed looking and smelling fresh and clean. The bonus MicroSuede brown second cover is a great replacement while you need to clean the denim cover.
TRUE ORTHOPEDIC MEMORY FOAM DOG BED - Unlike other lower cost multi-layer partial memory foam, we do not cut corners and only offer 3.2 lbs high density solid memory foam similar to high end human therapeutic mattress stores to promote deeper sleep and healthy joint for many years.
SUPERIOR MATERIALS - Better than your average human grade mattress with conforming therapeutic comfort to reduce joint pain (arthritis) and improve health, mobility, & energy. Pad will not flatten overtime to contours to your dog's figure and improve body alignment.
GIFT THE BEST - Full layer of true therapeutic memory foam + heavyweight cover, quality construction and smart features providing many years of comfort and support with excellent value for your money. Try it yourself and you will love it too.
Topping our list is this beauty built with 4 inches of hypoallergenic memory foam. With this bed, you'll never have to worry about your furry companion sinking to the floor on an unsupportive mattress. This dog bed comes with 2 covers, a washable denim outer layer and a waterproof inner layer. This means that it has the durability to withstand continued washes. So what makes the DogBed4Less a worthy contender? For starters, this reasonably priced bed is entirely made from memory foam to provide more support and relieve joint pain. Most cheap beds feature a top layer of memory foam. Other layers are made of cheap materials. It is an ideal choice for dogs suffering from hip dysplasia, arthritis, and generals pains associated with old age. The dual cover design provides protection to the foam.
PetFusion Ultimate Dog Bed
PetFusion Ultimate Dog Bed, Orthopedic Memory Foam, Multiple Sizes/Colors, Medium Firmness Pillow, Waterproof Liner, YKK Zippers, Breathable 35% Cotton Cover, Cert. Skin Safe, 3yr Warranty
PREMIUM COMPONENTS & BETTER HEALTH: (i) The SOLID 4 inch MEMORY FOAM in our orthopedic dog bed provides an ultra premium base for superior overall comfort, reduced joint pain (arthritis) and improved health, mobility, & energy. (ii) Comforts as a Calming dog bed for dogs who suffer from anxiety. (iii) Recycled 'green' support bolsters are generously filled. (iv) Durable & comfortable polyester (65%) & cotton (35%) twill
SMART DESIGN: (i) Large dog bed base & bolsters provide optimal support, comfort, & security. (ii) Water resistant & tear resistant cover work simultanously with our waterproof dog bed liner. (iii) Non-skid bottom. (iv) Blends in seamlessly with your home. (v) Replacement pet bed covers available separately
PEACE OF MIND: (i) The Certi-PUR-US Memory foam used in our orthopedic dog bed for medium and large dogs has NO mercury, lead, formaldehyde, phthalates, & ozone depleters. (ii) Low VOC emissions for indoor air quality keeps your pup safe while resting. (iii) Passes stricter European REACH safety standards. (iv) Cover fabric certified as 'SKIN CONTACT SAFE'.
IDEAL FOR MEDIUM / LARGE OR MULTIPLE SMALLER DOGS: (i) 36 x 28 x 9 inches. Can easily hold 100+ pounds. (II) [Search Pet Fusion x large pet blanket for new matching blanket]. Age range description: All Life Stages, included components: Memory foam orthopedic dog bed mattress, waterproof dog bed foam liner, Removable & washable cover, Polyfilled bolster cushion, material type: polyester (65%) & cotton (35%) twill; Cotton; Polyester
WHAT YOU SHOULD KNOW: (i) 'Bolsters' pre-loaded into cover, simply insert memory foam base & zip closed. (ii) EASY TO CLEAN, machine washable dog bed cover is removable making cleaning a breeze. (iii) Simple to spot clean & remove hair. Tumble dry on gentle setting. Do not use bleach when washing. (iv) 36 Month Warranty on any part that is broken due to manufacturer defect.
This feature-packed bed is made of quality memory foam to help improve mobility, increase energy and reduce joint pain as your dog sleeps better. It comes in 4 sizes: Small, Large, Extra-Large and XXL Jumbo and 3 colors: Chocolate Brown, Sandstone and Slate-Gray. The foam has been analyzed by 3rd-party, independent testing laboratories for quality. The waterproof liner that comes with the bed ensures that in case an accident occurs, the memory foam will be protected. The non-skid bottom will come in handy if your pup is active and likes to play. With this bed, you are offered a 30-night trial, 2-year warranty. Some users complained that the bed's outer material tends to collect some serious dog hair.
Big Barker 7-Inch Pillowtop Orthopedic Dog Bed
Big Barker 7" Pillow Top Orthopedic Dog Bed for Large and Extra Large Breed Dogs (Sleek Edition) (Large (48 x 30 x 7), Khaki)
CALIBRATED FOR BIG DOGS: Available in Large, XL, Giant XXL dog bed sizes. Too powerful for small dogs.
CLINICALLY PROVEN: University of Pennsylvania study data showed less pain, more mobility after using a Big Barker for just 28 days.
10 YEAR WARRANTY: American made therapeutic foam is the best quality you'll find in orthopedic dog beds. Won't flatten or pancake over time.
MADE IN THE USA: Handmade by experienced craftsmen and craftswomen in our small Pennsylvania workshop.
EASY TO CLEAN: machine washable. 100% Micro-suede cover. Soft to the touch, looks great in your home.
This bed is made from 7 inches of high-quality and dense orthopedic foam that offers comfortable support to your pooch's joints. The American-made therapeutic foam layers are arguably the highest quality you'll find in the market. It meets CertiPUR-US standards for durability, content and emissions. The foam will allow big breeds to sink in and get up without much struggle, and won't flatten over time. By spreading your dog's weight evenly across the bed, your dog will enjoy comfortable support to his joints. Right from the box, you will get a machine washable external cover that can be easily removed using the zip. The bed is available in 3 sizes: Large, Extra Large and Giant and 4 color variations: Khaki, Chocolate, Burgundy and Charcoal Gray. The price may be a bit high, but the bed is worth every cent with guaranteed usage of up to 10 years. The manufacturer claims that the bed will retain 90 percent of its original shape for 10 years.
MidWest Deluxe Bolster Pet Bed
Sale
One of the comfiest-looking dog bed in our list is the Midwest Deluxe Bolster Pet Bed. This bed is made from a padded polyester cushion and cozy fleece cover that provides optimum temperatures in both warm and cool weather. This means that your dog is sorted out all year round. Ideal for in-home use, you can use it on its own or inside a crate. The raised edges on the sides provide a comfortable place for your pup to rest his head. Available in 4 colors – Original, Pearl Gray, Cinnamon and Blue, this bed is machine washable and dryer friendly. When you need to clean it, you can just put the whole thing into the washing machine. The only downside to this bed is that the fabric isn't durable enough to handle chewing. It is, therefore, not the best choice if your dog loves to chew.
BarksBar Snuggly Sleeper
BarksBar Large Gray Orthopedic Dog Bed - 40 x 30 inches - Snuggly Sleeper with Solid Orthopedic Foam, Non-Slip Back
Large Orthopedic Sleeper: 40" x 30" x 10" - Ideal for Medium to Large size dogs and also great for multiple smaller dogs. Can easily hold up to 100+ lbs and fitted for pets up to 36" in length.
Inner Dimensions of Sleeping Space: 36" x 24" - Crafted with top-of-the-line workmanship and premium materials, it is built to both provide the ultimate sleep experience with superior overall comfort and to last. Perfect for dogs of any ages, especially older dogs with joint, bone or arthritic problems.
Premium Materials include: (1) Ultra Soft Polyester Cover with a luxurious quilted design, (2) 3.5" of Solid Orthopedic Foam base for the optimal balance of comfort, reduced joint pain and improved health & mobility. (3) Extra Comfy Cotton-Padded Rim cushion to instantly contour to your pet's neck and provide constant support and decompression for ailing necks and heads.
Sleek and Luxurious quilted design to improve any family's home decor. Comes with a built-in nonslip rubber backing on the bottom side of the cover to prevent any sliding on wooden and tiled floors.
Easy to clean & maintain: Removable and Machine-Washable cover. Simply put it on gentle / delicate cycle. Even easier to spot clean and remove hair.
If you're in the market for a relatively inexpensive bed, the BarksBar is a great choice. This budget-conscious, yet still high-quality bed is great if your furry companion loves to snuggle up and feel secure when asleep. Suitable for medium to large sized dogs, this bed features a cotton-padded rim cushioning around the sides. The cushioning is designed to contour to your dog's neck. The bed can accommodate dogs up to 36 inches long and 100 pounds with ease. To prevent the bed from sliding across tiled or wooden flooring, there's a non-slip rubber backing on the bottom. BarksBar Snuggly Sleeper has a removable, machine-washable cover that's easy to clean. It is recommended that you air-dry it instead of putting it in the dryer.
Conclusion
Making your dog sleep on the floor may have seemed like a good idea in the beginning. This may be attributed to the fact that many dogs don't mind sleeping wherever they find an empty space. But now you know that an uncomfortable sleeping can reduce sleep quality and leave your dog feeling irritable the next day. If you change your mind and decide to buy your dog a cozy bed of their own, our list is a good place to start.