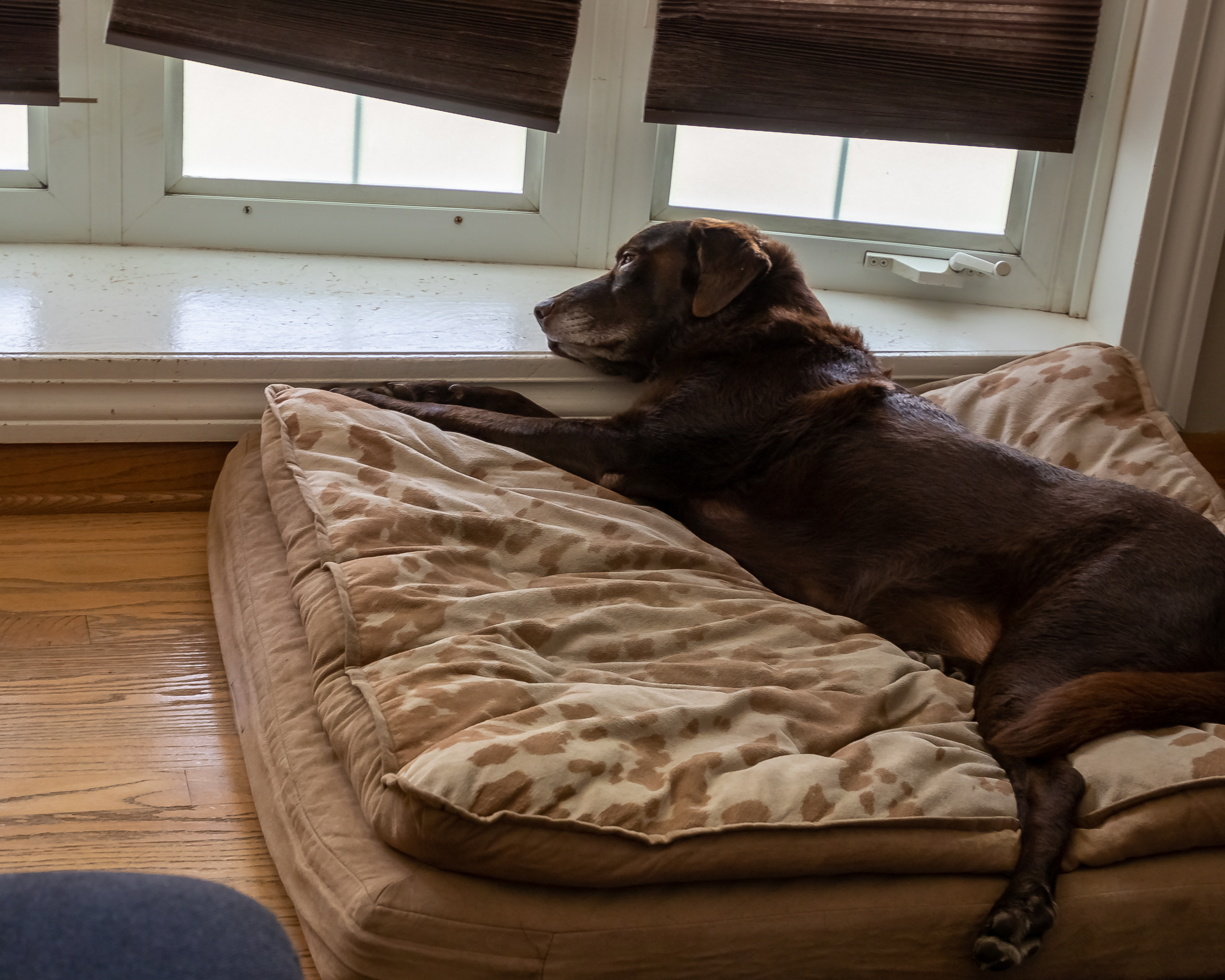 Best Orthopedic Dog Bed of 2020
Complete Reviews with Comparisons
Do you have an older dog, or maybe one that suffers from some kind of painful condition? If so, they probably need a really supportive dog bed, but finding the right one is easier said than done. We are here to help you by taking a look at some of the top contenders for the best orthopedic dog bed on the market.
Best Orthopedic Dog Beds: Reviews
Better World Pets Orthopedic Dog Bed
Better World Pets 5-inch Thick Orthopedic Dog Bed | Pure Premium Shredded Memory Foam Ideal for Aging Dogs | Waterproof Removable Washable Cover
SUPREME COMFORT: Our 5" thick pet bed provides premium comfort to your pup by cusioning pressure points to relieve discomfort from arthritis, hip dysplasia, and more. Includes a durable cover, waterproof lining, and non-skid bottom for added security.
CLEAN DESIGN: A sleek silhouette that easily fits into tight spaces, this ortho dog bed combines form and function. The modern design and colors are easily maintained with a 2sided, zippered cover for easy washing.
SUPPORT AND SOFTNESS: The 100% shredded memory-foam fill is densely packed to provide both pampering softness without losing firmness. Result: a flexible bed that transports easily and keeps its shape nicely.
1 YEAR MONEY BACK GUARANTEE: If you're not completely satisfied within 1 year of delivery, return your Better World dog bed for a full refund of your purchase price - no questions asked!
HELP PROTECT ANIMALS NATIONWIDE: We donate 10% of our profits to the Humane Society of the United States; America's largest animal-protection organization, so you can feel good about!
Our first offer is a moderately expensive orthopedic dog bed that comes in a variety of sizes and will keep your dog comfortable no matter what.
Review
The Better World Pets Orthopedic Dog Bed is a full 5 inches thick and is made with premium memory foam. It's more than thick, soft, and supportive enough to keep dogs with various ailments, or just old dogs, as comfortable as can be. The memory foam is long-lasting and should always bounce back into shape, and it's quite durable too.
This dog bed comes in 4 sizes for various dog breeds. Moreover, it features a waterproof liner, so the foam on the inside never gets wet, plus the outer cover can be easily removed for washing. The bottom of the Better World Pets Orthopedic Dog Bed is non-skid, so it won't slide all over the floor when your dog is on it.
Pros
Various sizes
Waterproof liner and washable cover
Non-slip bottom
Cons
Furhaven Dog Bed
Sale
Furhaven Pet Dog Bed - Deluxe Memory Foam Mat Ultra Plush Faux Fur Traditional Foam Mattress Pet Bed with Removable Cover for Dogs and Cats, Chocolate, Large
DESIGNED FOR PETS: The classic pet bed mattress design gives both dogs and cats plenty of room to sleep in a variety of different positions, with the gusseted sides providing additional cushioned loft for enhanced nestling and lounging comfort
SLEEP SURFACE: The main sleep surface is lined with thick, cuddly soft, plush curly faux fur that is gentle on noses and paws for enhanced snuggling comfort
EASY ON JOINTS: The memory foam top contours to your pet's figure to cushion pressure points, relieve joint pain, and improve body alignment to help ease discomfort and encourage restful sleep
PRODUCT DETAILS: Chocolate; Large, 36" x 27" x 3"
AVAILABLE VARIANTS: The bed comes in Cream, Chocolate, and Gray; it's also available in Small, Medium, Large, Jumbo, and Jumbo Plus
This is a much less expensive orthopedic dog bed that comes in a variety of sizes, types, and with different fillings too.
Review
The Furhaven Dog Bed comes in 5 different sizes, so will be able to find one to fit your pooch, plus it comes in a number of colors. What is really cool is that you can choose the filling. You have a choice of gel foam, memory foam, and orthopedic foam, so you can select a normal one for healthy dogs, or one of the more specialized foams for older or ill dogs.
The Furhaven Dog Bed comes with a special foam cover intended to increase softness and to evenly displace weight, which is great for ill or older pooches. The sleeping surface is very soft, it is gentle on the nose for dogs, and the cover is removable and washable too. All that said, the Furhaven Dog Bed is not very durable and if you have a dog that likes to chew, it won't last long.
Pros
Various sizes and colors
Various filling materials
Washable cover
Affordable
Cons
Limited durability
Non-waterproof liner
Dogbed4less Orthopedic Dog Bed
Sale
Dogbed4less Jumbo Orthopedic Memory Foam Dog Bed for Large Dogs with Durable Denim Cover, Waterproof Liner and Extra Pet Bed Case, 55X47X4 Inches
SMART DESIGN - This bed comes with x1 gel cooling memory foam pad, x1 Water proof internal zipper cover, x1 Denim external zipper cover + x1 Free bonus MicroSuede brown external case. Ideal for the largest XL size or multiple large dogs: 55 x 47 x 4 inch can easily hold 150+ pounds.
EASY TO CLEAN DENIM COVER - Machine washable heavy weight jeans denim cover in navy blue color. Second layer waterproof liner easily combat accidents and keep your dog's bed looking and smelling fresh and clean. The bonus MicroSuede brown second cover is a great replacement while you need to clean the denim cover.
TRUE ORTHOPEDIC MEMORY FOAM DOG BED - Unlike other lower cost multi-layer partial memory foam, we do not cut corners and only offer 3.2 lbs high density solid memory foam similar to high end human therapeutic mattress stores to promote deeper sleep and healthy joint for many years.
SUPERIOR MATERIALS - Better than your average human grade mattress with conforming therapeutic comfort to reduce joint pain (arthritis) and improve health, mobility, & energy. Pad will not flatten overtime to contours to your dog's figure and improve body alignment.
GIFT THE BEST - Full layer of true therapeutic memory foam + heavyweight cover, quality construction and smart features providing many years of comfort and support with excellent value for your money. Try it yourself and you will love it too.
Here we have a very expensive orthopedic dog bed, but it is high-quality, luxurious, and definitely built for maximum comfort.
Review
When it comes to the ultimate in comfort, the Dogbed4less Orthopedic Dog Bed is probably one of the best options, as it comes complete with a gel-infused memory foam bed that is 4-inches thick, more than enough to provide comfort for any dog. What is also really nice about the Dogbed4less Orthopedic Dog Bed is that it comes complete with a waterproof lining so the inside doesn't get wet, plus it also comes with 2 different washable covers.
This dog bed has a special cover meant for cooling, so it helps your dog stay cool even when it's warm out. The Dogbed4less Orthopedic Dog Bed is also one of the most durable options as far as we can tell, plus it also comes in a number of sizes for different dog breeds.
Pros
Super plush and thick
Comes with 2 covers and a waterproof liner
Covers are washable
Cooling covers
Various sizes
Cons
Serta iComfort Sofa Pet Bed
Here we have another fairly expensive option, although it does have some really cool features that your dog will love.
Review
The reason why this is called a sofa dog bed is because it comes with an awesome backrest and side rests, so your dog can get really comfy, snuggle up, feel at home, and lean on the sides. Most dog beds don't have walls, but this one does, and it makes dogs feel at home due to this. The Serta iComfort Sofa Pet Bed only comes in large sizes, so it's not great for small dogs, but other than that, it's a perfectly fine option.
We like how this item comes with a removable zipper cover that is machine washable, but a downside is that it does not have a waterproof lining, so the inside material may get wet. Speaking of the inside material, the Serta iComfort Sofa Pet Bed comes with dual-action cooling and supportive memory foam to keep dogs as comfortable.
Pros
Has walls
Removable and washable cover
Very thick and plus
Cooling cover
Cons
Only available in large-dog sizes
Milliard Premium Orthopedic Dog Bed
Sale
This is one of the more affordable orthopedic dog beds on our list today, and although it's not pricey, it still gets the job done.
Review
The Milliard Premium Orthopedic Dog Bed features 4 inches of premium memory foam which is about as soft, plush, and supportive as can be, and it always bounces back to shape.
This item comes with a cover that is removable and machine washable for easy cleaning, although it does not have a waterproof liner. What is nice is that the Milliard Premium Orthopedic Dog Bed features rubber grips on the underside so it won't slip around. It comes in 4 sizes so you should be able to find a size that will fit your dog's size. It's not the most durable option, but it also won't cost you a fortune.
Pros
Washable cover
Thick and luxurious memory foam
Non-slip base
Affordable
Cons
Could be more durable
Could use a waterproof liner
Conclusion
When all is said and done, what you need to consider is how much you want to spend and how much support your dog needs. When you have both of these things figured out, you can then go ahead and make your selection of the best available bed.