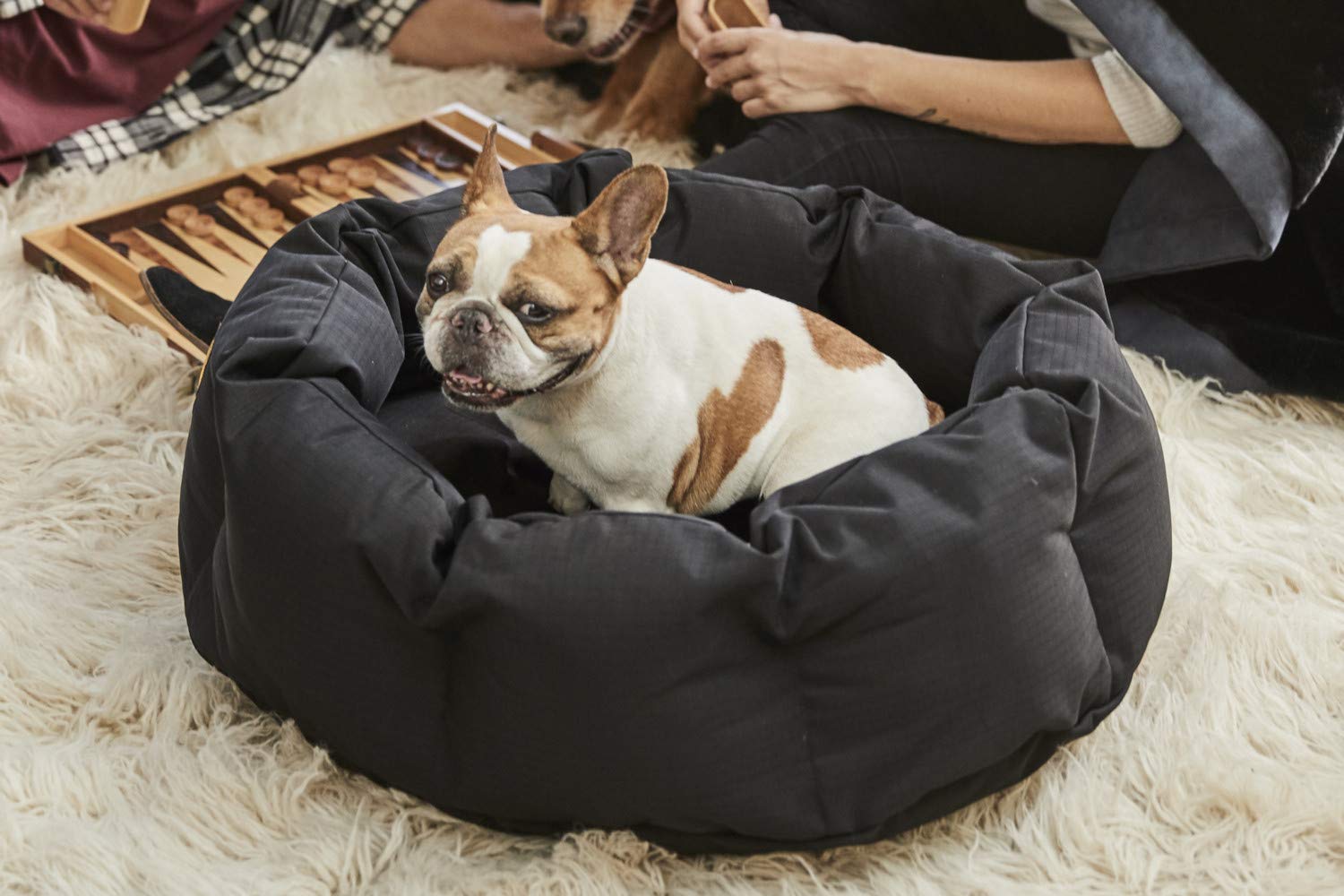 K9 Ballistics Deep Den Dog Bed Review
K9 Ballistics Round Dog Bed Deep Den, Bagel, Donut, and Deep Dish Style for Cuddler, Machine Washable (Black Small 24" x 20" x 8")
CHEW PROOF RATING: 3/5; the number of raised edges and corners on this bagel shaped dog bed gives chewing dogs too many places to latch onto and do damage. This round dog bed is ideal for LIGHT chewers and diggers only. For a heavy chewer or very destructive dog, please consider our Chew Proof Elevated Dog Bed.
Bagel and donut shaped dog beds offer a sense of security and comfort for dogs who love to cuddle. Often called deep dish dog beds, our design with this Deep Den Dog Bed allows your dog to snuggle into 360 degree bolstered comfort.
We removed all zippers and Velcro to make this a very durable dog bed. The proprietary RipStop Ballistic Material resists destructive behaviors such as chewing, scratching, digging, and general roughhousing. This is a truly durable round dog bed!
This bagel dog bed is machine washable. The inner round dog mat is easily removed and spot cleaned or tossed into the washing machine. The high bolster walls of this dog bed can be machine washed in larger washing machines, or wiped clean with ease.
This bagel dog bed features RipStop Material on the outside; Velvet may be present on interior depending on color selected.
Most dog beds are in a square or rectangular shape. If we're lucky, some of them will come with a pillow or two. Now, what if your dog is the type that loves to dig a hole and lay in it? Or if he's someone who enjoys his nooks a little cozier than others? That's where the circular Deep Den Dog Bed by K9 Ballistics becomes the perfect choice for you.
In this article, we are going to take a closer look at this uniquely designed dog bed. We'll be listing all of its different features, pros, and cons, as well as compare it with a similar product. Finally, we'll provide you with our final verdict in hopes to give you a better idea of whether this dog bed is a worthy purchase.
Deep Den Dog Bed by K9 Ballistics
K9 Ballistics is a trusted company that is dedicated to making high-quality dog beds made out of non-toxic materials. They pride themselves in making really durable pet gear. In fact, the dog bed that we are going to feature today is incredibly tough itself.
Features
Made with K9 Ballistic's proprietary ripstop ballistic material
This means that this product is mostly resistant to light chewing and scratching. In fact, it has a chew-proof rating of three out of five, which makes the item a perfect choice for average chewers and diggers out there.
The shell is woven with their exclusive Ripstop pattern.
This design makes the outer shell of the bed tear-proof, and if it does tear, the pattern prevents those small holes from growing into larger ones. Aside from that, it also makes the bed waterproof, allowing you to shake off most debris and other elements, like fur and dander, easier.
We have already shared with you the unique design of this dog bed. Basically, it looks like a deep hole of foam with foam walls raised on all sides. Some dogs find the raised-wall design to be cozier compared to the usual flat rectangular bed.
We know how some dog owners prefer removable covers, but we find them less durable since dogs can find these zippers and Velcro very satisfying to nibble on. Don't worry about washing this dog bed, though. If you do need to wash it, know that it is machine-washable.
Thanks to the material and special weaving that this dog bed was made from, cleaning it is a real breeze. We do understand, though, that you might be concerned if the piece that you take home won't fit your washing machine. Don't worry, you can hose this down and not damage it.
For deeper cleaning sessions, the bottom pad can be disassembled from the high walls. This will allow you to wash them separately.
Available in four different sizes and colors.
These are small, medium, large, and extra-large. As for the colors, these are Black Ripstop, Green Camo Ripstop with Brindle Velvet, Pewter Grey Yellow Bottom, and Lattice Ripstop with Brindle Velvet.
The only downside that we've found with this dog bed is the fact that the chew proofing features lead some users to think that this product will survive heavy chewing. For really excessive chewers, K9 Ballistics recommends another product, their Ballistic Chew Proof Cot that they claim is virtually indestructible.
Pros
Comfortable
Easy to clean
Comes with a 90-day chew proof warranty
Con
Not meant for really heavy chewers
Summary
The Deep Den Dog Bed by K9 Ballistics is really an impressive dog bed. It is very durable, thanks to its propriety ballistic ripstop material made from their signature ripstop weaving pattern. Unlike other dog beds, which can easily get damaged by even the lightest chewers, this bed can certainly put up a fight.
We also appreciate the easy-to-clean features of this product. It is machine-washable, and you can disassemble the parts to wash them separately. If it still doesn't fit your washing machine, then you can take it out to your yard and hose it down. You will find the debris and dirt collected by the bed can be easily wiped down or shaken out anyway.
Finally, the 90-day warranty is a great guarantee that if this dog bed doesn't suit the chewing level of your dog, you can get it replaced for free. Please take note, though, that this was designed to withstand light to average chewers. For heavy and destructive chewers, you must opt for K9 Ballistics' Chew Proof Cot instead.
The Deep Den Dog Bed vs. Other Similar Dog Beds
BarksBar Large Gray Orthopedic Dog Bed - 40 x 30 inches - Snuggly Sleeper with Solid Orthopedic Foam, Non-Slip Back
Large Orthopedic Sleeper: 40" x 30" x 10" - Ideal for Medium to Large size dogs and also great for multiple smaller dogs. Can easily hold up to 100+ lbs and fitted for pets up to 36" in length.
Inner Dimensions of Sleeping Space: 36" x 24" - Crafted with top-of-the-line workmanship and premium materials, it is built to both provide the ultimate sleep experience with superior overall comfort and to last. Perfect for dogs of any ages, especially older dogs with joint, bone or arthritic problems.
Premium Materials include: (1) Ultra Soft Polyester Cover with a luxurious quilted design, (2) 3.5" of Solid Orthopedic Foam base for the optimal balance of comfort, reduced joint pain and improved health & mobility. (3) Extra Comfy Cotton-Padded Rim cushion to instantly contour to your pet's neck and provide constant support and decompression for ailing necks and heads.
Sleek and Luxurious quilted design to improve any family's home decor. Comes with a built-in nonslip rubber backing on the bottom side of the cover to prevent any sliding on wooden and tiled floors.
Easy to clean & maintain: Removable and Machine-Washable cover. Simply put it on gentle / delicate cycle. Even easier to spot clean and remove hair.
Due to the unique deep design of this dog bed, the closest piece we have found that we can compare it with is BarksBar's Orthopedic Dog Bed. It also has a bolster wall surrounding the entire bed. It is important to note, though, that this piece is rectangular in shape like most dog beds out there, and that its bolster wall doesn't really go as high as the Deep Den Dog Bed.
They also don't share the same focus when it comes to features. The Orthopedic Dog Bed by BarksBar, for instance, doesn't really say much about durability and chew-proofing. Instead, its primary features focus on its therapeutic mattress and nonslip bottom, which targets to aid dogs suffering from joint pains and other related medical conditions.
To make a long story short, the Deep Den Dog Bed is simply so unique that it can be difficult to gauge it against other dog beds out there.
Verdict
If you want a unique dog bed with chew-proofing and easy-to-clean features, then you should definitely try this dog bed for your pet. The circular high-wall design is a rare find, and we think that your dog will appreciate the natural sensation of sleeping in it. It will be almost as if he dug a hole of foam and slept on it.
We were really impressed by the quality of this dog bed, and we'll definitely keep an eye out for other pet furniture products by K9 Ballistics in the future.