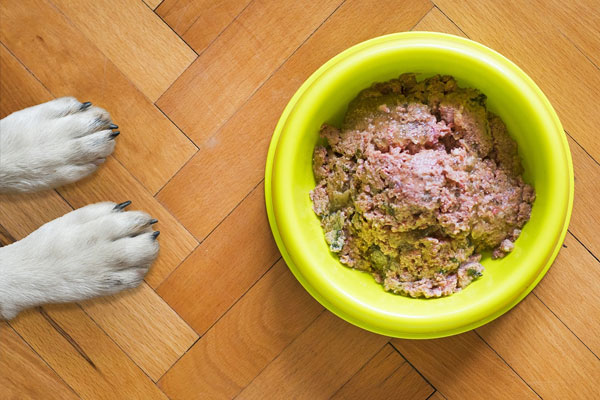 Best Canned Dog Food For Senior Dogs
We all have dogs that we love like family members, bringing them up as if they were children from when they were puppies. But like their human masters, dogs can feel the effects of aging. This is why it is important to consider a dog's diet when buying his food, as the wrong kind of dog food will negatively affect their health.
When they reach that ripe old age, dogs get a lot slower, put on more weight, sleep all through the day. This is because, as much as we might not want to admit it, dogs can be stricken with a whole host of age-related conditions such as obesity, heart and joint conditions and digestive problems. Perhaps your dog has suddenly gone off their favorite dog food and you're currently scratching your head and wondering why.
Quick Navigation
[ez-toc]
Luckily, a lot of companies that manufacture dog food have considered your dog's health already and are starting to make dog food with a much lower calorie count, thus reducing the risk of your dog becoming obese, which will lead to further health problems.
But which dog foods will be most suitable for your dog breed? How can you reduce the ill-effects of heart disease and diabetes in your four-legged friend? What ingredients are potentially harmful to pooches across the board?
We know how stressful it can be when thinking about the health of a beloved pet, so we've compiled a list of some of the very best canned dog foods for senior dogs, as well as a handy buyer's guide and some frequently asked questions about dogs and their diets.
In a hurry? This is our winner!
Our rating:

Best Canned Dog Food For Senior Dogs – Comparison Table
Best Canned Dog Food For Senior Dogs – Reviews
Our Pick
Our rating:

First, we have a dog food brand that comes very highly recommended by dog owners and canine dietary specialists alike, this is literally one of the beefier brands we have on our list – introducing the sophisticated-sounding Hill's Science Diet Healthy Cuisine.
This dog food contains mainly beef, which is extremely high in essential animal proteins that are the building blocks for your dog's muscle tissue.
Hill's Science Diet contains both natural minerals and vitamins as well as artificial ones. The natural sources are the beef and a plethora of healthy vegetables. This dog food also contains high amounts of antioxidants, which is particularly beneficial for dogs who have heart and/or liver disease.
However, this product does contain a lot of beef and chicken fat, which isn't great for dogs looking to shed a few pounds. Also, a few users have complained of spoilage in the product when it arrives by mail, meaning that this canned dog food cannot be stored for as long as other brands.
With a high quantity of beef protein, this is the perfect doggy dinner for canines who have muscle or joint issues. It is also perfect to maintain the overall health of your cherished pet.
The texture of the ground beef makes it very easy to digest, which is good for alleviating any digestive pain that some older dogs might be suffering from.
The bite-sized chunks make for easy chewing, reducing pain and loss of appetite in dogs suffering with gum disease.
Brimming with vegetables, this dog food contains plenty of vitamins, minerals and antioxidants that help keep older dogs healthy.
The high-fat content might deter dog owners who have been advised that their dog loses some weight.
Our rating:

Next up we have a cheaper option from another well-renowned brand. Environmentally and economically-conscious, this dog food is both cheap and uses no meat by-products – it's the Purina One Smartblend dog food.
The target market for the Purina One is overweight dogs, which explains the use of lamb instead of beef, as the former is very lean. However, as older dogs tend to put on weight a lot easier, this brand is perfect for dogs who need to lose a few pounds.
The primary lamb content also means that this food is very high in protein, guaranteed to help replace your dog's fat store with healthy muscle. It also contains antioxidants and healthy omega 3 fatty acids, which is incredibly beneficial for a dog's mental wellbeing as well as maintaining healthy joints.
However, one of the few minor downsides is that dog owners have reported an increased level of digestive gasses produced by their pet after consumption.
This is a much cheaper option than a lot of the other brands on this list, perfect for owners on a budget or those who prefer to buy their dog food in bulk.
The leaner lamb component of this dog food will reduce fat, resulting in weight loss and improved health for dogs suffering with digestive issues, heart and liver disease.
Omega 3 fatty acids are excellent for improving your dog's brain and joints.
A higher level of digestive gasses is reported in certain cases.

There is a reduced range of vitamins in this dog food compared to other brands.
Our rating:

Now we move on to a top-of-the-range dog food brand with excellent ratings from dog owners across the country. However, with high-quality ingredients also comes a high price tag, it's 100% natural and will be so healthy for dogs of all ages – it's the Wellness Senior Formula Dog Food.
Wellness boasts that its senior formula contains everything your older dog will need to boost its immune system, improve digestion and keep it's coat glossy and healthy-looking. With its protein-rich chicken and carb-heavy sweet potato mix, it is hard to see how this dog food won't give your dog the lift it needs in its later years.
The nutrient profile of this dog food is second-to-none – it has a very low calorie count, with the sweet potato and veggie mix making it very high in fiber, this product is highly rated by the veterinarians and dog health specialists.
However, with such a good standard of dog food, you'll be paying more than the standard price. This might deter dog owners who are on a strict budget.
This is the upper level of dog food health, with a scientifically-honed set of ingredients that gives your elderly dog the vitality and resilience it needs in its twilight years.
There are a whole host of health benefits in the Wellness Senior Formula – dogs with heart and liver disease, arthritis and digestive issues will notice an immediate difference after a few weeks of eating this product.
Without any artificial ingredients, this product goes above and beyond to ensure that your dog gets a premium natural diet without any of the painful side-effects.
The price tag will cause people on a tight budget to pause. However, if you can afford to mix this can in with your usual dog food, you should.

This can is also without any omega 3 fatty acids, which can be essential for treating canine cognitive disorders and strengthening weak muscles.
Our rating:

Like some of the other dog foods on this list, this next product isn't necessarily aimed at senior dogs, but has an excellent nutrient profile that will undoubtedly benefit an older dog with specific health requirements – introducing the Nulo Freestyle Grain-Free Adult Turkey/Cod.
This one is cheaper than our previous dog food, although it still hovers in the higher price range. The main component of this dog food is turkey, as well as mixed vegetables. With a healthy dose of protein and fiber, this dog food is low in calories and carbohydrates.
Filled with natural vitamins, minerals and antioxidants, the Nulo Freestyle has zero artificial preservatives, which will give comfort to those dog owners whose pets are in precarious health.
The few drawbacks of this high-quality dog chum is the lack of fiber, which might upset the stomachs of dogs with digestive problems.
With a precision-balanced mix of protein and fiber, along with its low calorie and carb levels, this is perfect for any dogs that want to lose weight and increase muscle tone.
The turkey and vegetable composite as well as no natural additives will mean that you don't have to worry about your dog's delicate digestion.
The price might still be a little steep for dog owners with animals who only have minor health issues. It might be worth consulting a veterinarian first, so you can rule out specific ingredients irritating your dog's health.

The Nulo Freestyle doesn't contain much in the way of fiber, so if you have dog's with particular digestive issues, you might want to seek out a more fibrous brand of dog food.
Our rating:

Finally, we have another cheaper option for those dog owners looking to spare a few dollars. However, this does not mean that this brand uses lesser-quality ingredients such as offcuts from the meat factory floor – it's the very popular Purina Pro Plan Focus (7+).
With its principal ingredient being whole beef, this dog food has high protein and fiber content, it is also very low in fat, which will benefit dogs who have weight concerns. It all comes served in thick, delicious gravy, which will hopefully mean that your dog has no trouble wolfing down this one!
Because of the sheer variety of ingredients on offer here, it might be worth checking whether your dog has allergies or not, as some parts of this meal might aggravate such allergies. If your dog has intolerances to certain foods, this might take a little longer to become apparent. If you are transitioning your dog foods, it might be worth giving them a small sample first, to see if they show any signs or symptoms, such as nausea or loss of appetite.
A nutrient-rich doggy dish, this is perfect for those dog owners who want to get the balance right between health benefits and price.
With a low-fat content, this is ideal for dogs suffering from weight issues. The gravy will also help fussier dogs used to a very flavorful diet.
Soft and chewable for dogs who have mouth and digestive issues.
Some of the supplements in this dog food could be potentially harmful to dogs with specific allergies and intolerances. Consult with your vet before switching dog foods to see which ingredients are the most harmful.
Best Canned Dog Food For Senior Dogs – Buyer's Guide
Unfortunately, older dogs develop a raft of health issues as they approach late age, with obesity and joint ailments being amongst the most common. These health problems can lead to much more serious issues down the line, heart and liver disease, arthritis and kidney failure. Spotting these problems and remedying them through diet can increase your dog's lifespan from a few months to a couple of years.
Here follows a list of some of the most common health issues in dogs, along with dietary changes which will help you treat them.
Diabetes
Slower absorption of food is crucial in dogs with diabetes, as when the food digests over a longer period, the increase of blood sugar is a lot more steady, causing far less dangerous spikes in blood sugar levels.
Low fat and high fiber foods are best to give dogs with diabetes, although you should consult with a vet first before switching your dog food.
Obesity
Like elderly humans, elderly dogs have a decreased activity level. If your dog is old, you've probably already noticed that they are a lot less quick in running for the ball or jumping up to greet you at the door. Whilst this is always sad to see, dog owners can increase a dog's energy levels and control their calorie intake to avoid it becoming obese.
Obesity can lead to a whole host of health concerns for a dog: heart disease, diabetes and arthritis, to name but a few.
Low-calorie foods are essential in maintaining a healthy weight for your dog. Look for dog foods that contain lean meat such as lamb or rabbit, avoiding fatty meats like beef.
Frequently Asked Questions
What Specific Dietary Needs Do Older Dogs Have?
Genetically, dogs are carnivorous, so they'll need a lot more meat than most animals to maintain themselves. This is why a lot of dog food companies include meat as the main base in their dog food, as it is a great source of animal protein.
Protein rebuilds damaged muscle tissue in animals and humans. In older dogs, there is a higher protein turnover, which means that an older dog will use up a lot more protein on a daily basis.
Omega 3 fatty acids and antioxidants are also crucial for maintaining brain health and joint wellbeing. Fish have high levels of both ingredients and dogs on a high fish diet have been shown to have better cerebral and muscle health in older age. Veterinarians also recommend that dogs suffering from heart disease also consume large amounts of fatty acid and antioxidants, as it will repair damaged heart tissue.
Tooth decay is also a massive issue in older dogs, so the texture and softness of your dog food is an important thing to consider before buying. This is why wet food is a better option for older dogs, as dry food might cause the teeth to break and the dog to lose its appetite. Also, giving the dog the ability to chew its food for longer will mean that more nutrients will be absorbed into the body via the mouth and stomach.
Why Does My Dog Need More Fiber In Its Diet?
Fiber is extremely important in aiding digestion, which dogs find a lot more difficult to do as they get older. Fiber helps to regulate a dog's digestive and excretory processes, reducing inflammation in the stomach and constipation.
However, a dog's stomach in older age can become quite delicate, and may not always require a higher fiber intake. If you notice that your dog is becoming more constipated or experiencing diarrhea after switching to a high fiber dog food, you might want to consider switching back to a low fiber one.
Should I Give My Dog Supplements?
A lot of senior dogs develop joint pain and arthritis, so many dog owners decide to give them supplements such as glucosamine and chondroitin sulphate to alleviate the pain. However, you should make sure that you aren't giving your dog human versions of these supplements, as dog supplements are specifically tailored for canine physiology.
It is worth remembering that supplements are not cure-alls, they need to be taken in addition to a balanced diet and exercise. If your dog is suffering from joint pain, then you should start moderating their calorie intake, as losing weight will help alleviate pressure on these inflamed upper leg and knee joints.
Our Final Say
We know how important a dog can be in someone's life and how important it can be to have as much information as possible about your dog's health and wellbeing. We hope our list of the most healthy dog food brands and general information about dog physiology has given you better insights into how to take care of a senior dog.