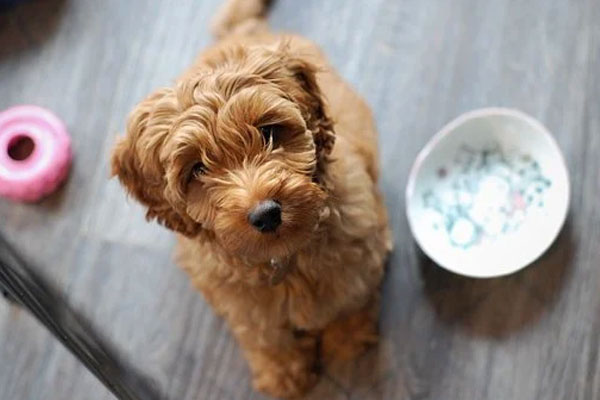 Best Dog Food for Poodles
Poodles are one of the smartest breeds in the canine family. Their energetic persona makes them lively companions, while they're loveable nature ensures they stay fiercely loyal to their owners throughout their lives.
As they're known to turn heads in the show ring, the Poodle has gained a reputation of being an 'accessory' or 'frou-frou' dog! However, it is their playful and mischievous side that takes center stage, especially at home.
Quick Navigation[ez-toc]
Poodles are moderately active and can often struggle to gain weight, which means they require a healthy diet rich in nutrients and protein. So, what is the best dog food for a poodle? We know it can be difficult making a choice worthy of your precious pup so, to help you out, we've compiled 5 leading recommendations to make that decision a little easier to make.
In a hurry? This is our winner!
Our rating:

Merrick Lil Plates Grain Free Small Breed Recipe, 12-Pound, Beef
One (1) 12 lb Bag - Merrick Lil' Plates Grain Free Small Breed Dry Dog Food Real Texas Beef + Sweet Potato Recipe
Merrick Lil' Plates Grain Free Small Breed Dry Dog Food Real Texas Beef + Sweet Potato Recipe
Real deboned Texas beef is always the first ingredient in this grain free dry dog food
Merrick Lil' Plates Grain Free Small Breed Dry Dog Food Real Texas Beef + Sweet Potato Recipe offers the ideal combination of protein and healthy fats to help a dog maintain optimal weight and increased energy
Dry food for small dogs crafted with probiotics and prebiotic fiber for healthy digestion
Carefully formulated to meet the particular needs of smaller breed dogs, the Merrick Lil'Plates Grain Free Dog Food is ideal for your Poodle. Not only will it be a tasty and delicious meal, but it will also be a nutritious one. Real Texas beef is the first ingredient used and will be able to help build and maintain your pup's muscle tissue, as well as elevating energy levels.
Here's why we love it:
The real deboned Texas beef is protein-rich and suitable for your Poodle's digestive system
It is enriched with probiotics and prebiotic fiber to help promote healthy digestion
It contains Omega 3 fatty acids that will help to maintain a shiny coat and healthy skin
Made with leading levels of glucosamine and chondroitin which aids in maintaining healthy hips and joints
Best Dog Food for Poodles – Comparison Table
Best Dog Food for Poodles – Reviews
Our PickMerrick Lil Plates Grain Free Small Breed Recipe, 12-Pound, Beef
Our rating:

Check Price
Merrick is an all-natural dog food brand that pride themselves on being made in Texas. It even sources its beef locally from surrounding ranches!
The size of the kibble won't be too difficult for your furry friend to break up and eat, while the single-serve trays are designed to offer the right-sized portion for smaller dogs. Plus, the Merrick Lil'Plates Dry Dog Food can be enjoyed by Poodles in all life stages, including puppies thanks to the smaller kibble pieces.
Boasting an all-natural recipe, this dog food has been crafted without grain or gluten ingredients, and every serving includes probiotics and prebiotic fiber that is able to encourage healthy digestion. With real Texas beef as the first ingredient, this delicious dinner will help to build and maintain healthy muscle tissue and elevate energy levels. It also contains glucosamine and chondroitin that helps to maintain healthy hips and joints, while ensuring that your dog isn't ingesting any nastiness thanks to the preservative-free ingredients.
Ensuring balanced nutrition, this real Texas beef and sweet potato dog food also features omega 3 fatty acids that are able to help maintain a healthy coat and skin. The crunchy texture and small kibble size will also help to reduce plaque and keep your dog's teeth clean.
Pros
Free of grains
Contains locally-sourced, real Texas beef
Enriched with Omega 3 fatty acids, as well as probiotics and prebiotic fibers
Cons
Might not be suitable for larger poodles
Check out reviews on Amazon
NUTRO HEARTY STEW Adult High Protein Natural Wet Dog Food Cuts in Gravy Tender Chicken, Carrot & Pea Stew, (12) 12.5 oz. Cans
Our rating:

Check Price
On the hunt for the best-canned food for your poodle? Look no further than the Nutro Hearty Stews Adult Wet Dog Food.
Standard Poodles can often suffer from bloating, and animal nutritionists suggest that canned food is one way to help minimize the uncomfortable feeling that can come along with it, all the while preventing bloating from occurring in the first place.
Made with only the finest ingredients, the Nutro Hearty Stews Wet Dog Food contains real meat that is high in protein and available in four different variants: beef, chicken, duck, and salmon. Each recipe is gluten-free, supercharged with probiotics to support digestion, and enriched with nourishing omegas for healthy skin and a glossy coat.
By introducing the minimally processed, nutrient-dense recipes that the Nutro Hearty Stew line offers, your poodle will experience better digestion, increased vitality, and improved skin and coat. Nutro also states that their meals are 'picky-eater approved' so it's certified to impress even the fussiest of poodles.
Pros
Contains real meat
Ideal for adult poodles that suffer from bloating or prefer the texture of wet food
Contains no grains or GMOs; no artificial colors, flavors, or preservatives
Cons
Check out reviews on Amazon
Purina Pro Plan Senior Dog Food With Probiotics for Dogs, Bright Mind 7+ Chicken & Rice Formula - 30 lb. Bag
Our rating:

Check Price
If you own an older poodle over the age of 7, the Purine Pro Plan Bright Mind recipe is the perfect way to nourish both his or her body and mind.
This special formula is designed to enhance your dog's mental agility. At around the age of 7, a dog's brain (regardless of breed) begins to change how it metabolizes glucose, which can affect cognitive function.
To help slow this process down and ensure that your pet stays mentally alert for as long as possible, Purina has included a stimulating blend of botanical oils that are able to act as a source of fuel for the brain. When fed daily, these oils will be able to nourish your dog's brain and promote mental alertness.
As for the ingredients? This yummy mix contains chicken as the first ingredient. It also has bite-sized kibble so it will be nice and easy for older dogs to chew up. A combination of vitamin A and omega-6 fatty acids support healthy skin and a beautiful coat, while the addition of glucosamine will support your dog's joint and hip mobility.
Not only that, this restorative recipe also contains calcium and other minerals that will help to maintain strong teeth and bones, especially in dogs that are getting older. Plus, as older poodles can be at risk of losing weight, the Purina Bright Mind formula is a great choice as it is high in calories.
Pros
Botanical oils will help keep your dog alert and mentally sharp
Small-sized kibble pieces make it easier for your older dog to chew up the food
Enriched with vitamin A and omega-6 fatty acid to support healthy skin and a glossy, shiny coat
Cons
Check out reviews on Amazon
Diamond Skin & Coat Real Meat Recipe Dry Dog Food with Wild Caught Salmon 30lb
Our rating:

Check Price
If you're on the lookout for a dog food that will maintain the overall health of your poodle's skin and coat, the Diamond Naturals Skin & Coat Real Salmon and Potato Dry Dog Food is the choice for you.
Whether your poodle is a puppy or senior, this salmon recipe is enriched with fatty acids and antioxidant-rich omega 3 that will promote your pet's natural skin defenses, and encourage a glossy shine in their coat.
Made with ingredients of exceptional quality, Diamond Naturals is sure to provide complete and balanced nutrition every mealtime. Besides fatty acids, the Diamond Naturals dry formula is enhanced with superfoods and probiotics that can survive in the GI tract, so you can be confident that your dog is going to get a nutrient-rich meal that will provide optimal digestive support.
Not only that, besides being a great dog food choice for maintaining your poodle's fur, this nutritious formula is also hypoallergenic and ideal for a dog that suffers from food-related skin allergies. The first ingredient is Salmon, which is well-known to be a 'sensitive' food choice, while the grain-free recipe reduces the chance of any allergic reactions from taking place.
Besides delicious salmon, a combination of tasty vegetables and superfoods will provide energy-elevating carbohydrates and immune-system-promoting antioxidants. When you feed this formula to your poodle, you can be sure that your poodle will get a nutrient-rich meal, in a mouthwatering salmon flavor that he or she won't be able to get enough of.
Pros
A good choice for dogs who suffer from food-related allergies
Contains probiotics that are guaranteed to survive and thrive in the GI tract
Cons
Not all dogs will like the salmon flavor
Check out reviews on Amazon
Royal Canin Large Puppy Dry Dog Food, 35 Pounds
Our rating:

Check Price
If you're lucky enough to be the proud pup-parent of an adorable poodle, you'll need to make sure that they're getting all the nutrients they need as they grow. One of our favorites is the Royal Canin Large Puppy Dry Dog Food.
If you have a standard poodle, this delicious kibble will support their health while they develop into adults. The Royal Canin Large Puppy Dry Dog Food is tailor-made to cater to the needs of puppies with an expected adult weight of anywhere between 56-100 pounds, and standard poodles fall in that weight bracket.
Larger breed dogs have a longer growth time than smaller breeds. As they grow up, they are more at risk of developing bone and joint issues, which is why they need optimum nutrition early on in life so that they can develop strong bones and muscles.
Thanks to a specialized blend of minerals, this dry dog food mixture will promote the healthy growth of their bones and joints, all the while supporting their developing immune system with an exclusive blend of vitamins and antioxidants.
The smaller kibble design will encourage your baby poodle to chew their food thoroughly, while the highly digestible proteins and probiotics will encourage healthy digestion. The crunchy kibble will also help to keep your puppy's teeth clean, too.
Pros
Ideal for standard sized poodles
The small kibble sizes will encourage your poodle to chew their food properly
Enriched with antioxidants, vitamins, and minerals
Cons
Though this dog food is not suitable for miniature or toy poodles, Royal Canin does offer a small breed mix which is better suited to their smaller sizes
Check out reviews on Amazon
Best Dog Food for Poodles – Buyers Guide
Like we mentioned earlier, poodles can struggle to pack on pounds and maintain a healthy weight as opposed to other breeds of dog. Therefore, one of the main sources of protein that will help to keep your Poodle at a healthy weight is taken from animal meat, as well as fish. Ideally, grains should not form a huge part of your poodle's diet, and many animal nutritionists believe that they hold almost no nutritional value. On the other hand, fruits, vegetables, potatoes are highly recommended and should make up around 10-15% of your dog's diet. Keep reading our guide to making sure your poodle has a well-balanced diet.
The ideal poodle diet should be enriched with:
Protein:
Protein is by far one of the most important parts of your poodle's diet and should make up around 85-90% of it. Poodles are naturally lean, so protein is able to deliver sustenance to their muscles, elevate energy levels, and keep their heart strong and healthy. Protein also helps puppy poodles to properly grow, which is why you'll notice that puppy food mixtures contain a particularly high percentage of it.
Omega 3 and fatty acids:
Just like us, dogs can't produce omega-3 fatty acids on their own, so they must get it from their diet. Omega 3 and fatty acids are what's going to be able to nourish and bring out a healthy shine in your dog's coat, as well as reinforcing their skin's barrier. Omega 3 and fatty acids are found in fish dishes, and there's plenty of yummy options on the market, like the one we selected above. It can even help strengthen their immune system and it has been suggested that they can help dogs fight canine cancer. This is because fish oil and fish meat contain omega-3 fatty acids, which is an essential "good" type of fat that will help maintain the healthy functioning of your poodle's body and brain.
Antioxidants and probiotics:
These two are vital to your dog's health. Antioxidants ensure plenty of health benefits (even for us humans!) except, in dogs, the presence of antioxidants in their diet will greatly support their liver function. Antioxidants are also able to strengthen your dog's immune system, all the while keeping their skin healthy by defending it from free radicals, which can damage the health of the skin. On the other hand, probiotics are wonderful for your poodle's tummy and will help to maintain their digestive system. In particular, bifidobacterium and lactobacillus strains (which are often incorporated into kibble – your poodle won't even notice) will help to prevent any stomach pains or upset, all the while encouraging the absorption of minerals from their food.
Carbohydrates:
Carbohydrates are another important part of your dog's diet and are good for poodle diets as it will help to keep them at a healthy weight. Carbohydrate is a great source of energy for dogs and can provide a slow-releasing, sustainable source of energy. Carbohydrates are also the ingredients that can deliver fiber in the diet, which can aid in promoting healthy digestion.
Frequently Asked Questions
Should poodles eat grain-free?
This all depends on your individual poodle. Some Poodles might do nicely with a diet that includes grains, however, many poodle parents avoid grains because they are a common allergen, which is why so many food mixtures are made without it. If you are interested in including healthy grains in your dog's diet, we recommend consulting your vet or a qualified dog nutritionist who will be able to advise you on whether grains are a good idea for your pet or not. Alternatively, you could slowly introduce grains, and monitor whether or not there are any allergic reactions.
What food can poodles not eat?
There are lots of foods that poodles shouldn't eat, which we'll outline below. Though this list is informative, we highly recommend contacting your vet for proper advice on what your individual poodle shouldn't be eating. However, these are some of the most common, known foods that are a big no-no for poodles (and dogs in general!).
Chocolate:
Chocolate is poisonous to dogs as they are unable to digest it. Though chocolate is a tasty treat for us, it does contain methylxanthines which can cause vomiting and high temperature in our furry counterparts.
Grapes, raisins, and macadamia nuts:
These three should be avoided at all circumstances. The toxic substance within grapes and raisins is unknown, however, both of them can cause kidney failure – almost immediately. Until more information incomes to light about why these two fruits are so toxic, it is vital to avoid feeding grapes and raisins to dogs. Macadamia nuts don't cause such a dire response, however, they can cause your little poodle to experience depression, vomiting, tremors or even hypothermia.
Onions:
Believe it or not, onions are very toxic to dogs! Onions contain a toxic compound which is known as 'N-propyl disulfide'. When a dog ingests an onion, this compound causes a breakdown of their red blood cells, which can lead to anemia. The toxin does this by attaching to the oxygen molecules in your dog's red blood cells and causes them to stop functioning correctly.
Coffee:
Any and all caffeine needs to be avoided. Though we see it as a mild stimulant that can perk us up early on a Monday morning, it is, in fact, a very dangerous and toxic chemical to both cats and dogs. The ingestion of caffeine can be life-threatening and, according to the Pet Poison Helpline, even a small, moderate amount of coffee can quite easily cause death in smaller dogs.