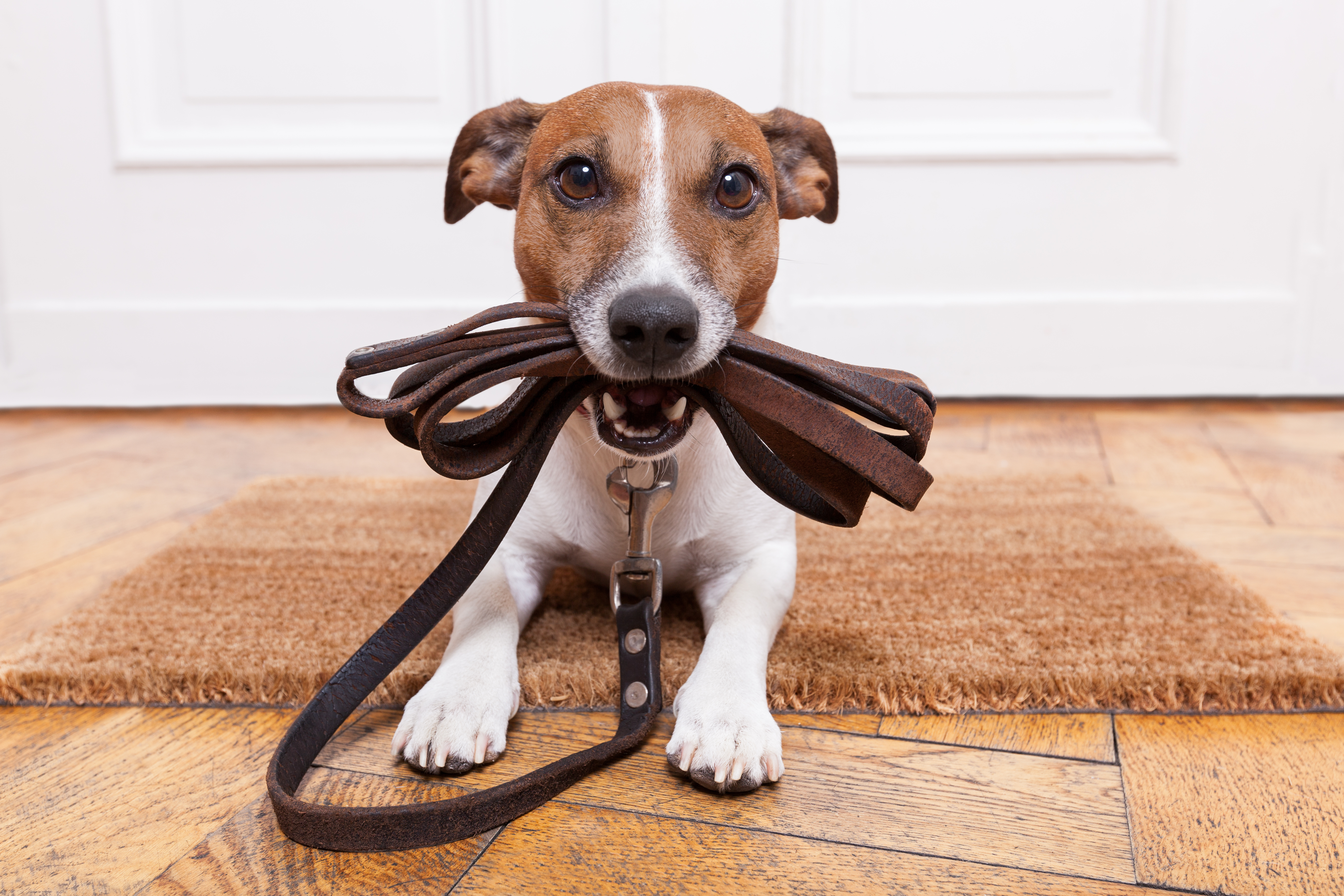 Best Leashes for Training Dogs of 2020
If you have a dog that needs training, you need is a good leash. It can be hard to find the best leash because there are so many options to choose from. In this article, we will be reviewing 5 of the top dog training leashes available on the market.
Reviews
Mendota Products Dog Slip Lead
Mendota Pet Slip Leash - Dog Lead and Collar Combo - Made in The USA - Black, 1/2 in x 6 ft - for Large Breeds
LEASH & COLLAR COMBINATION: This slip leash acts as a leash and a collar in one. Simply slip the loop over your dogs neck and use the handle end as a leash. Leash and collar in one combination that is great for training and known for its ease of use.
TRAINERS & HANDLERS: A best seller - this slip leash & collar combination is a favoriate amongst dog trainers, handlers and show dogs. Soft on the hands with its "Broken in Feel" easy to use and pliable enough to fit in your coat pocket.
HAND MADE in USA: Mendota Slip Leashes are hand made in the USA using premium quality material.
LARGE SLIP LEASH: 1/2″ x 4′ and 1/2″ x 6′ (for dogs over 50 pounds)
HARDWARE: Brass, satin nickel or black metallic hardware and oil tanned leather splices.
This is a classic British-style lead leash that is very affordable, durable, and ideal for walking and training alike.
Review
The Mendota Products Dog Slip Lead is an all-in-one collar and leash. Simply slip the loop end over the dog's neck. It has a leather snap that can be moved along the leash, one which you have to position properly to achieve the right collar size for your dog. This is easily done.
This is a good training leash because the collar will slightly tighten on its own when either you or the dog pulls on the leash, thus grabbing the dog's attention and keeping it under control.
The Mendota Products Dog Slip Lead is made out of highly durable and waterproof monofilament machine-braided line. You would need to use a knife to hack away at this leash before it breaks. Keep in mind that it comes in various lengths to choose from.
It may be durable, but it comes very flexible, almost like it has already been broken in, thus making it comfortable to hold.
Pros
Collar and leash in one
Adjustable collar
Very durable
Waterproof
Machine washable
Flexible
Affordable
Cons
Dog may slip out if not tightened properly
Logical Leather Dog Leash
Logical Leather 6 Foot Dog Leash - Best for Training - Best Water Resistant Heavy Full Grain Leather Lead - Brown
GENUINE FULL GRAIN LEATHER LEASH for a lifetime of heavy duty use. Made from a single long piece of thick premium grade leather to last even through extreme conditions - Six feet long, 5/8 inch wide and 1/8 in. thick.
PROFESSIONAL GRADE - Police and Military gauge training weight handles even the strongest working dogs. 6 foot length recommended by trainers worldwide.
BEAUTIFUL, STRONG AND DURABLE - Resists water & stains with minimal care, yet feels supple and won't tear at your hands or collect hair like nylon leashes when training, walking or running with your pet.
PREMIUM NICKEL PLATED SOLID BRASS CLASP clips on and off the collar easily yet won't disengage without release by the trainer.
BEST LIFETIME GUARANTEE - If, For Whatever Reason, You Don't Absolutely Love Your Leather Training Leash, Just Return It, And We'll Refund Every Penny (Or Replace It, If There Is A Problem).
This is another great leash, and although it is advertised as a training leash, you could use it for any purpose. It's one of the more durable ones you will find.
Review
As mentioned above, this is an extremely durable leash, and it's thanks to the fact that is made out of full-grain leather; there is not much that can outlast or outperform real leather. It may be a bit stiff at first, but it breaks in fast, and won't fall apart on you for years or even decades to come.
The leash itself is waterproof and easy to wash, although not machine washable. The carabiner is made out of premium nickel-plated brass, so it is very tough as well. Keep in mind that you can choose from a 4, 5, or 6 foot leash. To top it all off, the Logical Leather Dog Leash comes with a lifetime guarantee.
Pros
Superior durability
Easy to clean
Looks nice
Waterproof
Lifetime guarantee
Cons
A bit pricey
Stiff at first
Downtown Pet Supply Dog Training Lead
Here we have a very affordable and basic fabric leash that comes in various lengths, all of which are very long. This is a leash designed for recall training.
Review
The Downtown Pet Supply Dog Training Lead comes in 15, 20, 30, 50, 75, and 100 foot varieties, so yes, they are very long.
This is the kind of leash you would use to do recall training, or in other words, you throw something for your dog, they go get it, and then you can reel them back in. It's also a good leash to teach "stay" and "come" commands.
Other than that, there is nothing too special about it, as it is a basic fabric leash with a small carabiner on one end and a loop for your hand at the other. The nylon is durable enough, although it can get wet and smelly over time.
Pros
Many lengths
Excellent for recall training
Durable nylon
Affordable
Cons
Can easily get wet and smelly
Not easy to wash
GOMA Industries Heavy Duty Dog Leash
GOMA Industries Dog Leash - Best Heavy Duty and Reflective Lead - 100% Nylon Increased Safety leashes for Night Walking - for Small, Medium and Large Sized Breed - Made with Mountain Climbing Rope
THE ONLY 100% NYLON MADE LEASH ON AMAZON.COM - shock absorbent, lightweight premium mountain climbing rope will never hurt your arm from your canine buddy pulling too hard.gentle leader.
Our gentle leader and padded handle DOESN'T RUG BURN YOUR HANDS while still helping you maintain a tight hold on your furry companion pets. The reflective dog leash acts as rope lights at night.
GREAT FOR WALKING. Perfect for daily use. Our GOMA Dog Leash is very durable that you can comfortably take your dog outside today. Use it for walking, running and training your best friend. Go for a simple stroll or good will hunting.
Heavy duty, SUPER STRONG CLIP HOOK fits any collar that ensures your best friend will never run away while jogging. The excellent fabrics make it harder for your puppy to chew and destroy this lead.
RISK FREE 1 YEAR GUARANTEE -Buy this Leash and you get our 100% Money-Back, No questions asked Guarantee for 1 year from the moment of purchase, Plus our world-class super friendly customer service.
If you are training a large, strong, and energetic dog, this heavy-duty dog leash might be right up your alley, not to mention that it comes in at a very low price.
Review
The GOMA Industries Heavy Duty Dog Leash is made with a near inch-thick layer of woven nylon strands. It's nearly as durable as the leather leash reviewed earlier, if not more so; itis made for seriously strong and energetic dogs.
The GOMA Industries Heavy Duty Dog Leash is highly reflective, so in case you are out at night, cars can see you.
The clip on this leash is made with industrial-grade metals. It's definitely strong enough to hold even the largest of dogs with ease. To keep you comfortable, it comes with a large loop to hold onto. Keep in mind that this leash is 4 feet long and does not come in any other sizes.
Pros
Extremely durable
Good length for puppy training
Reflective
Comfortable to hold
Good price
Cons
May be too short for some purposes
Leashboss Dog Leash
Leashboss 15 Foot Dog Leash with Padded Handle - Long Leash for Hiking, Camping, Exploring, or Walking (15 Feet, Orange)
Distance with control - 10 or 15 foot leashes allow your dog to explore while maintaining control.
Comfort handle makes you say wow - Soft as a baby's bottom! The neoprene padded handle is designed to be everything you've dreamed of in terms of comfort.
D-ring gives you options - Attach a poop bag dispenser or make an impromptu tie out! Loop through your dogs collar to make it half the distance.
Premium USA assembled quality - We aren't the "Leashboss" for nothin! You can feel immediately that this leash is a cut above and we are confident that you will not be disappointed.
5 year manufacturer's warranty - Leashboss products automatically come with 'The Boss Promise', a 5 year manufacturers warranty that protects against defects, product issues, and chewed leashes.
Here we have another great dog leash t, one that is ideal for multiple training purpose, is durable, and has some other cool benefits. It's not the cheapest leash around, but quality always matters.
Review
The Leashboss Dog Leash comes at either 10 or 15 feet, depending on which you choose. It's a good length to allow your dog to explore without losing control.
This leash is made with high-quality nylon, so it is quite durable, and the bright orange color makes it very easy to see as well. The carabiner and the clip are both made with high-quality metal.
We like how the Leashboss Dog Leash comes with a padded loop to hold on to, so your hands won't hurt. There is also a D ring located by the hand loop, which is great for hanging your doggy bags or other small items.
Pros
D ring for hanging
Durable
Good length for most purpose
Brightly colored
Padded handle
Cons
Conclusion
The bottom line is that for effective dog training, a good leash is the best tool that you can have in your arsenal. Just as long as it has a good length and is durable, you really can't go wrong.