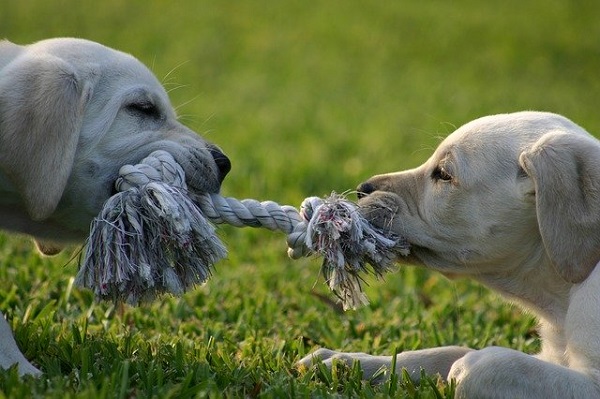 Best Toys for Lab Puppies
Labradors are intelligent and gentle, with an affectionate temperament that has landed them the reputation of being a loyal companion and perfect family dog. As puppies, Labradors are highly energetic and love attention, so they're going to need plenty of TLC and exercise!
It's no secret, dogs love toys. Not only are they a way to keep your puppy entertained, but they provide plenty of educational value that will help to promote positive behavior characteristics, as well as satisfying their natural instincts. 
Labradors can act like puppies for up to 4 years, so it's important that you buy the right toys to encourage healthy play and development. Below, you'll find reviews of some of the best toys on the market right now, as well as a helpful buyers guide and F.A.Q section. Ready to delight your little Lab with our puppy-approved chews and toys? Just keep reading. 
Quick Navigation[ez-toc]
In a hurry? Our top pick will be your puppy's new best friend:
Regardless of the breed, puppies are pack animals who are instinctively drawn to their mom, as well as others in the pack. While your Labrador puppy is settling in and getting used to his or her new home, the Snuggle Puppy will help to recreate a feeling of intimacy thanks to the 'real-feel' pulsing heartbeat, which will provide an extra source of comfort for your pet.
Here's why it stands out from other puppy-approved toys:
It has been a bestselling comfort toy for over 22 years
It helps to calm separation anxiety and other negative behaviors such as whining and barking
The pulsing heartbeat and heat pack combination will appeal to your puppy and satisfy their natural instincts
It will help puppies transition to their new home and sleep soundly throughout the night
In a hurry? This is our winner!
Our rating:

SmartPetLove Snuggle Puppy Behavioral Aid Toy, Brown Mutt, Small (SP101)
The original Snuggle Puppy, celebrating 22 years of comforting pets
Helps with crate training by reducing negative behaviors such as whining and barking, which also helps YOU sleep at night
Helps pets transition to their new home and reduces stress caused by fireworks and thunderstorms
"Real-feel" pulsing heartbeat and heat pack calm by appealing to natural instincts
Machine washable on gentle cycle
Best Toys for Lab Puppies – Comparison Table
Best Toys for Lab Puppies – Reviews
Our PickSmartPetLove Snuggle Puppy Behavioral Aid Toy, Brown Mutt, Small (SP101)
Our rating:

Check Price
While your puppy makes the transition from his pack to your home, the Snuggle Puppy will be there to provide comfort and relieve separation anxiety, especially as he or she adjusts to being away from the pack for the first time. 
The Snuggle Puppy recreates the physical warmth that he would get from snuggling his mom, and this feeling is made realistic thanks to the "real-feel" heartbeat safely held inside the stuffing. For convenience, it comes with 2 AAA batteries that last up to 2 weeks with continuous 24/7 use, so your puppy can start bonding with it as soon as you take it out of the box.
The hearts on/off button allows you to preserve the battery life, while the included disposable warmer pack (non-toxic, safe for your pet, lasts 24 hours) will deliver an extra source of cozy comfort. If your puppy likes the warmth, keep in mind that you will have to purchase additional packs separately. 
Even after your four-legged friend has settled in, the Snuggle Puppy will come in handy. Whether your puppy is crate training, doesn't like fireworks, or hates the sound of thunder, the Snuggle Puppy will be there to help calm and comfort. It's all-natural, medication-free, and non-toxic, and will calm your pet by appealing to their basic natural instincts. It's also easy to clean and machine washable, just be sure to remove the heartbeat prior to washing and simply re-insert it when cleaned.
Pros
Eases fear, anxiety, and feelings of loneliness
It's a great choice for puppies that are transitioning and will help them to adjust
Very easy to clean and is machine-washable
Cons
It's a companion toy, not a chew toy
Check out reviews on Amazon
ZNOKA Pet Products Arctic Freeze Fetch Food Cooling Teether Upgraded Chew Toy
Our rating:

Check Price
If you've welcomed an adorable puppy into your home, chances are you've also welcomed the chance of getting your shoes, remotes and other household items chewed up! If your Labrador is beginning to show signs of teething, the Arctic Freeze Fetch Cooling Teether Chew Toy will spare your valuables and help to relieve their aching gums.
This freezable stress relief toy will help to reduce the pain of teething, solve separation anxiety, and control barking and crying. It has been made with non-toxic material that your dog will be able to chew, and it is filled with 100% purified water. Thanks to the extra thick ring, it will be able to withstand the jaws of your puppy for a very long time before needing to be replaced, while the bumpy texture will keep your pet interested. 
There's even a hollowed space that will hold snacks that your dog likes, which will encourage healthy play, satisfy your puppy's natural instincts, and slowly dispense food to keep your furry friend interested longer. Not only is it great for puppies that are teething, but it will also come in handy on hot, sunny days! As your Labrador grows up, they'll be able to enjoy it throughout the summer months. Why not fill it with small pieces of frozen apples, banana or small berries to turn it into an icy treat? Just remember to avoid grapes, as these are toxic.
Pros
The round, 'donut' shape is ideal for throwing, catching and playing fetch with
It will help to alleviate the pain of teething
Can be filled with yummy treats
Cons
It's not a comfort toy, so puppies with separation anxiety might not like this
Check out reviews on Amazon
ZippyPaws Food Buddies Burrow Interactive Dog Toys - Hide and Seek Dog Toys and Puppy Toys, Colorful Squeaky Dog Toys, and Plush Dog Puzzles, Milk and Cookies
Our rating:

Check Price
Nothing will be able to match the cuteness of your Labrador puppy, but the ZippyPaws Interactive Squeaky Hide and Seek Plush Toy will come pretty close!
The ZippyPaws interactive hide and seek milk carton will provide hours of interactive fun. Your adorable pup will love digging the squeaky cookies out of their milk carton for a challenging game that you can play together, or alone while you need to head out and run errands.
The game challenges your dog to dig out the cookie characters from inside the milk carton, so don't be surprised if you find them nudging you to put them back inside again for hours of fun. The soft fabric won't hurt their teeth and is perfect for a teething pup.
To ensure that your puppy stays engaged, each smiling cookie includes one long-lasting round squeaker that will deliver more sound to keep your pet entertained. The milk carton burrow is great for small and medium-sized dogs, although if your Labrador is a particularly tough chewer, you might need to be extra mindful that the stuffing doesn't come out while playing with it.
Love the concept but dislike the milk and cookie design? No problem! ZippyPaws offer plenty of variants, including a popcorn bucket, chicken bucket, blueberry pancakes, strawberry waffles, as well as a coffee and donut design. It's a unique and beautiful toy that will deliver hours of fun for both you and your Labrador.
Pros
Affordable
Plenty of designs to choose from
Interactive and challenging
Cons
May not be suitable for tough chewers
Check out reviews on Amazon
KONG - Puppy Binkie - Soft Teething Rubber, Treat Dispensing Dog Toy (Assorted Colors) - for Small Puppies
Our rating:

Check Price
Available in either blue or pink, the KONG Binkie will help to teach your puppy appropriate chewing behavior. It's made of strung rubber and will curb the feeling of sore gums, not to mention making your little Lab look super cute!
It is made from an exclusive puppy Kong rubber formulation that's more flexible than regular Kong rubber, so these binkies will soothe teething pains and encourage healthy jaw development. The KONG Binkie will help to teach your lively Lab appropriate chewing behavior, which will be an investment that will pay off over your pup's whole life.
Not just that, the ability to fill the center turns this toy into a fun treat-dispensing game that will keep your puppy engaged for longer, which will come in handy if you need to leave the house. Affordable and adorable, this toy fulfills the instinctual need to chew while easing aching teeth and gums. Its definitely got our seal of approval.
Pros
Budget-friendly option
The hollow centers can be filled with delicious pastes and snacks to keep them engaged
Promotes positive chewing behavior
Cons
Little pieces of rubber can break off, so you'll have to monitor your puppy while he/she plays with it
Check out reviews on Amazon
ZippyPaws - Monkey RopeTugz, Squeaky and Plush Rope Tug Dog Toy - Blue
Our rating:

Check Price
Besides teething, your Labrador puppy is going to be full of energy, which is why we've selected the ZippyPaws Monkey Plush Rope Tug Toy as our final choice. 
This interactive toy is made with a single piece of mountain climbing rope that runs throughout the entire toy, so you can be confident that this toy is tough and able to withstand hours of lively play. 
In particular, we love this toy because it's so versatile! The ZippyPaws Monkey RopeTugz integrates the fun of a squeaky chew toy with a durable rope. This means that both you and your dog can play a game of tug of war together, while the squeaky monkey in the middle doubles up as a plush toy that your dog can chew and snuggle with when alone. 
You can choose from four vibrant colors, including blue, green, red, and purple, while the larger size means that your puppy will be able to enjoy this toy as they mature into a fully-grown adult dog.
Pros
Affordable
Versatile, 'two-in-one' toy that can be used for tug of war or for cuddling
Squeaky, noisemaker inside the monkey to keep your puppy interested
Cons
The plush monkey is soft and can be prone to breaking
Check out reviews on Amazon
Best Toys for Lab Puppies – Buyers Guide
Besides being a bundle of energy, your labrador puppy is also going to be teething! While this process is taking place, all your little puppy is going to want to do is chew, as this will relieve the pressure on their gums while their teeth are coming through. There's also a chance that your puppy might be experiencing a little bit of separation anxiety, which is more common than you might think. To make sure that you don't waste any money and only choose the toys that your puppy will benefit from, make sure to follow our checklist below:
Is it durable?
For a toy to survive the jaws of a lab, it'll need to be hard to break. However, the toy must be firm and durable enough to last more than a couple of hours, otherwise catering to your puppy's needs will soon become very expensive. However, it should not be too hard so that it hurts your puppy's sensitive gums. If you see any spots of blood on the toy, it's a good idea to consider buying your puppy something a little softer, like a plush teddy with a noisemaker inside.
Will it keep your puppy interested?
This is going to take some trial and error. What one puppy could love, another could hate, and vice versa! It's a good idea to purchase a few different toys in varying textures and shapes so that you can get an idea of what your puppy likes.
If you're stuck for choice or unsure where to start, one of the most popular types of toys that are known to fill dogs with excitement is 'squeaky' toys, otherwise known as noisemakers. They emulate the feeling of catching prey and will keep your pup entertained for hours, especially if they have dangly bits that they can chew on.
Is it the right size?
Naturally, your puppy is going to grow at a fast pace. However, you'll still need to make sure that his or her toys aren't too big or too small. For instance, a large bone will likely be far too big for your labrador puppy to chew, while a small toy might have little pieces that your puppy could accidentally swallow.
Does it have a flavor?
Many toys, particularly chew toys, feature a delicious flavor that will attract your dog, while many other types of toys feature a hollow middle that can be filled with tantalizing treats. If your lab is teething, toys that have a flavor are definitely worth considering.
Is it comforting?
Naturally, dogs are very sociable animals and spend their life close to their packs. So, when puppies are born, his or her first instinct is to be near the pack and, of course, their mom! So, when your puppy is transitioning to your home, they might experience separation anxiety from their pack, as well as separation anxiety from you whenever you have to go to work or leave them home alone for a little while. It's, therefore, a good idea to consider buying your puppy a cuddly, plush toy that will help to calm and comfort them.
What to avoid when shopping for puppy toys:
Try to avoid cheap, plush toys with squeakers. Not all squeaky toys are bad, in fact, we highly recommend the ones made by reputable manufacturers. However, the cheaper models can break easily and tear apart, which can expose the squeaker and lead to your dog mistaking it for food and eating it. We also recommend ensuring that all your toys are BPA free. BPA is a harmful chemical found in some cheaper toys and can be potentially fatal when ingested, even in small quantities. It's also important to stay clear from anything that resembles a household item. If you buy your puppy a rubber shoe to chew on, you'll be training them to chew on your shoes! So, make sure you avoid purchasing any toy that your furry pal could innocently mistake for a toy.
Frequently Asked Questions
How do I keep my labrador puppy entertained?
Toys, and plenty of them! Just like children, puppies are curious, inquisitive and can lose interest fast. So, the best way to keep your puppy entertained is to make sure that they have a variety of toys to choose from. If that doesn't seem to do the trick, you could try giving him or her a kibble-dispensing toy that's sure to keep their interest.
If you have a garden or a park nearby, be sure to regularly let them run around and explore. A field or large garden space is ideal for playing fetch and other agility games. On a side note, if you have to step out to run errands is to play some music, which is known to calm dogs, as well as helping them to feel more comfortable.
What can I give my lab puppy to chew on?
Bones are the most popular choice, and you can purchase smaller-sized bones that won't be too big for your puppies jaw. As for toys, the best toys for teething puppies will be made of hard nylon or hard rubber. We especially like the toys that can be filled with water and frozen, which your puppy will thank you for as it will effectively soothe sore gums.
What are the best toys for puppies?
For starters, puppies love to play! They also love attention and company, so any rope toys or ball games are a good idea because you'll be able to play tug of war and fetch with them. If you have to work and your puppy will be alone for periods throughout the day, it might be a good idea to invest in a snuggly toy that they can cuddle. We also recommend chewing toys, especially for little puppies who are teething and need something to help alleviate pain from their gums.