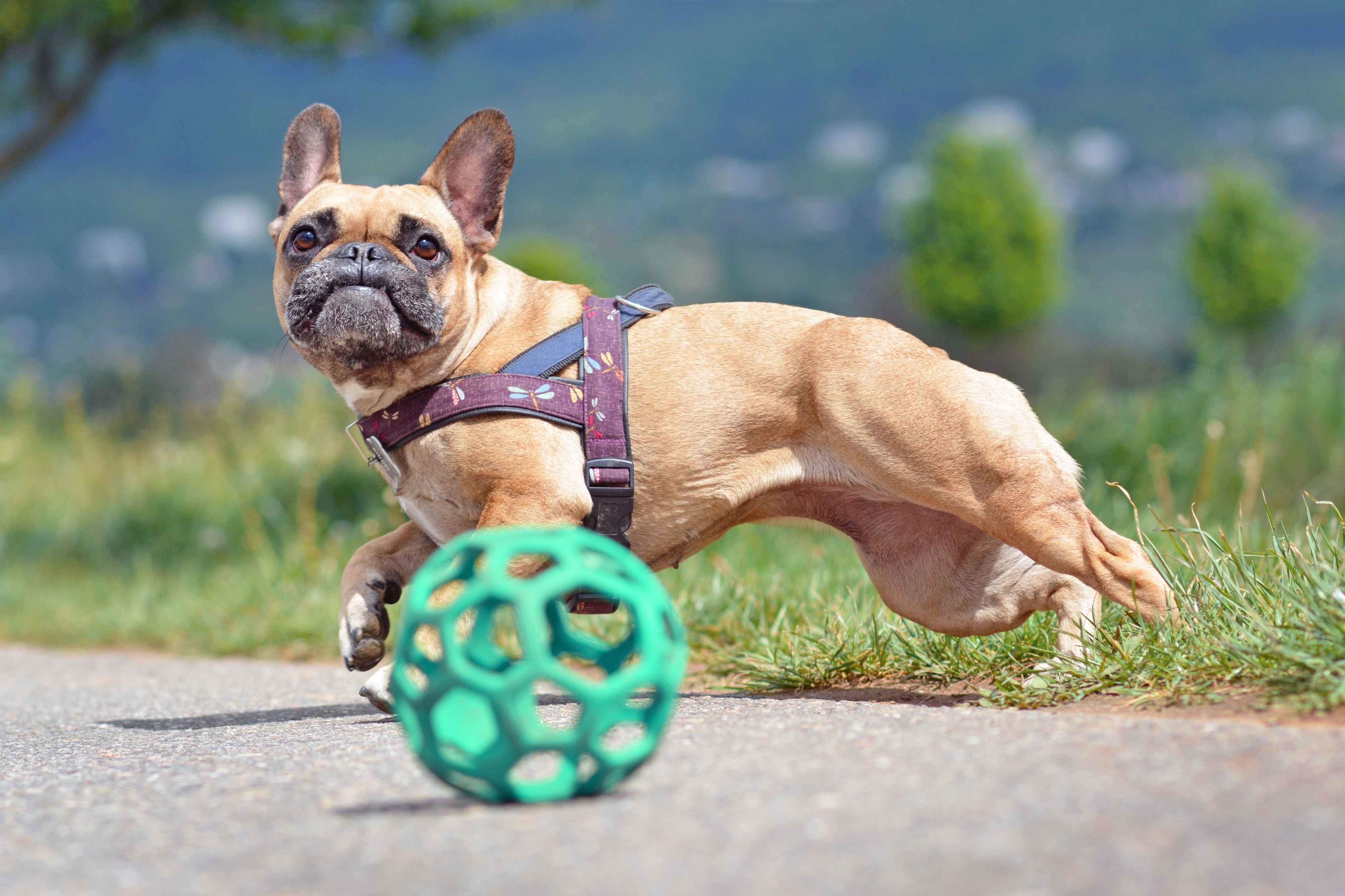 Best Interactive Dog Toys of 2020
Complete Reviews with Comparisons
Do you want an interactive dog toy to keep your dog busy, provide it with some fun, and maybe provide it with some rewards too? There are lots of toys out there for dogs, but interactive ones actually stimulate the brain, plus more. Right now we want to help you find the best interactive dog toys of 2019.
Best Interactive Dog Toys: Reviews
Trixie Mad Scientist For Dogs
Sale
Trixie Mad Scientist for Dogs, Level 2
Set includes a base with frame and 3 beakers and 2 sets of patterned lids
Step 1: place treats in beakers
Step 2: leave lids off until flipping and then balancing beakers is mastered
Step 3: place lids with patterned holes on beakers
Step 4: mix and match lids for an added challenge
Here we have a really fun and affordable interactive dog game for your pooch, one that is not too difficult, but difficult enough to keep them busy, plus it provides them with a reward.
Review
The whole point of this Trixie Mad Scientist For Dogs game is to inspire a bit of mental stimulation as well as fun. This interactive game involves a stand with 3 "beakers," well, plastic tubes. Inside of the tubes you put a bunch of treats, and then put the lids on the tubes. The lids have holes in them so that treats can fall out.
Now, the interactive part is that your dog has to figure out how to flip the tubes upside down to dispense the treats, as they are on a vertical swivel. Dogs love treats and this game will keep them busy for a long time, well, at least until the treats run out. The only downside is that you do have to use treats that can easily fall through the holes in the lid.
Pros
Inexpensive
Durable
Very fun
Rewarding
Cons
Can only use specific treats
Furry Fido Interactive Dog Ball
Interactive Dog Ball by FurryFido, Dog toys ball and treat dispensing for dogs,cat and small animals. Funny Dog Puzzle and Dog Toys for Boredom and Thinking (Ball)1 pack
🐾Interactive fun & develops IQ - this interactive ball toy gives your furry friends hours of fun while also helping develop their IQ and keeping them fit! Throw and fetch like any other ball, or let them chew on it and find the hidden treats. With all the benefits packed in a tiny body, this bouncy ball is here to make your pet's life better
🐾Dispenses treats - fill the ball with your dog's favorite treats, and let him retrieve them one by one! When he chews or rolls The ball, the treats will roll around inside the ball and fall out.
🐾Non-toxic, durable - Made of natural rubber, Durable safe for your best friend to chew on.
🐾For healthy teeth - the soft and durable rubber massages the gums and helps keep the tooth enamel healthy.
🐾Lifetime guarantee - at furryfido we stand behind our product and offer 100%, Lifetime money back guarantee. Your pets will have all the fun in the world - or you get your money back. We guarantee to provide you with the very best, with zero risk!
This is another inexpensive, fun, and highly interactive dog toy, one that is very durable, and will dispense tasty treats for your dog as well.
Review
The Furry Fido Interactive Dog Ball is a fairly large ball with holes in it. You put treats into the holes and let your dog play with the ball. As your dog chews on the ball and rolls it around, one by one, treats will come out. It's definitely a good way to keep your dog busy, at least until the treats run out, and it will provide them with lots of exercise too.
It might not be overly stimulating for the brain, but it is still better than nothing. Keep in mind that the Furry Fido Interactive Dog Ball is durable and long lasting, plus it is non-toxic and safe to chew on, not to mention that it is easy to clean and wash as well. The soft rubber of the ball also helps to keep teeth sharp and healthy, and it massages the gums as well.
Pros
Rewarding
Provides exercise
Good for oral health
Fairly durable
Cons
Not overly mentally stimulating
PAW5 Wooly Snuffle Mat
This is a super cool and highly unique interactive dog toy that encourages foraging and hunting skills, although it is relatively expensive compared to the other toys we have looked at so far.
Review
The PAW5 Wooly Snuffle Mat is a specialized feeding mat for treats and dry food. It's made of many thick strands. It's like a large and thick carpet, with all kinds of protrusions. The point is to hide dry food or treats in the crevices, nooks, and crannies, and your dog is then supposed to dig and forage through it to find the food.
It's cool because it helps keep dogs busy for a long period of time, it provides them with food as a reward, it teaches them to dig and forage, and it helps them slow down with eating too. It's very easy to fill and a really good aspect here is that it is machine washable. It's simple, but also stimulating.
Pros
Great for slowing down fast eaters
Quite stimulating
Machine washable
Cons
Expensive
Limited durability
West Paw Zogoflex Qwizl Interactive Dog Puzzle
West Paw Zogoflex Qwizl Dog Puzzle Treat Toy – Interactive Chew Toy for Dogs – Dispenses Pet Treats – Brightly-Colored Dog Puzzles for Aggressive Chewers, Fetch, Catch, Non-Toxic, S, Granny Smith
DURABLE DOG CHEW TOYS FOR AGGRESSIVE CHEWERS: Keep your friendly Fido busy and entertained with this dog toy puzzle that features a hidden treat he must discover during play.
INTERACTIVE CHEW TOYS FOR DOGS: If you have an aggressive chewer at home, safeguard your furniture by giving him this brightly-colored chew toy puzzle that will occupy your pets for hours.
MENTALLY STIMULATING DOG TOYS: Prolong play with this mentally stimulating dog toy puzzle that extends the life of expensive dog treats and is fun to fetch, toss and catch after the treats are gone.
EASY TO GRASP DOG CHEW TOY: The curved shape of this dog toy puzzle is easy to grasp and hold in place with his paws while the side openings entice your playful pup or senior dog with the scent of dog treats.
RECYCLABLE PET TOYS: Not only do these dog toy puzzles from West Paw feature bright colors to easily spot inside or out, each dog chew toy is non-toxic, recyclable, dishwasher safe and Made in USA.
If you are looking for a highly durable interactive dog chew toy to hide some treats in, one that is very affordable and long-lasting too, this awesomely named West Paw Zogoflex Qwizl Interactive Dog Puzzle is something to keep in mind.
Review
The West Paw Zogoflex Qwizl Interactive Dog Puzzle is a very simple interactive toy. It's more or less a glorified chew toy that you can put treats inside of. Now, in terms of durability, it should be able to stand up to most dogs, even large ones that like to shred their toys, although of course this only goes so far.
At any rate, you can put treats inside of it, and a dog has to chew on it and move it a certain way for those treats to come out. The West Paw Zogoflex Qwizl Interactive Dog Puzzle is something that helps stimulate your dog's thought process, it's fun to chew on, and it provides a tasty reward. It's also cool because it is dishwasher safe and recyclable.
Pros
Made in the US
Easy to clean
Provides a reward
Hours of fun
Very durable
Cons
Treats are a little difficult to get out
OurPets IQ Treat Ball
Sale
OurPets IQ Treat Ball Interactive Dog Toys (Slow Feeder, Dog Puzzle Toys, Treat Dispensing Dog Toys, Great Alternative to Snuffle Mats for Dogs) Dog Toys for Large Dogs & Small Dogs-Colors May Vary 4"
MENTALLY STIMULATE YOUR DOG: These dog food & dog treat dispensing dog toys keep dogs mentally and physically stimulated while they play. Available in two sizes – 3 inches for smaller dogs (10# & UP-NOT FOR TOY DOG BREEDS) and 4 inches for larger dogs.
CUSTOMIZABLE IQ TREAT BALL: Your furry pal gets smarter as they play with this interactive dog toy & dog puzzle dog ball, learning how to roll the dog ball to get healthy dog treats or kibble to fall out. Adjustable difficulty level option available.
EASY TO USE AND CLEAN DOG PUZZLE DOG TOYS: Our interactive treat dispensing dog toys conveniently use your dog's favorite dry dog treats or kibble. Made from hard plastic that disassembles for easy cleaning. Rinse in warm soapy water and dry after use.
INTERACTIVE DOG TOYS FOR PROLONGED PLAY: This dog treat dispensing ball is designed to limit the number of treats your dog gets while encouraging more extended playtime with their new favorite dog puzzle toys. Always supervise your pet while in use.
SLOWER HEALTHIER FEEDING: Slower active eating with this dog treat dispensing ball & puppy puzzle toys encourages slower active eating making this a great alternative to slow feeder dog bowls, lick mats for dogs, and snuffle mat for dogs.
This is a super simple and very affordable interactive dog toy, one which also dispenses treats.
Review
The OurPets IQ Treat Ball is simply a plastic ball that you can put treats inside of. To get the treats out, the dog has to roll the ball in a certain way. It's very simple and straightforward, yet also fun and stimulating at the same time, not to mention that your dog gets a food reward. You can use this for full feedings, but it will take a while, and chances are that your dog will make a mess with it. That said, it's a durable interactive toy that does not cost much and should provide hours of fun.
Pros
Very engaging
Slows down fast eaters
Affordable
Durable
Cons
Conclusion
We cannot really pick one interactive dog toy over another here. They are all great options to go with. None are overly expensive, they should all last for quite some time, and they will definitely keep your dog occupied.