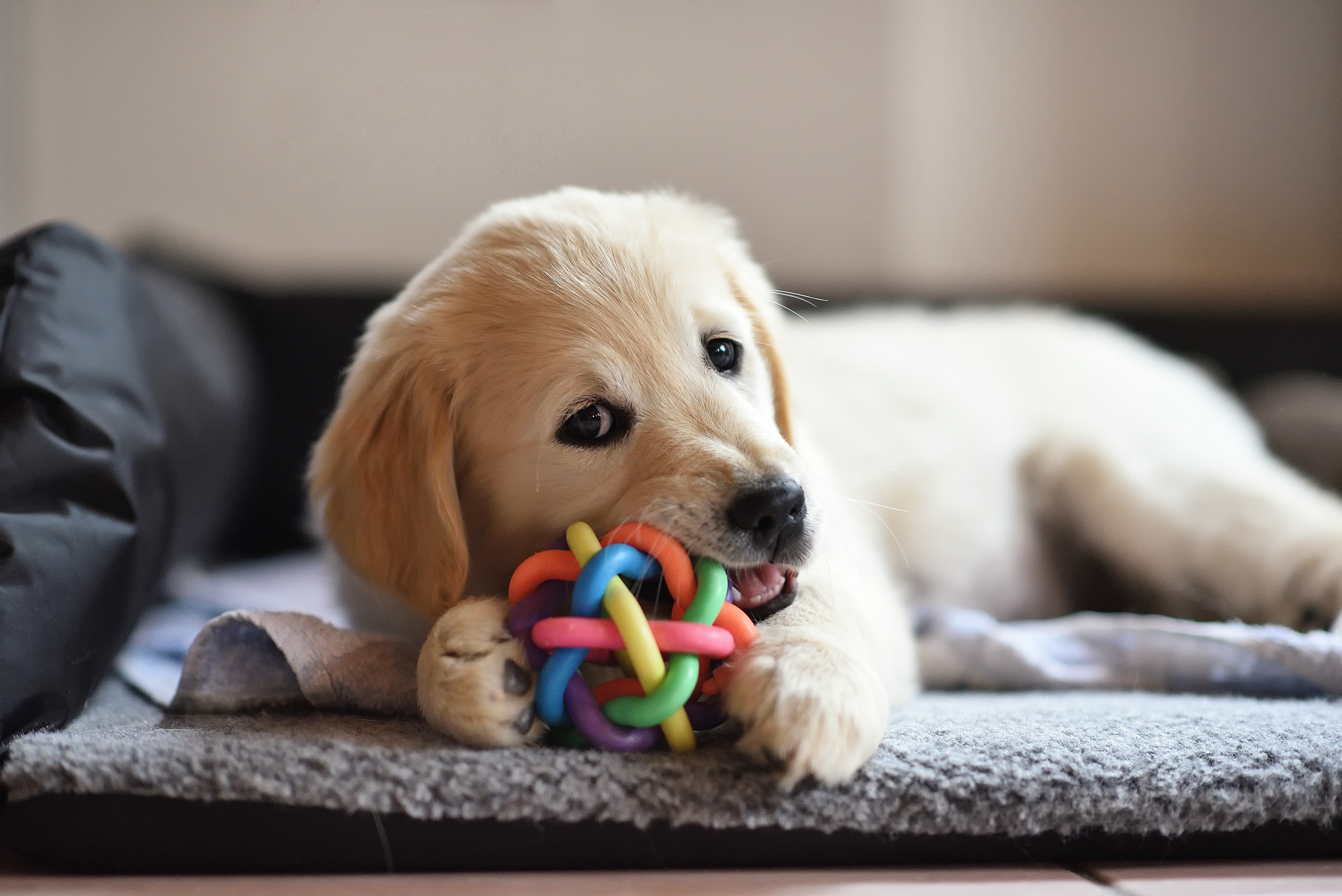 Best Toys to Mentally Stimulate Your Puppy
We all know that to stay healthy, dogs need a balanced diet and plenty of exercises. Unfortunately, most dog owners ignore another important factor, mental stimulation. Your puppy may love showing his strength in a game of tug-of-war or chasing after a tennis ball, but his body is not the only thing that needs regular exercise. Animal experts and trainers say that mental stimulation is as essential as physical stimulation.
Dogs are highly social animals that thrive with members of the pack. They get bored easily when left alone and require a distraction to occupy their time or else they can suffer from a range of issues including destructive behavior, separation anxiety and depression. They are intelligent pets that are just as much brain as they are brawn. Canine intelligence can be developed and honed with a little work.
The problem is that most modern dog owners lead very busy lives, and their pooches often end up spending a good portion of the day home alone. Unfortunately, you can't quit your job to cuddle with your furry companion all day long. The key lies in mental stimulation. So how can you mentally stimulate your pup's mind to prevent boredom and encourage a happy, healthy life? There are countless mind stimulating toys, IQ balls, hide-and-seek toys, snuffle mats and puzzles for puppies.
Mental stimulation can come in various forms from positive reinforcement training games to food and puzzle toys. The dog toy market has exploded with interactive toys that are highly recommended to help enhance a well-balanced temperament, making pups a lot easier to train and helping reduce canine behavioral issues brought about by boredom and frustration.
Selecting the right interactive plaything for pooch can be challenging with so many options available. Each interactive dog toy has its unique advantages over others. To help make your decision easier, we have prepared a list of 6 best toys to mentally stimulate your puppy. Understanding what these types of puppy toys are and the benefits your dog can derive is vital.
The 6 Best Toys to Mentally Stimulate Your Puppy
Keep boredom at bay with the following brain busting toys:
West Paw Zogoflex Tux Interactive Treat-Dispensing Chew Toy
West Paw Zogoflex Tux Treat Dispensing Dog Chew Toy – Interactive Chewing Toys for Dogs – Dog Games for Aggressive Chewers, Fetch, Catch – Holds Kibble, Treats, Made in USA, Large, Tangerine
DURABLE DOG CHEW TOYS FOR AGGRESSIVE CHEWERS: Keep your friendly Fido busy and entertained with this dog chew toy from West Paw that features hidden treats or kibble he must discover during play.
INTERACTIVE CHEW TOYS FOR DOGS: If you have dog or playful pup who loves to gnaw and chew at home, safeguard your furniture by giving him this brightly-colored dog or puppy chew toy that will occupy pets for hours.
STIMULATING DOG CHEW TOYS: Prolong play with this mentally stimulating dog chew toy that can be filled with kibble or treats. Once the treats are gone, use this floatable dog chew toy for fetch, toss and catch.
EASY TO GRASP DOG CHEW TOY: The durable, treat-dispensing design of these dog chew toys poses a challenge to engage and intrigue your canine companion. Great for freezing chicken broth inside.
RECYCLABLE PET TOYS: Not only do these dog chew toys from West Paw feature bright colors to easily spot inside or out, each dog chew toy is non-toxic, recyclable, dishwasher safe and Made in USA.
Topping our list is the Zogoflex Tux interactive toy that we believe draws its inspiration from the Classic Kong. Chewing is a natural instinct for dogs, and the act itself can provide your pooch with both physical and mental stimulation. The Zogoflex Tux toy has 3 balls attached centripetally and is perfect for reward-based dog training. You will see a hole under the ball and this is where the dog treats (meaty bits, biscuits, nut butter) are supposed to come out. Even when emptied, the fun doesn't end there. The toy bounces, flings and hangs tough through chew sessions to accommodate all styles of play. Being buoyant means that it's perfect for water-related activities. Available in 3 different colors, this toy is BPA-and-Phthalate-free, non-toxic and FDA compliant. The ultra-durable material is USA-made and dishwasher safe for easy cleaning.
KONG Wobbler Interactive Dog Toy
Sale
Yet another treat dispenser on our list is this action-packed interactive dog toy from KONG. Part of the famous KONG line, this classic toy will provide hours of fun as your pooch struggles to get their treats. It is upright until your pooch pushes it with his nose or paw. The dispenser spins, wobbles and rolls to dispense tasty rewards. It satisfies your pup's natural instincts to hunt out food and in the process offers mental stimulation. The gradual dispersing of the treats means that your dog will use a lot of effort to get them. This boredom buster unscrews for easy filling and cleaning. It is dishwasher safe and made of sturdy, food-grade polymer construction.
Our Pets IQ Treat Ball Interactive Food Dispensing Dog Toy
Sale
OurPets IQ Treat Ball Interactive Dog Toys (Slow Feeder, Dog Puzzle Toys, Treat Dispensing Dog Toys, Great Alternative to Snuffle Mats for Dogs) Dog Toys for Large Dogs & Small Dogs-Colors May Vary 4"
MENTALLY STIMULATE YOUR DOG: These dog food & dog treat dispensing dog toys keep dogs mentally and physically stimulated while they play. Available in two sizes – 3 inches for smaller dogs (10# & UP-NOT FOR TOY DOG BREEDS) and 4 inches for larger dogs.
CUSTOMIZABLE IQ TREAT BALL: Your furry pal gets smarter as they play with this interactive dog toy & dog puzzle dog ball, learning how to roll the dog ball to get healthy dog treats or kibble to fall out. Adjustable difficulty level option available.
EASY TO USE AND CLEAN DOG PUZZLE DOG TOYS: Our interactive treat dispensing dog toys conveniently use your dog's favorite dry dog treats or kibble. Made from hard plastic that disassembles for easy cleaning. Rinse in warm soapy water and dry after use.
INTERACTIVE DOG TOYS FOR PROLONGED PLAY: This dog treat dispensing ball is designed to limit the number of treats your dog gets while encouraging more extended playtime with their new favorite dog puzzle toys. Always supervise your pet while in use.
SLOWER HEALTHIER FEEDING: Slower active eating with this dog treat dispensing ball & puppy puzzle toys encourages slower active eating making this a great alternative to slow feeder dog bowls, lick mats for dogs, and snuffle mat for dogs.
This treat ball is a fun rendition of a slow feed ball that combines a puzzle and dog toy into one, to reward your pup for being active. The exterior is designed from durable hard plastic that spills your pup's favorite treats or kibble when tipped the correct way. To continue challenging your puppy as they learn, there are adjustable feeding difficulty levels. For easy cleaning, the ball twists apart. This ball is ideal for small to medium sized dogs.
Nina Ottoson Dog Brick Treat Puzzle Dog Toy
Sale
Nina Ottosson by Outward Hound Dog Brick Interactive Treat Puzzle Dog Toy, Intermediate
BOREDOM BUSTER INTERACTIVE DOG TOY: As one of our most popular intermediate level 2 designs, the Dog Brick interactive puzzle includes additional obstacles and combinations of steps that will keep your dog focused and mentally-stimulated as they search and sniff out the tasty treats!
FLIP, LIFT, & SLIDE TO HIDE TREATS: The Nina Ottosson Dog Brick comes with 3 types of treat hiding compartments to test your furry' friends skills! Flip lid compartments open and slide to reveal two separate treat hiding spots while removable brick bones conceal the third hidden compartments in this puzzle dog toy.
ENCOURAGES POSITIVE PLAY HABITS: This fun and rewarding puzzle is great for reducing anxious dog behavior and redirecting destructive behavior.
BPA, PVC & PHTHALATE-FREE: Nina Ottosson by Outward Hound interactive treat dog puzzles are designed with your pet's health in mind from food safe materials that you can trust with your dog. Easy to clean with warm water and soap between uses.
PLAY IT SAFE: No toy is indestructible. Do not leave toys with unsupervised pets. Remove and replace toy if damaged.
Your pup won't experience boredom with this level 2 game by Nina Ottoson. It is shaped like a board and is made from durable material that is easy to clean. There are 20 different open-close flip compartments which you can use to hide treats or kibbles. There are 3 separate problem-solving tricks. To get at the treats, your pup has to flip, slide or pull off the covers. The more covered compartments, the harder the puzzle will be. You also get 4 removable bones and 8 slidable pieces. To ensure that your dog knows what is hiding inside, there are scent holes.
TRIXIE Pet Products, Mad Scientist Toy
Sale
Trixie Mad Scientist for Dogs, Level 2
Set includes a base with frame and 3 beakers and 2 sets of patterned lids
Step 1: place treats in beakers
Step 2: leave lids off until flipping and then balancing beakers is mastered
Step 3: place lids with patterned holes on beakers
Step 4: mix and match lids for an added challenge
One of the interactive dog toys you might want to get for your pup is the Mad Scientist for dogs. This dog puzzle toys from TRIXIE is designed for special little dogs. It is sure to stimulate your puppy's problem-solving skills. The set includes a base with a frame, 2 sets of patterned lids and 3 beakers. The lids come with sizeable holes that allow treats to be dispensed. Your dog's job is learning to flip the tubes to make the treats slide through the holes. To make the game challenging for your pooch, you can mix and match the lids. The sturdy, non-slip and stable base is strong enough to keep your pup from tipping it over. A booklet with all kinds of tricks and tips to help you train your pooch is included in the package.
Outward Hound, Hide-A-Squirrel Puzzle Plush Toy
Sale
Outward Hound Hide A Squirrel Plush Dog Toy Puzzle, XL
HIDE & SQUEAK FUN: The Hide A Squirrel dog puzzle is an easy way to get your furry friends engaged for hours of fun! Just fill the tree trunk with 6 stuffed squeaky squirrels, toss it, and let your dog's natural hunting instincts kick in!
2-IN-1 INTERACTIVE PLAY: Toss the squirrel-filled trunk, place it on the ground, or take the squeaky plush toys out and launch them for a game of fetch your dog is sure to love!
CHALLENGING & IRRESISTIBLE: Keep boredom at bay and your curious canine mentally-stimulated while feeding their natural instincts to hunt with plush squeaky squirrels they won't be able to resist!
GENTLE ON THE TEETH AND GUMS: The stuffed plush texture of the Hide A Squirrel dog toy is easy on the teeth making it a great choice for both puppies and adult dogs alike.
PLAY IT SAFE: No toy is indestructible. Do not leave toys with unsupervised pets. Remove and replace toy if damaged.
This interactive toy is sure to stimulate your pup and keep him amused for hours. Your pooch will find multiple stuffed squirrels hiding in holes in a single fluffy tree stump. Your pooch is supposed to hunt them down and pull them out. Each squirrel has a large squeaker inside it as an added reward. You can use the removable squirrels or purchase extra squirrels if you wish and use them for toss and fetch games. Available in 4 sizes (SMALL, MED, LARGE and GINORMOUS), Outward Hound ensured that all dog breeds are catered for. If your pooch is no big fan of squirrels, you can try out Bird, Bee and Hedge characters.
PRO TIP: Remember to keep a variety of pup toys on hand and swap them out every few days. If your puppy plays with the same toys every day, he will eventually get bored.
Conclusion
Providing appropriate mental and cognitive stimulation for your puppy while allowing them to be happy is essential. When your puppy has plenty to occupy their mind, they're better-off mentally and less restless. Some dogs need more mental stimulation than others. For this reason, most interactive dogs toys have adjustable components to make them easier or harder.