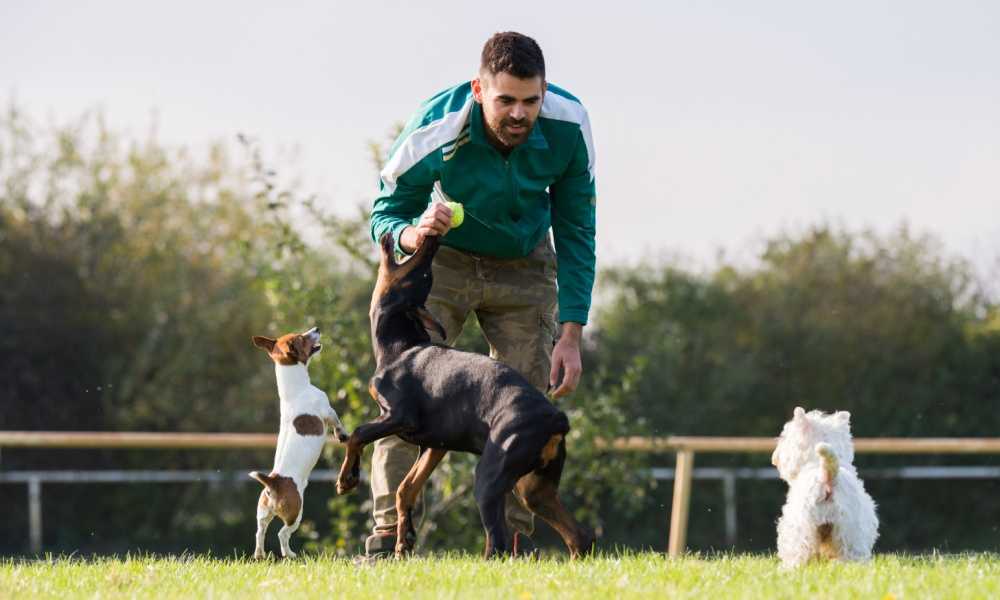 Dog Training Courses
How do you get your dog to do cool tricks? Looking at dog training possibilities can be overwhelming, especially if you do not have an idea which dog training courses your dog actually need.
There seems to be a class for everything, and you have so many options on how to get your dog trained. Before, you can choose to enroll your dog in a traditional class or hire an at-home trainer. Today, another option is to check out an online course or program like the Brain Training for Dogs, which is ideal if you want to train your dog on your own
That said, whichever route you choose, there are basic classes that should be covered, which we will briefly discuss. We will also talk about some of the most common advanced and special courses.
Basic Training Courses
Training begins when your dog is a puppy. Ideally, you'd start basic training courses when they are between three and 14 weeks old since this is your puppy's peak learning period. You may be able to find a puppy kindergarten class geared towards puppies as young as 10 weeks old, but the course offerings may depend on your area.
Generally, after your puppy receives their first set of shots and gets the go-ahead from the vet, you are ready to start looking for a course. Don't worry as these puppy classes aren't meant to be rigorous. It's mainly an opportunity for your pup to socialize.
Likewise, these beginner courses may introduce basic commands like "sit," "stay," and "come". They may also include training for loose leash walking and addressing issues such as nipping, house training, and jumping up.
1. Potty Training
Some trainers and schools also offer specialized classes exclusively for potty training, and some online guides offer a series of videos to help owners housetrain their puppies. Training from home in this instance makes sense since most potty issues come up at home.
2. Formal Obedience
By the time your canine pal is six months old, they are ready for formal obedience training. These courses formalize what your puppy may have learned in kindergarten puppy classes, but if you didn't bring your puppy to a kindergarten course, it's okay.
In any event, obedience courses are typically geared towards dogs with no prior obedience training experience. If your puppy did have his introductory course, they might be one step ahead of others in their course.
Advanced Training and Specialized Courses
Many owners think that obedience courses are where training ends. For most people, that may be true, but training doesn't necessarily have to stop. In your area, schools or professional trainers may offer advanced and specialized courses. If there is none in your area or classes are limited, you can check out Brain Training for Dogs since it offers a variety of courses.
1. Good Citizen
The American Kennel Club (AKC) offers a Good Citizen Course to help dogs be safe and comfortable when they are out in public. The course also includes putting dogs into a test to ensure that the course was effective.
This course is essential since an increasing number of apartments and condos require resident pet owners to take this test. Some homeowner's insurance companies also promotes this course and test.
2. Therapy
Do you have or are you considering bringing your dog to nursing facilities, hospitals, or schools as a therapy animal? If so, there are courses for that. However, the actual course offering may vary depending on your area.
3. Small Dog
There may be specialized small dog courses available in your area, and these training courses help you handle and train small dogs. As you may expect, these courses take these little guys' personalities and high energy into consideration. They may even give you more tips on how to handle small dog issues than a general class would.
4. Sports (Dog)
Did you know that there are courses designed specifically for doggy sports? Dog sports courses specialize in sports basics. They may include skills for agility, nose work, herding, Treibball, rally, and tracking.
5. Sports (Human)
If you enjoy taking your dog with you when you're at the great outdoors, a human sports course may be a good option for you. They cover topics like kayaking, standup paddle boarding, hiking, running, and camping with your dog.
6. General Fitness
Your canine may be your most dedicated fitness buddy, so why not work out together? These courses give you fun and safety tips on how to include your dog in your workout. Do note though that the dogs aren't merely spectators since the classes may include doggy workouts.
7. Situation Specific Courses
If you are expecting a new baby, it may be an exciting and stressful time in your life, and your dog may pick up on that. These specific courses can prepare your dog for the new addition to your family. Other courses also make sure that your dog can deal with other impactful life challenges and changes.
8. Tricks and Games
Dog training courses don't have to be all work, and tricks and game courses are definitely all about play! They focus on skills purely for fun like ringing a bell, jumping through a hoop, rolling over, and shaking hands.
9. One-Off
If you don't have time for a full four- to six-week course commitment, look for a one-off, drop-in class. It usually only focuses on one behavior or command per class. So, if you need extra training for behaviors like loose leash walking or commands like "come" or "stay," this may be the one for you.
The Bottomline
We are fortunate nowadays since there is a lot of dog training courses available. Although the variety may depend on your area, you are assured that you can find basic courses in your local dog training school and private trainers that offer such.
What is more interesting is that if you do find that course offerings are lacking or you'd rather train your pet, you can consider an online trainer. Adrienne Farricelli, the creator of Brain Training for Dogs, offers a series of force-free dog training programs. She even does personal consultations for those who need individual advice as well as created a private forum where you can interact with other dog owners using the program.
Whichever avenue you choose, you can look forward to exploring a lifetime of learning with your canine family member. Learning and training don't need to stop at basics, so be on the lookout for new courses that may expand your dog's repertoire.