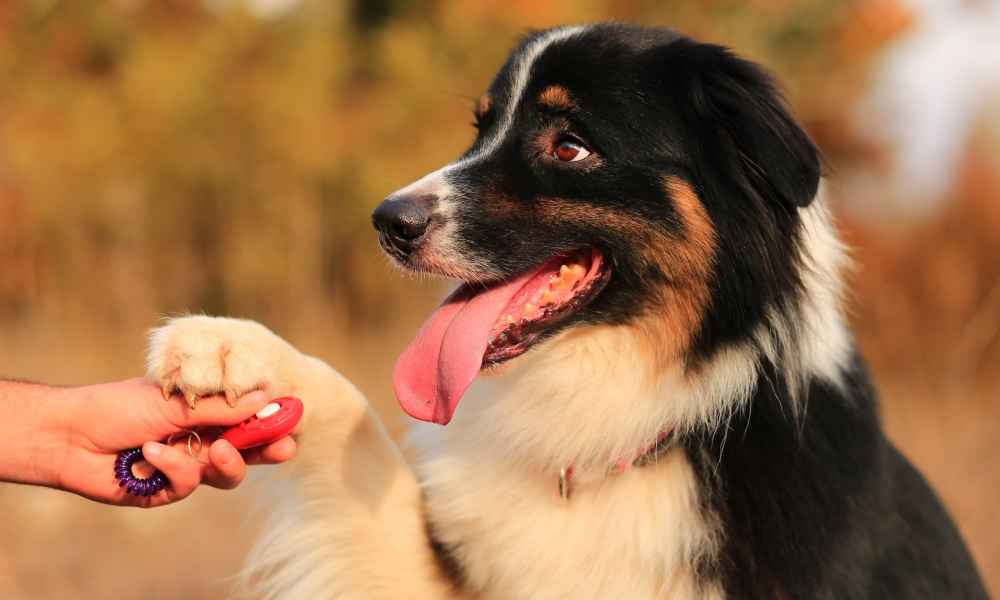 Best Clicker for Dog Training of 2019: Complete Reviews with Comparisons
Clickers have been around for a long time. However, it's only recently that they've become popular with pet owners and trainers.
Of all pets, they've proven to be the most effective with dogs.
The secret to their success lies in positive reinforcement, as tasty treats are extensively used to reinforce the dog's attention to the click sound.
Also, this method is praised for removing punishment in favor of encouragement and rewards.
Let's take a look at the candidates for the best clicker for dog training and how to find the right one for you and your dog.
Top 5 Clickers for Dog Training Comparison Chart
LaZimnInc Dog Training Clicker with Wrist Strap
EcoCity 2-Pack Dog Training Clicker with Wrist Strap
PetSafe Clik-R Trainer
Clicker Training for Dogs 
Best Clicker for Dog Training Reviews
1. EcoCity Upgraded Dog Training Clicker 4-Pack
If you decide to incorporate a clicker into your dog's training, be sure to buy one that's sturdy and well-built. The EcoCity Upgraded Dog Training Clicker 4-Pack fits the mold and has a nice design to boot. It is the upgraded version of EcoCity's basic training clicker and comes in packs of four.
Product Highlights
The EcoCity features a durable plastic click button. It is easy to press and not prone to jamming, making this clicker a joy to use.
Though it is an upgrade with a softer sound than its predecessor, this EcoCity is still in the moderate-to-loud category. While it most likely won't bother your pooch, it is best to use a softer clicker if they are extremely sound-sensitive.
This upgraded model has a steel clicking mechanism. Therefore, you can use it in the rain or damp weather without the fear of rusting.
The ergonomic design is among the strong points of this clicker. It is compact and sits well in the palm of the hand. The button is easily accessible and the spiral wrist strap is there for additional security.
Each purchase is for a set of four clickers. They come in black, red, white, and blue. Also included is a free e-book on dog training.
What's to like about the EcoCity Upgraded Dog Training Clicker 4-Pack
The EcoCity features good build quality, ergonomic design, and steel clicking mechanism. The package contains four different-colored clickers and a free eBook. This is excellent value for clickers of such quality.
What's not to like about the EcoCity Upgraded Dog Training Clicker 4-Pack
While it is quieter than the basic EcoCity clicker, the Upgraded Dog Training Clicker might still be too loud for the most sensitive canines.
2. LaZimnInc Dog Training Clicker 2-Pack
An ergonomic design is an important aspect of a dog clicker. A well-designed clicker that sits comfortably on the palm of your hand can make the entire clicker training process a lot more enjoyable. The LaZimnInc is an affordable basic clicker with excellent ergonomics. It is nicely designed and well-built too.
Product Highlights
Design-wise, the LaZimnInc Dog Training Clicker is a teardrop-shaped clicker with a relatively large clicker button. It is 2.36" long and 1.57" wide and around ½" deep. Even those with smaller hands can use it without a problem. Like most clickers, this one has an ABS housing. However nicely designed it is, it could be a bit sturdier.
The plastic button is fairly large and the black color contrasts the fair housing. The button is easy to press and has a snappy response, meaning you can easily use multiple clicks in noisy environments.
Below the button, the LaZimnInc clicker is equipped with a metal mechanism. The manufacturer claims it is rust-free and that it won't break even after extended use.
The LaZimnInc model gives out a moderately loud sound. It is great for outdoor training, especially if your pet has a tendency to wander off. On the other hand, sensitive dogs might take a session or two to get used to the sound indoors.
Finally, the package includes a pair of clickers and that's it. The most common colors are blue and white, though other varieties are available as well.
What's to like about the LaZimnInc Dog Training Clicker 2-Pack
The LaZimnInc Dog Training Clicker is a well-designed and ergonomic clicker. It is affordable, compact, and equipped with a rust-free metal clicking mechanism. Also, it is responsive and very simple to use.
What's not to like about the LaZimnInc Dog Training Clicker 2-Pack
On the downside, the housing could be a tad sturdier.
3. EcoCity Dog Training Clicker 2-Pack
A good dog training clicker must be both easy to click and responsive enough to let you click multiple times in quick successions if needed. The EcoCity Dog Training Clicker is a great option for dog owners who need a well-balanced clicker. It is EcoCity's basic model and ranks among the most affordable options.
Product Highlights
The EcoCity Dog Training Clicker offers great balance. The click button is easy to press and responsive. The plastic button is sturdy and doesn't jam easily, meaning you can quickly click, multiple times if necessary, to get your dog's attention. Also, it is big enough and accessible, making it an excellent option for people with big hands.
Under the button, the EcoCity features a metal clicking mechanism. What's more, it's an anti-corrosive metal. Perhaps as a result, the clicker produces a somewhat loud sound. So be careful if your dog is on the sensitive side. On the other hand, you can rest assured that they will hear you in crowded places and busy streets.
Construction-wise, this is a basic clicker with a teardrop-shaped ABS housing. It is just under 2-1/2" long and around 1-1/2" wide and fits nicely in your hand. Moreover, the clicker is equipped with an elastic wrist band that keeps it in place but loose enough to be comfortable. Thanks to the metal hook on the end of the strap, you can hang the clicker on your keychain or belt.
The package contains two clickers of random colors. Red/yellow and blue/white are perhaps the most popular combinations. Along with the clickers, you also get a free eBook.
What's to like about the EcoCity Dog Training Clicker 2-Pack
The strong points of this affordable clicker include the metal clicking mechanism, ergonomic design, responsive clicker button, and good build quality.
What's not to like about the EcoCity Dog Training Clicker 2-Pack
The sound might be too loud for doggies with super-sensitive ears.
4. PetSafe Clik-R Trainer
Some dog training clickers can be worn around the wrist, while others can't. If the idea of having a wrist strap doesn't appeal to you or if you'd like something simpler, take a look at the popular PetSafe Clik-R Trainer. This simple clicker substitutes the wristband with a finger band.
Product Highlights
The Clik-R Trainer has a very simple design, which might appeal to dog owners looking for something straightforward. The housing features plain and flat surfaces and rounded edges throughout, ending with the finger strap. The only decoration is the Clik-R inscription right below the button.
Construction-wise, the Clik-R has a prominent click button that's operated by a responsive metal spring. The button is ABS plastic and the mechanism beneath it is metal. There's a drawstring hole on the ABS housing.
The Clik-R Trainer comes in only two color options – purple and blue. Both have neon-green buttons and finger straps.
As for the sound, the PetSafe Clik-R Trainer is about average. It is loud enough to make sure your pooch will notice the click and soft enough to not scare the sensitive ones.
The package contains a clicker and a beginner's guide to clicker training.
What's to like about the PetSafe Clik-R Trainer
On the good side, the PetSafe Clik-R is a simple and easy-to-use training clicker. It is well-built and sturdy and the sound is well-balanced. It also has a handy finger strap.
What's not to like about the PetSafe Clik-R Trainer
However, there have been customer reports that the Clik-R Trainer is not loud enough and that the button breaks easily after frequent use.
5. IMK9 Dog Training Clicker 2-Pack
Due to their minute size, clickers can easily get misplaced or forgotten. That's why most clickers come in packs of two or more. Each purchase of the IMK9 Dog Clicker is for two clickers of different colors. In case you lose or break one, you'll have a spare ready.
Product Highlights
The IMK9 Clicker is well-built and ergonomic. The layout is simple and not any different than other dog clickers. The housing is made of ABS plastic and is sturdy enough to withstand long training sessions. The click button has an ergonomic thumb rest right behind it. This clicker also comes with an elastic wristband that can even be used with thick winter clothes.
The yellow button takes up pretty much all the space on one side. It aggressively protrudes and is equipped with a highly responsive spring. The spring and the rest of the mechanism are made of metal. This clicker gives out a rather loud sound, so be careful if your doggy is on the timid side.
The package includes two clickers with wristbands and a free training eBook. The most usual colors are black and blue, though you might receive other random colors.
What's to like about the IMK9 Dog Training Clicker 2-Pack
This is a durable and well-built clicker that has an ergonomic design, consistent clicks, and an elastic wristband. A spare clicker and a free e-book are nice additions to the package.
What's not to like about the IMK9 Dog Training Clicker 2-Pack
On the other hand, the IMK9 might be too loud for timid pups and adult dogs.
BUYER'S GUIDE
Click training is an efficient and non-abusive way to train your beloved canine. It is recommended by training experts and more and more dog owners use it with classic training methods.
If you're looking to add a clicker to your training arsenal, there are several key points to consider. They include ease of use, ergonomics, durability, color, and volume control. Let's see how to select the best clicker for dog training.
Ease of Use
If you want to incorporate a clicker into your dog's training, you will be using it on a daily basis and often for prolonged periods of time. Therefore, it has to be easy to use.
The main point to consider here is how well the click button works. Ideally, the button should be easy to press and spring back instantly. A responsive button can be quite handy in noisy and crowded places where a single click may not be enough to get your dog's attention.
If the clicker that you want to buy has a volume button, it should be easy to reach and adjust. Finally, the accessories and additional buttons must not impede the clicker's usability.
Ergonomic Design
Sometimes, a training session might last longer than usual, especially if your dog has problems learning the lesson at hand. Therefore, a great clicker must also be easy to use and remain so for a prolonged period of time.
You should pay attention to the shape and size of the clicker's casing and how it sits in your hand. Consider the position of the click button and other buttons if they're present. The click button also has to be sufficiently raised and big enough to let you operate it with ease and without looking.
If the clicker comes with a wristband, it should fit loosely around your wrist. The wristbands may be rubber, fabric, or nylon. Some models come with finger bands instead; these are usually made of nylon.
Durability
A good clicker has to be sturdy and durable enough for long-term use. If you intend to train multiple dogs, the durability of the clicker is even more important.
When buying a clicker, you should pay attention to the build quality and materials. Inspect the casing, buttons, wristband, and keychain ring as applicable.
Dog training clickers predominantly come with plastic housings. They may look like an old car remote controller – two pieces of plastic screwed or snapped together. The housing has to be strong enough to survive drops and the pressure of your hand.
The buttons are also plastic, while the mechanisms and springs are metal. Look for clickers that have a rust-free mechanism. You might have to pay a bit more, but it will pay off in the long run.
Finally, inspect the sturdiness of the wristbands and keychain cuffs and rings. If they're made poorly, you might easily lose your clicker.
Colors
Clickers nowadays come in a wide variety of colors. They mostly feature single or two-tone color. The most common two-tone combination is one color for the housing and for the button.
Volume Control
While basic clickers only have a clicker button, fancier models might have a volume control button as well. It lets you adjust the loudness of the click to suit both the environment and the dog.
If you're having a training session with a sound-sensitive dog in a quiet room, a loud click might scare it. On the other hand, a soft and quiet click will likely be inefficient in crowded and noisy places such as public parks and busy streets.
Clicker for Dog Training F.A.Q's.
How to Clicker Train a Dog?
If you're just introducing your dog to the clicker, start small. First, establish a connection between clicks and reward. Ideally, the initial sessions should be conducted in a peaceful and quiet place with minimal to no distractions.
For starters, hold the clicker in one hand and several treats in the other. Press the button and immediately give the reward. Reward the dog each time you click. You might want to try this just before mealtime, as the dog will be more attentive and eager for a treat. Don't let the treats replace the meal, though.
Another important component of successful clicker training is consistency. In the beginning, make sure to follow every click with a reward to establish the connection as quickly as possible.
Finally, don't forget to praise each desirable action, as your beloved canine still needs verbal affirmation and affection. In essence, you're trying to be like Pavlov here and make your dog a respond to a stimulus.
What is a Clicker?
A clicker is a simple training tool. It is made up of a plastic housing with a single button attached to a clicking mechanism inside the housing. Some models include wristbands and can be worn around the wrist, while the others come with finger bands.
Advanced and more expensive models might also feature a volume-control button. The idea here is to allow the owner to adjust the loudness according to the situation and the dog's sensitivity.
Generally, clickers aren't too colorful or bright to minimize distractions.
How to Use a Dog Clicker?
Clickers can be used to teach dogs anything from simple commands to complicated routines. The latter require extensive experience and excellent hand-eye coordination. However, basic clicker training is easy enough for beginners. Here's a simple routine you can use if you're just starting out.
Go to a quiet place with your dog.
Bring a handful of treats.
Press the button to click.
Give your dog a treat immediately.
Repeat steps 3 and 4 several times.
Take a break and let your dog do something else.
Click when it is not expecting.
Give them a treat as soon as they look at you.
What is a Dog Clicker Used For?
Even though they're prominently used in dog training, clickers were first used for training dolphins and whales. The first animal trainer to make extensive use of clickers was Karen Pryor, the famous marine mammal trainer and author. Nowadays, clickers are used in cat and horse training, too. Owners of Gambian pouched rats use clickers to a great extent as well.
Aside from animal training, clickers can be used as a way of communication. Back in WWII, allied paratroopers used clickers to distinguish friends from foes. The pattern was as follows: one click for the call and two clicks for the answer. Clickers can also be used as counting devices as found in some board games as a substitute for buzzers.
How Does Clicker Training Work?
In and of itself, the clicking sound means nothing to your dog as it is just another sound. However, when your beloved pet realizes that the strange new sound is without exception followed by an immediate treat, they will quickly learn to pay attention.
The science behind clicker training is that food is a primary reinforcer, as all living beings need food to survive and respond to it naturally. The reason clicker training is so effective is that it is a clear way to communicate that you are satisfied with your dog's behavior and that a treat is on the way.
A click is short, sharp, and distinctive, as opposed to verbal commands and praise. This is topped off by its consistency. Well-made clickers produce clicks of uniform length, pitch, and volume.
FINAL VERDICT
It's time to conclude the best clicker for dog training review. If you're looking for a multi-pack and are on a budget, the EcoCity Upgraded Dog Training Clicker 4-Pack might be the right choice for you. You get four clickers in different colors and each of them offers sturdily built, steel clicking mechanism, and good ergonomics.
Dog owners looking for clickers that are easy to use and ergonomic may find the LaZimnInc Dog Training Clicker and the EcoCity Basic Clicker appealing. Both models have responsive click buttons, elastic wristbands, and metal clicking mechanisms.
The PetSafe Clik-R, on the other side, is there for owners who'd like to keep things super simple. This sturdy clicker is worn around the finger and makes a well-balanced noise. Finally, the IMK9 2-pack offers superb reliability and durability.