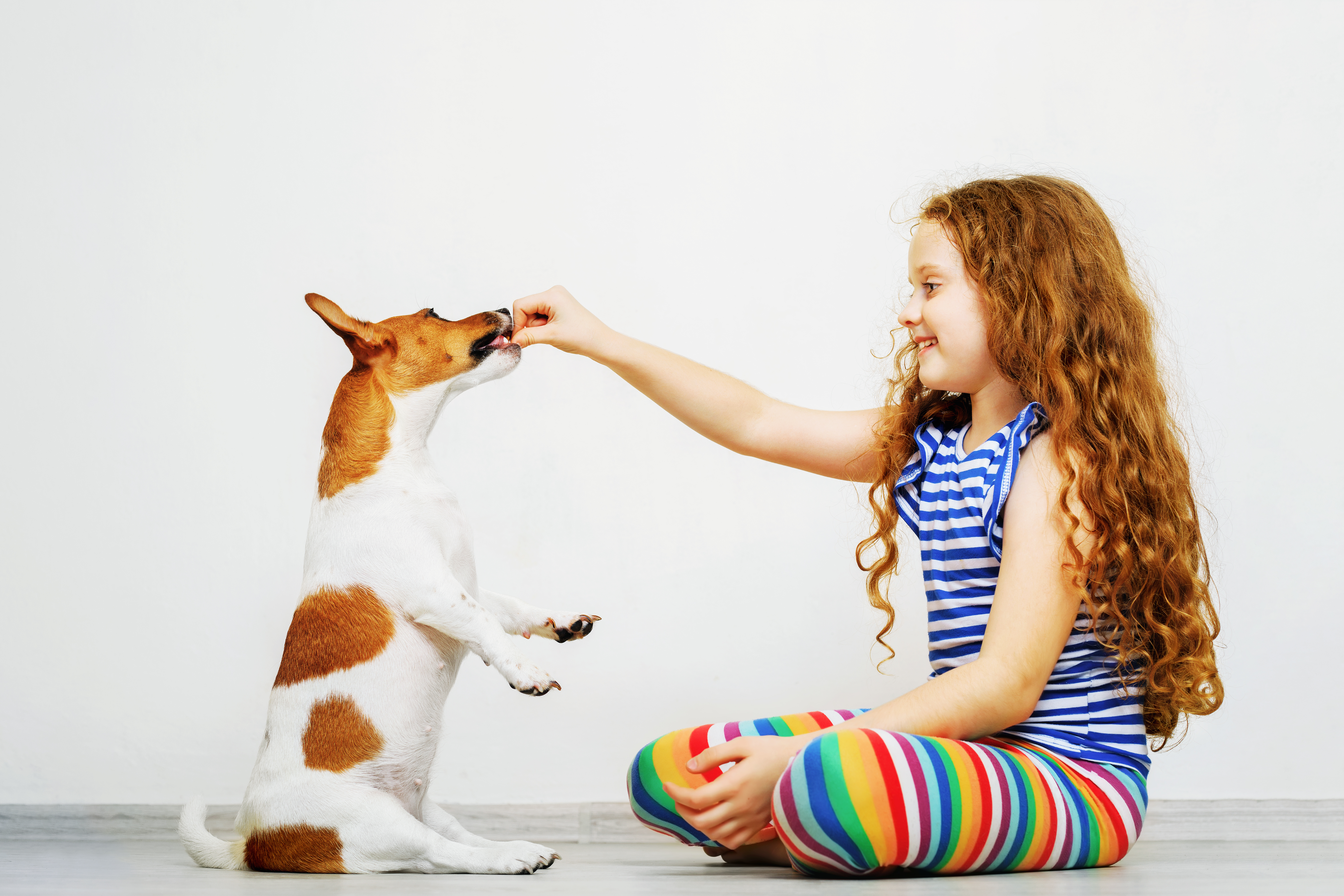 Best Dog Training Treats
A tasty reward which your dog can't resist is the key behind successful training. It is almost as important as the bond you share. Certain forms of obedience training rely solely on the reward response. With so many treats available to pet owners, it can be hard to select one which is both tasty and nutritious.
That's why we've put together a look at the three best dog training treats. Our reviews will take you through a look at what nutrition is packed into each, and how much high-quality value you get for your money.
Best Dog Training Treats Reviews
Natural Balance Mini-Rewards Dog Treats
These low-calorie rewards are ideal for all breeds of dogs at any age. They're healthy dog training treats with a meaty taste and a chewy texture that'll keep your canine coming back. Available in chicken, duck, lamb and a variety pack, these are perfect for training adult dogs and puppies. Let's take a closer look at Natural Balance Mini-Rewards Dog Treats and see why they're a brand that's been trusted by trainers since 1989.
Review
Coming in at less than 5 calories per treat, these are the perfect option for anyone who does extensive training. After all, you need a high-flavor reward which won't help pooch put on the pounds. They contain no corn, wheat or artificial preservatives, coloring, nor flavors. A guaranteed analysis gives you a breakdown of minimums lying at 10% crude protein, 6% crude fat, 5% crude fiber, and 28% moisture at the most.
Each treat looks and smells great. Your dog will be receiving a healthy selection of ingredients including chicken, dried potatoes, sweet potatoes, molasses, salmon oil, and brown rice flour.
Most trainers find their dogs liking these treats so much that they buy in bulk. While bulk packs are not available, having a tidy number of treats on hand is handy. Buying ten packs at a time gets you free shipping. You can also freeze them, and both moisture and flavor are well retained.
You'll also love the way that you can break them in half using just a little pressure. With a bit of preparation, you can even quarter them. They're actually soft enough for even dental-challenged seniors to enjoy.
Pros
Made in the US
Easy to divide
Extremely low-calorie treat
Healthy ingredients
Cons
Crazy Dog Train-Me! Training Reward Mini Dog Treats
Sale
Crazy Dog's Train-Me! Training Reward Mini Dog Treats is a healthy, irresistible training aid which you have to try for your dog. Available in a range of sizes across bacon, chicken, beef and salmon flavors, this is the ultimate treat to motivate and reward your dog. Thanks to meat as the prime ingredient, no canine can resist. Let's take a closer look at this low-fat low calorie training treat that won't fill up your dog but will definitely stimulate focus.
Review
These mini training rewards are ideal for training puppies and small dogs. Every pack contains approximately 200 treats packed with pork liver, barley flour, potato flour, flax seed, wheat bran, garlic, and rosemary. Thanks to eating treat measuring no more than ¼-inch, you won't need to subdivide these snacks. That makes them smaller than a chocolate chip. The tiny size is ideal for training. Even the smallest breeds will be able to gobble them down quickly.
You can safely feed these to your dog. There is no corn, soy, BHA, BHT or ethoxyquin. Each pouch carries quite a smell which is alluring for your canine companion but rather pungent. Be careful about feeding your dogs these treats too often as this can lead to picky eating. Puppy owners can use them for potty training, while obedience training of all types will find great benefit from these stinky but tasty treats.
Pros
Made in the US
High protein
Meat as the main ingredient
All safe formula
Tiny size perfect for training
Cons
Pungent smell
Suited to small dogs only
Full Moon Organic Human Grade Training Treats for Dogs
Sale
Full Moon USDA Organic Chicken Training Treats Healthy All Natural Dog Treats Human Grade 175 Treats
HUMAN-GRADE: If you wouldn't eat it, why would you feed it? From the ingredients they're made with to the kitchens they're made in, our treats meet strict USDA standards fit for human consumption.
ALL NATURAL: Our kitchen-crafted Organic Chicken Training Treats are made from organic cage-free chicken raised in the USA. Each tasty treat is less than 3 calories and bursting with real hickory smoke flavor your dog will roll over for.
HIGH QUALITY INGREDIENTS: Truth is our first ingredient. We carefully cook our Organic Chicken Training Treats in small batches using honest ingredients like organic chicken, flax seed, and paprika—never any by-products or waste.
NO GLYCERIN, GRAINS, CORN, WHEAT OR SOY: Our all natural treats are made from wholesome, healthy recipes. Every bite is free from fillers, artificial flavors, preservatives, and colors and chock full of real meat flavor.
U.S.-GROWN CHICKEN: Full Moon treats are proudly made in the United States using regionally sourced ingredients, including USDA approved, antibiotic-free chicken.
These all-natural dog training treats could easily be the best of 2018. USDA organic and certified to be human-grade, your dogs will love these treats. From an ultra-low-calorie count to a taste, texture, and smell which is irresistible, they're the perfect snacks.
They smell so good that you may end up trying one yourself, but it's not recommended. These are made for your pet using human quality standards and human grade meat. Let's see what makes Full Moon Organic Human Grade Training Treats for Dogs the ultimate option for any dog owner who wants the best.
Review
A 6-ounce bag of treats contains over 175 tasty morsels. Training doesn't get any easier than when you use these treats bursting with flavor. They are made from organic chicken and a selection of all-natural ingredients including organic flax seed, ground celery, paprika, and rosemary extract.
With a calorie count that measures less than 3 per training treat, extended sessions are possible. Just don't rely on these as a repeated go-to or your dog may just become fussy about their other food.
The treats are soft and small enough to be fed to your dog whole. They're also easy enough to split in two for smaller breeds. Human grade meat guarantees that your dog isn't being fed food which has been improperly handled. Food processing standards compare to those applicable to humans, making these treats a much-welcomed change for anyone who wants the healthiest training treat possible.
Pros
Supremely low-calorie count
Chewy texture
Real meat smell
Human grade quality
Organic all-natural ingredients
Cons
Conclusion
The perfect treat for your training needs depends largely on your preferences and budget. If you're looking for the highest quality training treat available then Full Moon Organic Human Grade Training Treats for Dogs is a clear winner. Its human-quality meat and production set it ahead of the competition.
While carrying a strong smell, Crazy Dog Train-Me! Training Reward Mini Dog Treats has been known to be a good option for picky eaters as well. Yet, if you want a treat which hits a good balance between price and quality then consider the snacks from Natural Balance. You can't go wrong, especially if you'll be feeding them to a larger dog.