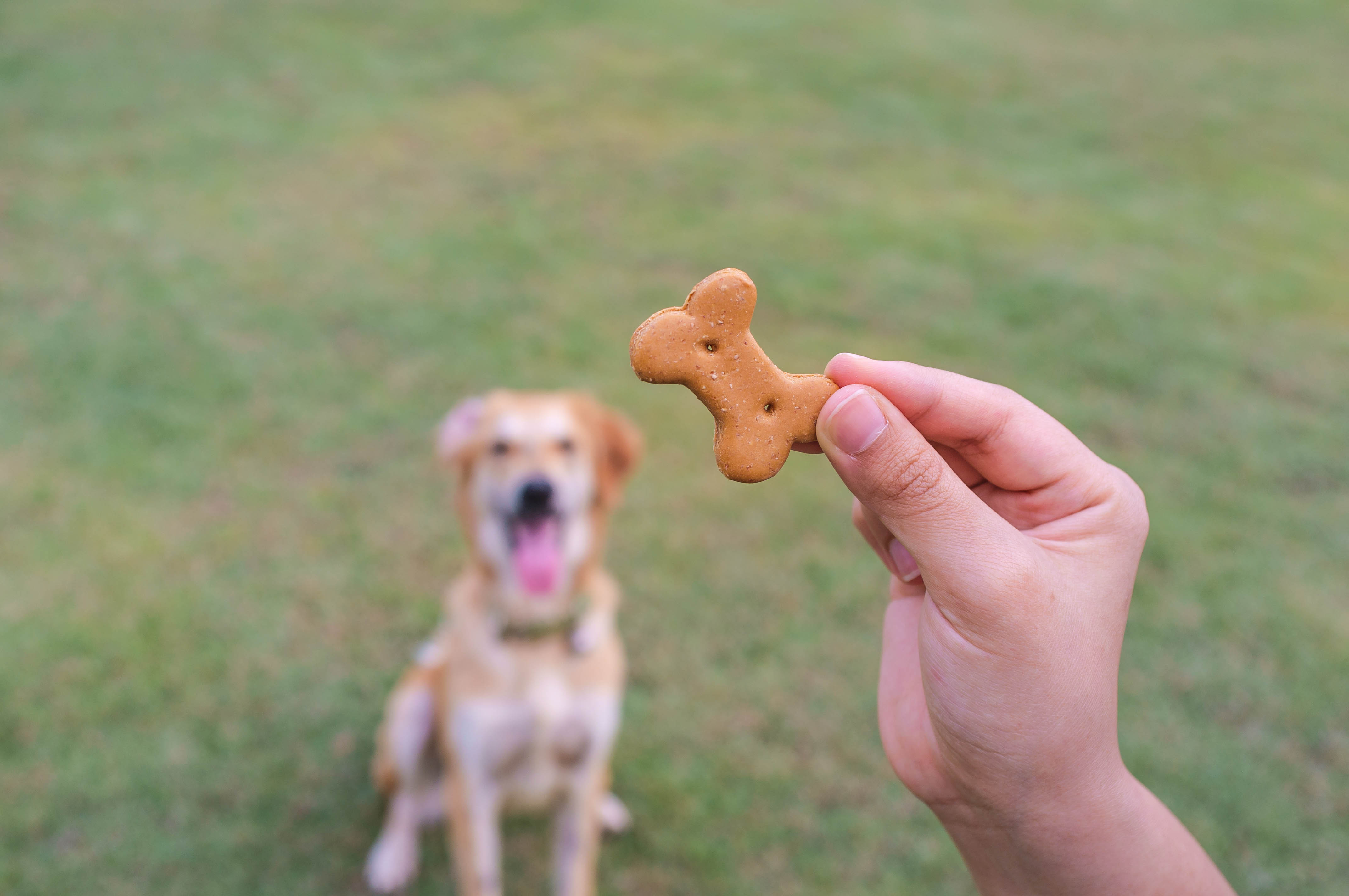 Tricks for Treats: Training your Dog with Food
Congrats! You are the newest pet parent in town to an adorable pup. The fun is over, and now you need to begin obedience training. No one wants to raise an ill-mannered dog. Dog parents are increasingly turning to positive reinforcement techniques to teach their pooches new behaviors.
Simply put, positive reinforcement means rewarding your dog immediately after she obeys a command. The reward encourages your dog to repeat the behavior in the future, making this technique effective in changing or shaping your pooch's behavior. One of the most effective ways to train your dog to be socialized and well -mannered is by using high-value treats. Treats are essential for successful reward-based dog training. Rewarding your puppy or adult dog with treats for good behavior will make them follow your commands faster as they will be looking forward to the goodies.
Successful positive reinforcement is heavily reliant on pinpointing what excites or motivates your puppy most. It's true that dogs are different but more often than not, food is the primary motivating force. Whether you are a first-time puppy owner or a seasoned owner looking to refine your old dog's manners, there are plenty of options for treats out there, but this article will focus on training your dog with food. Timing and consistency are key, or your dog may fail to associate a reward with a command.
Why Should I Use Treats for Dog Training? Which Is the Best Treat for Dog Training?
While some dog owners resent the idea of using treats during obedience training, others have no problem using this method to foster a healthy relationship with their dogs. In case you didn't know, dogs are not naturally programmed to instantly and accurately respond to commands from their owners. You have to go the extra mile to train them to follow commands. It's simple: if how a dog reacts to your cues and commands leads to rewards, she's more likely to repeat the act. But if you don't reward them in any way, she's less likely to repeat. Using treats to train your dog is a legitimate way of teaching her to be well-behaved, as long as you control the goodie box. Regardless of your dog's age, they are never too young or too old to learn a new trick. You should, however, avoid giving them treats anytime you feel like. Instead, make them work for their rewards.
While a simple pat or approval is rewarding enough for some dogs, others need more than playtime to be motivated to follow commands. The trick is knowing how to use treats properly. Instead of using dog treats like bribery, use them as training tools to get the behavior you want from your furry companion. When you reward your pooch with treats for commands such as lay down, sit, take your medicine, come, or leave it, he will tend to have more fun and learn faster.
Treats don't have to be expensive. Just as your paychecks, treats need to be light. They should, however, be thoughtful enough to make your dog excited when it's time for training. Most dog owners use food as their preferred treat. I haven't come across any dog that refuses food as a treat. When you are feeding your furry companion, you should keep treats in mind. Overfeeding can lead to problems such as obesity. To avoid this, it is your responsibility to adjust your pup's regular feedings to give space for treats. Remember it's perfectly okay to mix play and praise in addition to food.
Picking The Right Food for Treats
Most dog owners ignore this vital consideration and use whatever dog food that comes to mind. Choosing the right kind of treat for training can be daunting as every pup has their own individual preference. Overly salted, saucy, high-calorie/fat and spicy delicacies can give your puppy stomach upsets. This should not be the case. Your dog's health should come first when shopping for a tasty incentive. While you need to find something that is different from a regular diet, it should be a healthy option. Your treats should also be small and easily swallowed. Provided your preferred food is sufficiently appealing to your dog, she can be prompted to follow commands.
It's now easier than ever to find snacks that are meant explicitly for dogs from online stores such as Amazon. Before you settle on one snack, scrutinize the ingredients to find the ones not suitable for your dog. Some dogs are either allergic to certain ingredients or have sensitive stomachs. As a general rule of the thumb, try to avoid snacks with artificial flavors, colors and preservatives. Find a few favorites for your pooch and alternate the snacks regularly. This way, it will be easier to keep your dog's interest longer.
Steps to Training Your Dog with Food
After picking one or two favorite treats that excite your pup, it's now time to have a look at the actual training. The steps below should point you in the right direction. Read on to discover how to properly use food as treats with the lure and reward method.
Approach your dog with a treat hidden in your bag or pockets.
Give your dog a command and hold the food a bit above her head. Avoid repeating commands if your pup doesn't respond immediately.This will only show the pup that repetitions are okay before she obeys a command.
Ensure that the treat is within your dog's view. You can lower the food to her nose in your closed hand. She will know it's there even if she can't eat it at that time.
Pull the treat from above their head toward the ground while giving her a command.
If she obeys your command, congratulate her ("good girl" or "yes" in a happy tone can work) and give her the treat. Your dog will learn to associate the praise with the pleasure of atreat. You can alternatively give her an affectionate pat instead of verbal praise.
Repeat the above steps a few times in a day.
Conclusion
Self-control does not come naturally to puppies – they need to be taught. Food treats are arguably the best dog training tool in an obedience trainer's arsenal. As your pooch gets used to the idea, gradually fade out the first lure and alternate the rewards to avoid bribing. Be careful not to over-reward as this will make the foods lose their magical appeal. Once your pup starts responding correctly, you can begin phasing out food.
Sale
Bestseller No. 1
Milk-Bone MaroSnacks Dog Treats for Dogs of All Sizes, 40 Ounces
Contains one (1) 40 ounce package of small dog treats with real bone marrow (packaging may vary)
The dog biscuit shell encases a real bone marrow center, delicious treats that you can feel good about giving
Crunchy on the outside and meaty on the inside, our MaroSnacks dog snacks are a satisfying combo of texture and mouthwatering flavor
Savory treats with calcium, perfect for dogs of all sizes
Baked with love in Buffalo, New York, USA, with colors from natural ingredients only
Bestseller No. 2
Good'N'Fun Triple Flavored Rawhide Kabobs For Dogs
Wrapped With Premium Cuts Of Real Meat That Canines Crave
Made With Premium Chicken, Wholesome Duck And Hearty Liver
These Uniquely Shaped Treats Provide Long Lasting Entertainment
Decadent, Gourmet Dog Treats
Sale
Bestseller No. 3
Bestseller No. 4
Farmland Traditions Dogs Love Chicken Premium Jerky Treats for Dogs (3 lbs. USA Raised Chicken)
LIMITED INGREDIENTS: Treats with limited ingredients decrease the likelihood of allergic reactions for dogs with allergies and food sensitivities. Eliminating additives supports healthy digestion and disruptions in the endocrine system.
FREE FROM FILLERS: All of our protein-packed treats are free from grain, soy, and corn. Your pup can savor the natural, rich flavor of American farm-raised chicken without any fillers.
LOVED BY DOGS OF ALL SIZES: Dogs of all sizes and breeds can enjoy our tasty treats. Easy-to-break jerky can be customized into small pieces for smaller pets or remain full-sized for large four-legged friends.
FARMLAND PRIDE: Our products are proudly made in the USA at our FDA-registered, state-of-the-art facility in Southern California.
SWEET REWARD: Dehydrated to lock in flavor and nutrients, our high fiber jerky is the perfect healthy training treat. Just break them into bite-sized pieces, and your pup will be sitting pretty for their favorite snack.
Sale
Bestseller No. 5
Full Moon Chicken Jerky Healthy All Natural Dog Treats Human Grade Made in USA Grain Free 24 oz
HUMAN-GRADE: If you wouldn't eat it, why would you feed it? From the ingredients they're made with to the kitchens they're made in, our treats meet strict USDA standards fit for human consumption.
ALL NATURAL: Our kitchen-crafted Chicken Jerky is made from sliced, whole muscle chicken breast from USA farms. Each piece is slow cooked in our ovens to bring out the flavors your dog will love.
HIGH QUALITY INGREDIENTS: Truth is our first ingredient. We carefully cook our natural Chicken Jerky in small batches using honest ingredients like chicken, organic cane sugar, vinegar, rosemary extract—never any by-products or waste.
NO GLYCERIN, GRAINS, CORN, WHEAT OR SOY: Our all natural treats are made from wholesome, healthy recipes. Every bite is free from fillers, artificial flavors, preservatives, and colors and chock full of real meat flavor.
U.S.-GROWN CHICKEN: Full Moon treats are proudly made in the United States using regionally sourced ingredients, including USDA approved, antibiotic-free chicken.
Sale
Bestseller No. 6
Milo's Kitchen Chicken Meatballs Dog Treats, 18-Ounce
Home-style dog treats with 100% real chicken as the #1 ingredient
Wholesome and delicious, with no artificial flavors or colors
Made in the USA and meets the applicable standards and specifications of the USDA, the FDA, and the AAFCO
Customer satisfaction guaranteed
Bestseller No. 7
EcoKind Yak Cheese Dog Chews | 1 lb. Bag | Healthy Dog Treats, Odorless Dog Chews, Rawhide Free, Long Lasting Dog Bones for Aggressive Chewers, Indoors & Outdoor Use, Made in The Himalayans
✓PERFECT TO KEEP YOUR DOG BUSY AND ENJOYING - These chew sticks are healthy, delicious premium organic chews that keeps your dog busy enjoying the sticks. They are made out of totally natural material hence they are easily digestible. They are best alternative to any other similar pet chews....And a GREAT value! The more you purchase, the more you save! Subscribe and Save to get an even better value!!
✓NATURAL INGREDIENTS –The chew sticks' source is Nepal; they are made in and imported directly from Nepal. The chew sticks are made from 100% from Yak milk with no artificial ingredients and chemicals, as well as they do not contain any preservatives. The sticks are absolutely free from gluten and lactose making them very gentle on sensitive stomachs.
✓EXCLUSIVE CHEWS FROM ANCIENT RECIPE - These are 'A' grade Yak chews sourced from the Himalayas that sink into dogs teeth. This is ancient tried and tested recipe from the mountains of Nepal. These are totally natural and very nutritious dog chews made from yak's and cow's milk. Milk is processed to remove Lactose and make the chews easily digestible and very gentle for sensitive stomachs.
✓STICK SIZE THAT KEEPS DOG BUSY – The sticks come in a bag that contains huge pieces of 6-8 inches in length and 1-2 inches in width which is sufficient to keep the dogs busy for hours enjoying the treat.
✓YOUR PIECE OF MIND – This is highly nutritious product for the dogs that can provide many hours of chew time for your dog. Since the sticks are odorless you are not getting disturbed while the dog is busy chewing the sticks. Since the chews are made out of natural ingredients they are absolutely safe to be used both indoors and out.
Sale
Bestseller No. 8
Milk-Bone Flavor Snacks Dog Treats, Mini Biscuits, 36 Ounce Jar
Contains (1) 36 ounce canister of Dog Treats for dogs of all sizes
Only 5 calories per treat and a small size so you can enjoy treating more often
More than 450 treats per canister means more Milk-Bone Mini's moments with your best friend
Fortified with 12 vitamins and minerals to help keep your dog at his or her best
You get great value with our new 36-ounce canister more than 450 treats at an unbeatable price
Bestseller No. 9
Pet 'n Shape Hide Twists – Chicken Wrapped Rawhide Natural Dog Treats, 16 ounces.
100% NATURAL - Pet 'n Shape treats contain no artificial additives, colors or preservatives, no wheat, no corn and no soy
GRAIN FREE – Pet 'n Shape treats contain no wheat, no soy, and no corn
INGREDIENTS - Pet 'n Shape Chik 'n Hide Twists are made from 100% natural chicken breast wrapped delicately around a savory rawhide chew
CONVENIENT - Ideal for easy storage, our resealable packaging locks in freshness
ONE SIZE FITS ALL–Pet 'n Shape jerky treats are perfect for puppies, adults and senior dogs of all breeds
Bestseller No. 10
AFreschi Turkey Tendon Twists for Dogs, Premium All-Natural, Hypoallergenic Dog Chew Treat, Easy to Digest, Alternative to Rawhide, Ingredient Sourced from USA. Pack of 1, 3 oz
𝐒𝐮𝐩𝐞𝐫𝐢𝐨𝐫 𝐐𝐮𝐚𝐥𝐢𝐭𝐲 𝐈𝐧𝐠𝐫𝐞𝐝𝐢𝐞𝐧𝐭 : All natural dog chew treat made from US-sourced turkey tendon with NO preservatives, NO antibiotics, NO artificial flavors or coloring, NO steroids, NO growth hormones, and NO other harmful ingredients — a healthy natural alternative to rawhide products.
𝐇𝐢𝐠𝐡 𝐏𝐚𝐥𝐚𝐭𝐚𝐛𝐢𝐥𝐢𝐭𝐲: Delicious, high-protein, low-fat gourmet dog chew treat hand-made and slow-roasted for maximum flavor, proven to please the most finicky of dogs.
𝐆𝐫𝐞𝐚𝐭 𝐟𝐨𝐫 𝐂𝐡𝐞𝐰𝐢𝐧𝐠 & 𝐄𝐚𝐬𝐲 𝐭𝐨 𝐃𝐢𝐠𝐞𝐬𝐭 : Give yourself a break by keeping your pet busy for a while. The chew breaks off in small pieces, so is it safer and easier to digest.
𝐂𝐥𝐞𝐚𝐧𝐬𝐞 𝐓𝐞𝐞𝐭𝐡 : Treat encourages chewing, naturally reducing plaque and tarter build up. The tasty tendon treat strengthens gums and improves overall dog dental health.
𝐇𝐲𝐩𝐨𝐚𝐥𝐥𝐞𝐫𝐠𝐞𝐧𝐢𝐜 : Natural grain-free dog chew treat is made from 100% pure turkey tendon, suitable even for dogs with sensitive tummies.