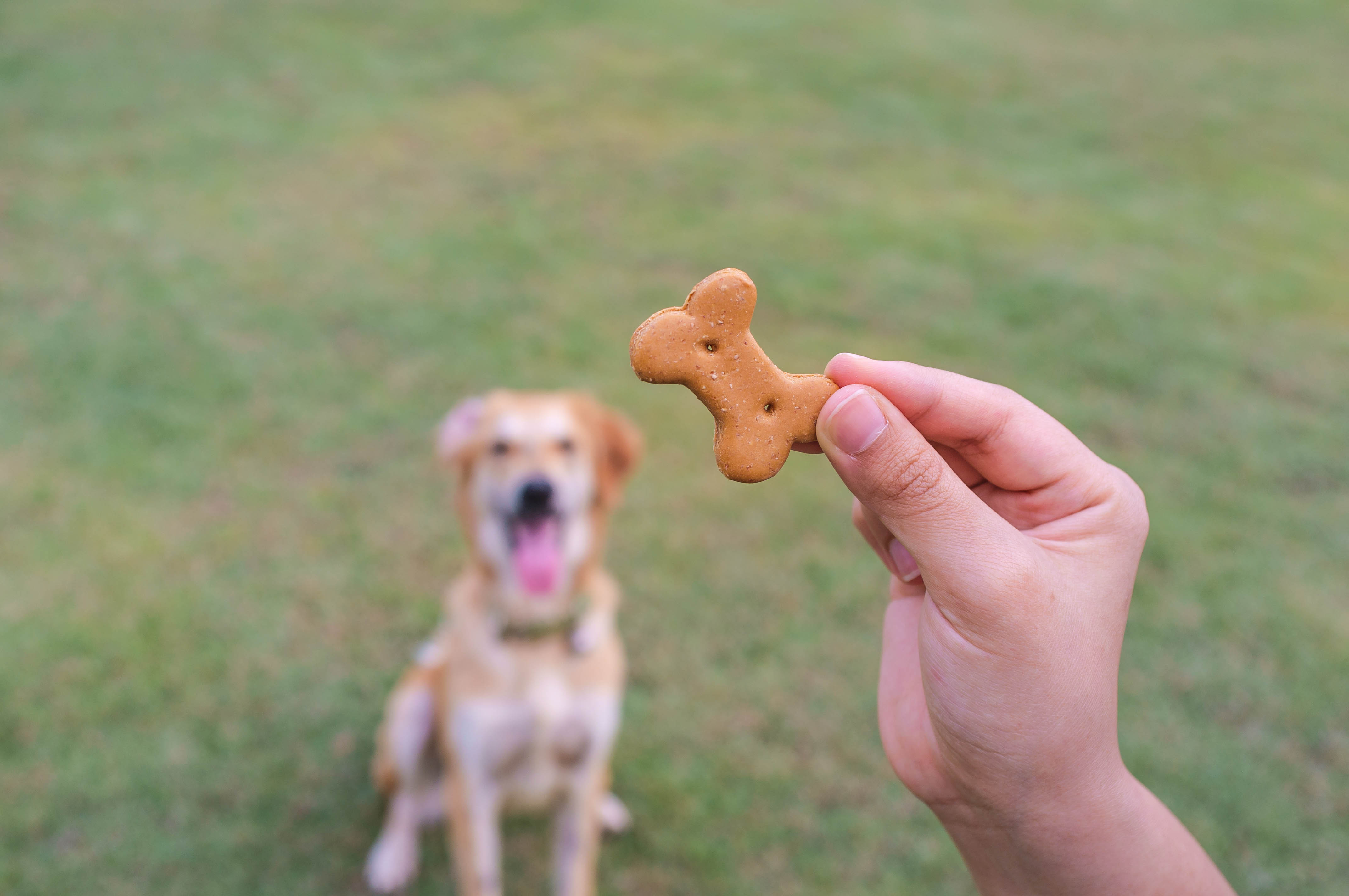 Tricks for Treats: Training your Dog with Food
Congrats! You are the newest pet parent in town to an adorable pup. The fun is over, and now you need to begin obedience training. No one wants to raise an ill-mannered dog. Dog parents are increasingly turning to positive reinforcement techniques to teach their pooches new behaviors.
Simply put, positive reinforcement means rewarding your dog immediately after she obeys a command. The reward encourages your dog to repeat the behavior in the future, making this technique effective in changing or shaping your pooch's behavior. One of the most effective ways to train your dog to be socialized and well -mannered is by using high-value treats. Treats are essential for successful reward-based dog training. Rewarding your puppy or adult dog with treats for good behavior will make them follow your commands faster as they will be looking forward to the goodies.
Successful positive reinforcement is heavily reliant on pinpointing what excites or motivates your puppy most. It's true that dogs are different but more often than not, food is the primary motivating force. Whether you are a first-time puppy owner or a seasoned owner looking to refine your old dog's manners, there are plenty of options for treats out there, but this article will focus on training your dog with food. Timing and consistency are key, or your dog may fail to associate a reward with a command.
Why Should I Use Treats for Dog Training? Which Is the Best Treat for Dog Training?
While some dog owners resent the idea of using treats during obedience training, others have no problem using this method to foster a healthy relationship with their dogs. In case you didn't know, dogs are not naturally programmed to instantly and accurately respond to commands from their owners. You have to go the extra mile to train them to follow commands. It's simple: if how a dog reacts to your cues and commands leads to rewards, she's more likely to repeat the act. But if you don't reward them in any way, she's less likely to repeat. Using treats to train your dog is a legitimate way of teaching her to be well-behaved, as long as you control the goodie box. Regardless of your dog's age, they are never too young or too old to learn a new trick. You should, however, avoid giving them treats anytime you feel like. Instead, make them work for their rewards.
While a simple pat or approval is rewarding enough for some dogs, others need more than playtime to be motivated to follow commands. The trick is knowing how to use treats properly. Instead of using dog treats like bribery, use them as training tools to get the behavior you want from your furry companion. When you reward your pooch with treats for commands such as lay down, sit, take your medicine, come, or leave it, he will tend to have more fun and learn faster.
Treats don't have to be expensive. Just as your paychecks, treats need to be light. They should, however, be thoughtful enough to make your dog excited when it's time for training. Most dog owners use food as their preferred treat. I haven't come across any dog that refuses food as a treat. When you are feeding your furry companion, you should keep treats in mind. Overfeeding can lead to problems such as obesity. To avoid this, it is your responsibility to adjust your pup's regular feedings to give space for treats. Remember it's perfectly okay to mix play and praise in addition to food.
Picking The Right Food for Treats
Most dog owners ignore this vital consideration and use whatever dog food that comes to mind. Choosing the right kind of treat for training can be daunting as every pup has their own individual preference. Overly salted, saucy, high-calorie/fat and spicy delicacies can give your puppy stomach upsets. This should not be the case. Your dog's health should come first when shopping for a tasty incentive. While you need to find something that is different from a regular diet, it should be a healthy option. Your treats should also be small and easily swallowed. Provided your preferred food is sufficiently appealing to your dog, she can be prompted to follow commands.
It's now easier than ever to find snacks that are meant explicitly for dogs from online stores such as Amazon. Before you settle on one snack, scrutinize the ingredients to find the ones not suitable for your dog. Some dogs are either allergic to certain ingredients or have sensitive stomachs. As a general rule of the thumb, try to avoid snacks with artificial flavors, colors and preservatives. Find a few favorites for your pooch and alternate the snacks regularly. This way, it will be easier to keep your dog's interest longer.
Steps to Training Your Dog with Food
After picking one or two favorite treats that excite your pup, it's now time to have a look at the actual training. The steps below should point you in the right direction. Read on to discover how to properly use food as treats with the lure and reward method.
Approach your dog with a treat hidden in your bag or pockets.
Give your dog a command and hold the food a bit above her head. Avoid repeating commands if your pup doesn't respond immediately.This will only show the pup that repetitions are okay before she obeys a command.
Ensure that the treat is within your dog's view. You can lower the food to her nose in your closed hand. She will know it's there even if she can't eat it at that time.
Pull the treat from above their head toward the ground while giving her a command.
If she obeys your command, congratulate her ("good girl" or "yes" in a happy tone can work) and give her the treat. Your dog will learn to associate the praise with the pleasure of atreat. You can alternatively give her an affectionate pat instead of verbal praise.
Repeat the above steps a few times in a day.
Conclusion
Self-control does not come naturally to puppies – they need to be taught. Food treats are arguably the best dog training tool in an obedience trainer's arsenal. As your pooch gets used to the idea, gradually fade out the first lure and alternate the rewards to avoid bribing. Be careful not to over-reward as this will make the foods lose their magical appeal. Once your pup starts responding correctly, you can begin phasing out food.
Sale
Bestseller No. 1

Milk-Bone MaroSnacks Dog Treats for Dogs of All Sizes, 40 Ounces
Contains (1) 40 Ounce Canister of Dog Treats for Dogs of All Sizes
Wholesome, delicious treats that you can feel good about giving
Dog treats with real bone marrow and two layers of meaty crunch
Rich in calcium to help maintain strong teeth and bones
Produced in Buffalo, New York, USA
Sale
Bestseller No. 2

Sale
Bestseller No. 3

Nudges Steak Grillers Dog Treats, 36 Ounce
USA Beef is the #1 ingredient
All natural ingredients
No artificial flavors. No artificial preservatives. No animal by-products.
Made in the USA
Easy to tear into bite-sized pieces
Sale
Bestseller No. 4

Bestseller No. 5

PEDIGREE DENTASTIX Large Dog Dental Care Treats Original, Beef & Fresh Variety Pack, 2.76 lb.Pack (51 Treats)
Contains one (1) 2.76 lb. 51-count pack of Pedigree dentastix Large Treats for Dogs Variety Pack which contains three pouches: (1) 15.6 oz Original (18 Treats); (1) 13 oz. Fresh (15 Treats); (1) 15.6 oz. Beef Flavor (18 Treats)
PEDIGREE DENTASTIX: Triple Action acts as a dog breath freshener that works to clean teeth and freshen breath, and has a clinically proven texture that reduces plaque and tartar buildup
Our dental treat sticks have a unique X-shape design and are specially designed for adult large breed dogs, weighing over 30 lbs.
Feed one Pedigree Dentastix Oral Care Treat every day for maximum benefits to oral hygiene
Pedigree dentastix Dental Chews feature an original flavor with real chicken, fresh mint flavor, and beef flavored dental treats that large dogs love
Sale
Bestseller No. 6

Sale
Bestseller No. 7

Old Mother Hubbard Classic P-Nuttier Biscuits Baked Dog Treats, Mini, 20 Ounce Bag
Mini crunchy treats: These mini crunchy dog biscuits make a great training treat and a great addition to your dog's diet; They feature all natural ingredients and assorted natural flavors including peanut butter, apples, carrots and molasses
All natural: Our yummy biscuit recipes include wholesome natural ingredients such as real peanut butter, fruits and vegetables; Each biscuit is slowly oven baked to preserve the natural flavors
Made in North America using only the finest globally sourced ingredients; We craft delicious recipes with simple, natural ingredients thoughtfully chosen for their nutritional benefits; No artificial preservatives or meat byproducts
The natural choice: From puppy to senior, small dog to large breed, crunchy to chewy, grained to grain free, treating to training, we've got an all-natural recipe for every dog's needs and taste
Give 'em some snack love: We've used the same simple methods to bake our snacks since 1926; Each home style recipe is crafted from wholesome ingredients so you can feel good about giving your dog a reward that's healthy and heartfelt
Sale
Bestseller No. 8

Pup-Peroni Original Lean Beef Flavor Dog Snacks, 25-Ounce
Contains One 25 Ounce Pouch Of Lean Beef Flavor Dog Snacks
Delicious, Dog Snacks That Are 90% Fat-Free
A Mouthwatering Aroma That Dogs Just Can'T Resist
Tender, Tasty Treats Wihout The Guilt
Tender Jerky Is Easy To Break Into Smaller Pieces
Sale
Bestseller No. 9

Zuke's Mini Naturals Training Dog Treats Chicken Recipe - 16 Oz. Bag
(1) 16.0 ounce Bag - Zuke's Mini Naturals Training Dog Treats Chicken Recipe
Wholesome, tender mini bites for all your adventures in training
Real chicken is the #1 ingredient
Less than 3 calories per treat for guilt free rewarding
Healthy dog treats made with natural ingredients like real chicken and whole food berries
Sale
Bestseller No. 10

Blue Buffalo Wilderness Trail Treats High Protein Grain Free Crunchy Dog Treats Biscuits Duck, Turkey, & Salmon Recipes 10-oz Variety Pack, 3ct
PACKED WITH REAL MEAT: BLUE Wilderness Trail Treats start with real meat as the first ingredient making them a truly irresistible dog treat.
CRUNCHY DOG TREATS: These dog biscuits are made with an irresistible crunch to satisfy their wild side and help clean teeth.
WHOLESOME INGREDIENTS: Made with omega 3 & 6 fatty acids plus antioxidants these grain free dog treats are more than just tasty, they're healthy too!
NATURAL DOG TREATS: Featuring only wholesome ingredients you'll love feeding Wilderness dog treats are grain free and contain no chicken (or poultry) by-product meals, and no corn, wheat or soy.
Contains (3) 10-oz bags of BLUE Wilderness High Protein Grain Free Trail Treats Duck Recipe, Turkey Recipe, and Salmon Recipe.