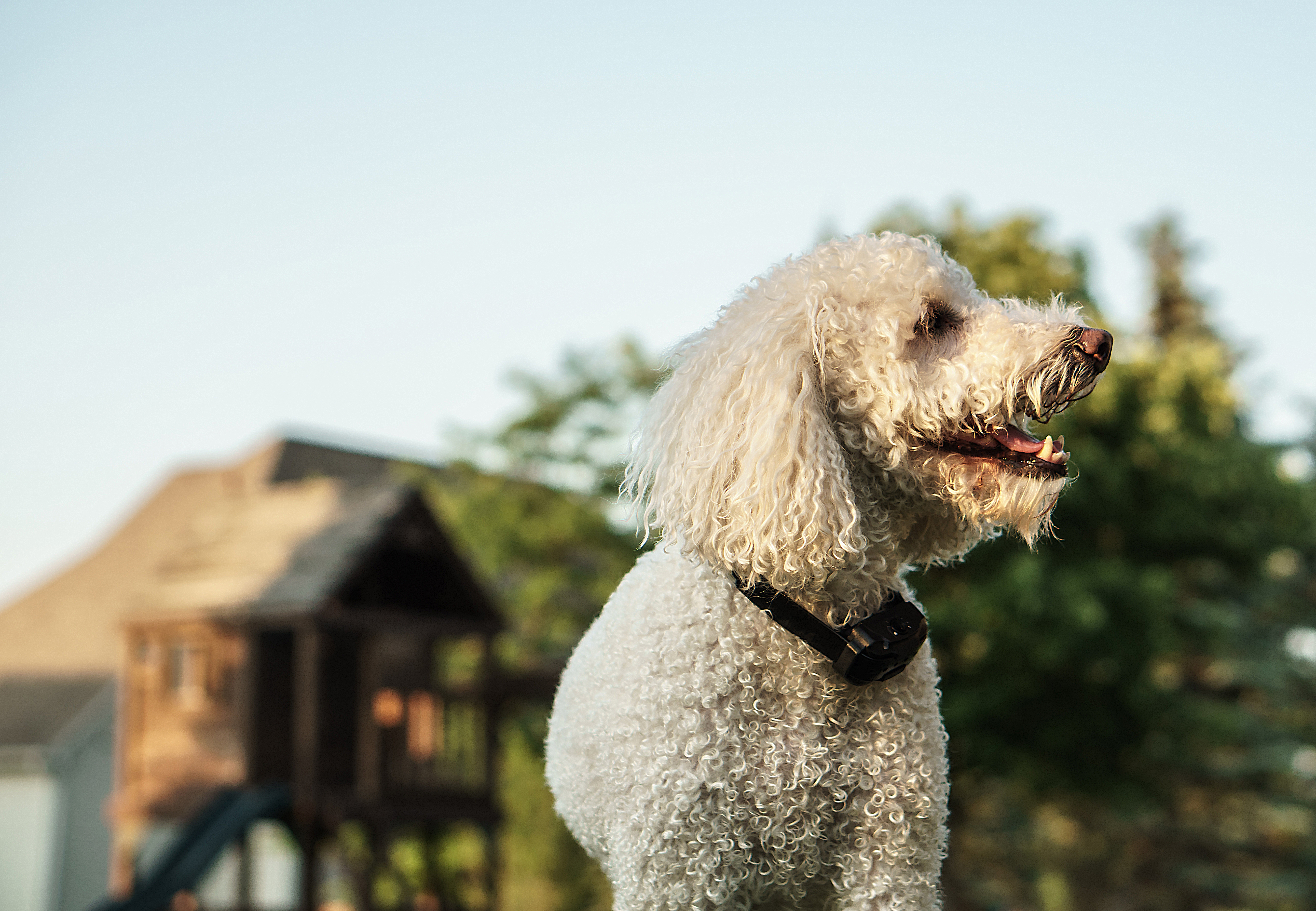 Best Bark Collar for Small Dogs of 2019
Complete Reviews with Comparisons
Big dogs have big barks, but it doesn't mean that a small yapper won't annoy everybody within earshot if it won't stop barking. If you have a small dog and don't know how to get it to be quiet for any given amount of time, it might be wise to look into a bark collar. Right now, we want to help you find the best bark collar for small dogs, so let's get to it.
Best Bark Collars For Small Dogs: Reviews
Sale
DogRook Rechargeable Dog Bark Collar - Humane, No Shock Barking Collar - w/2 Vibration & Beep - S, M, L Dogs Breeds Training - No Remote - 11-110 lbs
Humane bark collar with 2 modes - in 96% cases help decrease (eliminate) dog's barking by automatic performance with 5 safe stages of sound (beeps) and vibration. Beeps and vibrations are switching automatically based on the amount of dog's barking, increasing after each bark.
Rechargeable version - no bark collar works about 14 days with 1 battery life. Get a full charge in 2-3 hours.
Action without remote - The collar works in automatic mode, in which sounds and vibrations are combined to effectively and safely stop the barking. At the first bark, there will be only a sound signal, at the subsequent barks vibrations are added to a sound signal. Useful when you are not at home and your dog stays alone.
Adjustable for S, M, L dogs - no shock bark collar is adjustable for dogs weighing 11 to 110 lbs with neck size of 9 to 22 inches. Adjust the strap according to the size of your dog.
Extra parts - In addition to the automatic stop barking collar we have included USB cable and prongs covers.
This is an affordable and humane dog bark collar that uses a dual correction technique to stop your pooch from barking.
Review
This is a humane dog bog collar, which means that it does not use electric shocks to correct your dog's bad behavior. Instead, the DogRook Dog Bark Collar uses a combination of vibrations and sounds, with 7 different levels. It starts out at the first level, and if your dog keeps barking, works its way up to the next levels.
This collar is ideal for dogs between 11 to 110 pounds, and it is adjustable, so it actually works for many different dogs. The DogRook Dog Bark Collar is 100% waterproof, so it doesn't matter if your dog goes swimming with it, plus it has a decent level of impact resistance as well. It even comes with a full 1-year warranty, which is pretty impressive. The only issue is that it may have trouble distinguishing between your dog's bark from others.
Pros
Durable
Inexpensive
Humane
Good warranty
Cons
May activate due to other dogs
PetYeah Dog Bark Collar-5 Adjustable Sensitivity and Intensity Levels-Dual Anti-Barking Modes-Rechargeable/Rainproof/Reflective -No Barking Control Dog Shock Collar for Small Medium Large Dog
New Smart Test Mode: When the sensitivity level is adjusted to 0, the receiver enters the test mode, and you can test by blowing or shouting at the sensor microphone on the back of the receiver. When the receiver makes a sound, and then vibrations and finally shock (Test light will be on), it means the receiver works fine. This makes it easy to ensure that your pet is effectively trained.
Intelligent Identification Chip: The microprocessor intelligently detects the dog barking technology, which can safely and effectively filter other unrelated sounds and prevent false triggering. The receiver is designed with a digital display to show the level, and red light for "beep + vibration + shock" mode, green light for "beep + vibration" mode, each mode has 1-5 adjustable intensity levels. You can adjust the accurate static level for your dog.
Intelligent Dual-Mode and Automatic Protection System: The dual training mode is beep+vibration, and beep+vibration+shock. In Non-Shock mode, as long as dog barking is detected, it will trigger; In Shock mode, if dog barking continues, the device will perform six different steps in turn, sleep for two minutes after the completion of six steps, and return to the initial state to protect the pet. In Automatic Protection mode, press any button to allow the product to re-enter work mode.
Adjustable & Reflective Nylon Strap:Adjustable collar length 8-24 inch ,Perfect for all size dogs( 8lbs~120lbs).High-quality nylon strap with reflective stripes, which is responsible for increasing your dog's safety and visibility. You could find your dog in the dark environment, at dusk, thick foggy condition.
Rechargeable & Waterproof: The collar contains a built-in USB rechargeable battery. It can be fully charged in about 2-3 hours and gave you about 10 days of use. IP67 waterproof level design,your dog can run in the rain or in any inclement weather.The waterproof charging interface is designed more durable.
Here we have a slightly more expensive option, about twice the cost of the previous bark collar, but it does have some additional features for the price.
Review
The PetYeah Dog Bark Collar comes with an identification chip, which means that it can recognize your dog and won't activate due to other dogs barking. It can be used as a humane collar, as it has a vibration and sound mode, but for the trouble cases it does come with an additional shock mode as well.
In case your dog keeps barking, with the PetYeah Dog Bark Collar, it will shut off for a while after a certain amount of time to prevent over-shocking your pet. This collar is ideal for dogs between 8 and 120 pounds, and it is adjustable for size, so it should fit most small and medium dogs. The PetYeah Dog Bark Collar is rechargeable and it comes with the charger, plus it's also quite durable and 100% waterproof.
Pros
Very durable
Great for most dog sizes
Smart detection chip
Shock and shock-free modes
Cons
Doesn't always pick up on barks
This bark collar from Dog Care is an even more expensive option, although not much more than the bark collar we just looked at. Once again, it has additional features for the increased cost.
Review
The Dog Care Bark Collar comes with a remote control which you have to activate it. So, on one hand, it makes for a great training tool if you are there to enforce it, but the Dog Care Bark Collar does not work automatically on its own. With that being said, it comes with beep, vibration, and shock modes, so you can choose which mode works best for you and your dog.
What is also super cool about this option is that you can connect up to 9 collars for 9 dogs at once. The Dog Care Bark Collar is adjustable for more or less any size of dog. This item also has a long-lasting battery, it is 100% waterproof, and has a decent range.
Pros
Can be used for multiple dogs
3 correction modes
Has a remote control
Great battery life
Durable and waterproof
Cons
Does not work automatically
This is a less expensive and totally humane dog bark collar that gets the job done for small dogs that can learn quickly.
Review
The Elecane Dog Bark Collar is 100% humane, as it does not use shocking, but it does have vibrations for corrections. Although, that said, it does not come with any sound corrections, just vibrations, which is not great, but it does fine for dogs that learn pretty quickly and are not serious trouble cases. The Elecane Dog Bark Collar is fully adjustable and works for dogs with neck sizes between 6 and 24 inches, so it should fit most dogs with ease.
The Elecane Dog Bark Collar is totally rainproof, although not 100% waterproof, but it does have a high level of impact resistance. Moreover, this item is rechargeable, although the battery life is not spectacular. We like how the Elecane Dog Bark Collar comes with a smart chip so it won't activate due to other dogs.
Pros
Smart detection chip
Durable and rainproof
Affordable
Works for most dog sizes
Humane
Cons
Vibration only
Not 100% waterproof
SportDOG No Bark Collar 10R Bark Control SBC-R
Can be used for dogs 8 pounds or larger.Neck sizes: 5" to 22".
10 levels of static stimulation with 3 programmable modes.
Perfect Bark sound and vibration sensors. Only your dog's bark causes correction.
The collar is waterproof and submersible to 25 feet.
Here we have what is by far the most expensive option on the list, but probably also the most durable and versatile.
Review
The SportDOG No Bark Collar has 3 modes which include vibration, sound, and shock, and it features 10 levels of static shock. This is a dog bark collar for serious trouble cases where all else has failed. The SportDOG No Bark Collar does come with vibration sensors, so it only goes off if the dog wearing it barks. It's also a nice option as it is 100% waterproof down to 25 feet, which is nothing short of impressive. It has a very high level of overall durability, it has great battery life, and it even has 3 programmable modes too.
Pros
Good for trouble cases
Smart vibration sensor
Super durable and 100% waterproof
Great battery life
Programmable
Cons
Conclusion
What you first need to decide, is how big of a trouble case your dog is. If it's just a small problem, vibration alone might work, but more severe cases may also need sound. For the really serious cases, you may need a dog bark collar that has a shock feature. Once you figure this out, you can then make an informed purchase.