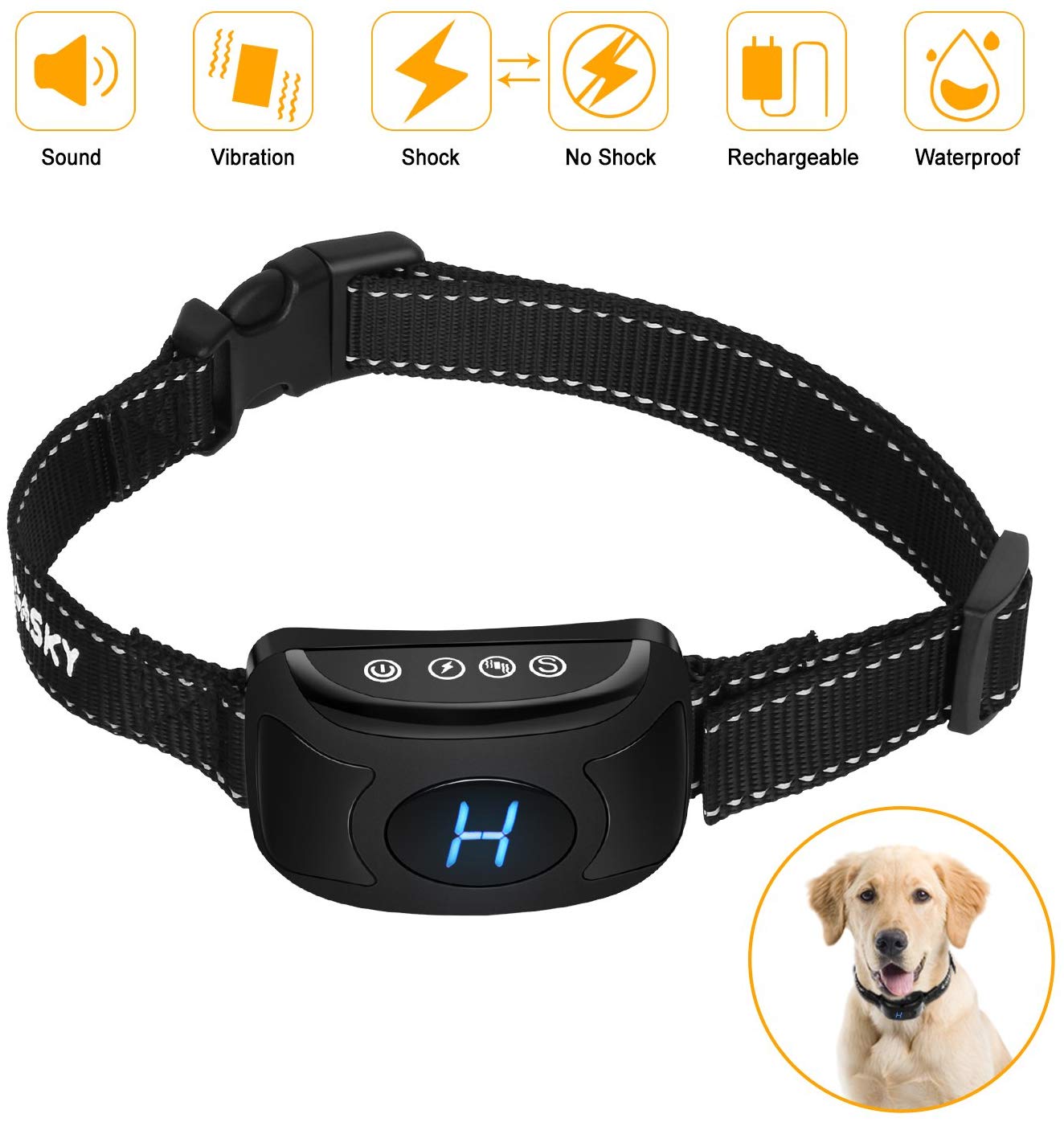 Gasky Bark Collar Review
Gasky Bark Collar for Large Medium Dogs Rechargeable Anti Barking Collar Waterproof Upgraded Smart Detection Chip Humane Traning Collar with Beep Vibration and Shock
【Humane Training Modes】The no bark collar has 3 working modes(beep, vibration, shock) to effectively stop barking without hurting your dog. Each mode has 4 adjustable grades (0/L/M/H). you can use them all together or turn off vibration and shock (0 grade) to fit your needs.
【Smart Identification & Visible Digital Display】The inner microprocessor will detects your dog's barking precisely and filter other unrelated sounds to prevent false triggering. Only your dog's sound combined with vibrations of sound will trigger the sensors. The visible digital display screen shows the gears of vibration, shock and sensitivity and the screen will not be blocked by dog hair.
【Rechargeable and Waterproof】The rechargeable bark collar is charged through a USB cord; 1-2 hour charging time offers you 12-14 days of use. Waterproof design allows you walk your dog in any weather, but not in the swimming pool. Allow your dog enjoy a comfortable swimming released from anti barking collar.
【Peace Neighbor Relationship】The anti-barking collar solves all problems resulted by your dog's barking. when you walk your dog outside or traveling, your dog won't bark to other dogs or scare the people. When midnight or early morning, your dog will not bother you and your neighbors' sleep.
【Adjustable Nylon Bel】Adjustable collar length from 6.5'' to 24'' make this no-bark collar suit for small/medium/large dogs. You can adjust a suitable size for your dogs. Dual-retention plastic buckle requires 2 points of pressure to unlock, designed to keep the collar remain on your dog. The 2 reflective strips sewed in the belt of collar enable you to find your dog in the dark environment.
Having trouble with your dog's constant barking? Are you wondering how to easily train him while considering his safety and wellness? Worry no more, as the Gasky Bark Collar is here to save the day! Check out our review of this powerful and effective tool and find out if it is the right choice for your pet.
Gasky Bark Collar
This bark control device was developed to automatically correct barking-related problems and efficiently train dogs to their optimum performance. This is a perfect dog bark collar that will solve your dog's behavioral problems, no matter what size or breed your dogs may be.
Features
Smart Identification Chip
The microprocessor located in the inner part of this bark collar helps detect the dog's barking behavior with precision. It can sense the combined sounds and vibrations created by your dog. Also, this can effectively and safely filter any unrelated noise to prevent false triggers.
This bark collar comes with three working modes: beep, vibration, and shock. These modes stop barking behavior without causing any harm to your dogs. Each of these comes with four adjustable grades, namely 0 grade, L grade, M grade, and H grade, which can be used all together or turned off depending on your needs.
Moreover, the collar immediately displays an "Error" signal once it detected more than seven shocks in a minute and automatically enters the auto-protection mode. This is to ensure the safety of your dogs from excessive shocks.
All the signals and indications are displayed on a digital screen, without any blockage problems. These include the shock, gears of vibration, and sensitivity.
This device comes with a built-in 300mAh rechargeable battery, which can be charged on your laptop or power bank using a USB cord. This powerful battery can last for 12 to 14 days with about one to two hours charging.
This waterproof bark collar allows you to walk and train with your dogs no matter what the weather condition is. However, this device is not recommended for use in the swimming pool.
The Gasky Bark Collar comes with an adjustable length to fit small, medium, and even large breed of dogs. It can be adjusted accordingly depending on what suits your dog's needs.
This also comes with a dual-retention plastic buckle, which requires two pressure points to unlock, thus keeping your dog safe and in place. There are also reflective strips that are sewn directly on the belt of the collar to ensure finding your dog in dark and gloomy environments is easy.
Good Neighborhood Relationship
This bark collar can solve neighborhood-related problems due to the noise produced by your dog's barking. It can also prevent scaring other people when strolling or traveling.
Pros
High-quality, durable, and waterproof design
Comes with easily adjustable sensitivity controls
Automatic protection system
Adjustable and reflectorized strips
Amazing battery life
Fits all dog sizes and breeds
Con
Limited to a single color
Summary
The Gasky Bark Collar is a powerful device that can help in controlling your dog's behavior. It is also a useful tool to train dogs easily, safely, and conveniently. This comes with various identification modes and settings to choose from, depending on the dog's needs and abilities.
A large display gives you good indications to determine whether you are using the right settings or you need to make some modifications. The design of the Gasky Bark Collar offers durability and strength due to its solid waterproof structure. It comes with adjustable features to fit in any size of dogs in your household.
The only downside of this bark collar is the limited option when it comes to style. However, as it is, your dog will look more classy and chic while the collar is worn.
Comparison With Another Bark Collar
Lelekey Dog Bark Collar,Automatic Anti Barking Control Collar,5 Adjustable Sensitivity,Waterproof & Rechargeable,Humane Static Shock,No Shock,Beep & Vibration for Small Medium Large Dogs
✅ INTELLIGENT BARKING DETECTION CHIP - Our newest 2019 developed smart barking detection chip solves the problem that the traditional version is easily triggered by the barking from other dogs. Only your dog's barking can trigger the anti barking collar, and other unrelated sounds will be safely and effectively filtered,false triggering will not happen again.
✅ UNIQUE TEST MODE & AUTO PROTECTION MODE- Before use this anti bark collar, you can test it by yourself easily by blowing or shutting towards mic sensor. If the shock collar for dogs keep activates for 6 times, will auto enter protection mode and lasts 2 minutes, during which it can't be triggered in order to prevent over shock to your dogs.
✅ 2 TRAINING MODES & 5 SENSITIVITY LEVELS- Dog barking collar has 2 Modes with 1-5 adjustable level.In No Shock mode "Beep+Vibration", if dog barking is detected, it will trigger;In Shock mode "Beep+Vibration+Static Shock",if dog barking continues, the dog shock collar will perform 6 different steps in turn, sleep for 2 minutes after the completion of 6 steps, and return to the initial state to protect the pet.
✅ WATERPROOF & RECHARGEABLE - Automatic shock collar for dogs has IP67 waterproof level,it allows safe use this bark collar large dog indoors and outdoors in any weather conditions. Built-in USB rechargeable battery, a full charge for about 12 days regular use. Coming with 2 pair stainless steel probes,one pair for dog with short hair and one pair for dogs with long hair.
✅ ADJUSTABLE COLLAR SIZE - Antibark collar has high quality nylon strap with reflective stripes,easily adjustable & visible,which is responsible for increasing your dog's safety and visibility. You could find dogs in the dark environment, at dusk, thick foggy condition. Adjustable collar length 8-24",perfect for all size dogs.Our bark collar small dog is suitable for dogs over 6 months weighing from 8 lbs ~ 150 lbs.Tiny,small, medium large dogs,our barking collars are all fit properly.
The Gasky Bark Collar is an effective device that is highly comparable to Lelekey Dog Bark Collar due to its structure, functionality, and price. Both devices are equipped with intelligent chips to detect barking and noise. They use an advanced version that prevents the recognition of other triggers, including unrelated sounds. Thus, effectively and safely filters false triggers from occurring and affecting your dogs.
The training modes vary in terms of the number of shocks recognized before shutting down. The Gasky collar immediately sends a signal once there are seven shocks detected while the Lelekey collar activates the auto-protection mode after only six shocks. This ensures better protection and prevents over-shocks.
The Gasky collar comes with three working modes. On the contrary, Lelekey collar has two training modes (shock mode and non-shock mode) and five sensitivity levels. This device adjusts itself depending on the preferred setting and behavior of your dog.
The structure of both bark collars is durable enough to handle extreme conditions. Both collars are waterproof and rechargeable. However, the Lelekey can only last for about 12 days with regular use as compared to the maximum 14 days of battery life of the Gasky collar. It also comes with stainless steel probes, which perfectly pair with short-haired and long-haired dogs.
Lastly, the design of the Gasky collar tends to be more on the sophisticated side while the Lelekey offers a more playful style. The Lelekey collar is made with a high-quality, two-colored nylon strap with reflective stripes for more safety and visibility. It can also be adjusted easily to find the perfect fitting for your dog.
Verdict
Both the Gasky Bark Collar and Lelekey Dog Bark Collar exhibit the functionality and performance required to easily and safely train your dogs. However, the Gasky collar offers more adjustable working options to fit the needs of your dogs. It also has a longer battery life for a more harmonious and peaceful relationship, not only for other animals but also for your neighborhood.
For its price, this powerful bark collar can bridge the communication gap while giving that classy look to your furry friend.