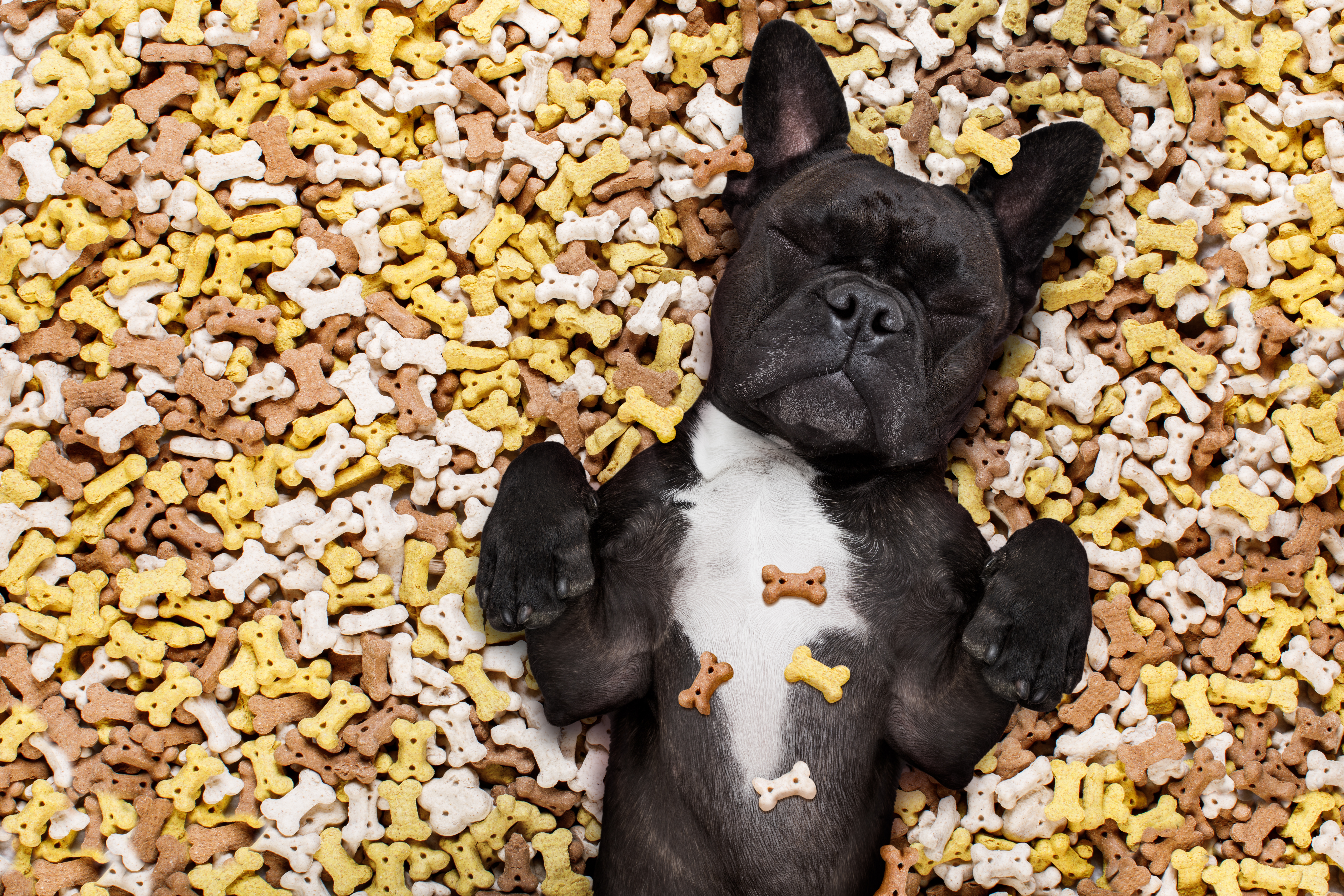 Best Healthy Dog Treats for 2019
Just like you, your dog also loves some delicious treats instead of their regular, boring dog food. Dog treats are the human equivalent of candy and chocolate. There's nothing wrong with occasionally treating your pooch with some small snacks, especially if you're rewarding him for good behavior. Dogs like to receive attention from their masters. You will notice their excitement when giving them some alluring treats. Besides using treats to show appreciation, you can also use them for training purposes.
What is the Best Dog Treat?
There is no single universal form of dog treats. Dog treats come in various forms. As such, they can be crunchy, soft or jerky depending on their formula. For the most part, a treat needs to be flavorful, aromatic, small-sized and sufficiently consistent to satisfy your pup's appetite for a short span of time. Your dog doesn't care if a treat has any nutrients; he only cares if a treat tastes really good. And so it's your responsibility to decide upon a healthy treat. As more dog owners are becoming conscious of their dog's health and the importance of a healthy diet, treat manufacturers too are starting to pay close attention and developing dog treats using organic and natural ingredients that are low in calories.
Some treats are nutritious and provide dental benefits. Those are the treats we are focusing on. There are 2 vital considerations that vets warn dog owners to watch out for when selecting the best healthy dog treats: specific ingredients and calories. Just like us, dogs love treats and sometimes we can overfeed them. A quality dog treat should contain natural ingredients and pack plenty of protein. They need to be free from high calories and unnecessary additives. Too much high calories can lead to obesity and possible health conditions. As a rule of the thumb, dog treats should make up  10 percent of your furry companion's daily calorie intake.
How to Buy a Quality Dog Treat
In 2019, there are thousands of treats available on the market. You should remember that not all treats are formulated by maintaining quality nutrition. Dog treats can be very unhealthy if you're not aware of the ingredients that go into making them. The market is flooded by treats that contain too much saturated fats and sugar. As a dog owner, it is your responsibility to pay close attention to your dog's taste and the food he likes most. The treats you purchase need to reflect your dog's diet to some extent. This, however, doesn't mean that you should pick a treat that looks most appetizing for your dog.
Many reviews on the web prioritize the wrong aspect and pick popular products over the ingredient quality. To help you in that regard, we compiled a list of the best healthy dog treats for 2019. We consulted a few dog trainers and vets, and analyzed ingredients labels ourselves. If you are ready to find out what the best dog treats in the market today are, you're reading the right article.
Rocco & Roxie Gourmet Jerky Dog Treats
Rocco & Roxie - Jerky Dog Treats Made in USA – Puppy Training Treat Slow Roasted Snacks for Dogs - Natural Grain Free Soft Chews - Delicious and Healthy Jerkey Sticks - All USDA Inspected Beef
HEALTHY & NATURAL - You want only the best for your best friend. So the premium treats we make at Rocco & Roxie are never enhanced with artificial flavoring or fillers like corn, soy and gluten. They are naturally irresistible. Like dogs.
SECRET FAMILY RECIPE DOGS LOVE - What's the secret to these tasty treats? We start with all-American beef of the highest quality. The second ingredient is time. It takes a full 10 hours of smoking to develop that soft chewy texture dogs love.
100% SATISFACTION GUARANTEED - We have been told that even the most finicky dogs love our Jerky Sticks. But don't take our word for it. Break off a piece, see if that tail wags. Tails are such a give-away.
PERFECT TRAINING TREAT - Your dog accomplishes a task; he gets a treat. He gets a treat he really really loves and that makes him want to learn more. Our treats are super motivating!
NO-STINK HANDS - Unlike artificially enhanced dog treats that leave a greasy, smelly residue on your hands, these feel and smell just like a delicious piece of beef jerky.
As one of the bestseller dog chew treats on Amazon, this treat comes with 7-8" jerky sticks made of tender, delicious, naturally-smoked and slowly-roasted beef, chicken or turkey. The family-owned company sources ingredients from credible and reputable farms. With a single protein ingredient formulation, they don't contain any artificial ingredients or allergenic fillers like soy, corn and gluten. You can easily break the Jerky Dog Treats into small pieces. One stick is enough to satisfy your dog's palate. The pack contains around 25 sticks. The unique manufacturing process of this USDA certified treat means that your hands won't be left with oily or smelly residues after you feed your pooch like other common treats. The price range makes hindrance of some dog owners.
Wellness Natural Grain Free Puppy Training Treats
Sale
Wellness Soft Puppy Bites Natural Grain Free Puppy Training Treats, Lamb & Salmon, 3-Ounce Bag
MINI CHEWY PUPPY TREATS: These delicious, grain free soft treats are made with 2 kinds of fresh meat plus added vitamins specially for puppies and a natural source of DHA to promote healthy brain development
ALL NATURAL: These moist and tasty treats are made with whole fruits and veggies including superfoods like blueberries and sweet potatoes for a naturally craveable flavor and a boost of antioxidants
THOUGHTFULLY MADE: We craft delicious treats with simple, natural, high quality ingredients chosen for their nutritional benefits; no meat by-products, artificial colors, flavors or preservatives
FIND THE RIGHT TREATS: From puppy to senior, small dog to large breed, crunchy to chewy, grained to grain free, treating to training, we've got an all natural recipe for every dog's needs and taste
TRAINING AND REWARDING: These bite sized soft treats are the perfect rewards during training sessions or any time you want to thank your dog for good behavior
If your pup loves biscuits and similar stuff, you should consider this natural treat. Besides giving your puppy a safe and protein-rich treat, you will help him to improve the health of his eyes as well as his nervous system functioning. Made in the United States with the finest globally-sourced ingredients, the Soft Lamb and Salmon variant is rich in DHA and EPA for excellent antioxidation and inflammatory action. Your puppy will end up with optimum skin and coat health. The treats are available in puppy-sized bits removing the need to break them further. They don't contain any artificial preservatives, allergenic grains or unhealthy fillers.
Greenies Dog Dental Chews Dog Treats
Sale
GREENIES Original TEENIE Natural Dog Dental Care Chews Oral Health Dog Treats, 36 oz. Pack (130 Treats)
Contains one (1) 36 Ounce 130-count pack of Greenies original Teenie Natural Dental Dog Treats; Natural Dog Treats Plus Vitamins, Minerals and Other Nutrients
The unique texture of Greenies Dog Chews cleans down to the Gumline to fight plaque and tartar and freshen bad dog breath
Greenies Treats for Dogs are veterinarian recommended and VOHC accepted (Veterinary Oral Health Council)
Treat your small dog fantastically with the great taste of Greenies Original Dental Treats
Greenies Dog Treats are made with natural, easy-to-digest ingredients and are nutritionally complete
Greenies products have a reputation for delicious, healthy and hygienic food ingredients. This is also true for their dog dental chew that is designed to support your dog's oral health. A great part of your dog's dental plan, the treats are low in fat and easy to digest. For an irresistible taste, they are naturally flavored with blueberries. Shaped to look like a mini toothbrush, they are weight friendly for inactive and overweight dogs. Recognized by the Veterinary Oral Health Council (VOHC), they will help your pooch develop healthier teeth and gums by getting rid of tartar and plaque. Doggy breath is a nuisance. The treats will leave your dog with freshening breath by fighting against mouth odor. Available in 4 styles – Tiny, Petite, Regular, Large and Jumbo and 4 sizes – 6, 18, 27 and 36 ounces, you are sure to find the right size and style for your furry companion.
Milo's Kitchen Chicken Meatballs Dog Treats
Sale
Milo's Kitchen Chicken Meatballs Dog Treats, 18-Ounce
Home-style dog treats with 100% real chicken as the #1 ingredient
Wholesome and delicious, with no artificial flavors or colors
Made in the USA and meets the applicable standards and specifications of the USDA, the FDA, and the AAFCO
Customer satisfaction guaranteed
Milo's Kitchen Chicken Meatball Dog Treats are as healthy as they are delicious. They prepared from 100 percent real chicken as the primary ingredient. High in protein with no artificial colors/flavors or added preservatives, these treats will make a complete meal for your dog. They are soft to chew making them suitable for all ages of dogs. You will no longer feel guilty about treating your puppy more often than you should. Made in the United States, they meet the applicable standards and specifications of the FDA, the USDA  and the AAFCO.
Old Mother Hubbard Crunchy Classic Natural Dog Treats
Sale
Old Mother Hubbard Classic P-Nuttier Biscuits Baked Dog Treats, Large, 3.5 Pound Bag
LARGE CRUNCHY TREATS: These large crunchy dog biscuits make a great training treat and a great addition to your dog's diet; they feature all natural ingredients and assorted natural flavors including peanut butter, apples, carrots and molasses
ALL NATURAL: Our yummy biscuit recipes include wholesome natural ingredients such as real peanut butter, fruits and vegetables; each biscuit is slowly oven baked to preserve the natural flavors
Made in North America using only the finest globally sourced ingredients; we craft delicious recipes with simple, natural ingredients thoughtfully chosen for their nutritional benefits; no artificial preservatives or meat by-products
THE NATURAL CHOICE: From puppy to senior, small dog to large breed, crunchy to chewy, grained to grain free, treating to training, we've got an all natural recipe for every dog's needs and taste
GIVE 'EM SOME SNACK LOVE: We've used the same simple methods to bake our snacks since 1926; each home style recipe is crafted from wholesome ingredients so you can feel good about giving your dog a reward that's healthy and heartfelt
These reasonably-priced treats are carefully formulated using only the finest natural ingredients to ensure a healthy reward to encourage your pup. Old Mother Hubbard believes that dog snacks should be prepared with love and passion. Over the past 9 decades, the company has been baking tasty and wholesome recipes for dogs. No harmful ingredient is included in this recipe, which helps to keep your pooch safe and secure. Recommended for dogs of all sizes, the treats are available in different flavors and sizes, meaning you have plenty of options to treat your pooch with. To make this treats a bit more interesting, they shaped them like a bone.
Conclusion
Whether you're playing with your dog or training him, a healthy dog treat is always a great tool to make him feel loved and appreciated while also learning to associate his actions to something that is positive, pleasant and rewarding.  Make sure to strike the right balance between healthy dog foods and healthy treats. The transition from unhealthy to healthy treats could take a while but remember that good things take time. All the products on our list are top picks and whichever product you settle for, you will guarantee your dog a long and healthy life.
After picking the right treats for your dog training, check out some of the Best Dog Training Treat Pouches to carry them in.