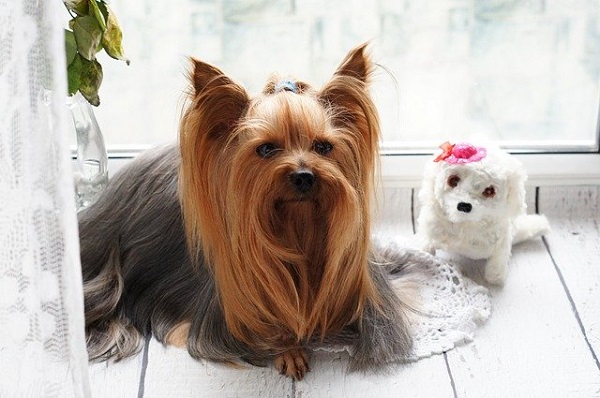 Best Shampoo for Yorkies
Playful and energetic, Yorkies are known for their big personalities and luscious coats. The hair is a vibrant steel blue colour on the body and tail, and a rich tan colour everywhere else. These dogs don't tend to shed much hair because they don't have an undercoat, so they often make a good choice for allergy sufferers. The hair does tangle easily though, so developing a grooming routine that works for your Yorkie is essential to avoid matting or discomfort. Yorkies also tend to have sensitive, allergy prone skin so you'll need to be careful when selecting an appropriate shampoo for them. 
Keep in mind that it is usually best to limit bath time to once or twice a month for these dogs, as their sensitive skin is prone to irritation, however Yorkies with longer coats could require a bath as often as once a week. This is why it's even more important to choose a lasting, high-quality shampoo to cleanse the coat effectively between washes. When your Yorkie's coat is clean and healthy, his hair will look soft and shiny. To achieve this, you will need to match your Yorkie's bathing routine with regular grooming to get rid of any tangles or loose hair, and a healthy, balanced diet made up of nutritious, high quality food.  
As Yorkies are prone to sensitive skin and dryness, it is best to look for a moisturizing shampoo formula that's made up of soothing ingredients in order to avoid skin irritation. You will want to choose a gentle shampoo that can efficiently remove dirt, dust and debris from the coat. A shampoo containing some moisturizing agents such as Aloe Vera or Almond oil would also be a good choice for your Yorkie. Read on for our top five shampoo picks for this much-loved breed. 
Quick Navigation
[ez-toc]
Don't forget to have a look at our handy buyer's guide for some useful advice on how to bathe your Yorkie and pick the best shampoo for him. 
In a rush to find the right shampoo for your Yorkie? Check out our top choice, the '4-Legger USDA Organic Dog Shampoo', which is a lovely gentle shampoo formula made up of aloe vera and lemongrass designed to soothe and nourish the hair. Some of its best features are as follows;
Hypoallergenic formula 

Soothing 

Pleasant fragrance 

Organic, vegan and non-toxic 

Ideal for sensitive skin 

Easy to lather 

Biodegradable 

Free of artificial or toxic chemicals 

Hydrating 
In a hurry? This is our winner!
Our rating:

4-Legger Organic Dog Shampoo - All Natural and Hypoallergenic with Aloe and Lemongrass, Soothing for Normal, Dry, Itchy or Allergy Sensitive Skin - Biodegradable - Made in USA - 16 oz
DOG SHAMPOO MADE WITH USDA CERTIFIED ORGANIC OILS AND ESSENTIAL OILS: Our 100% non-toxic natural hypoallergenic pet wash is handcrafted in small batches using plant based vegan ingredients like organic coconut oil, organic lemongrass essential oil and soothing aloe vera. You have our promise of no synthetic or artificial chemicals! A little goes a long way to get rid of that wet dog smell!
#1 CHOICE FOR HOLISTIC VETERINARIANS AND NATURAL GROOMERS - Since 2015, industry leaders have recognized 4-Legger organic dog shampoo as the most dependable dander reducing hypo-allergenic shampoo for normal / dry / itchy / allergy / sensitive skin. See all our certifications in the images to see why we are not only great for our pets but also our planet. Contains NONE of the synthetic artificial or toxic chemicals found in OTHER dog shampoo.
WE DON'T COMPROMISE PET HEALTH FOR ATTRACTIVENESS – Our easy to lather and rinse lemongrass citrus shampoo naturally moisturizes by utilizing your pet's natural oils to maintain a soft and shiny coat without artificial thickeners that add toxicity to your dog's bath. Unfortunately, most other brands still depend on harmful artificial and toxic ingredients to achieve this. 4 Legger is safe for newborn pups, senior dogs, and even humans to use!
ONLY 2% OF DOG SHAMPOOS REALLY ARE CERTIFIED ORGANIC - Don't fall for common marketing gimmicks used by pet grooming brands to fool you into buying the same harmful formulations while paying a premium for "organic" and biodegradable We proudly display all of our ingredients and are USDA certified to food standards; we aren't just making this up!
WAGGING TAIL GUARANTEE - You have absolutely nothing to lose and everything to gain by trying 4Legger shampoo. We've dedicated our lives to extending the precious time we have with our beloved pets by reducing environmental toxins in pet grooming products. Try it on your pets and even take it to your groomer or veterinarian for their input. If you find any reason to stop using our shampoo, simply return it for a 100% refund!
Best Shampoo for Yorkies – Comparison Table
Best Shampoo for Yorkies – Reviews
Our Pick
Our rating:

Our top pick, the 4-Legger USDA Organic Shampoo, is a really great option for Yorkies. Safe, vegan and non-toxic, this gentle organic hypoallergenic formula is designed to hydrate, deodorize and rejuvenate the hair with its soothing combination of Coconut Oil and Lemongrass. The result is a pleasant, mild fragrance, allowing your dog to smell clean and fresh all-day long. The natural lemongrass formula is non-toxic and gentle for your Yorkie, making it ideal for dealing with sensitive, itchy or painful skin complaints. The combination of the two natural ingredients, lemongrass and aloe vera, mean that this shampoo won't strip away all the lovely natural oils that your dog's skin produces. It will simply remove the excess oil and leave enough to maintain the skin's condition and health. The formula is also easy to lather and rinse out. One great feature of this shampoo is that it doesn't contain any of the synthetic, artificial, or toxic chemicals that you might find in other pet shampoos. The 4-Legger Shampoo is also a completely biodegradable product, which is a big plus point. 
Natural, vegan, organic
Very mild and gentle formula
Ideal for sensitive skin
Easy to lather
Biodegradable
Soothing properties
May be weaker than other shampoos
Our rating:

Our next choice for Yorkies is the Earthbath Oatmeal and Aloe Shampoo. This is another great natural option, formulated with Oatmeal and Aloe, and is ideal for dogs with dry or itchy skin. The Oatmeal and organic Aloe Vera work to combat skin irritation, promote healing and re-moisturize skin that has become sensitive or dry. It is a soap-free formula so will be mild and gentle for your Yorkie, and is pH balanced to clean and deodorize the hair safely and thoroughly. The Earthbath Shampoo will not wash off any topical flea applications which is really handy and it is safe to use for all Yorkies over six weeks old. The fragrance is a pleasant, mild vanilla and oatmeal and your Yorkie's coat should be soft and plush after use.
Natural
Gentle formula
pH balanced
Fresh scent
Will not wash off topical flea applications
Great for sensitive skin
Our rating:

The TropiClean Hypoallergenic Gentle Shampoo is a great shout for Yorkies. Suitable for Yorkies 12 weeks or older, the shampoo is an ultra-gentle formula that cleanses and moisturizes their skin, creating a soothing lather.  It has a light tropical coconut scent that will leave your pooch smelling fresh and clean. TropiClean is made with naturally derived ingredients and is pH balanced, and soap and paraben free. If your Yorkie suffers from skin allergies or dryness this should provide much needed allergy relief for them. It removes excess oils gently and naturally and forms a soft, frothy lather when mixed with warm water.
Ultra-gentle formula
Pleasant light tropical scent
Offers allergy relief
Soap and paraben free
Mild formula

Although suitable for all dogs may be more appropiate for Yorkie puppies

Our rating:

This shampoo was designed for dogs with silky, flat lying coats, so will be perfect for your Yorkie. It is a gentle and moisturizing shampoo that should leave the coat feeling soft and silky after use. The moisturizing properties mean that it is a good choice for Yorkies with dry or damaged coats in need of a little boost. It also helps to soften and detangle hair that has become a bit unruly and has a warm floral jasmine and vanilla fragrance. This Isle of Dog shampoo also contains Aloe Vera juice which is added to strengthen your Yorkie's coat and protect it from damage. There is also a lovely conditioner available in this range if you're looking for a little something extra to pamper your Yorkie. 
Gentle and moisturizing
Leaves coat feeling soft and silky after use
Great for dogs with dry or damaged coats
Helps soften and detangle hair that has become unruly
The conditioner is sold separately
Our rating:

The Nootie Dog Shampoo is soap and paraben free, and doesn't contain any harsh chemicals so should suit your Yorkie's sensitive skin. The soothing Aloe Vera content should help to relieve any itchiness or burning sensations that your dog may be experiencing and repair any damaged areas on the skin or coat. The formula itself is smooth and creamy, which makes it quick and easy to lather up and rinse off after use. The oatmeal and coconut oil in this one allow it to deodorize your dog effectively and produce a fresh, light fragrance that isn't overpowering the way some shampoos can be.
No harsh chemicals
Soap and paraben free
Contains Aloe Vera
Relieves itchiness or burning sensations
Smooth formula makes it easy to lather
Fresh, light fragrance
The larger sized bottle is fairly expensive
Best Shampoo for Yorkies – Buyers Guide
Ingredients
Picking the right shampoo for your Yorkie is essential if you want to avoid aggravating their sensitive skin. Some inferior shampoos will cause skin flare-ups or merely skim over the skin and coat, meaning that none of dirt or debris is removed, so it's really important to find a high quality shampoo. As Yorkies are prone to allergies, you will also need to take trouble to review the ingredients carefully before purchasing. Looking for a product that contains nourishing natural ingredients like Aloe Vera, or oils such as Lemongrass and Almond oil is a good place to start. Other soothing ingredients include peppermint, eucalyptus and tea tree oil. If you know your Yorkie has certain allergies look out for a mild and gentle shampoo formula (puppy shampoos are often soft and gentle) or one that is described as 'hypoallergenic.' 
Skin and Coat Type
Always take your Yorkie's skin and coat type into account when looking at shampoo options. Yorkies that suffer from patches of dry skin or sensitive areas would benefit from a moisturizing shampoo that can cleanse, hydrate and soothe the sore areas. Using a moisturizing shampoo will also promote healthy and strong hair growth and ensure that the coat looks soft and shiny after use. Remember that regular brushing and grooming is essential in addition to frequent shampooing in order to promote healthy hair growth and get rid of any loose hair. If your Yorkie's coat has become a bit unruly, consider using a shampoo with some conditioning properties or add a separate conditioner into your bathing routine to get rid of any tangles and knots. Many shampoos will have a corresponding conditioner available to purchase separately. 
The danger when picking a shampoo for a Yorkie is to go for one that is too mild to remove dirt and debris off the coat effectively. Be sure to pick a shampoo formula that will be strong enough to clean your dog thoroughly and remove any excess body oils from the hair. The trick is to find the balance between a product that is strong enough to clean and refresh the coat, but not so strong that it will strip the healthy natural oils from the coat or irritate the skin and cause discomfort. It is important to pick a shampoo that will break down and eliminate these excess substances without damaging the skin. Natural shampoos often achieve this balance with mild and gentle formulas. 
PH Level
Another thing you should consider when looking for the perfect shampoo for your Yorkie is its pH level. All shampoos have a certain pH balance, and if this balance is not exactly right it can aggravate your dog's skin and coat rather than nourish and hydrate them. A shampoo with a pH balance that's not quite right can be too harsh and can cause dry spots, rashes and even some peeling. Try to find a shampoo that falls within a pH range of between 6.5 to 7.5 as this is the range that will suit your Yorkie best.  
Frequently Asked Questions
How often should I bathe my Yorkie?
The answer to this is really dependent on your Yorkie's hair length and type. Generally speaking though, you will want to wash your Yorkie at least once or twice a month. This is really important in removing dirt, dust and debris from the coat and for adding some moisture back in. If your Yorkie has longer hair or any skin or coat problems, you may need to bathe them more frequently to encourage healthy hair growth and help repair any problem areas. Regular shampooing will also keep your dog smelling fresh and clean and reduce any excess oils. To keep their skin and coat healthy between washes, Yorkies should also be brushed every few days to remove any loose hair and get rid of any knots or tangles. Consider using a gentle conditioner after shampooing to achieve a soft, glossy finish. 
How should I bathe my Yorkie?
Start by brushing your dog first to get rid of any knots or tangles. If you start to bathe him before brushing out these tangles, the hair can become matted. If you can, place a non-slip surface at the bottom of your bathtub or sink (Yorkies are probably better suited to bathing in a sink due to their small size) to keep them safe while washing. Remember that Yorkies are more sensitive than other breeds so be mindful of the water temperature; lukewarm water is best. If you think the water temperature may be a bit on the warm side, it is always better to be cautious and cool the water down before retesting. You should try to avoid rubbing the shampoo in when you bathe him, as this can create mats. Instead carefully work the shampoo into the coat with your hands in one direction. After shampooing, rinse thoroughly from front to back, and avoid getting any product or water in his eyes or ears. Try to ensure there is no shampoo residue left on the coat after bathing as this can cause skin irritation. Pat him dry with a clean towel. 
Can I use a human shampoo or conditioner on my Yorkie?
It is never advisable to use a human shampoo on your dog. Human shampoos and conditioners are designed to accommodate human skin's pH levels. Dogs actually have less acidic skin than us and are very sensitive to the harsh chemicals and fragrances that are commonly found in human shampoos and conditioners. Yorkies are particularly sensitive and prone to skin irritation so using a human hair product on their coat could cause a severe allergic reaction or worsen existing skin conditions. 
How can I keep my Yorkie smelling fresh?
Start by developing a regular grooming routine for your Yorkie and stick to it. Brush their coats frequently to get rid of any dirt, dust and debris that may have collected on them during the day. Between washes you may also find it useful to wipe them down using some specially designed 'grooming wipes', which are really effective in removing any surface level dirt or external substances that may have clung to their hair and will freshen them up. This is also a really good habit to establish if your Yorkie has any allergies, as you can remove allergens like pollen and lawn care product residue from their coats to prevent irritation. Be mindful that grooming wipes will never replace a bath though. Using a high quality dog shampoo will make all the difference. Most dog shampoos will produce a light fragrance and are essential for cleaning your dog's coat thoroughly. To keep your Yorkie smelling fresh, don't forget to keep their faces clean as food particles and dirt can cling to the hair and produce an unpleasant odour. Facial wipes for dogs are also widely available and can be really handy to have. Fragrance free facial wipes may be a more gentle option for your dog's sensitive skin and hair. Finally, to keep your Yorkie smelling fresh and clean, it is really important to clean their teeth regularly to avoid painful infections and help keep them smelling minty fresh. Again, always use specially formulated dog products; canine toothpaste often produces a pleasant smell. Although not as effective as brushing, canine dental sprays can do the job as well if they are used regularly.