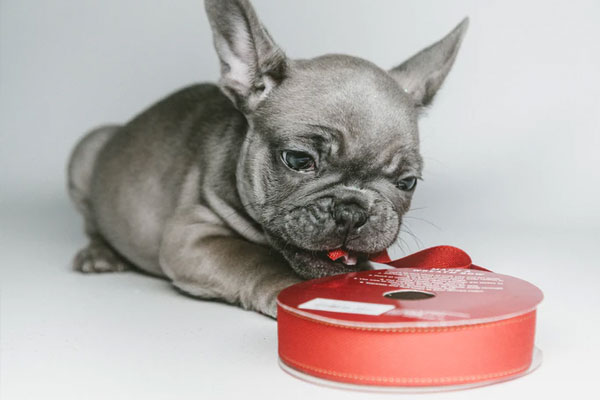 Best Toys for Bulldogs
Who doesn't love bulldogs? If you're the lucky owner of one, you've probably noticed how adorable and endearing they are. Day to day, bulldogs love to lie around and chill out. However, they're also playful and love to have fun, and toys are the perfect way to bring that side out of them.
Quick Navigation
[ez-toc]
Bulldogs are unique and have 'flat' faces. This means that their breathing capabilities and jaw are a little different from other breeds of dogs, so they need special toys that can cater to these unique (and totally adorable) physical characteristics.
Luckily, numerous manufacturers take this into consideration, making it possible to let your pup enjoy playtime, while also keeping him healthy. From chew toys to soft plush teddies, there are plenty of toys out there that will keep your bulldog entertained and active. For inspiration, just check out our guide below, we've been busy shortlisting our favorites!
In a hurry? This is our winner!
Our rating:

Sale
KONG - Classic Dog Toy, Durable Natural Rubber- Fun to Chew, Chase and Fetch - for Large Dogs
Instinctual Needs: The KONG Classic red rubber toy helps satisfy dogs' instinctual needs while providing mental stimulation. Healthy play is important for dogs' physical and mental development, emotions and behavior. By encouraging healthy play and satisfying instinctual needs, this treat dispensing puzzle toy helps solve chewing, separation anxiety, teething, boredom, weight management, crate training, digging and barking
Fetch Toy: The KONG Classic's unpredictable bounce makes for exciting games of fetch and other interactive play with your pet. This is a fun way for average chewers to get the exercise they need
Great For Stuffing: The stuffable KONG Classic is even more enticing when treat filled with bits of kibble, peanut butter, KONG Easy Treat, Snacks or Ziggies. Dishwasher safe for easy clean up. Bonus: For an added challenge, freeze stuffed KONG for 4-6 hours before giving to your dog
Vet Recommended: Veterinarians and trainers worldwide recommend the KONG Classic as one of the best durable dog toys available
Made in the USA. Globally Sourced Materials
A bestseller for over forty years, the KONG Classic's tough red rubber is ultra-durable and will bounce around when dropped or thrown, making it a great choice for dogs that like to play as well as chew. You can even extend playtime and stuff the inside with tempting treats, or even a little bit of peanut butter! Encouraging healthy play, this innovative toy helps to solve separation anxiety, boredom, and barking, as well as satisfying your bulldog's instinctual needs.
Here's why it's a great choice for you bulldog:
It has been specially created to help encourage a healthier playtime, and is able to help soothe anxiety, stop boredom and even assist with weight training
It has an unpredictable bounce which will make for exciting games of fetch and other types of interactive games
The hollow interior is great for stuffing yummy treats and enticing snacks
Vets worldwide recommend this toy due to its health benefits and ability to mentally stimulate dogs
Best Toys for Bulldogs – Comparison Table
Best Toys for Bulldogs – Reviews
Our Pick
Our rating:

Boasting an interactive shape made of bouncy rubber, there's plenty of fun to be had with the Kong Classic Dog Toy!
A great option for bulldogs of all sizes, this safe and reliable dog toy is made of red rubber that has been designed to mentally stimulate your dog, as well as satisfy their instinctual needs. Encouraging healthier playtime, many bulldog owner's love this toy because it helps with weight management, boredom, and is strong enough for their pup to gnaw at without it getting broke.
However, when it's time to play, this toy by Kong will ensure that your bulldog has plenty of fun! One of the most notable features is the unpredictable bounce. Thanks to its rubber material and uneven shape, this toy will bounce around in an erratic way, so you and your dog will be able to engage in an exciting and mentally stimulating playtime like no other.
One of the standout features of the Kong Classic Dog Toy has to be the hollow interior. It can be filled with treats such as dog pebbles, peanut butter, or any other kind of yummy snack which is sure to delight your little bulldog, as well as extend their playtime for even longer! No matter how old or active your bulldog is, this chew toy will keep them entertained.
Long lasting rubber is hard to break
Affordable and suitable for those on a budget
Unpredictable bounce pattern makes for a fun and exciting play session
The hollowed inside may be difficult to clean… especially if filled with tasty peanut butter!
Our rating:

If your bulldog likes to take it easy, they'll love the Nylabone Flavored Chew Toy!
Made of high-quality hardened nylon, this tough bone is practically indestructible. Despite its hardness, however, it provides enough stimulation give to keep even the most playful dogs entertained for hours on end.
Apart from featuring a bone-like shape that mimics the real thing (and tastes just as good!), the Nylabone Dura Chew Petit is flavored and scented. Tasting and smelling like either chicken or bacon, the Nylabone Chews will be able to help put a stop to 'destructive chewing' (aka, your precious valuables) separation anxiety and stress.
Plus, not only are they tasty, but they also have a bumpy texture that makes the Nylabone Dura Chew Petit extra satisfying for all dogs, including your bulldog. As they chew, the bristles raised across the bone while chewing will help to clean their teeth, as well as helping to control plaque and tartar.
Extremely tough and will take a while for your bulldog to chew through it
Tastes and smells like bacon or chicken (the pack comes with one of each)
Textured, the bristles raised across the surface of the bone while chewing help to control plaque and tartar
The toughness of these bones may be too difficult for older dogs to chew
Our rating:

Ideal for medium-sized bulldogs, the Multipet Duck Soft Toy is a loveable plush filled duck with a squeaky middle. Not only is this lightweight duck great for fetch, but it also doubles up as a snuggly companion for your four-legged friend!
This soft and cute duck is perfect for bulldogs who prefer 'comfort' toys that they can cuddle up to, as well as being able to play with. This is a slightly larger toy, but it's also lightweight, so it's a great choice for little bulldog puppies and full-grown adult bulldogs, alike!
Making sure playtime is filled with fun, there's a squeaker in the middle of this duck that will keep your bulldog excited while at the dog park or playing in the garden. Providing great value for money, the squeaker is difficult for dogs to break because the squeaker is positioned in the thicker part of the belly.
The bright colors of this toy will make it easy to spot if your pup hides it, while the shorter, softer texture on the beak, feet, and body allows for a relaxing sensory experience. To clean this duck, all you need to do is pop it in the washer and it will be good as new.
Perfect for cuddles, and will be a companion for when your bulldog has to be left alone
Available in assorted colors
Easy to clean and lightweight
Affordable and budget-friendly
Not suitable for aggressive chewers
Our rating:

Our shortlist wouldn't be complete without the Pets&Goods Cotton Rope Toys! This affordable pack comes with 5 multi-colored ropes that your bulldog can use to play tug of war with, fetch and chew.
Suitable for bulldogs of all sizes and ages, these soft cotton ropes are perfectly safe for your bulldog to chew and play with, and will help to clean their teeth and keep them pearly white while they play. They're especially a great choice for bulldog puppies who are teething. The soft material will help to soothe inflamed gums and lower the teething pain.
What's more, the different shapes and sizes of this set provide plenty of uses, too. The twisted ball is great for playing fetch, while the longer ropes are perfect for running around the house. We especially love the rope that comes with a handle on one end, so you and your furry friend can have a game of tug of war! The bright and multi-colored design of these ropes makes these toys easy to spot too, and your dog can take them outside to play without you worrying about losing them.
When they get dirty and need a clean, all you'll need to do is give them a rinse with some soapy water. Each rope toy sturdy and safe, making this rope toy set a good option for more aggressive chewers, teething puppies, or bulldogs that like to play rough!
An assortment of five different rope toys
Made with a safe and soft cotton rope that is ideal for bulldogs of all ages
Can be used for a variety of different games
The rope edges have been known to shred, which may be frustrating if you find them lying around your house
Our rating:

Hate mess? Look no further: the Skinny Peltz is a no-stuffing plush dog toy set that will provide hours of squeaking fun without the unnecessary need of cleaning up any stuffing.
This sweet plush toy set comes with an assortment of three different woodland animals such as a raccoon, squirrel, and a fox. Perfect for cuddling and chewing, these sweet toys have been brought to life by ZippyPaws by using only the best, high-quality materials that are both durable and cuddly.
Unlike other cuddly toys, these ZippyPaw Dog Toys have no stuffing inside which ensures no-mess if your dog manages to rip it open while playing. Not only that, but their long and flat bodies also have three rounded squeakers that will keep your bulldog entertained when they bit into them, making them a great choice for bulldogs of all ages.
Each animal in this plush toy set has been carefully stitched and features no flimsy parts that your bulldog will be able to easily grab onto and chew, making them durable and longlasting. When it's time to clean, all you'll need to do is pop them into your dishwasher or give them a rinse with some soapy warm water. With three noisemakers per toy and three animals per set, this is an affordable way to keep your bulldog entertained.
This budget-friendly choice comes with three toys
High-quality noisemaker squeakers and high-quality material
Features no stuffing for easy cleanup
Might not withstand rough play
Best Toys for Bulldogs Tips
The right amount of exercise
Tip number one? Make sure that your furry friend is getting the right amount of play and rest. Bulldogs don't need as much physical exercise as other breeds of dogs, and this is because they are prone to respiratory issues. The best way to keep your bulldog fit, healthy and happy is to have them engage in moderate exercise, daily. One brisk walk a day and around half an hour of playtime is the perfect way to keep your pup active without overexerting them. However, if your four-legged friend does need to take a break, the best thing to do is stop the game or activity, give them water and let them take a rest.
Socialization
The next tip is to make sure that your bulldog is regularly socializing with other dogs. Bulldogs are a very sociable breed and get a lot of enjoyment out of interacting with new faces, the dog, and the human kind. The best way to do that is to take a trip to a local dog park, or even by taking a walk around the block! It's sure to uplift your bulldog's mood, all the while ensuring they're getting a little dose of exercise and social interaction.
The weather
This one's pretty obvious, but it's still worth highlighting. When it's playtime or your time for a daily walk, be mindful of the temperature. Bulldogs are sensitive to high heat and icy environments, so try to avoid them being overexposed during the hot, summer days and cold, winter nights. If your bulldog gets exposed to extreme temperatures, it can cause respiratory issues. Therefore, we encourage you to walk your dog during the cooler hours during the summer (such as early in the morning) and by buying them a warm, snuggly coat during the colder months.
Monitor their health
Another important tip is to ensure that you are staying aware of your bulldog's heath. Aside from bulldog's being prone to developing respiratory issues, bulldogs are also at risk of developing other health concerns that can occur, such as becoming deaf or even developing bone issues, such as arthritis. Due to this, it's important not only to keep an eye on your bulldog and allow them to rest when they feel like but to also ensure that you are regularly taking your four-legged friend to the vet. These types of medical conditions can impact how your bulldog plays and for how long, so you want to be as aware of your Bulldog's health as possible, so that you can adjust playtime accordingly.
Frequently Asked Questions
How do I know which toy will be strong enough for my Bulldog?
Though Bulldogs might not be the most playful or active dog breed, they are one of the strongest! They have very strong jaws and love to chew, so it can be difficult to say which toys are strong enough for your Bulldog, and which one's are not. Generally speaking, many dog manufacturers will say whether or not a chew toy is suitable for heavy chewing or not (usually, it will state that the toy is suitable for aggressive chewers). However, if you're ever stuck, we recommend checking out the reviews and seeing what other owners have had to say.
How often do I need to replace dog toys?
This all depends on how durable your dog toy is. It's important that your Bulldog has plenty of fun, but it is also important that they stay safe. Even the toughest of toys will break sooner or later, so the moment that you begin to see any signs of breakage, we recommend swapping it out for a new one.
What size of toys is right for bulldogs?
Luckily for us, manufacturers usually include guides for which sized breeds are best suited to their products. Bulldogs fit into the "medium-sized dog" category, but their jaw shape can mean that some of these toys may still be too big for them to carry. So, if a toy is significantly bigger than your bulldog's, you may want to purchase the same toy the size down. Besides that, softer toys of all sizes should be fine fo your bulldog to use.
How can I tell if a toy is safe for my dog to use?
As long as you're buying from a reputable dog toy manufacturer, you can be confident that the toys you are giving your dog will be safe for them to use. However, you will need to be mindful of whether you have a puppy or an older dog, as their needs will be different to that of a healthy, full-grown dog. For instance, a puppy might be at risk of ingesting small pieces of a toy, while an older dog might not have overly strong teeth, so they might need a softer toy.