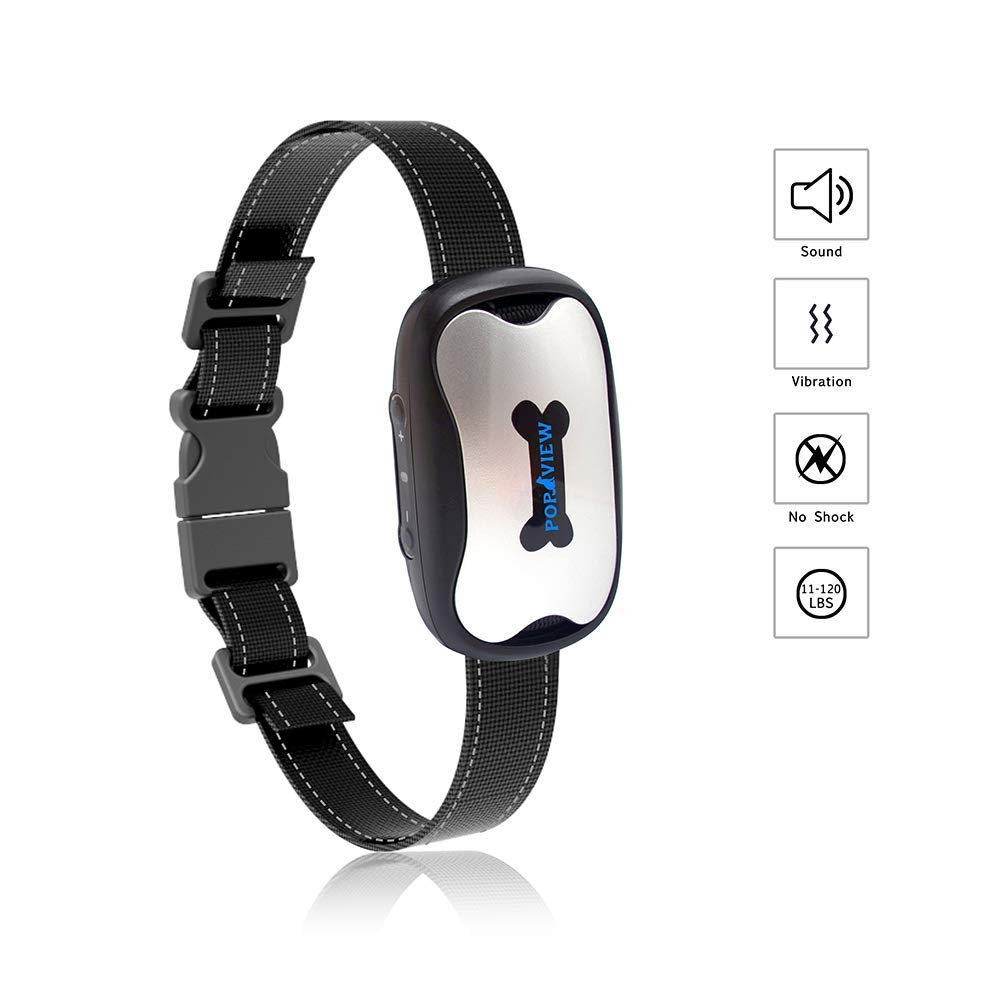 POP VIEW Dog Bark Collar Review
Dogs are great to have around. After all, they provide us with companionship, friendship, safety, and entertainment. There is a reason why they are called man's best friend. However, this is not to say that dogs cannot be annoying and do not have behavioral issues, especially when it comes to barking. Dogs can be very loud and some bark a lot, and likely, you have tried to train your dog to stop barking.
Maybe you have even gotten professional advice, but nothing has helped. Luckily for you, this is the reason why they invented dog bark collars such as the POP VIEW Dog Bark Collar, and it's for trouble cases, for dogs that just won't keep quiet.
POP VIEW Dog Bark Collar Review
The POP VIEW Dog Bark Collar is a cost-effective model that won't drain your bank account. Moreover, this is what is known as a humane dog bark collar because it uses a combination of sound and vibration to correct barking, but it will not shock your dog. We like this, especially for dogs that have never had a bark collar before. For most cases, the combination of beeping and vibrations should be enough to put an end to the incessant barking.
Who is this product for?
The POP VIEW Dog Bark Collar is intended for anybody that has a dog that just will not stop barking. A barking dog, especially in the city, can be a really big problem; you might not mind that much, but your neighbors and their sleeping kids certainly will. The POP VIEW Dog Bark Collar is a great item to get for anybody who has a dog that has already gone through some training, but still keeps barking at anything and everything, from the mailman and random people going past your home to birds, squirrels, and whatever else.
The POP VIEW Dog Bark Collar is a humane dog bark collar, which means that it does not include a shock function, so it is something you would get if you are not a fan of the shock collars. However, be aware that shock collars are often used as last resorts when collars like the POP VIEW Dog Bark Collar don't do the trick.
What's included?
When you purchase the POP VIEW Dog Bark Collar, you get the dog bark collar itself, which includes 4 vibration prongs that come with comfort nodes so your dog does not feel uncomfortable while wearing it. There is also a durable and adjustable nylon band. Finally, you also get a pair of batteries which the POP VIEW Dog Bark Collar needs to operate. Be aware that the POP VIEW Dog Bark Collar is not rechargeable and uses disposable batteries.
Overview of Features
The POP VIEW Dog Bark Collar is quite a simple item. First of all, the POP VIEW Dog Bark Collar comes with a progressive anti-bark feature. It has 7 different levels of corrections, and each time your dog barks, the intensity of the corrections will increase accordingly. The POP VIEW Dog Bark Collar starts off with the lightest corrections, and if your dog keeps barking anyway, the intensity of those corrections will steadily increase until they reach the maximum intensity.
Keep in mind that this is not a shock collar, so the corrections here come in the form of a combination of beeping sounds and distracting vibrations. For most dogs, especially those with pretty short fur, this works just fine. What is really nice about this POP VIEW Dog Bark Collar is that you can adjust the sensitivity. This means that you can set this bark collar to correct your dog based on different levels of barking.
You might be fine with an occasional and fairly quiet bark, so you could turn the sensitivity down. However, if the dog barks a whole lot, you can turn the sensitivity up so the POP VIEW Dog Bark Collar activates more often.
Other than that, there is really not all that much to say about this collar. It uses disposable batteries, so there is no need to charge it, but when the batteries run out, which happens pretty quickly, you will need to replace them. Also, the POP VIEW Dog Bark Collar is fairly durable, at least as far as motion and impact is concerned, but be aware that it is not waterproof, so your dog cannot go swimming with it on.
Tutorial
Before you go and put the dog bark collar on your pet, be sure that you know how to use it. The POP VIEW Dog Bark Collar is a very simple item. You simply turn it on, select the intensity, and let it do its job. It's really quite straightforward and simple. Just be sure that the batteries are charged. However, if you want to know more about how to use a dog bark collar the right way, you can take a look at the videos which we have included below.
Pros
Effective for short-hair dogs
Very humane – no shocking
Hands-free
Cons
Not very effective for long haired dogs
Not waterproof
Alternatives
DoPuCo Humanely Designed Vibration & Shock Bark Collar for Dogs | Small, Medium & Large Bark Collar for Dogs Rainproof w/ 3 Modes [Beep, Vibrate, Shock] | Rechargeable Anti Barking Collar
[Smart Anti Barking Collar] – Dog barking collar vibration, beep and shock have ascending levels to progressively train your dog not to bark. If they ignore the vibration and noise warnings then the shock starts. This is the premium bark collar large dog humane product.
[Highly Accurate Bark Sensor] – Don't worry about false alarms with this high-sensitivity calibrated bark detector that uses a combination of motion sensors and noise sensors to detect your dog's bark perfectly every time – there are multiple sensitivity settings YOU control!
[Bark Collar Small Dog] – Many bark collars are too powerful for small breeds. Ours has a wide range of settings that start off very low, making it perfect for small dogs. Plus, the silica gel electrostatic contact points are designed to shock but never harm your dog.
[Adjustable Reflective Nylon] – Durable, tough nylon also reflects light for extra safety, making them the perfect, versatile small, medium and large dog bark collars – all the way to an extra large bark collar. Will fit a small breed all the way to a Great Dane, and everything in between.
[Rechargeable & Rainproof] – Collar lasts for 2-3 weeks on a full charge (1 hour charge time), and is waterproof against rain and a variety of weather conditions. This collar can last years and train multiple dogs you'll own through the years.
So, the POP VIEW Dog Bark Collar does have a couple of problems, mainly that it is not waterproof, it cannot be charged, and for some people, you might not like that it is missing the shock feature. If you need something that does have all of these features, you could check out the D-Collar Dog Bark Collar which is still affordable, but also comes with a shock feature, a chargeable battery, and is waterproof too.
Conclusion
If you have a dog that just won't keep quiet, it is a smaller dog, and you are a fan of super humane correction options, then the POP VIEW Dog Bark Collar is something you might want to look into.